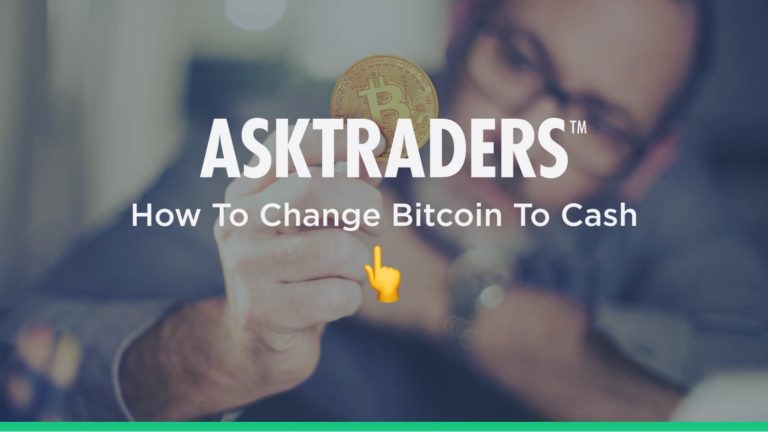 Greater acceptance of bitcoin as a form of currency goes some way to satisfying the crypto's ultimate goal of being the world's currency.
The increasing popularity also makes it easier for you if you're holding a position and wondering how to convert bitcoin to cash. Whether you think a recent bull run has run its course, or just need to liquidate some of your position, there are now a range of convenient ways to turn bitcoin to cash. With this in mind, this article will cover:
How to cash out bitcoin
How to exchange bitcoin for cash – from a digital wallet
How to exchange bitcoin for cash – from a broker account
Advantages of using an online broker to sell bitcoin
Final thoughts
How to cash out bitcoin?
The first step in the process of cashing out bitcoin is establishing how and where your hold your position. There are likely to be two ways.
In a digital wallet – If your holding is stored on a piece of hardware or online then you will be able to access it by using the private keys and addresses, which you will be keeping somewhere very safe.
In a broking account – Regulated online brokers allow clients to trade the bitcoin markets using CFDs (Contracts for Difference). Your position will gain or decrease in value in line with real-world price moves, but your position can be converted to cash at the click of a button.
Individuals have got into bitcoin positions in different ways and different times, so we'll cover both eventualities.
If you haven't yet got into bitcoin but just have the forethought to be asking "how do you cash out bitcoin?" then this is a good time to offer a 'spoiler alert'. The second option, an online broker, offers a far more convenient way of getting into and out of bitcoin positions.
How to exchange bitcoin for cash – from a digital wallet
When bitcoin first appeared the only way to hold a position in it was via a digital wallet.
What is a digital wallet?
At the highest level, these are best thought of as a traditional wallet, a place to store an asset. The functionality of wallets means they are increasingly popular and are not only being used to store cryptocurrencies.
More mainstream digital wallets included ApplePay, Due, Google Wallet, Samsung Pay, PayPal, AliPay, Walmart Pay, Dwolla, Venmo and Vodafone-M-Pesa. The top-three wallets being the products of tech-giants Amazon, Google and Apple.
In technical terms, digital wallets are software-based systems that securely store details of a user's holding. It also stores payment information, security details and passwords.
Digital wallets – how do you turn bitcoin into cash?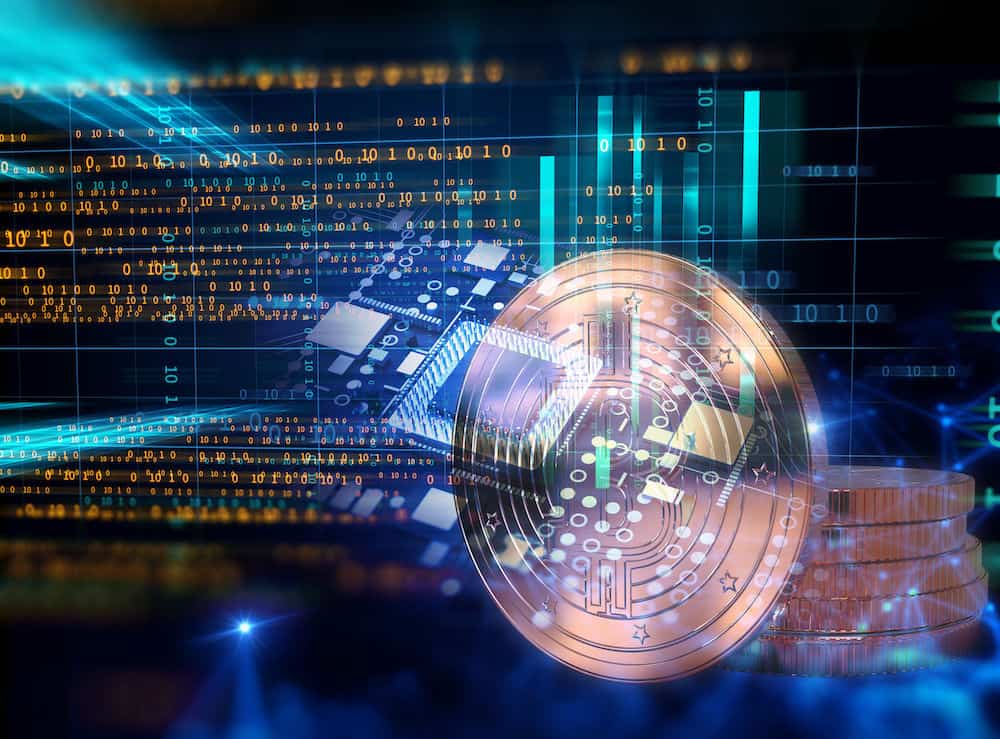 One of the easiest ways of converting bitcoin into cash is a face-to-face transaction. It can be as simple as finding a friend or contact who wants to get into bitcoin. Exchanging their cash for your security codes would transfer ownership.
That process demonstrates bitcoin's role as a source of value and means of exchange, but does require you having a friend who wants to buy bitcoin at the same time you want to sell yours.
Unsurprisingly service providers have sprung up to get around the problem of hooking buyers and sellers up together.
Bitcoin directory – Following this route, you will first need to register as a seller with an online directory. After verifying your details, you can advertise your intention to sell some bitcoins. The service will notify you when an interested buyer has been found. From then on, you are only interacting with the buyer. The website merely serves as a platform on which to complete the trade.
Bitcoin exchange – Exchanges act as an intermediary that holds both seller's and buyer's funds. Any reputable exchange will require you completing a more extensive verification process. The exchange will then automatically complete the transaction once a buyer matches your offer price.
Bitcoin ATMs – These operate in the same way as regular ATMs, but instead of using a bank card to withdraw funds, you use your wallet credentials.
Each system has its pros and cons. Using a directory requires you to do the leg-work of finding and checking a buyer.
The exchange process involves sale proceeds sitting at your exchange account until you wire them to your bank account. The last step in the process can be slow, incur transaction charges and some high-street banks don't accept incoming payments from bitcoin exchanges.
You might be surprised to know how near your nearest bitcoin ATM is, this link will help you locate it. There are downsides of using an ATM. Transaction costs can be in the region of 10% and some ATMs are limited on the amount of cash they can release in one transaction.
How to exchange bitcoin for cash – from a broker account
If you took a position using an online broker account and are wondering how you cash in bitcoins, the answer is, with relative ease.
Online brokers started offering markets in cryptocurrencies to meet popular demand. Not only were more people looking to invest in bitcoin, but the established processes, including special wallets was, to some, just too much hassle.
The functionality of online brokers simplifies the process by using CFDs (Contracts for Difference). These instruments represent a relationship between you and the broker. If you buy a CFD in bitcoin and the price goes up, you will make a profit, which the broker will pay you. If the price of bitcoin goes down, the loss will be debited from your cash pile held at the broker.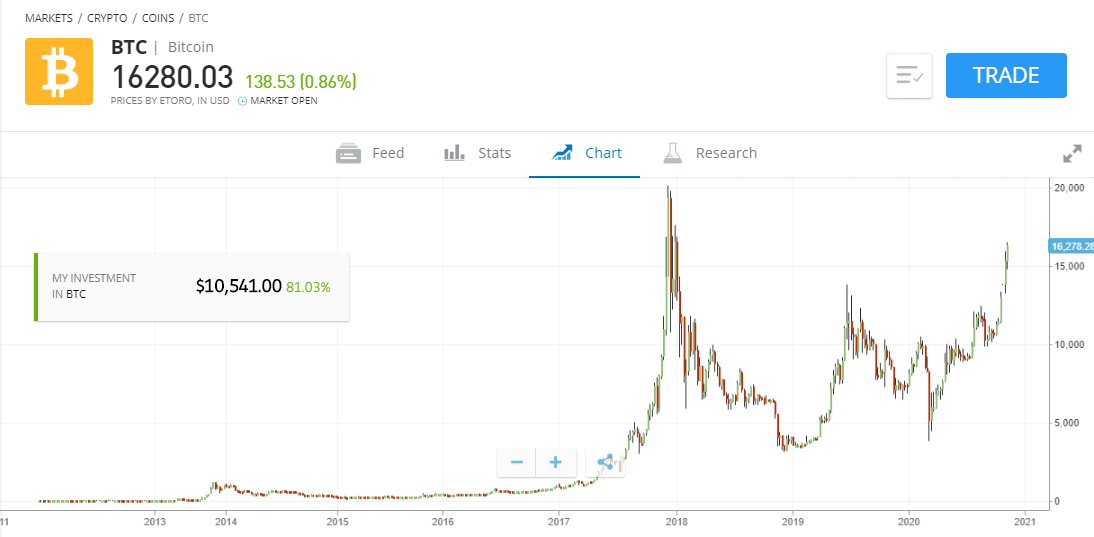 Source: eToro
Bitcoin is termed the 'underlying' security. The CFD relationship is a way to trade moves in the underlying without having to set up the infrastructure to actually hold it. Instead, money moves into and out of the cash account on the broker platform.
Most brokers process bitcoin sales in the same way. It's so simple that it's hard to do it any other way. Below, we use the broker platform at eToro to provide an example of how to turn bitcoin to cash.
Steps for turning your bitcoin to cash
If you're holding bitcoin at an online broker, your balance will be shown in the 'portfolio' section of your account. In the below account we bought 1.73 bitcoins and rode a price spike to make a running profit of $8,124.95.

One neat feature of online broker accounts is that some allow you to trade in fractions of bitcoin. We could sell all or part of the position.
Taking the view that now could be a good time to lock in some profits on the trade, we decide to sell 0.73 bitcoin.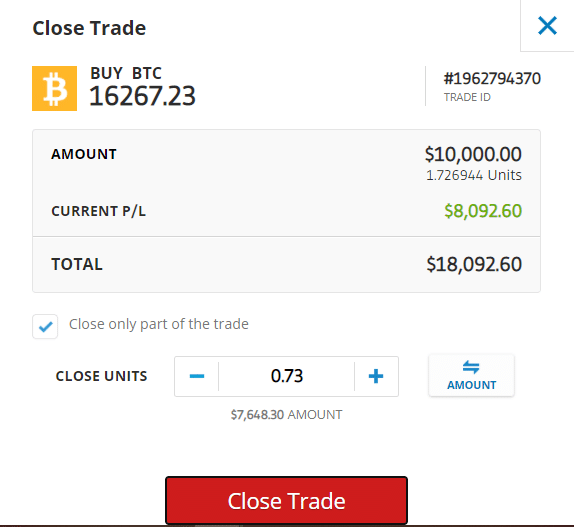 Source: eToro
The instruction to close the trade out is as simple as entering the amount we want to sell and clicking the 'Close Trade' button. Our holding in BTC goes down to 1.00 units of BTC, with a value of $10,529.

Source: eToro
The proceeds show up immediately in the cash balance section of our broker account. The next and final stage of the process is going to the account management section of the broker platform, entering the amount of funds to wire and clicking 'submit'.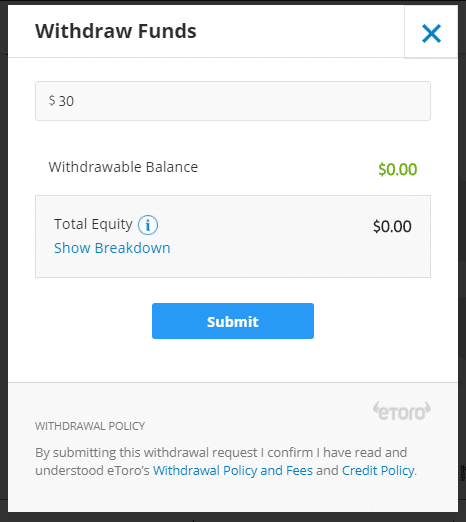 Source: eToro
Depending on the broker and the payment method you choose, it can take between 1–5 days for funds to be transferred from your broker account to your bank account.
Advantages of using an online broker to sell bitcoin
When it comes to cashing out bitcoin positions, the simplicity of the process at online brokers is a big advantage for them. There are, though, more interesting features.
Regulation
As long as you complete your due diligence, you'll be able to choose a broker regulated by a recognised financial authority. Look out for brokers who operate under the license of one of these organisations — the Financial Conduct Authority (FCA), the Australian Securities and Investments Commission (ASIC) or the Cyprus Securities and Exchange Commission (CySEC).
Fractions
As with the example transaction, most brokers allow you to trade in fractions of a bitcoin. Considering that one BTC now trades above $15,000, this makes accessing the market easier to do. At eToro, the minimum transaction size is $25.
Leverage
The price moves in bitcoin can be extreme in terms of both size and speed. It's relatively easy to make or lose money in a very short period of time. If you want to, you can scale up your risk-return by using leverage. For EU regulated clients, the maximum is 1:2, a reflection of the risky nature of the asset group.
Fees
Some brokers charge for cash withdrawals, some don't. It's important to check the small print before signing up with one.
Other markets
The cash you receive for selling bitcoin can be wired back to your bank account or traded in other markets. The same account can allow you access to markets in forex, equities and commodities.
Sell short
In all the examples, we've sold an existing position in bitcoin. With CFD's you can actually sell-short the market. If you think the price of BTC is just too high and that it will fall back, you can open an account, enter the amount you want to trade and click sell. You'll make a profit if prices do fall away and a loss if they continue to rise.
Final thoughts
When selling out of bitcoin, it's important to watch out for scams and scammers.
Transaction costs and payment times will play a part in your decision, but staying safe is the main objective.
People who read this also read: