Big firms like Facebook owner Meta Platforms have become increasingly aware of the need to protect and promote their public image in terms of how their business practices interact with other stakeholders. One tool firms use is a CSR (Corporate Social Responsibility) policy, which monitors and measures the way that firms engage with the broader community. Topics covered include the environment, the firm's relationship with different communities and how the employer treats its workforce.
The world of CSR policies is a dynamic place because there are no hard-and-fast rules and changes in public opinion and corporate policy are continuously steering them in different directions. This year's priority may not be next year's, which means the Meta Platforms CSR policy is, therefore, very much a 'living' document. It's also one that investors need to be up to speed with. Good vibes may not necessarily lead to a share price surge, but bad press can, within moments, wipe billions off a firm's valuation. This analysis of Meta Platforms' CSR policy will establish the pros and cons and whether there are reasons for holding off on any decisions to buy the stock. It will then draw on hints and tips from experienced traders to find the safest route to trading the market.
What is Corporate Social Responsibility?
The best benchmark for CSR policies is provided by the International Organisation for Standardisation. The organisation's ISO 26000 standards are widely seen as being the best guide for firms looking to address the issue of how they interact with the environment and stakeholders. The organisation doesn't enforce compliance and much of the reporting on the issues is provided by the firms themselves. However, there is generally enough public scrutiny to ensure firms don't abuse the fact they are marking their own homework.
Weaknesses in CSR policies that are harder to resolve relate to firms such as Meta Platforms setting their own targets and understandably amending them from time to time – as a means of addressing new flash-points of consumer and investor interest. However, it does make it difficult and time-consuming to check if targets are appropriate, measurable and achieved.
This report will help lighten the workload by providing a summary of Meta's CSR policy and how it compares to other firms you might be considering investing in. It will then provide a step-by-step guide on how to take the desire to buy Meta Platforms shares and turn it into a trade and a META stock position at a trusted broker.
The fact that the process of monitoring CSR policies is to some degree opaque shouldn't be a sign that they are not important. Retail and institutional investors can find their conclusions are what determine if they pull the trigger on any instruction to buy Meta Platforms shares or not.
What is the Meta Platforms CSR Policy?
META's CSR policy is diverse and complex due to the nature of the firm's global client base. Its social media platforms have billions of users which the company interacts with on a frequent basis, and the platform supports individuals, groups, and businesses.
A core issue that all the ISO 26000 firms engage with is the environment. META (formerly Facebook) terms this as 'sustainability', with sub-topics such as greenhouse gas (GHG) emissions, water usage, waste, and recycling being a high priority.
Then, there is the way in which firms interact with the billions of people it engages with. Meta's business model might not be based around large industrial plants, but the online world it operates in poses its own challenges, which are addressed by its 'Our Community' policy.
The third key area of META's CSR is devoted to staff wellbeing or, to use the firm's preferred term, 'Who We Are'. Like other big corporations, the firm also has an opportunity to use its financial weight to change industry norms for the better.
The META CSR policy needs some interrogation. In 2019, the firm failed to make the top 100 of the Forbes list of 'The World's Most Reputable Companies for Corporate Responsibility 2019'. Things might be heading in the right direction, but the ranking confirms the firm is starting from a weak position. When a company ranks behind tyre manufacturers (Michelin #21), airlines (Deutsche Lufthansa #39), and retailers of fast fashion (H&M Group #99), they have their work cut out.
The question for those looking to invest in the Facebook owner is whether the firm is doing enough to improve its CSR standing or will investors start heading for the door?
Environmental Policies
Operating in the digital economy allows tech firms to compartmentalise their environmental obligations with greater ease than some more traditional manufacturers. The absence of physical products, supply chains, factories, and product waste is a good position to start from. At face value, at least, META's mission statement suggests the firm is ready to tick all the easy boxes but also take things a step further.
"We believe sustainability is about more than operating responsibly; it's an opportunity to support the communities we're a part of and have a positive impact on the world."
Source: Facebook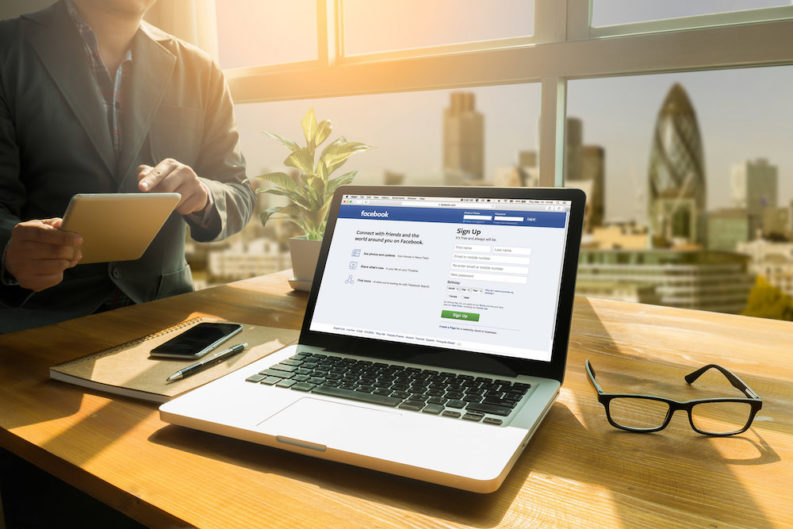 Meta Platforms' CSR Approach to Carbon
The company's 2020 CSR statement confirms the firm has reached its target of having 100% of its global business operations supported by renewable energy. This is something of a milestone, as the target was set back in 2011.
META is one of the biggest corporate buyers of renewable energy. It currently has contracts in place for in excess of 6.1 gigawatts of wind and solar energy across five countries.
The hyper-efficient Open Compute Project servers can function in a higher-temperature environment than conventional equipment. This technological breakthrough reduces the demand for power needed to keep the servers cool.
By expanding access to green energy, META is looking to start a 'trickle-down' style momentum. The firm has introduced programs that allow retail customers to buy renewable energy using predictable tariffs.
Meta Platforms has provided financial and political support to a range of global energy initiatives.
Founding member of Renewable Energy Buyers Alliance (REBA).
Strategic partner of RE-Source (a European platform for corporate renewable energy sourcing).
Member of RE100 (a global initiative of influential businesses committed to 100% renewable electricity).
Meta Platforms is aligning its carbon management program with the Science-Based Targets Initiative(SBTi), which uses the latest scientific research to determine what is necessary to transition to a zero-carbon future.
The next energy target for the social media and tech giant is to have net zero emissions across its entire supply chain by 2030.
Meta Platforms' CSR Approach to Water
The data centres, which form the core of META's water demand, are, in relative terms, very efficient.
One neat point is that where direct air cooling is not possible, META uses a StatePoint Liquid Cooling (SPLC) system that uses cold water instead of cold air to cool the firm's data centres.
The firm also invests in water restoration projects in water-stressed areas around the world. These are intended to support the communities' local water supply and aid in the restoration of local wildlife and habitats.
Meta Platforms' CSR Approach to Supply Chain
The company looks some way down into its supply chain to ensure it is meeting its overall climate-based targets.
The firm monitors the activities of suppliers by collecting 'environmental data'.
Supply chain workers are a top priority. Meta Platforms engages with suppliers to ensure safe, fair and healthy working conditions for workers around the globe.
Anti-slavery and human trafficking are closely monitored by Meta in order to protect all its workers across its supply chain. The firm's measures are detailed in its anti-slavery and human trafficking statement.
Meta Platforms has signed up to the 'Responsible Business Alliance','Responsible Minerals Initiative', and 'Responsible Labor Initiative'.
Social Policies
Meta says people are using its Facebook platform "to connect and strengthen their communities."
As the Mark Zuckerberg-led company points out, the end-user experience is based around connecting communities around the world. This societal good it provides to billions of users is worth noting as it doesn't necessarily fall within the remit of traditional CSR reporting. CSR policies don't automatically give bonus points to firms for following their business model and generating profits.
Put another way, people might feel good about wearing the latest pair of Nike trainers, but that's hard to incorporate into a policy considering how a firm interacts with other stakeholders. In terms of total 'feel good' ranking, this works against the company, possibly unfairly, as the firm's entire business model is based on creating such feelings.
Being at the cutting edge of popular opinion has also enabled Meta to support and build consumer loyalty through its promotion of online campaigns. The site's algorithms steer users to groups and campaigns they might like to see. Stepping back and appreciating the diversity of the social interaction generated through Facebook and the company's other social media platforms is eye-opening.
LGBTQ+ Pride Month is a time to celebrate the hard-earned momentum generated by the LGBTQ+ community and META supports groups working towards a more inclusive world.
Business Ownership – Shining a spotlight on LGBTQ+ owned businesses for Pride month.
Covid – With schools closed, one educator created a community for her colleagues to share ideas and support each other.
Veterans – Through the COVID-19 pandemic, US veterans' non-profit Fisher House organisation has distributed 160 Portal TVs to facilities across the country, helping veterans stay close to their families.
Small businesses – The COVID pandemic means many small firms are facing the greatest challenge of their lifetimes. Those feeling the pinch can visit the META Support Small Business Hub.
Politics – Meta Platforms has beefed up its internal policies to deal with the contentious issue of political advertising and 'fake news'.
Corporate Policies
The Facebook owner consistently tops the charts in terms of employee satisfaction. It's even often referred to as 'the best place to work in America', scoring 4.7 out of 5.0 on glassdoor.com.
Community education programmes.
Support and resources to help staff grow professionally and personally.
Hires highly qualified individuals from underrepresented groups of people.
Staff training focusing on inclusion of minority groups.
In June 2012, Sheryl Kara Sandberg was elected to Facebook's Board of Directors, becoming the first woman to serve on its board. While she is currently the firms COO.
The Meta board is still male-dominated, but Jennifer Newstead's role as General Counsel and Peggy Alford's role as an Executive Vice President (PayPal) are steps in the right direction.
How Do Meta Platforms Compare to Other Companies?
One challenge facing Meta is the need to balance the fact its business model collects enormous amounts of personal data from billions of global users against the confidentiality issues that it throws up. Regulators, governments and end-users are, to varying degrees, monitoring the situation. As a result, Meta Platforms' CSR policy is a key element of its programme to protect the firm's image and its share price. It needs to be seen as a trusted operator.
According to BRM, Facebook was still taking the position of not publishing an annual CSR statement as late as 2017. Since then, there has been an uptick in investment into CSR issues. For example, by 2020, GHGs have been reduced by 94% compared to 2017 levels. The firm is now doing enough to ensure its approach to CSR is not a red flag to any investment decision. However, it is still some way behind its peers. The CSR policies of Google, Microsoft and Apple are packed full of statistics that detail how those firms have been treating the topic as a higher priority for a longer period of time.
How to Invest in Meta Platforms
Choose a Broker
CSR policies can run on hundreds of pages, and in META's case, the different sections are scattered across the firm's site. Getting a clear understanding of where the firm ranks is important but can take some time. The better news is that once you've established the firm is doing enough to not put off investing, the process of booking a trade is relatively simple. There are a few hints and tips to keep in mind, the most important being to do everything you can to ensure you end up using a trusted and safe broker.
Source: IG
Meta's significant market capitalisation and its familiarity with billions of its platforms' users around the world means most brokers offer investors a chance to buy Meta shares. The firm is listed on the Nasdaq Stock Exchange under ticker META. To buy the stock, it's simply a case of building a shortlist of regulated brokers and testing them out to find the best fit.
Whichever broker you end up using, the most important thing is to ensure it is regulated by one of the below Tier-1 authorities.
The Financial Conduct Authority (FCA)
The US Securities and Exchange Commission (SEC)
The Australian Securities and Investments Commission (ASIC)
Cyprus Securities and Exchange Commission (CySec)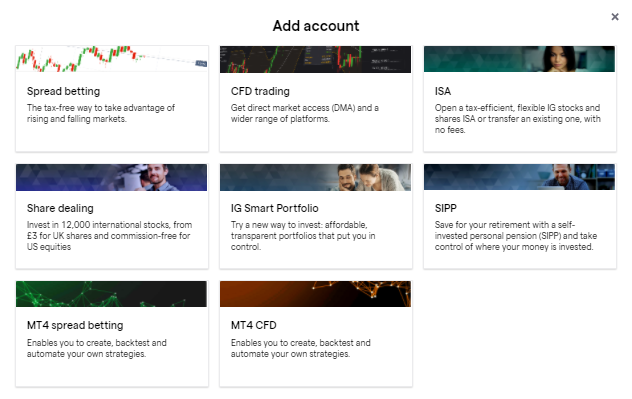 Open & Fund an Account
Opening an account at a broker is super easy to do. The process is done online using a desktop or handheld device and is similar to any other kind of registration. As you'll be wiring funds to the account, there is a need for core personal details to be shared and ID verification. Regulated brokers also need to build a profile of users to comply with Know Your Client (KYC) rules, so they include a questionnaire as part of the onboarding process.
Funds can be sent to your new account via a range of payment options. Credit and debit cards are popular methods as in most cases, the transfer is almost immediate. Whichever path you choose, it's worth checking the T&Cs as some (but not all) incur admin fees.
If you're interested in buying META shares but are not quite 100% committed, one option is to set up a free demo account where you trade virtual funds. The functionality of a demo account is exactly the same as for a live one, so they offer a chance to try out different brokers and practice trading. Demo accounts are also a risk-free way to build a position in Meta PLatform shares, follow its progress, and get used to swings in P&L (profit and loss).
Research Companies Using Technical & Fundamental Analysis
There is a lot of free advice available on the internet, some of it good, some of it not so good. When filtering research sources, it can be of value to remember that a lot of analysis is broken down into two schools of thought: Fundamental Analysis and Technical Analysis. Fundamental analysis uses information found in the company's business reports. This can be data on profit margins, capital expenditure, annual income, future plans, and dividend yield. One note for META investors is that it doesn't pay a dividend, so it is seen as a growth stock rather than a high-yield stock.
Technical analysis uses historical market data, especially price history, to spot short-term trends and pricing anomalies. These are converted into 'indicators', which are used by fans of TA to spot the best time to buy or sell Meta stock. In reality, a lot of investment decisions incorporate both approaches. It can be useful to think of fundamental factors being used to determine if a stock is a buy or not and technical analysis as a tool to optimise trade entry points.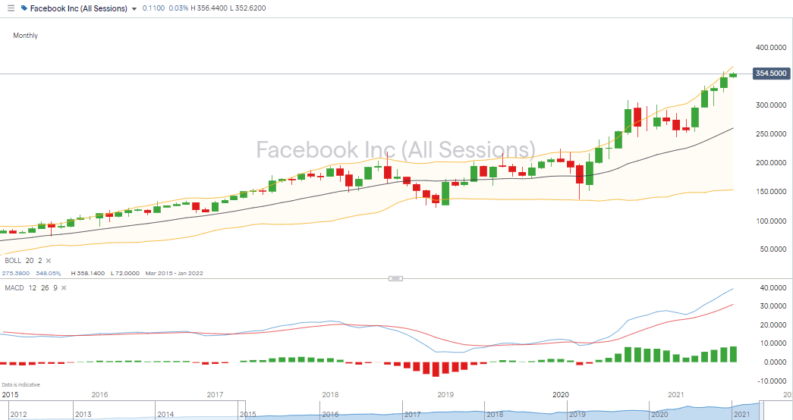 Open an Order Ticket and Set Your Position Size
Meta Platforms is one of the largest firms in the world and has an incredibly high profile, which means millions of investors have an opinion on whether to hitch a ride on the, so far, surging share price.
As a result, most brokers include the stock on their trading platforms. Alternatively, the search functions can be used to navigate to the market.
Once there, the instruction to buy META shares in its simplest form is just a case of entering the number of shares you want to buy and tapping or clicking buy. Brokers also offer a range of other tools that are designed to manage risk and are worth considering.
Set your Stops and Limits
Stop Losses and Take Profit orders are automated instructions to close out some, or all, of your META position if the share price hits a certain level. Stop-losses cut your losses while Take-Profits crystalise gains. Using them allows investors to concentrate on their day job with the confidence that their investments are being managed to some extent.
Risk management is an important part of becoming a successful investor and developing an understanding of the basics can significantly improve trading performance. Stop losses and take profits aren't a silver bullet. There is gapping risk to consider and some buy-and-hold investors don't use stops in case a flash crash kicks them out of a position before the price returns to 'normal' levels.
Select and Buy Meta Platforms Shares
The final stage of the process is clicking 'buy'. This instructs the broker to convert some of your cash position into an equity holding. You'll be able to monitor the value of your holding by accessing the Portfolio section of the platform, where live prices will feed into the broker's system and give you a real-time update on your investment.
Some brokers also offer clients the option of setting price alerts so you can be kept up to date with market events. If and when your position reaches your target price, the Portfolio section will also be the area of the site you need to close out the trade by accessing the position and clicking 'sell'. This will turn your unrealised P&L into realised P&L, and your trading gains/losses will be reflected in your updated cash balance.
Is Meta Platforms an Ethical Investment?
In terms of its CSR policy, Meta is playing catch-up, but it's playing it pretty well. The firm has recently hit some major targets and although the details of its plans are scattered across the firm's site, the overall summary is that Meta's approach to ethical issues won't be a red flag for too many investors.
However, the firm can't ease up on its plans to tackle the long-running thorny issue of it holding so much personal data about billions of people. A shift of regulatory or public opinion on that subject could be damaging to Meta's share price, but anti-trust court hearings found in the firm's favour. The view of the US courts was that, as Facebook was optional and free to use, an enforced breakup of the different entities was not appropriate.
If you're weighing up the pros and cons and asking, is now a good time to buy Meta Platforms shares? Then, the firm's approach to ethical issues shouldn't get in the way of taking the next step towards investing.