Companies with an ethical approach to how they do business have become serious candidates for investment. Including them in your portfolio is no longer just about the 'feel-good' factor and an investment decision that needs to be balanced out by profits you make elsewhere.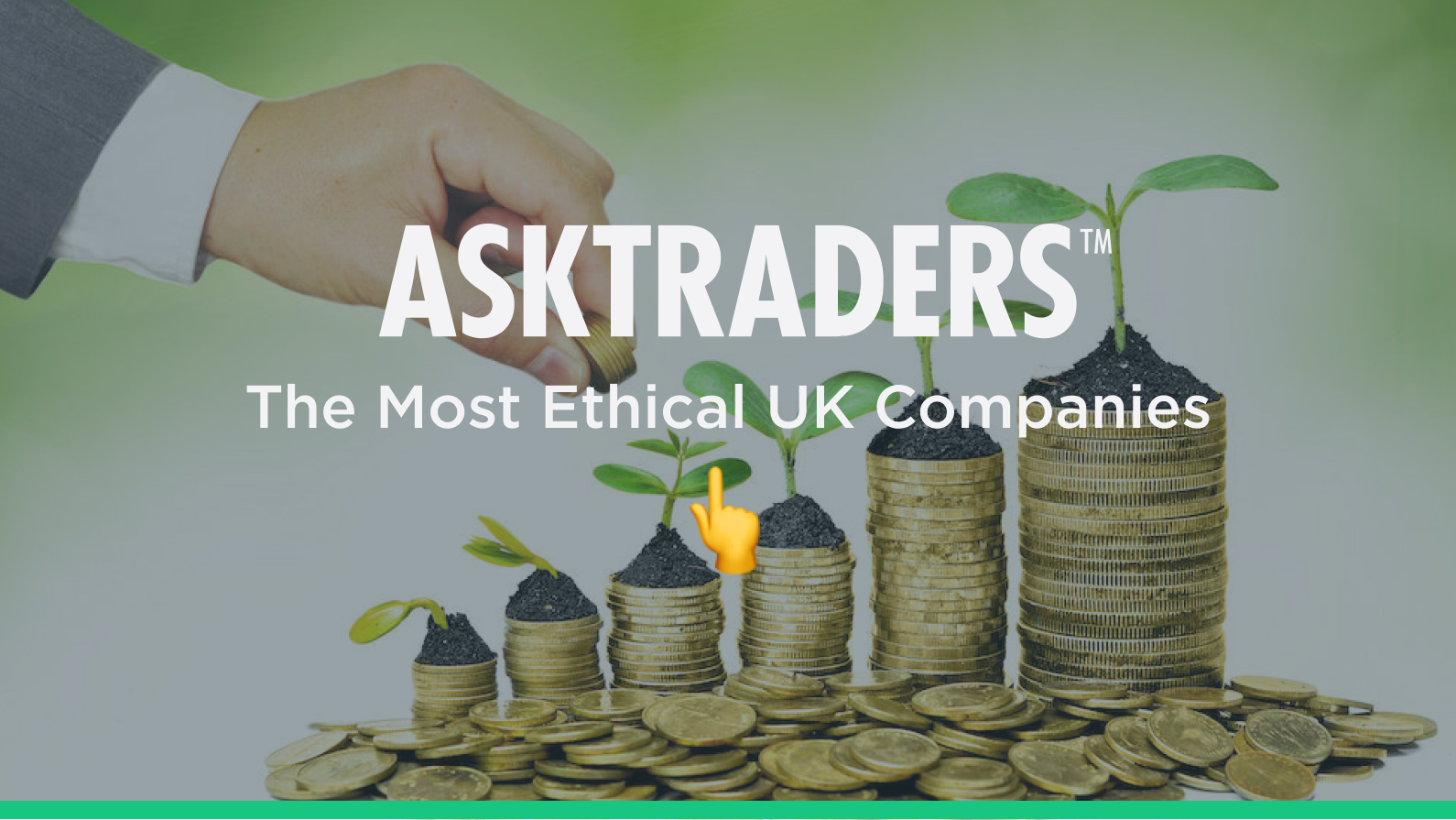 Instead, by catching the zeitgeist, a group of ethically orientated firms are making considerable returns for their investors. This review will look at the candidates for the title of Most Ethical UK Company 2022, exploring the following points:
Can You Make Money Investing Ethically?
If you think that investing ethically is going to leave you out of pocket, it's time to think again.
Stock prices ultimately depend on demand and supply. One of the neat features of ethical investments is that they have the potential to tap into a groundswell of otherwise untapped buying pressure. If supply is constant and demand shifts upwards, then prices will rise. And that is what is happening as the thought of investing ethically brings a new kind of investor into the market.
Consider the number of people in the UK who have historically steered clear of the stock markets because of its negative connotations. If only a percentage of those millions of people buy into ethical companies, then that would act as a catalyst for price increases.
The big institutional investors, such as pension funds, prioritise return on investment (ROI) but also need to meet consumer demand. If their client base is looking for a more ethical approach, then those funds will have to increase their allocation to ethical stocks to keep the customers happy. This means that billions of pounds worth of capital will be flooding in to support the stock prices of the right companies.
Demographics also come into play. The generations who started advocating greener lifestyles in the 1960s and 1970s are now likely to be significant players in terms of personal wealth and investments.
Their decision to invest ethically is being mirrored by a new younger generation who are entering the workforce. They're applying their own criteria on why to buy, or not to buy, a particular stock, and those factors combined are causing a paradigm shift in the financial markets.
Top Ethical UK Companies to Invest in
Investing in the stock of a company is a vote of confidence in the management of the firm and provides capital that is crucial to them expanding their business. That makes understanding your own preferences and investment aims an important part of the process.
Each investor might approach the same situation slightly differently. Some may want to buy cruelty–free stocks, while others may be interested in clean energy stocks. There is also a range of protocols and third-party agencies that provide rankings of firms.
Two of the most frequently used terms in the ethical investment space are environmental, social, and governance (ESG) and corporate social responsibility (CSR). ESG relates to non-financial elements of a company's business operations. CSR refers to a business model that helps a company be socially accountable to itself, its stakeholders and the public.
The ESG and CSR protocols offer benchmarks by which firms can assess their own performance and aims on ethical issues. There aren't many hard and fast rules, and ESG and CSR also intertwine and overlap to some extent. However, they are the metrics that most investors currently use and the ones that we've used to identify the five most ethical UK companies.
If you're considering making an ethical investment, then each one of these companies has compelling reasons for you to buy its stock now:
Intertek Group PLC (LSE: ITRK)
From its London headquarters, Intertek Group provides assurance, inspection, product testing and certification services to a multinational client base. The firm was founded in 1996 and has grown to have a market capitalisation of £6.57bn, which is large enough for it to be a member of the FTSE 100 index.
The testing services it offers form a crucial part of the move towards a low-carbon economy. In the hydrogen fuel sector, it provides end-to-end quality, safety and sustainability assurance certification. This runs through the whole life cycle of green energy projects, from feasibility and product design to production, delivery and storage.
Other products offered by Intertek include ToxClear, which is an innovative digital chemical management platform designed to rid the fashion industry of some of its most toxic traits. It helps stakeholders ensure that supply chains avoid the use of hazardous chemicals during all stages of the manufacturing process.
The scale of the changes that need to be made to move the world to green energy use cannot be overestimated. Intertek provides the services that ensure that this process can happen as quickly as possible and without breakdowns in supply.
It is not only helping to make the world a better place, but also, from a hard-nosed perspective, is one of the most exciting growth sectors of the global economy – which makes it a good investment choice for the heart and the head.
Greencoat UK Wind PLC (LSE: UKW)
Greencoat UK Wind is one of the larger UK renewable energy operators. Founded in 2012, it has experienced rapid growth and now has a market cap of £3.54bn and forms part of the FTSE 250 index.
It operates more than 44 onshore and offshore wind farms and is committed to expanding its capacity via purchases of other renewable energy operators. This aggressive growth makes Greencoat a top pick for those looking to make a difference regarding how the UK economy is powered.
The company's commitment to ethical business practices extends beyond its wind farms and the clean energy they generate. It has, for example, signed up to the Principles for Responsible Investment (PRI) protocols. These mean that the firm provides a framework to help institutional investors make an informed decision. It incorporates ESG issues into investment analysis, decision-making and ownership practices.
From an investment perspective, Greencoat UK Wind is interestingly on the cusp of being included in the FTSE 100 index. At the time of writing, two firms in the FTSE 100, Harbour Energy PLC (£2.56bn) and Dechra Pharmaceuticals PLC (£3.11bn), have smaller market capitalisations.
If UKW stock is promoted to the top division of the exchange, this would result in considerable additional buying pressure from fund managers of FTSE 100 index tracking funds.
PensionBee Group PLC (LSE: PBEE)
Innovative fintech firm PensionBee first listed on the London Stock Exchange in April 2021. It has faced significant headwinds since then and has seen its share price slide from 167p to 46p. This kind of rollercoaster ride can be expected of a growth stock that is a member of the LSE's High Growth Segment.
The firm's potential as a disruptor has resulted in it catching the eye of many investors. The twist is that its ethical credentials also stack up. The Fossil Fuel Free Plan, for example, is one of the UK's first mainstream private pensions to exclude companies with proven or probable reserves in oil, gas, coal, tobacco companies, and manufacturers of controversial weapons.
The PensionBee revolution is about offering products to its 956,000 customers who are looking to protect their pension but not compromise on principles. The PensionBee platform allows them to organise their pension portfolio, contribute towards it online, and select from a range of cutting-edge ethical investment products.
One other ground-breaking feature of PensionBee is that founder Romina Savova is one of a handful of female CEOs of LSE-listed companies. She stated: "As a leading pension company, we intend to use our influence to build a better future – for our customers, society and the planet."
GlaxoSmithKline PLC (LSE: GSK)
Pharmaceutical giant GlaxoSmithKline ranks number 17 in research firm Refinitiv's Top 100 Companies Leading on Social Practices. It's the highest-ranking UK company on that list of global firms, all of which have embraced and championed the adoption of the high-level CSR policies.
The firm has the critical mass to make it a relatively safe investment, and the dividend yield is currently an impressively healthy 6.71%. Its size also means that it has the capital to invest in reorganising its business practices to be state of the art.
The six areas that the firm focuses on are pricing and access; global health and health security; diversity, equity and inclusion; environmental sustainability; product governance; and ethical standards.
Some investors might need to come around to the idea of investing in GlaxoSmithKline on ethical grounds. The firm has at times crossed over to the wrong side of the line. In 2012, the firm came to a $3bn criminal settlement with the US Department of Justice. However, as investment disclaimers state, "historical performance is not a guide to future returns", and this also applies to the approach to core business values.
Marks & Spencer Group PLC (MKS)
Multinational retailer Marks & Spencer has a long track record of being on the right side of the next move in how business is conducted. As the firm's site states: "As a business that's been around since 1884, we know how important it is to look to the future."
The products that M&S sells also fall into categories that could most benefit from an ethical overhaul: clothing and food.
According to the UN Environment Programme (UNEP), the fashion and clothing industry is the second-biggest consumer of water and is responsible for about 10% of global carbon emissions. Food production accounts for more than 26% of global greenhouse gas emissions, and there are also concerns about cruelty-free practices to consider.
M&S's business model ensures that the firm has sufficient control to be able to make real changes to how ethical its operations are. Its core offering is made up of high-quality, great-value, own-brand products and services, which means that it can create innovative and ground-breaking ways of tackling fast-fashion, and offer a more ethically focused range of food products.
Final Thoughts
Recent stock price history confirms that investing ethically no longer involves taking a financial hit for making the right choice. The potential for making gains on ethical investments comes down to a major change in the decision-making of consumers and investors. UK consumer spending on ethical products is estimated to be increasing by approximately 30% a year, and investments in ESG-based investment products are forecast to increase by 12.9% per annum.
Those are seismic-scale trends, and whether you are fully on board with the ethos, or more interested in the bottom line, ethical investing is something well worth considering,
Choosing a well-regarded and trusted broker also forms part of the equation, and these trading platforms have been reviewed by AskTraders to ensure that they offer the T&Cs and services to help your ethical investing get off to the best possible start.
People Who Read This Also Viewed: