A Corporate Social Responsibility (CSR) policy is an official statement of a company's commitment to managing the social, environmental and economic effects of its operations. They often include specific and not so specific targets that allow investors to monitor the firm's progress towards achieving its aims.
---
YOUR CAPITAL IS AT RISK. 76% OF RETAIL CFD ACCOUNTS LOSE MONEY.
---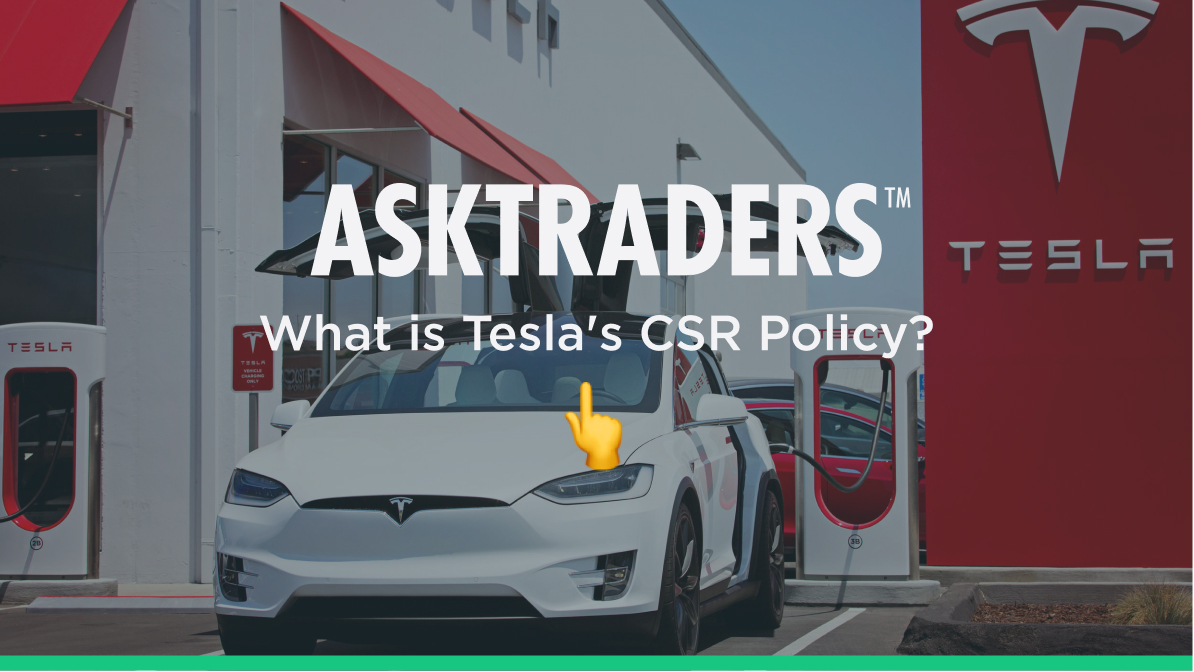 The most frequently used benchmark is known as ISO 26000, which is provided by the International Organisation for Standardisation. The ISO standards do not set out hard and fast rules but offer guidance on interaction with other stakeholders, including employees, the environment and local communities.
From an investment perspective, it's essential to analyse whether a firm's targets are ambitious enough to meet public expectations and if it is on course to meet them. Both of these variables can change over time, and slip-ups can be bad for business. On the other hand, outperformance in terms of CSR metrics can lead to additional interest from investors that give such considerations significant weighting. So, let's delve into Tesla's CSR policy.
What is Tesla's CSR Policy?
Tesla has some aspects of CSR hardcoded into its DNA. Its mission statement is "to accelerate the world's transition to sustainable energy" (source: Tesla). The manufacturer of electric vehicles (EV) has become synonymous with greener transportation and other hi-tech services. It is the pioneer of projects such as driverless cars and improved battery efficiency, with such schemes also opening doors to more efficient energy use in the wider community.
Its cutting-edge technology is matched by an innovative approach towards its CSR objectives. The comprehensive 2022 IMPACT report is 61 pages long and covers a wide range of subjects.
The four main headings of its report are:
Environmental Impact– This unsurprisingly ranks highly as it hammers home Tesla's competitive edge over traditional auto manufacturers.
Product Impact– Placing the actual thing they sell so high up the list of target objectives is a punchy move by Tesla. Many firms manage to green-wash their executive offices, but manufacturing cars is always going to be a drain on the world's resources.
Supply Chain– These can be more challenging to manage, and Tesla has installed specific protocols to address the issue.
People and Culture– 15 of the IMPACT report's 52 pages are dedicated to workforce and community objectives with a strong emphasis on training and staff development.
The stakeholders considered in the CSR are ranked in the following order.
Communities (highest priority)
Customers
Employees
Investors/Shareholders
Governments
Environmental Policies
Tesla vs Green House Gas Emitting Vehicles
Comparing EVs with internal combustion engines (ICEs) is a challenging task, and the depth of Tesla's study on the subject is a credit to the firm. Tesla acknowledges that while the products it builds are more positive than the alternatives it pursues the comparison by conducting a fascinating deep dive into industry data. That is required because determining the lifetime impact of EVs versus ICE vehicles requires looking at the entire lifecycle.
No stone is left unturned, and the final breakdown of the carbon footprint incorporates factors such as ICE vehicles being involved in seven times more accidents than Tesla vehicles. The safety gizmos, which are part of the Tesla product, result in fewer write-offs and fewer new cars needing to be produced.
Carbon Negative
Thanks to many of the Tesla production sites being recently built, they have been designed to incorporate an array of ground-breaking energy-saving features. As a result, Tesla goes a long way beyond being carbon neutral, and its factories consume a lot less green energy than the Tesla Solar panels scheme generates.
---
Related Articles
---
Tesla's Supply Chain
A lot of the raw materials used in the production of Tesla batteries are sourced from less developed countries. As the end-user, Tesla is exposed to reputational risk and, as a result, has dedicated resources to try to ensure its manufacturing processes are environmentally responsible.
Its due diligence programme has a strong focus on cobalt mining, which is vital to its battery cell production. Particular attention is paid to cobalt mined in 'conflict areas.' The firm aligns itself with the standards of the OECD and the organisation's 'Guidelines on Responsible Sourcing from Conflict-Affected and High-Risk Areas'.
For investors, there is some comfort to be taken from the firm ensuring OECD compliance from not only its direct suppliers but also the sub-suppliers further down the supply chain.
Water
The firm has made considerable progress in terms of its water use. In 2018, it established a water-use baseline for its manufacturing operations of 5.2 cubic metres of water per vehicle. In 2019, it went even further and reduced water usage by 45% to 2.9 cubic metres per vehicle, which compares well with the four cubic meters used to make each ICE vehicle.
Air Quality
The Covid pandemic and associated lockdowns offered a perfect opportunity for scientists to study the improvement in air quality associated while ICE vehicles were off the road. Reports from Europe show an improvement in air quality, which suggests Tesla could go some way to scaling back the 4.2m deaths per year attributed to air pollution.
Social Policies
Tesla's primary aim is to revolutionise the auto industry. Given the scale of that particular project, the CSR projects associated with managing its factories and offices are excusably more 'in-line' rather than 'ground-breaking.' It does, though, adopt an innovative approach to how it interacts with its stakeholders and is particularly focused on training and staff development.
Communities
Tesla does run direct community-based projects, but the conclusions of its IMPACT report largely point to the societal benefits of its electric vehicles.
The smaller carbon footprint and improved air quality associated with its vehicles bring about an enhanced quality of life for communities worldwide.
The technological advances it has made in terms of battery-based energy, particularly in improved power storage, allow both urban and remote communities to move away from using carbon-generated power.
The Active Safety and Passive Safety features are a work in progress but are already reducing the number of fatalities associated with Tesla vehicles compared to conventional ones.
---
YOUR CAPITAL IS AT RISK. 76% OF RETAIL CFD ACCOUNTS LOSE MONEY.
---
Social Policies
The trend among big tech firms is to report on the different social groups that make up their workforce. Tesla does emphasise the importance of developing a diverse workforce and even won the 'Forbes Best Employer for Diversity' award in 2019, and 20% of the Board of Directors are women. The firm does offer a slightly different take on employer welfare and prioritises the development of individual staff members via innovative training programs.
Safety
The section of the Tesla IMPACT report relating to 'People & Culture' kicks off by addressing employee safety. The firm prioritises the training and safety of its staff to the extent that despite the incredible demand for its EVs it occasionally halts production lines to carry out training workshops.
Staff are also invited to contribute to the debate on how the firm is managed with employee engagement in the Find-it-Fix-it programme climbing.
Training
The employee training and development programs have broken the mould in terms of what opportunities modern corporations offer their staff.
Manufacturing Development Programme- A two-year programme for recent graduates from high schools surrounding Tesla's major manufacturing facilities. Participants can start a career at Tesla while continuing their education in automation and robotics at a nearby college.
Tesla Student Automotive Technical Program (START)- An intensive training programme designed to provide college students with the skills necessary for a successful career.
Tesla's Tool & Die Apprenticeship started in 2017, aiming to develop local talent. The 2-4 year program combines on-the-job training with academic learning.
Tesla's Internship Programme- The largest of Tesla's staff development programmes. To date, 1,200 students per year have been involved in this scheme, which provides exposure to every major area of the business.
Corporate Policies
Founder and CEO Elon Musk has a reputation for being something of a wild card who can cause alarm and consternation simply by sharing his views on Twitter. His anti-establishment approach is part of the reason for Tesla's success, but the firm has recently introduced stricter governance measures to ensure his comments don't cross the line.
The IMPACT report's corporate governance section is three pages long and shows a commitment from the firm to ensure its management structures are in line with modern standards. It also confirms that Tesla staff are well-paid and are invited to contribute to the decision-making process.
How Does Tesla Compare to Other Companies?
Tesla's IMPACT report addresses in granular detail how the firm's operations stack up against other car manufacturers. The no-holds-barred report is a rigorous exploration of what the firm does well and what it doesn't. The overall conclusion is that its multi-faceted analysis of the car industry leaves Tesla a clear winner.
The social benefits of switching from ICE to EV vehicles is a big win, and the staff training and development programmes are some of the most advanced around.
From another perspective, any vehicle manufacturer starts from a weak position. Compared to the greenest firms, even the most ethical car manufacturers are just the best of a bad bunch. That being said, while consumers accept individual vehicle use as a necessary evil, Tesla is doing an excellent job of reducing the sector's impact.
How to Invest in Ethical Companies
Choose a Broker
The first step towards buying Tesla shares is finding a trusted broker. The good news is that there are many to choose from, and competition in the sector has driven down the costs associated with investing in Tesla. One golden rule is to ensure your broker is regulated by one of the below Tier-1 authorities.
The Financial Conduct Authority (FCA)
The Australian Securities and Investments Commission (ASIC)
The US Securities and Exchange Commission (SEC)
Cyprus Securities and Exchange Commission (CySec)
Although Tesla is listed in the US on the NASDAQ Exchange, you can buy shares in Tesla from almost every country in the world. Most online brokers offer a market in the shares due to its growth potential and ability to make the news headlines.

---
YOUR CAPITAL IS AT RISK. 76% OF RETAIL CFD ACCOUNTS LOSE MONEY.
---
Open and Fund an Account
Setting up an account with an online broker can take as little as five minutes. It involves answering some questions relating to your trading experience and investment aims. There aren't any right or wrong answers, it's more a case of brokers being able to build profiles for their clients to comply with customer care regulations.
The process is carried out online and can be done using a handheld or desktop device. Once completed it's just a case of wiring funds to your new brokerage account via debit card, credit card, bank transfer or any of the other payment methods your broker supports.
Best Brokers to buy Tesla Stocks:
eToro:
68% of retail CFD accounts lose money
Take a look
If you are ready to add some Tesla stocks to your portfolio you'll need a broker that is regulated, has low fees and a user-friendly platform. Finding one can be a daunting task, which is why we've selected some of our favourites that tick all of these boxes to help you get started.
Research Companies by Using Technical and Fundamental Analysis
You're almost ready to buy Tesla shares, but the best brokers will also offer you the chance to carry out research on your target stock. Optimising your trade entry point can help you enhance gains on long-term investments, and if you can buy Tesla shares during one of the stock's price dips, you'll tilt the scales in your favour. Technical Analysis is a much-used way of studying price history, market momentum and trade volumes, and it can help you get in at the best price level. Fundamental Analysis gives more weight to medium and long-term drivers of the Tesla share price.
A commonly used approach is to use fundamental analysis to decide if you should treat Tesla as a buy or a sell and incorporate technical analysis to determine when the right time is to implement your strategy.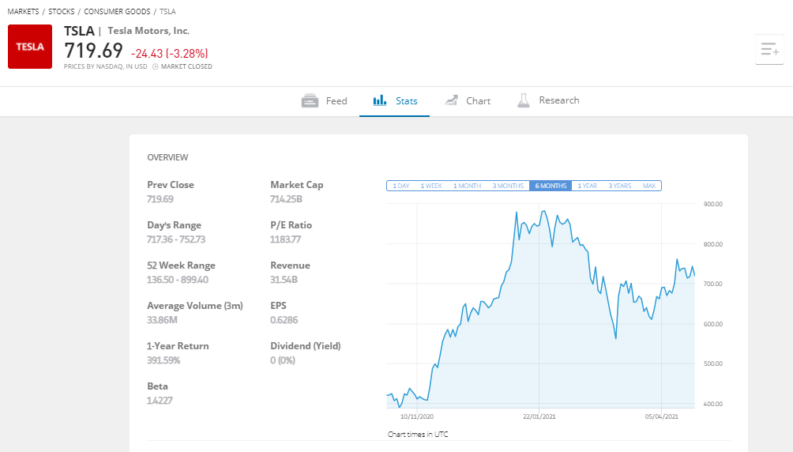 Open an Order Ticket and Set Your Position Size
Your chosen broker is likely to position the fundamental and technical research tools relating to Tesla close to the monitor with which you buy the stock. After your final checks, it will simply be a case of opening a trade ticket, inputting your required trade size into the system and selecting Buy or Sell
If you're unsure about pulling the trigger, there is another way to approach the situation. As there are slight differences between the different brokers, trying out risk-free demo accounts on other platforms will give you an idea of what's on offer from various brokers. Demo accounts are also a valuable chance to test your skills at buying and selling Tesla shares using virtual funds.
There are a few more checks to run before you click or tap the Buy and Sell buttons and execute your first trade in Tesla.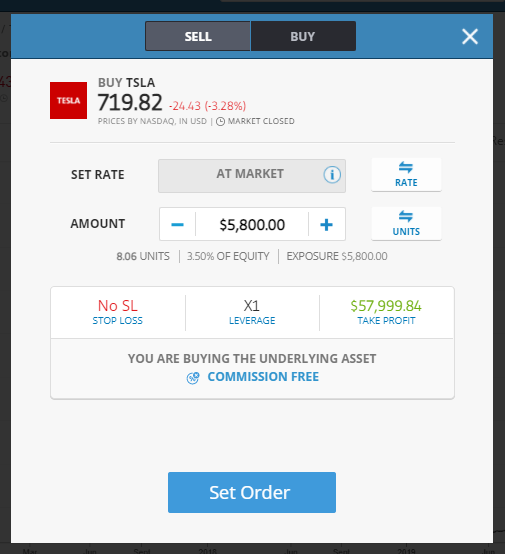 ---
YOUR CAPITAL IS AT RISK. 76% OF RETAIL CFD ACCOUNTS LOSE MONEY.
---
Set your Stops and Limits
Stop Losses or Take Profit instructions are automated instructions to close out part, or all, of your position when the price of Tesla shares reaches a certain level. If you use them, you can leave the system to do a lot of the 24/5 trade management for you and, at the same time, scale back on your risk-return ratio.
Select and Buy Tesla Shares
After building the trade order and inputting your stops and limits, it's time to click or tap 'Buy'. That will trigger an immediate exchange and convert cash in your brokerage account into a shareholding in Tesla. You can then check the fluctuations in the value of your Tesla holding and your P&L (profit and loss) by tracking the Portfolio section of your account.
Is Tesla an Ethical Investment?
Any firm that conducts a review of its CSR credentials as thoroughly as Tesla is confident about its position. The firm's expansive review of its operations quite simply sets a new industry standard.
It's an extremely rigorous report and the firm does come out on top. It compensates several times over once its cars are in use, regardless of whether its EVs are charged via the grid or solar power.
Tesla is one of the most ethical large-cap stocks to invest in, and its incredible share price performance is partly due to those with an ethical bias buying into the stock.