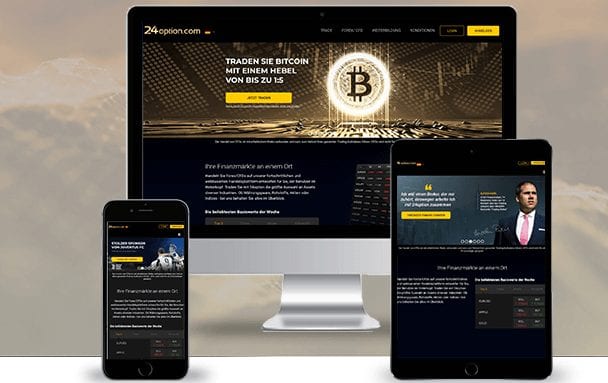 What Makes the 24Option Trading App Special?
With Richfield Capital and Rodeler Limited's aim to make trading accessible to everyone around the world, the companies created a mobile trading app to make room for traders who are always on the go. The 24Option app came out on September 27, 2015 with the promise of faster and smarter trading. The 307.68 KB app can be downloaded for free and offers a beautifully designed interface that is easy to understand. The trading process through the app is intuitive for both Android and iOS, the two most used mobile operating systems. To reach more traders, the app is also available in Windows and it works just as well as its android and iOS counterparts.
With screens and buttons that are large enough for older traders to see, the app makes sure that there is no room for mistakes when trading. Apart from its intuitive interface, the brand made sure to include features that are important to traders. This includes a display for open and closed trades, real-time updates, and access to market news. While there are other trading applications like the 24Option trading app, the 24Option app is special because Richfield Capital and Rodeler understand the fundamentals of trading and kept these in mind while the app was being built. Commission-free trading also makes 24Option one of the best trading platforms around. To download the app, traders only need to visit 24Option's website or the app store.
How Does It Compare to Other Trading Apps?
While trading on the go cannot match the growth of apps such as Facebook or Instagram, most brokers now have their own applications on iOS and Android. In fact, trading via mobile devices is rapidly gaining ground around the world. This is a positive development because there are times when traders just can't get on their computers quickly enough for them to participate in trading opportunities. Even though leading brokers have had their own apps for years, there is still room for improvement. Brokerage firms in general have not yet been able to provide the ultimate mobile trading experience to their clients. Though it should be noted that the aim of many brokers is for them to have a mobile version of their proprietary trading software.
24Option's mobile application is considered convenient for many, but this opinion is not shared by everyone. One complaint is the use of links right on the mobile app. If a trader clicks on a market analysis pertaining to an asset he or she is interested in, the link will lead him or her to a website with the information instead of displaying the whole text in the app. This can be discouraging especially for people who do not have a lot of patience for a link to fully load on mobile. This is a minor complaint though, because when it comes to trading, the app works well and its simple interface is among its best features.
Trading Platform Capabilities
With a clearly laid out trading area, traders can easily find the underlying asset they are looking to trade in. The platform has commodities, stocks, and currencies on the left and the trading window on the right. Right below it are a few buttons that traders can choose from. This includes open trades, orders, trade history, trading alerts, economic calendar, and daily market update. It is also helpful that the trading window always appears on the screen and is updated as soon as the trader selects an underlying asset. If the trader selects commodities, for example, he or she will see available commodities on the left side of the screen. This can include silver, gold, palladium, sugar, cotton, orange, cocoa, coffee, corn, and the like.
If the trader selects coffee, the trading window will display COFFEE followed by a price graph that traders can zoom in. One of its most important features is its trading history where traders can see an overview of the trades they are currently engaged in. They are flagged with their current status i.e. whether the option is worth exercising or not. Both the current price and the opening price are displayed on this screen as well as the expiration of said option. The trade window also shows completed trades which consist of pertinent details such as open and close prices and the trader's net result. For traders to see their balance, they can scroll down the screen to find it.
Look at the Demo
According to several reviews on YouTube, the 24Option trading platform is not really that easy to understand, even if many claim one of its best features is its simplicity. More experienced traders disagree and note that 24Option addresses the information requirements that most traders need when trading while still providing ease of movement. It is natural for opinions to vary and it is suggested that traders take a look at the demo to settle this issue once and for all or to decide for themselves if the layout and the features of the app are right for them.
Trying out the demo also makes it possible for traders to experience trading on 24Option before making a deposit. To do this, traders would need to sign up at the full website. The sign-up button is on the upper right corner of the screen. Opening a demo account does not require traders to provide credit card details or other banking details. The sign-up process is quick and easy, and traders can start playing with the platform as soon as possible (except when trading is closed for a particular market). It must also be kept in mind that the demo account operates on a platinum account's trading conditions which means that the layout will be a bit different if traders choose to pay for a basic account. Traders who have downloaded the 24Option trading app cannot login to the app with a demo account.
The Best Stock Broker or a Scam?
In its over seven years of operation, 24Option has always been transparent about its origins. Richfield Capital, the operator of 24Option international is registered in Belize while its sister company Rodeler Limited, the investment firm that takes care of 24Option's European market, is located in Cyprus and regulated by the Securities and Exchange Commission in its respective country. Addresses, contact details, and license numbers are posted on 24Option's website as well. For years, the brand has done huge advertising campaigns to bring more clients in. As a product of its hard work and its goal to be one of Europe's most recognisable trading brands, it is now an official partner of Italian football club Juventus.
Perhaps one of the biggest roadblocks of 24Option is its reach. While this is a good thing in terms of getting more customers, it also has drawbacks. Offering services to the international market can inspire an online search on its legitimacy since it is not as recognisable as other brands owned by well-known banking institutions. It is natural for traders to do their research first before sending money to brokers, but these frequent online searches and discussions in relatively unknown review sites have hurt the brand's reputation. However, one 24Option review after the other will only tell traders that the brand is indeed a legitimate trading platform and that it abides by existing international laws as well as national laws in the countries it operates in.
Maximum Trader Protection
Aside from having a license under the Cyprus Securities and Exchange Commission (CySEC), the broker is also registered in a number of regulatory agencies in Europe, including:
BaFin,
Federal Financial Supervisory Authority in Germany
Autorité des Marchés Financiers (AMF) in France
Financial Conduct Authority (FCA) in the United Kingdom
CONSOB in Italy
Registration in said regulatory agencies in Europe commands trust among traders unfamiliar with the brand and also gives traders an avenue to air their concerns. Agencies such as BaFin, AMF, and the like have the power to protect traders from losing money they earned on the platform in the event that a broker becomes insolvent.
The possibility of losing money earned through the platform should not be a cause for concern because the brand is a member of the Investment Compensation Fund (ICF). The fund entitles each trader to a maximum of 20,000 euros in case the brand defaults on its obligations. For its international operations, 24Option is regulated by the International Financial Services Commission of Belize. 24Option International does not operate within the European Economic Area and Switzerland and other jurisdictions such as the United States. Traders who would like to get more information about 24Option should take a look at broker comparison sites or give any of the regulating agencies a call.
Access to the Financial Market
One of the reasons why traders love 24Option is the fact that it has brought some of the world's most popular stocks together in one place. This includes American technology giants the likes of Google, Facebook, and Apple as well as stocks from European banking institutions such as Barclays. 24Option offers over 100 different kinds of underlying assets which includes over 40 stocks, 30 currency pairs, 19 market indices, and 11 commodity options. Traders who use this trading platform are spoilt for choice.
The CFD and forex trading platform aims to be the no.1 choice for traders by offering easy access to the global financial market. In addition, 24Option makes it easy for traders to open an account. The trading platform accepts major credit cards such as:
Dankort
Carte Bleue
CartaSi
Discover
Visa
Mastercard
Traders can also use their debit card to pay for the minimum deposit. Other payment options include Qiwi, Neteller, UCash, PaySafe, and Sofort. 24Option also offers a range of account types to traders including basic, silver, gold, platinum, and diamond. Basic and silver account holders need to pay a fee when withdrawing money while gold account holders are entitled to a free withdrawal once a month. Platinum and diamond account holders do not have to pay any fee to withdraw money. It must be noted that fees vary depending on where the trader would like his or her money deposited to.
One of the Best Apps Around
Although there are differing opinions regarding the app's interface and capabilities, the demo shows traders that 24Option has one of the best apps around. It is complete with all the information that traders need and it is easy to navigate. To ensure that novice traders use the app or 24Option's online interface, a tutorial is recommended. 24Option does not provide a tutorial as of this time but once the broker finds that it is needed, it will likely integrate a tutorial in the system to prevent novice traders from relying on video tutorials posted on YouTube.
Overall, 24Option is a good choice for traders who are looking for an advanced interface that is simple and easy to understand. Other platforms have too many features that can confuse novice traders. Trading on the platform also comes with financial protection thanks to the regulatory agencies it is registered in. The website and the app also have SSL protection, so no financial or other pertinent data is leaked or stolen. For traders who are not comfortable with the trading platform due to contradictory information that they find online, it is best to call any of the regulatory agencies or contact Rodeler Limited and Richfield Capital. The website also offers 24/7 assistance to existing and potential customers.
PEOPLE WHO READ THIS ALSO VIEWED: