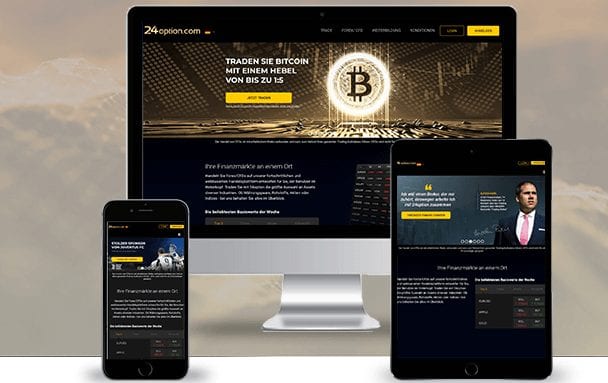 Look for the Best
Also known as a practice account, a demo account is usually a fully functional version of the real-money account version, intended for users to familiarise themselves with the provider's software, with a view to signing up for a real-money account. It is a kind of try-before-you-buy feature designed to give the new user confidence so that they feel they know what they are doing before risking their money on real trades. This article explores the benefits of opening a 24Option demo account for new traders.
The best broker demo account on the market will be the one which emulates the real-money version precisely, the only difference being that the demo account does not require a cash deposit and does not allow funds to be withdrawn. Every trade you agree, every product you invest in is purely hypothetical, even though the app or software follows the movements of the market and stock exchange in real time. Typically, when using a demo account, a new user starts with a nominal balance and can continue to use the account indefinitely.
In addition to a thoroughly developed educational program, set up by the company to provide novice traders with a solid tutorial before they start trading with real money, 24option also provides an intuitive, easy-to-use demo account that is as close to the real software as possible. Before anything else, however, is the glaring negative that a $250 initial deposit is required to begin virtual trading.
A Well-known provider
One of the best-known online trading platforms which appears in many searches for online forex/CFD traders is 24option. So, does 24option have a demo account? The short answer is yes, they do. However, it's not a simple case of registering an email address and away you go. There is an application process akin to the procedure for registering a full, real-money account involved. Moreover, newly registered customers at 24option are required to make a minimum $250 deposit before gaining access to the demo account.
This is potentially off-putting for prospective customers who are making a demo account comparison, as it means tying up money just to see if you like the company's arrangement or not. If a client decides this is not the right provider for them, it then means going through the withdrawal process, something that is often far from reliable and smooth, even on the best quality trading platform. According to the website, there is no obligation to deposit upon registering to 24option. It says that only when you actually want to start trading will you need to make the minimum deposit of $250. This seems disingenuous, as the 24option practice account can't be used if a deposit is not made.
Features on Offer
All browser versions support instant trading with 24option, from Internet Explorer 8.0, Google Chrome 4.0 or Firefox 3.6 which are all suitable for trading. Mobile trading is also supported by 24option. There is a secondary website optimised for smartphones and other mobile devices so traders can access their accounts, check the markets and make trades without the need for a full computer.
Once a user has established a 24option demo account by opening and funding a real money account, access to trading opens up, with four trading categories – currency pairs for forex, stocks, the most popular tradable commodities and indices.
CFDs are available on the best-known standard indices from global powerhouse economies, such as the FTSE, NASDAQ, the Dow Jones Industrial Average, the DAX, the CAC 40 and MICEX. 24option offers CFDs on Silicon Valley technology stocks such as Facebook, Google and Apple. Traders with 24option are also able to take positions on the stocks of European banking giants such as Deutsche Bank, Barclays and Sberbank.
The firm has recently taken the step of adding a CFD and forex brokerage service. Up to 200:1 leverage is offered on forex trades, although this does not apply across the board as some currency pairs are restricted. There is a wide range of currency pairs on offer at 24option including the euro, the US dollar, the Japanese Yen, the UK pound, the Australian dollar and the Swiss Franc. Traders with 24option have access to the ubiquitous MetaTrader4 alongside the company's proprietary platform.
Cryptocurrencies with 24option
With the recent popularity and stellar news around cryptocurrencies in the last few years, this is not an opportunity to be missed by hardened or budding investors. 24option was one of the first platforms to offer trading CFDs on cryptocurrencies with five of the most popular digital currencies currently available for trading as CFDs: Bitcoin, Ripple, Ethereum, Litecoin and Dash. In light of this, the company has also said that it is always on the lookout for the latest popular currency so they can make a CFD of it available to traders. The website includes a comprehensive beginner's guide which explains what cryptocurrency is to those who find this emerging asset class mystifying.
The website includes a sage warning about cryptocurrency being a highly volatile instrument: "The value of digital currencies tends to change very quickly. Therefore, there is no guarantee that the cryptocurrencies' value will remain stable. We highlight the growing popularity of the digital currencies. Yet, we warn our clients that there is a number of potential risks when dealing with CFDs on virtual currencies – the main being their inherent volatility."
Break into the world of cryptocurrencies and demystify this sometimes-baffling commodity
Practice trading with Bitcoin, Ripple, Ethereum, Litecoin and Dash
Further diversify your portfolio across digital and normal currencies
Account Types
Above the 24option demo account, there are four trading accounts available. The Basic account tier at 24option has a minimum deposit requirement of £250. This account gives access to exotic currency pairs with spreads down to seven pips and major pair spreads down as low as three pips. Spreads in minor pairs are offered as low as four pips. MetaTrader 4 comes with the Basic account package along with 24option's own proprietary software, giving access to one-click trading.
The second level of account available at 24option above Basic is called Silver. It has a minimum deposit requirement of £2,000 and includes a personal trading coach and additional trading alert notifications.
Next is the Gold account, which isn't available unless you make a minimum deposit of £25,000. 24option's Gold account includes all the utilities and benefits of the Basic and Silver accounts, with the inclusion of alerts over email and text message and a bonus of 2% on every trade made.
Carrying a minimum deposit of an eye-watering £50,000 is the Platinum account. It adds access to live training sessions and a dedicated research website for extra trading insights, and adds a 4% bonus which is added to each trade they make.
The top-level account at 24option is called Diamond and can only be accessed through an account manager. It has all the features of the Platinum account, except with an unspecified minimum deposit and tickets to all European matches of the company's sponsored football team, Juventus FC.
One of the Safest
24option is under the management of a holding company called Rodeler Ltd. The broker is regulated and licensed by the Cyprus Securities Exchange Commission.
When clients wish to withdraw funds from their account, they must first go through a verification process. This involves providing a copy of an official form of identification, preferable a driver's licence or passport. Secondary identification providing proof of residential address must also be provided, this could be a utility bill or credit card statement. If the withdrawal is to be made to a credit card, 24option requires you to provide a scan of the front and back of the card in question. Every time you wish to add a target account for withdrawals, this process needs to be repeated.
The company is based in Cyprus, so all operations are carried out during their local business hours, between 9 am and 4 pm Monday to Thursday, and 9 am to 1:30 pm on Friday. 24option levies withdrawal fees on the Basic, Silver and Gold accounts. On credit and debit cards, there is a 3.5% fee, for Skrill, the fee is 2%. Neteller carries a 3.5% fee, and wire transfers are charged at £20. Gold accounts include one free withdrawal each month. Platinum and Diamond accounts are not charged for withdrawals.
Practice trading with full peace of mind that your security details are kept secure
Regulated by the Cyprus Securities Exchange Commission
Verification process to withdraw funds
Simple Guidance and Feedback
Some trading websites simply offer the platform and do not offer any guidance on how to go about deciding on trades. Along with the 24option practice account, this company offers user-friendly explanations on their website, for example: "There are many things to consider when trading forex. These choices become even more important for many individual traders because they aren't trading forex for a living, but are rather part-time traders, with other jobs and commitments. This can make things extremely difficult in a fast-moving market like the currency markets, but there are some strategies you can follow to help you have a better chance at success when trading forex, even if you're a part-time trader.
Customers who have used the 24option demo account reported mixed reviews. The majority of negative user comments across review websites could be put down to customers failing to properly understand the terms and conditions which are laid out in a fairly disjointed manner. It is not difficult, however, to take the time to read up and familiarise yourself with exactly how the site works, especially if you are planning to risk real money.
Positive comments were equal in number to the negative ones, although there is a general feeling that while the tools available are some of the most comprehensive on any trading website, the fees, charges, and deposit minimums are high when using a real-money account. It is widely accepted that this is one of the biggest and most reliable providers available over the internet.
Is this Company Worth Using?
Every 24option review that can be found says the company is definitely legitimate. When making a broker comparison between this and other companies, it's easy to see that 24option, while it is one of the bigger, more trusted platforms, is also one of the more expensive. The higher tier accounts have very high deposit limits out of reach for all but the wealthiest traders and even the 24option practice account requires a real-money deposit before it becomes functional. Many of these factors could turn many potential customers away from using the app, especially as the demo account does not enable users to cash in on their profits. Overall, this gives the sense that the practice account is a lot more hassle than it is worth and that for the customer's outlay there is little reward. Despite this, the account still offers a great, real-time experience of trading and investing across several markets, including currencies, cryptocurrencies and stocks. For anyone who can get together the $250 deposit, there is still much to be gained from this product.
PEOPLE WHO READ THIS ALSO VIEWED: