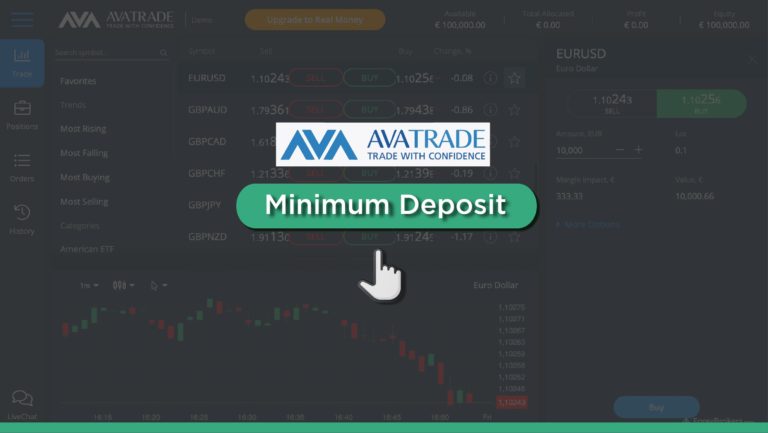 AvaTrade Minimum Deposit Amount
The minimum deposit for opening an account with AvaTrade is just £100. Available deposit methods include debit card (Visa/Mastercard), bank wire transfers and e-wallets such as PayPal, Skrill and Neteller.
For non-UK traders, the initial minimum deposit amount is:
| | | |
| --- | --- | --- |
| Currency | Minimum Deposit | Availability |
| GBP | £100 | U.K. |
| USD | $100 | Rest of World |
| AUD | $100 | Australia |
| EUR | €100 | Europe |
Because AvaTrade is focused first and foremost on the convenience and satisfaction of its customers, the deposit is one of the lowest among various forex trading companies. This minimum deposit amount is aimed at traders who want to get started in the business but do not have a large amount of start-up capital.
With AvaTrade, new customers receive a sign-up bonus. This bonus is determined by the initial deposit but can be up to 40% of the deposit and helps beginners find their feet.
Although many other forex brokers charge a similar fee of the minimum $100, and some even charge extremely low fees – as low as $10 – these brokers do not include the same benefits that AvaTrade offers for its customers.
AvaTrade Minimum Deposit vs Other Brokers
| | | | | | | |
| --- | --- | --- | --- | --- | --- | --- |
| Broker | AvaTrade | Plus500 | eToro | Pepperstone | XM | IG |
| Minimum Deposit | $100 | $100 | $200 | $200 | $100 | $300 |
At the entry-level, the AvaTrade min deposit still presents the options of assistance and additional education to even the most inexperienced customer.
And while this minimum deposit fee might seem like too little to trade with, the fact that AvaTrade offers over 59 trading pairs and 250 different trading instruments makes it a sufficient deposit amount to trade with success as a beginner or less experienced trader.
Avatrade Deposit Methods
For traders in the UK, you can deposit funds into your AvaTrade account via Credit Cards and Wire Transfer. But before funding your account, please make sure that the verification process of your account is completed and that all of your uploaded documents have been approved.
Payment made via credit cards will be transferred instantly to your trading account, while deposits by wire transfer can take up to 10 business days, depending on your bank and country.
Steps to Deposit
The first step is logging in to your AvaTrade account, then go to the 'Deposit' section


Click on 'Fund your account' and select your preferred method.


Then, select the specific trading account you wish to deposit into from the drop down menu.

Enter the amount you wish to deposit and add the payment method details into the fields.



Lastly, click on "Deposit" to complete the transaction.
AvaTrade Withdrawal Methods
The first thing you need to ensure before making a withdrawal from your AvaTrade trading account is to confirm that your account is verified. The AvaTrade UK withdrawal process takes only one or two working days.
As a result of international anti-money laundering regulations, withdrawals can only be sent via the payment methods by which you funded your account.
Essentially, currency accepted in making deposits and withdrawals for traders in the UK is GBP.
Wide Range of Automated Trading Platforms
Various automated trading platforms are offered to AvaTrade users as a means of increasing success for the individual trader and appealing to their unique trading preferences.
This function allows the trader to use the advantages of Mirror Trade, which mirrors strategies tried and tested by professionals and incorporates their history of successful trading into the trader's methods.
One of the most popular automated platforms for this is ZuluTrade, which offers professional trading recommendations from programs and experts which can be utilized in the trader's account.
The various available trading platforms with AvaTrade make for a convenient and interactive trading process with the best available forex platform options in the world.
AvaTradeGo
MetaTrader4 (MT4)
Mac Trading
Mobile Trading
MT4 Floating Spreads
The MQL5 Signals Service platform also provides UK users with the option to link their accounts to trading signals from signal providers both in the UK and around the world.
This function then mimics the chosen trading patterns via the signals and applies them to the users trading methods and strategies. This method adds the benefits of faster trading execution and tighter spreads.
By this, it is meant that the difference between buying and selling price, counted in pips, is less. Customers can also choose between fixed and floating spreads, which continuously fluctuate.
Spreads from as low as 0.8 pips are available, making AvaTrade one of the most competitive contenders for best forex broker globally.
CFD and Cryptocurrencies
Cryptocurrencies Trading with AvaTrade
The low fees available for AvaTrade customers extend to all aspects and trading platforms, including the five major cryptocurrencies in today's trade market with an AvaTrade minimum deposit of $100.
Bitcoin (BTC),
Bitcoin Cash (BCH)
Bitcoin Gold (BTG)
Ethereum (ETH)
Litecoin (LTC)
Ripple (XRP)
EOS
Trading with cryptocurrencies is beneficial for traders because it offers diverse currency options with values that fluctuate according to global supply and demand, creating unexpected potential at any time.
A cryptocurrency wallet is also safe from theft or hacking, which guarantees the security of online trading. Cryptos are traded 24/7, unlike the 24/5 availability of standard forex trading services.
Crypto trading, like AvaTrade's other services, is available in 14 languages and is also available on the numerous platforms that AvaTrade offers.
CFD Trading with AvaTrade
In addition to forex and crypto trading, AvaTrade offers CFD trading options for their customers. CFD, which stands for Contract for Difference, allows customers to make money off the differences in stock prices as they change between the opening prices and closing prices.
This option gives users access to a broader range of markets accessible on the automated trading platforms, and AvaTrade does not charge a commission on these shares.
AvaTrade is one of the first online brokers in the world to offer this service to their customers and allows customers to create a 21-day demo-account to explore the CFD option before paying the AvaTrade deposit fee for a standard account.
AvaTrade's Global Reputation
A detailed forex broker comparison was conducted by BrokerNotes in March 2018 among three of the largest trading companies in the UK: Avatrade, IG and LCG. Avatrade was ranked first, with an extensive list of reasons why. Firstly, Avatrade is regulated by five major organisations:
Central Bank of Ireland
Financial Services Agency(FSA) in Japan
Financial Services Board (FSB) in South Africa
British Virgin Islands (BVI) Financial Services Commission
Australian Securities and Investments Commission (ASIC)
In general, Avatrade's fees – specifically the Avatrade deposit and spreads – are lower than other brokers' and offer a greater variety of trade markets and instruments. At $100, the Avatrade min deposit to set up a standard live account that provides customers with additional trading advantages. A free demo-account allows potential customers to test the services first and get comfortable with the world of online trading before signing up for a paid account.
Avatrade also has the most funding options between the three brokers, including PayPal and Neteller. There are 59 forex trading pairs offered, including exotic forex pairs. With their global services reaching 150 countries, they possess a large customer base across South Africa. Just one example of their reputation is that Avatrade was ranked second best of all the forex trading brokers in the country in May 2018, according to Top 8 Forex Brokers.
Guaranteed Trader Benefits
Avatrade hosts various seasonal promotions and bonuses online throughout the course of each year which assist traders in increasing their positions in the trading business. For the month of May in 2018, new trader accounts received bonuses determined by their initial deposits.
With the Avatrade minimum deposit at 100 GBP/ EUR/ AUD/ USD, for this promotion, new users could receive up to 40% of their deposit back as a bonus, with the maximum bonus being $16,000.
The option between fixed and floating spreads proves to be highly beneficial to traders as it acts as an extra opportunity to make money. Traders therefore make money off of the unpredictable and changing differences between buying and selling prices.
This is only one example of the promotions that run on Avatrade.
Other trader benefits include the regulated security of the platform, the option to trade cryptocurrencies, permittance of scalping and hedging.
Besides, professional assistance with trading and the ability to leverage higher positions, up to 400:1, meaning that margins can be decreased and the fact that traders can build up the money they need to take necessary trading actions.
There are no extra charges for inactivity or withdrawals, which allows traders to save money. Traders have the added exclusive benefit of additional trading education tools which can be used to increase their trading success.
These educational tools include videos, webinars, eBooks and online training courses that are included in the original account activation deposit fee.
Reliable Security Measures for Client Funds and Identity Safety
AvaTrade is a licensed investment firm that has official regulations from five different areas, as mentioned above. They consider customer safety to be their primary concern and take all the necessary precautions to ensure this safety.
By being regulated in Ireland, the British Virgin Islands, Japan, Australia and South Africa, AvaTrade is one of the safest online platforms to trade with because of their careful management of clients' assets.
Clients can rest assured that their finances are in safe hands with AvaTrade's credible reputation approved by organisations like ASIC, FSB and FSA. These regulations ensure that the procedures of financial management and reporting are conducted transparently and follow the necessary strict requirements.
The internal security measures taken by AvaTrade include a 256-bit SSL encryption across the website to prevent hacking, a True-Site identity assurance seal to protect user identities and personal information, and the garnering of approval from the American Institute of Certified Public Accountants as WebTrust certified, making it an undoubtedly secure online option.
Besides, they also use McAfee Secure to prevent hacks and identity theft and keep all client funds in separate accounts from those used for the AvaTrade business funds.
This gives clients the guarantee that their money is safely stored and the best security protects their details.
Quality Customer Service
According to an AvaTrade review published on Recommended Forex in 2018, AvaTrade is rated at 9.4 out of 10 for the many essential characteristics it possesses, one of them being its user-friendly and focused platform.
AvaTrade is open to all traders, regardless of their level of experience. Less experienced traders are encouraged to make use of a variety of learning platforms.
Their educational resources consist of courses including Trading for Beginners, Sharp Trader, Forex eBook and free training video tutorials and webinars for traders of all levels to help improve their skills and abilities.
These tools are designed to help traders learn the economic market and stay up to date with the latest news in finances.
In addition to 24/5 assistance via live chat, email or phone, AvaTrade assists in 14 different languages to ensure all customers can be helped. Upon the customer's first $1,000 deposit, AvaTrade assigns an Account Manager to the individual trader to guide them in their future financial decisions.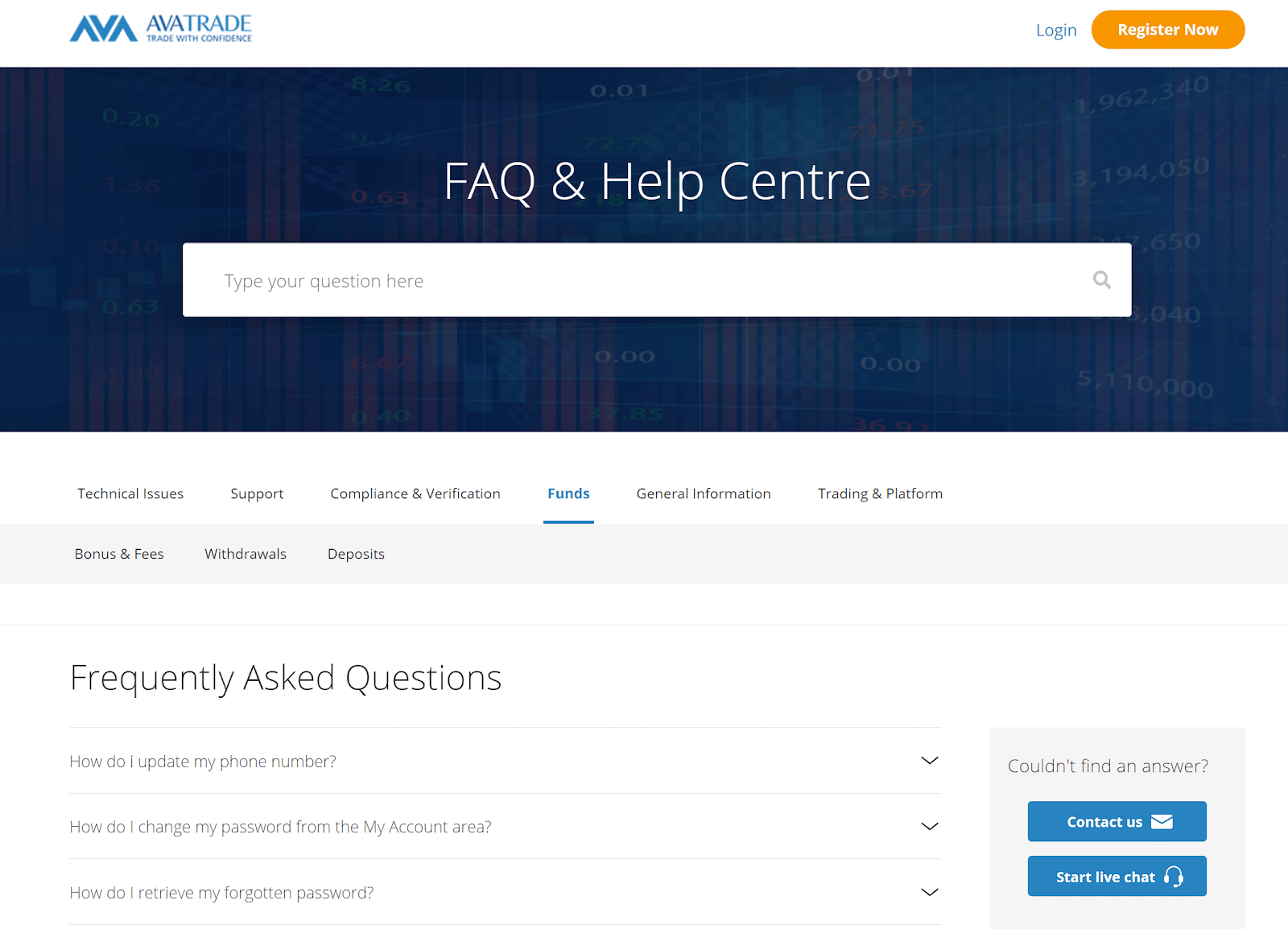 The numerous choices that AvaTrade makes regarding platforms, currencies, markets and advanced security, and the numerous awards they have one, such as Most Reliable Broker in 2015, relay their key message of excellent customer service clearly.
A Final Word on AvaTrade
Online forex trading continues to churn out new platforms with lower deposits or tighter spreads, but few brokers have most or all the desired advantages wrapped up in one the way that AvaTrade does.
For traders, whether beginners or experts, the keys to look for in a forex broker are excellent customer service, endless opportunities for success and a true atmosphere of support for each individual.
AvaTrade objectively offers this to all clients, whether starting with a £100 deposit or going in with ten times as much, showing that all their customers are valued, not just the experienced or professional traders. The benefits of educational tools, available representatives and ample platforms and currencies to choose from make it a welcoming option for traders, not only in the UK, but across the globe.
Aside from the apparent benefits, they also have a highly credible reputation and multiple regulations and trading licenses throughout countries like Japan, South Africa and Australia, who can vouch for their quality service and security. With the guaranteed safety of your money and identity, AvaTrade leaves little to be desired.
People who read this also viewed: