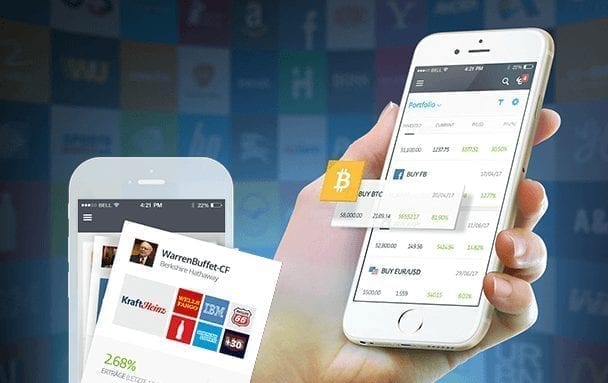 Why Choose Social Trading?
Before we go through how to close an eToro account, let's look at why social trading has attracted millions of clients in a few short years.
eToro owes its major success to its CopyTrader technology, which allows you to automatically mirror the trading activity and portfolio of another. The theory is that if someone is successful and you copy them, you have a better chance of making a profit than if you were venturing into the trading wilderness on your own. Whether you lead or follow is up to you, but the technology is designed to make your strategy work for you as much as possible. Moreover, it seems that according to information supplied by eToro, this strategy works – since copy trading launched in 2010, approximately 78% of all copied trades were closed in profit (data was taken in August 2017).
Other reasons driving uptake of social trading:
It is intuitive and mimics social media. Using social features for online trading is intuitive for both new and experienced users. There is less of a fright or immersion barrier than with conventional trading.
Diversifying lowers your risk. Diversity is essential to lowering risk when trading and avoiding having 'eggs in one basket' syndrome. On eToro, by copying different traders, it's easy to spread your investments.
The CopyTrader functionality is transparent. Each trader's portfolio, risk score and track record is shown, so you can make a decision based on fact when deciding whom to copy.
eToro Trading Instruments and CFD Explained
Almost all trading across every instrument or asset class is done via CFD on eToro. The instruments available are stocks, commodities, currencies, ETFs, indices and cryptocurrencies. CFD allows you to trade with less upfront capital and can be absorbing. It's not far-fetched to think of CFD as the Candy Crush of trading.
In CFD, or contract for difference, you bet on instruments, such as the ones mentioned. CFDs or spread betting lets you profit from the up or down price movements of a financial asset if you've correctly predicted the price would go up or down.
You sell or go short if you reasonably foresee that prices will go down, or buy (go long) if you think prices will increase. You can purchase or sell several units at a time. For every point the price of the instrument, such as a unit share price, correctly moves the way you called it, you gain multiples of the number of CFD units. Similarly, you can lose in multiples. Losses can exceed your initial deposit.
You can also trade on margin. You don't own the asset you're betting on and trade on margin instead, that is, you advance a small deposit as a tiny percentage of the total value of the trade in order to execute. So, you can make a lot trading on margin with only a small amount put down. Nevertheless, you can also lose a lot, as your loss, too, is based on the total value of the CFD position.
Why the Need to Close an eToro Account
Before we look at how to close an eToro account, we need to find out why you may want to do so. The latter is actually at the heart of this eToro broker comparison. If eToro is so revolutionary, why are many people specifically having difficulty closing their accounts and why would they want to? There are problems related to both form and substance.
Some people feel it just isn't working for them. CFDs, after all, are not for everyone. Losses can exceed deposits, although eToro has put indirect safety measures in place so that, for example, you cannot go into a negative balance.
The trading platform is unstable and unreliable on occasion, freezing up. Given the nature of CFDs, this could be the difference between making and losing money. You cannot recoup losses from eToro on the basis that their platform failed you at a critical time. There is no doubt they need to improve – their website navigation, too, freezes sometimes. The website isn't as sleek as it should be. In fact, the navigation and order of information are counterintuitive in some places. It is this lack of fine-tuning that is besetting processes too, although it surely is simply a matter of time before this is polished.
Customer service is erratic. Given that critical decisions are at play and cash sums too, any broker needs to have a solid, consistently performing, accessible customer service offering.
How to Delete and How to Close Your eToro Account
eToro allows you to 'temporarily disable' your account. This means that should you want to return, it can be reactivated. Before your account can be disabled, all open positions must be closed and money must be withdrawn.
If, like some people, spam and information emails are vexing you, you can either:
Unsubscribe from marketing, information and analysis emails
Create a rule so that these emails go to a folder other than your inbox and you can read or action the mails at a time of your choosing
It doesn't help that in the FAQ section and the automated chat box, the answer to the question 'How to close eToro account' is either not addressed or done vaguely. You'll get a directive to write to customer support.
If you want to delete your account, either follow the customer service prompts as per the support ticket assigned or do the following:
Go to "https://www.etoro.com/support/" and log in to your account.
A form will come up and you need to fill out the relevant details. In the subject line, use
CLOSE MY ACCOUNT.
Under the Type of Query drop-down menu, select My Documentation, Profile and Others.
Now select CLOSE MY ACCOUNT.
Finally, provide the reason for your exit. You may not want to but this may improve the service offering over time. Then, submit.
The process takes about 72 hours. Remember that eToro explicitly calls this 'temporarily disabling' your account.
How to Withdraw Funds
Since you will need to withdraw all of your funds before you close the eToro account, let's talk through that in this part of our broker comparison. Funds can be withdrawn up to the value of the balance in your account, minus the amount of margin used. You can only withdraw from an account that has been verified, and the minimum withdrawal amount is $50.
Funds are withdrawn using the same method you used to make your deposit and sent to the same account previously used for your deposit. Therefore, another useful point to is to make sure all of your personal details are in order to make sure that none of your capital goes missing or is sent to an out-of-date account. Payment will be made in the following order of priority: credit card, PayPal, bank transfer. Most withdrawals take one to two working days, but it can take up to eight days for a debit/credit card transfer and for a wire transfer.
A fee of $5 applies. Conversion fees apply in other currencies. You will see the withdrawal amount once you've entered the transaction in the cashier, and at this point, you can still stop the withdrawal. You'll see if your withdrawal has been successfully processed in your transaction history. You'll also get a confirmation email.
eToro and Your Data and Information
If you're wondering about closing an account, you probably also have lingering questions regarding whether eToro has collected information on you and what will happen to it. The short answer is yes; they have collected data. This is made explicit in the privacy policy. Among other things, eToro says they collect information to help them improve and to tailor product offerings while minimising and reducing fraud.
The company will also, in certain circumstances, give your information to third parties and will share it with:
Other companies within their group
eToro's service providers, including IT hosting companies
Banks, financial institutions and credit reference agencies
Payment service providers
Third-party companies in the event that eToro is involved in a corporate transaction such as an actual or potential merger, joint venture, consolidation or asset sale
eToro retains your information for different lengths of time, depending on why they collected it in the first place. If you have an account with eToro, they will store your personal information for the duration that the account is open and maintained. They will also do so 'for as long as [they] are required to by laws and regulations that are applicable to us'. This effectively means they are keeping your information without telling you for how long. It will be interesting to see if they become more transparent following the outcry over Facebook's data harvesting.
Customer Service
If customer service is a reason for people to close their eToro account, we need to have a closer look at it. It seems eToro gained many new clients at the end of 2017, thanks to Bitcoin going through the roof. In terms of economy of scale, eToro has yet to adjust their customer service so it can keep up with the demands of a swollen client base.
You can call or email with your query, but the response times are not very good. Compare this to the same-day email responses of leading stock brokers, and they come up short. Some people report waiting for one to three weeks for email responses that do not get to the heart of their query. This is frustrating because you are assigned a ticket when you contact customer service, and wait for that ticket, only to find that it may be lost. Customer service also lacks the depth and scope to answer moderately challenging questions that are not yet in the realm of difficult.
Your assigned account manager, in theory, should help you when you first join. However, they too are not that adept or enthusiastic about doing all they can to resolve queries.
There should not be too much of a language barrier when you do get through though, as customer service is available in several non-English languages. Agents are not rude or impatient but could simply do with more in-depth training.
Should You Close Your eToro Account?
For all its faults, eToro does provide a revolutionary way to trade, and despite consisting of two entities, is definitely not a fraud, is decently regulated and a successful company. It is the only and, therefore, best social trading broker. It will likely remain that way, even if the competition comes for it.
It does not sit comfortably in the traditional 'financial broker' industry niche, as it also spans the fintech role, but this only underscores how this start-up has already revolutionised things. Your mechanism for trading is limited as you can only use CFDs. It is not ridiculously expensive as fees are in the average range.
The proposition remains unique and a good one in theory – how workable it is will be up to your individual experience with the app, customer service and so on. Although CFDs can be risky, the whole point of social trading is to minimise some of that risk. eToro should be more forthcoming with information on its financials, its data policy and more. It should also invest in human resources, training, technology and whatever else will help it to cope with economies of scale. If it can fix this, there's no harm in going the social trading route.