Online broker DEGIRO stands out from its peer group due to its market-leading low fees. What's more, the pricing schedule covers a wide variety of trading styles, so whether you are a buy-and-hold or a high-frequency trader, it is certainly worth considering as a home for your trading activity.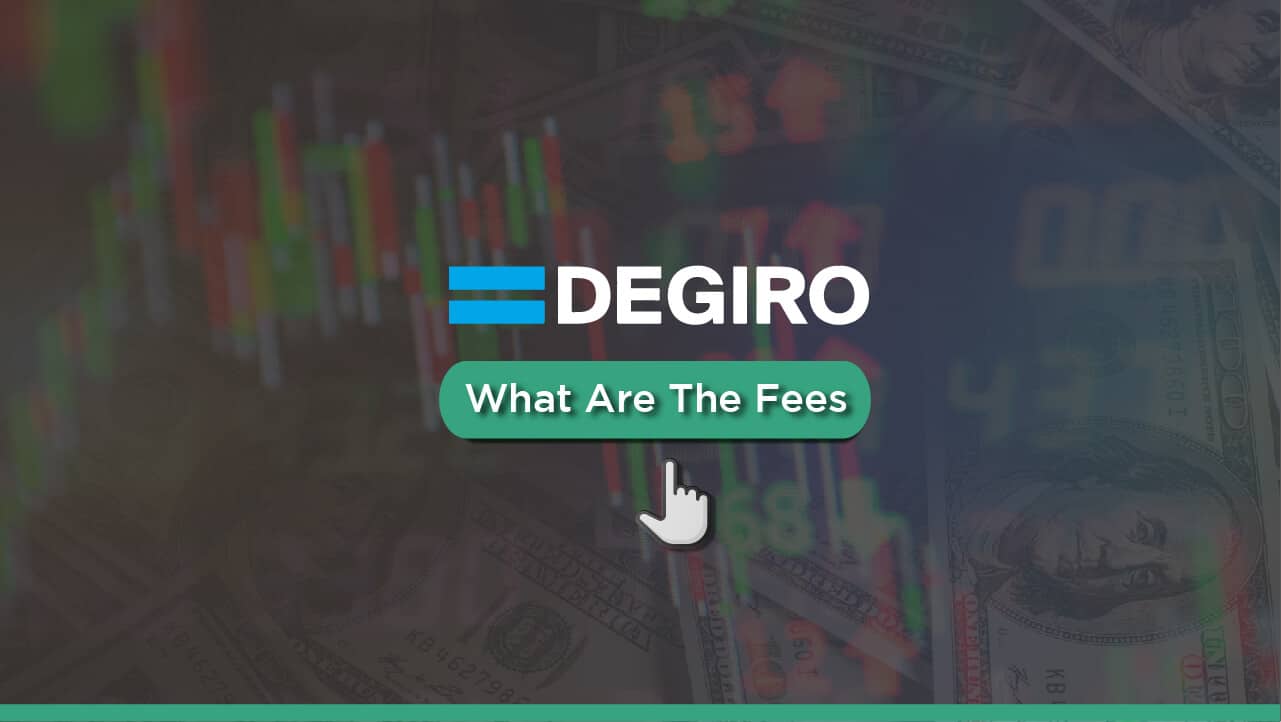 ---
---
Even a quick glance at the DEGIRO fee schedule confirms that the broker is on your side. Frictional costs erode returns, and there are enough risks in the market to contend with to make selecting a low-fee broker a priority.
In this guide, we'll share our findings on:
Before We Get Started, Take A Look At Our Other DEGIRO Guides: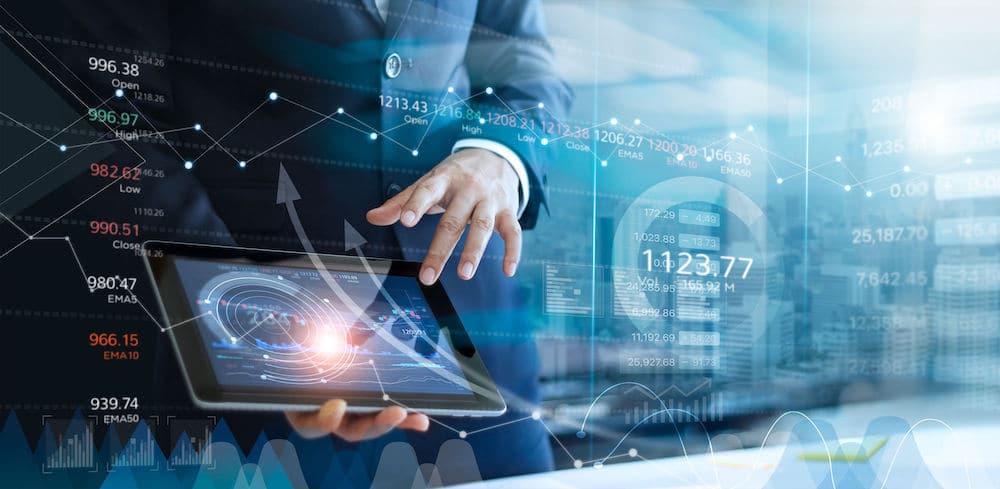 What are the fees at DEGIRO?
Not only are DEGIRO fees low, but the information is laid out in a simple and straightforward way. It's probably not too much of a surprise that the stronger firms are the most transparent.
The table below provides a direct comparison to other well-known brokers. It's easy to use, and at times, throws up eye-watering results. If you're trading equities with DEGIRO, then cost savings can be as much as 81%. If you're trading Exchange Traded Funds (ETFs) the savings can be 100%.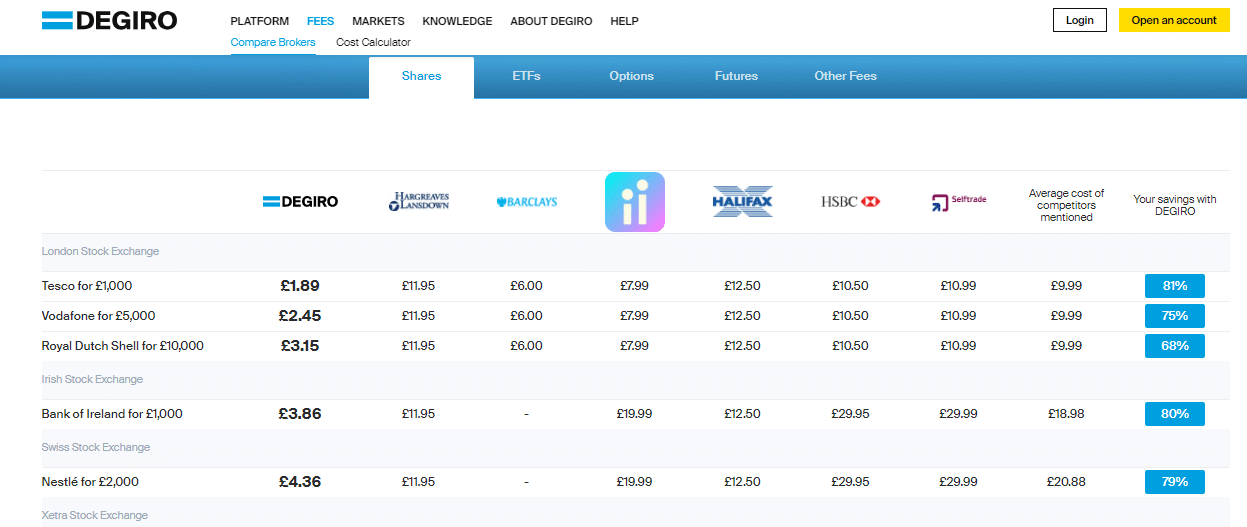 There are three more cost items to keep in mind. Breaking these items out into separate categories means that trading costs are attributed fairly rather than bundled up and applied across the board.
DEGIRO Fees
Trading Fee
The trading fee is a brokerage fee charged when you buy or sell stocks. DEGIRO's charged trading fees include stock and ETF fees, fund fees, bond fees, options, and futures fees.
Non-trading fee
Non-trading fees include charges not directly related to trading, like withdrawal fees or inactivity fees. DEGIRO's non-trading fees include withdrawal, inactivity, crypto transfer, and management fees.
Degiro Trading fee
Degiro Stock Fees and ETF Fees
At DEGIRO, stock, ETF, and warrant fees are the same. The fees are usually calculated as a flat fee plus a percentage of the traded volume. In the UK, the commission fee is counted as £1.75 + 0.014% and a maximum of £5.
Degiro Fund Fees
DEGIRO is known for its low fund fees. Similarly to stocks, DEGIRO charges a flat and a volume-based fee for funds. Its commission for a $2,000 fund purchase is $10.3
Degiro Bond Fees
DEGIRO's commission of a $10,000 government bond trade for the EU government bond is $10.50.
Degiro Options Fees
Just like any other DEGIRO fees, DEGIRO Options fees are relatively low compared to other brokers. A connectivity fee of €5 per calendar month will be charged using US stock index options markets.
Futures Fees
Like Options Fees, a connectivity fee of €5 per calendar month will be charged using US stock index options markets. Additionally, DEGIRO has a charge of €1 for Exercise/Assignment/Cash settlement of futures.
DEGIRO Currency Conversion Fee
DEGIRO currency conversion fees depending on the currencies that you would like to convert. For automatic currency conversion, DEGIRO charges 0.1% of the transaction value (above the current spot rate). For manual currency conversion, DEGIRO charges €10 + 0.02% of the amount.
Low Cost Degiro Alternatives
eToro:
68% of retail CFD accounts lose money
Take A Look
Admirals (Admiral Markets):
Impressive range of assets
Take A Look
If you are looking for a reliable broker with low fees and fair conditions then this is who we recommend. All have been reviewed by our team and have been found to offer a low cost way to trade.
Degiro Financing Rates
| | | |
| --- | --- | --- |
| | DEGIRO | eToro |
| Apple CFD Financing Rate | – | 10.3% |
| Vodafone CFD Financing Rate | – | – |
| EURUSD Financing Rate | – | 3.8% |
| EURGBP Financing Rate | – | 3.0% |
DEGIRO Non-Trading Fees
DEGIRO has no account, inactivity, withdrawal, and deposit fees.
DEGIRO Withdrawal Fees
DEGIRO has zero withdrawal fees.
DEGIRO Inactivity Fees
DEGIRO has zero inactivity fees.
DEGIRO Crypto Transfer Fees
At DEGIRO, the cost for crypto is €4 + 0.05%, capped at €60
DEGIRO Management Fees
Other management fees will be charged on DEGIRO.
DEGIRO Non-Trading Fees Vs. Other Brokers
DEGIRO
Plus500
eToro
Withdrawal Fee
$0
$0 (a charge may be incurred on
the 5th withdrawal of the month)
$5
Deposit Fee
$0
$0
$0
Inactivity Fee
No
Yes
Yes
Account Fee
No
No
No
DEGIRO Withdrawal Fees and Options
DEGIRO
Plus500
eToro
Bank Transfer
Yes
Yes
Yes
Credit/Debit Card
No
Yes
Yes
Electronic Wallets
Yes
Yes
Yes
Withdrawal Fee with Bank Transfer
$0
$0 (a charge may be incurred on
the 5th withdrawal of the month)
$5
DEGIRO Inactivity Fees Vs. Other Brokers
| | | | |
| --- | --- | --- | --- |
| | DEGIRO | Plus500 | eToro |
| Inactivity Fee | No | Yes | Yes |
| Inactivity Fee | $0 | $10 per month after three months inactivity | $10 per month after 1-year inactivity |
Why are DEGIRO fees so low?
Online brokers such as DEGIRO have revolutionised the retail investment industry. Self-managed accounts offer security in line with online banking, just with a chance to make a better return on your savings.
DEGIRO was founded in 2013 and fully embraced modern technologies. Its next-generation status has allowed it to slash operating costs and pass these savings on to investors without having to scale back on the quality of service.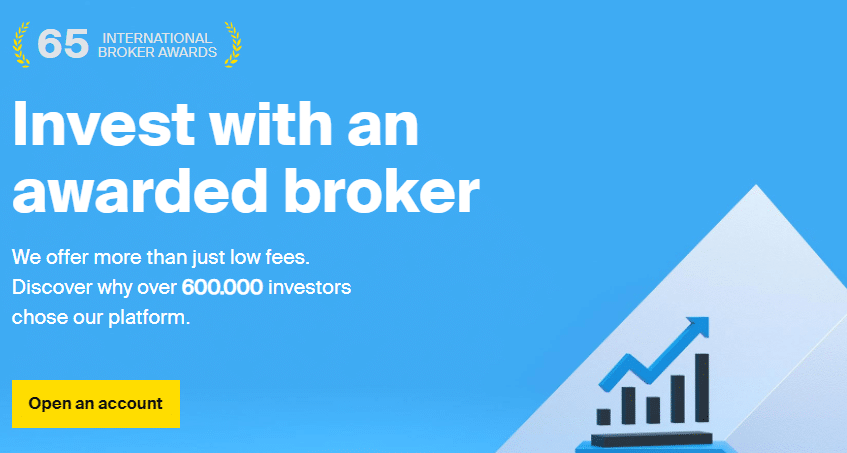 The fact that DEGIRO now boasts more than 600,000 clients is a sign of its success. Not only does it mean the broker comes with a degree of stability, but very importantly, it also allows it to keep costs charged to its clients at bargain levels.
In technical terms, it doesn't cost the broker much more to support 60 or 600,000 clients. Getting things right and building up the client base is a win-win for all concerned.
DEGIRO demonstrates:
Adopting the latest technologies to increase operating efficiency
Success breeds success – the client base continues to expand making lower fees possible
Market position – a commitment to build its reputation as a low fee but high-quality broker
FX Credit and FX Withdrawal entries
This is not a fee, rather how the foreign currency element of a trade you put on is booked in your account's base currency.
If your account is denominated in EUR and you buy an asset in USD, then even if the price of the asset remains unchanged, the value of the position, in euro terms, will change in line with EURUSD exchange rate moves.
DEGIRO Exchange Connection Fee?
To keep things fair, DEGIRO employs a pay-to-use policy in its pricing. If you want to take upgraded price connectivity, then there is a charge. This is an optional item and has to be requested. If you don't require live prices, then you won't be charged a fee.
Information is power and the exchanges such as the London Stock Exchange are all too aware that the price data they hold has a value. As they charge DEGIRO to access live prices, DEGIRO, in turn, passes that cost onto those clients who consider it a price worth paying.
Those strategies that do require faster price feeds and technical support will pay €2.50 per annum for each exchange (with the exception of the London Stock Exchange).
Why is the transaction fee split into two parts?
DEGIRO charges most fees in two parts — a base rate plus a variable rate. This allows for fees to be levied according to the size of the position you put on.
This is an accounting procedure rather than an extra fee, but one worth gaining an understanding of.
How can I be sure of what trading costs will be?
Any diligent investor will quite rightly still ask, "but what if"? It's the right question to ask as sometimes T&Cs can offer information in a way that allows for misinterpretation.
DEGIRO's headline rates are known across the market to be low, but what about any hidden charges or if you just miss something? Those costs could have a significant impact on your returns
DEGIRO has solved this issue by providing an in-house Cost Calculator. This handy tool allows you to get a forecast of the costs of any trade in any market.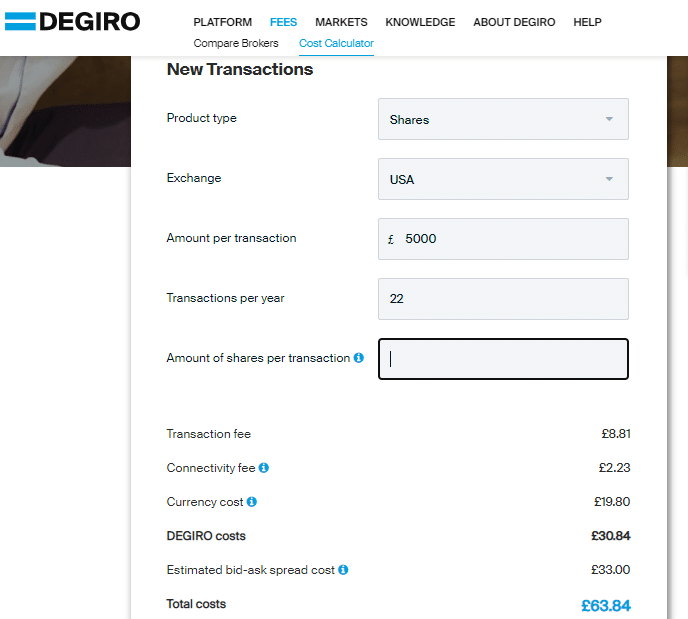 If you book 22 US equity trades with a value of £5,000, then your total costs will be £63.84
The reason you may not have seen a calculator like this at other brokers is that costs of that size for that kind of trading activity are just very hard for competitors to live with.
A detailed breakdown
A granular analysis of costs is also provided in a clearly laid out fee schedule and custody fee schedule.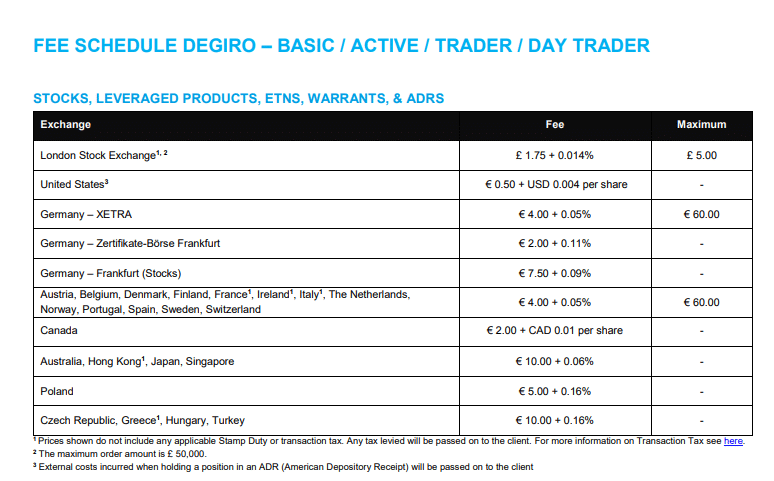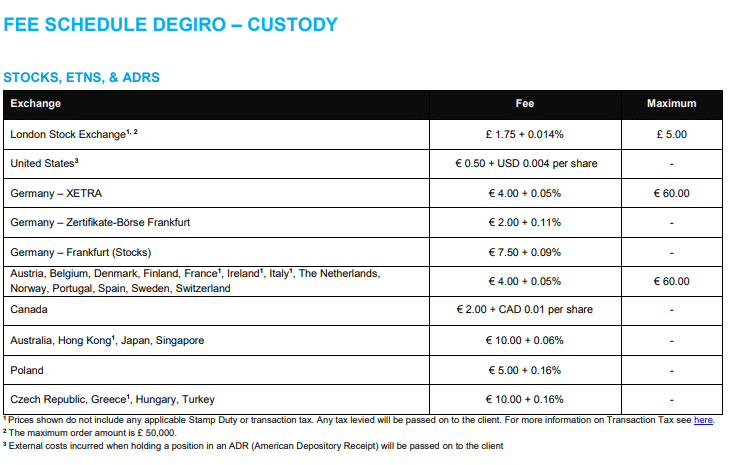 There is also clarification of where fees might still apply. Thankfully DEGIRO, in most cases, provides clear 'yes or no' style updates.
There are no initial or setup fees to create an account.
There are no inactivity fees, nor is there a minimum trading limit imposed on account holders.
There are no annual maintenance, service, or custody charges.
The Giro transaction fee is the commission fee for making trades using DEGIRO.
The Bottom Line
It's no surprise that DEGIRO fees get a best-in-class, five-star rating in broker reviews. As the in-depth broker review found here outlines, there is even more to the broker than low transaction costs. It covers a wide variety of markets and provides its clients with a top-rated trading platform experience.
The Dutch-based broker hasn't cut any corners to get to such a strong position. It's just taken advantage of being a relatively recent entrant to the market. Having started trading in 2013, it has enough substance to be a reliable operator, but operates using cost-saving modern technology.
DEGIRO is regulated by the Netherlands Authority for Financial Markets (AFM), as well as the Dutch Central Bank (DNB). UK-based clients are also covered by the fact that DEGIRO is also included on the Financial Conduct Authority (FCA) register in the UK.