The internet has brought changes to everything, including the way financial institutions interact with their users, and organisations such as eToro are at the forefront of this new global information revolution.
Take profit and stop loss defined
Who are eToro?
eToro and social trading: A closer look
eToro within the Fintech landscape
Before We Get Started, Take A Look At Our Other eToro Guides:
Take Profit Defined
When using any trading platform and setting a take profit limit, it's important to do the relevant research to get the level right.
For example, an eToro take profit, as it is with other dealers, is an order used by traders to automatically close their position once a certain profit has been made.
In the example above, if you invested $520 in Apple stocks, and the value of the investment reached over $2,571.83, your position would automatically close.
The advantage of this order is the ability to benefit from profits before the rate falls without monitoring trades constantly.
The disadvantage is that if there is money to be made above the take profit limit, that option will not be available immediately.
When opening a buy position in the open trade market with eToro, the rate shown is the sell price, and the eToro take profit position can be adjusted to a minimum of 1 pip of the market price and unlimited maximum, and the same action can be taken when a sell position is opened as well.
Note: according to eToro the maximum Take Profit for manual positions is 1000% of your invested amount +/- 1000% of your current P/L.
Stop Loss Defined
Another essential tool in trading is utilising the stop-loss option. This is an order to close a trade that is used to limit the amount of loss that a user will incur on a trade in case it goes against them.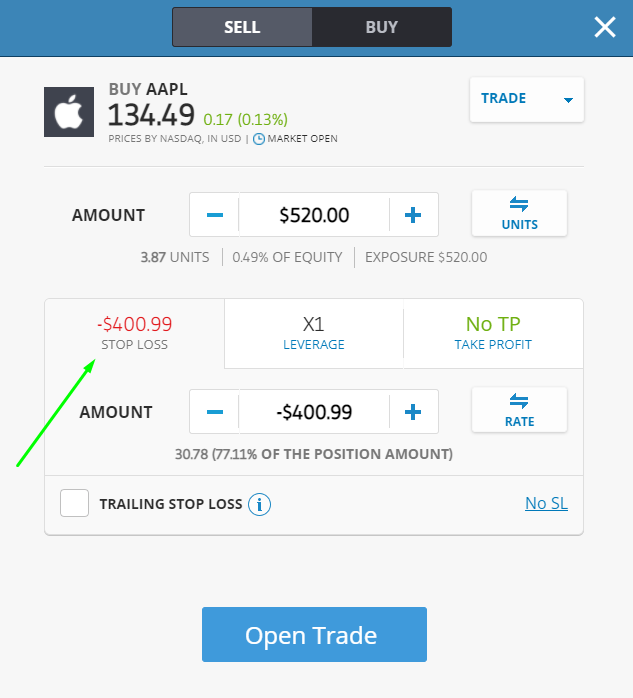 In the example above, if the value of the investment would decline below $400.99, the position would automatically close.
In another hypothetical example, if a trader is in a long trade using and wants the price to move upwards, the trader will use an eToro stop loss to exit it if the price moves too far downwards, to minimise losses.
Who Are eToro?
eToro has been a global leader in the Fintech revolution for more than a decade and is regarded as the world's leading social trading network. A social trading and multi-asset brokerage company, it has registered offices in the UK, Cyprus and Israel. It has more than six million registered users and a variety of innovative investing and trading instruments.
While eToro isn't listed on a stock exchange and doesn't have a bank parent, it is a very well-known Fintech start-up. Its aim is to open global markets to enable everyone to invest and trade in a transparent and simple way, and because a lot of people use multiple platforms to manage their investments online, eToro is constantly expanding its product offering so that as much as possible can be done under one roof.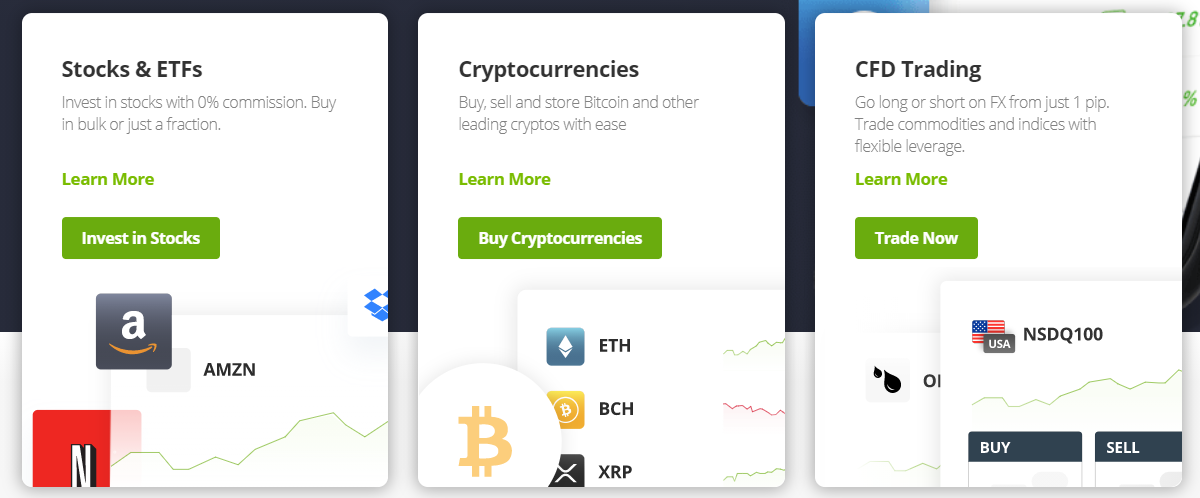 When utilising the platform for any transaction, including setting an eToro take profit limit, clients are able to interact and gain from other users' experience by starting an online chat with anyone, including the CEO. These are all things that need to be considered when planning an eToro take profit broker comparison with another offer, so new users can decide which company is best for them.
A Closer Look: eToro and Social Trading
eToro is part of what is known as Fintech, which is an umbrella term for the kind of financial technology that describes the emerging 21st-century financial services sector. It includes any technological innovation in this sector, including those dealing with financial education and literacy, investment, retail banking and cryptocurrencies such as bitcoin.
So, is the company a good way to trade for you, thus making it the best take profit broker?
According to EY's Fintech Adoption Index, a third of consumers use two or more Fintech services, and they increasingly do so as part of their daily lives. According to www.binaryoptions.co.uk, eToro were pioneers of what's known as social trading using online platforms, which means sharing trading knowledge and giving users the ability to follow other traders and thus profit from their trades as well.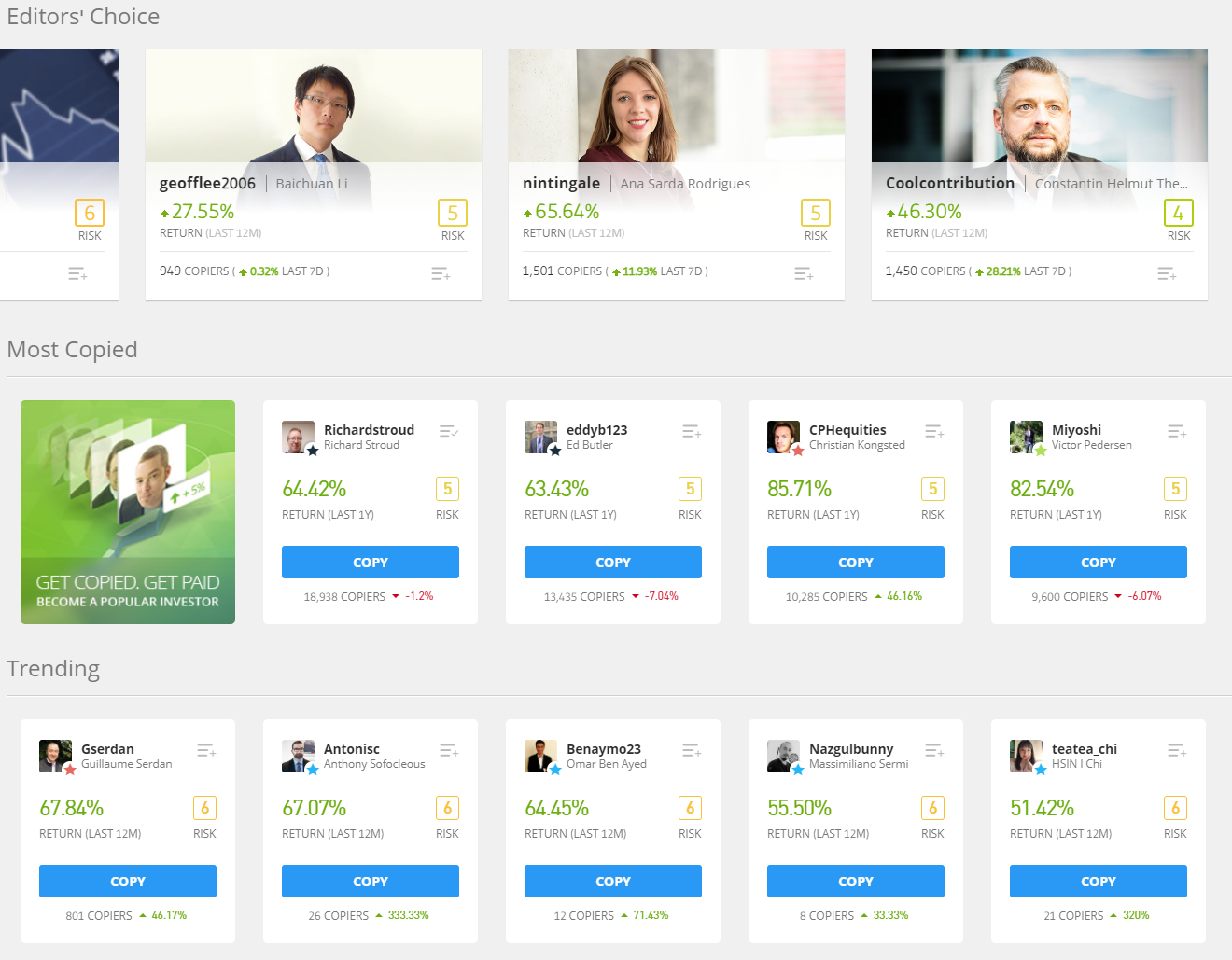 Note: Your past performance is not an indication of future results.
This practice is also known as copy trading. It is also possible to experiment before starting to trade properly on eToro, as new users receive $100,000 in virtual money when an account is opened so that different strategies can be tried. New users can also work out what their individual risk levels are, plus social trading skills can be practiced at this stage.
eToro Within the Fintech Landscape
Financial services and products once deemed to be the realm of desktops and salespeople are now moving to mobile devices and away from large, entrenched institutions.
There are four broad categories of users: B2B for banks, their business clients, B2C for small businesses and for consumers. And this is where eToro fits in. More use of mobile banking, accurate analytics and decentralisation of access are creating opportunities for these four groups to interact in imaginative and innovative ways.
New technologies such as artificial intelligence, data-driven marketing and analytics will help take traditional guesswork, instinct and habit out of financial decisions. In 2016 alone, Fintech start-ups received $17.4 billion in funding, aiming for more in 2017, according to CB insights. North America produces most of the start-ups, followed by Asia.
Some of the most active areas of innovation include open banking, digital cash and cryptocurrency, and smart contracts that utilise computer programs to automatically execute contracts between sellers and buyers. According to CIO.com, the financial services consumer profile will change over the next decade as millennials (those born between 1980 and 2000) bring radical shifts to client behaviours and expectations and will fuel the adoption of Fintech solutions.
How eToro Social Trading Works
eToro's social trading platform means anyone can become a leader or follower, although if people want to trade on their own, they can.
Social trading is simple and accessible even for new users, and it's easy to spread out invested capital across a variety of markets by copying different traders. Each trader's portfolio, track record and risk score are available, so clients can make the right decisions for them about who to follow.
Its network has a newsfeed enabling customers to receive updates from other traders, as well as allowing them to post relevant information such as why they made an investment decision. That means that by following successful traders, it's possible to gather information and improve knowledge.
eToro's developments such as the CopyTrader system and CopyPortfolios have helped the company become the leading social trading network in the world. CopyTrader allows clients to automate their trading by assigning some of their money to replicate another investor's activity by copying everything they do in real-time so that those traders who don't have the time or experience to use traditional online trading methods can benefit.
CopyPortfolios groups successful investors together and makes adjustments to optimise the performance. The categories are Top Trader CopyPortfolios, based on the wisdom of a few investors, Market CopyPortfolios, which groups assets together with a similar theme, and Partner CopyPortfolios, created by eToro's partners to devise their CopyPortfolios on the platform based on their areas of expertise.
Confidence and Technical Experience
eToro are quick to adapt to trader demands, recently adding a cryptocurrency fund to give its users speedy access to Bitcoin, Ethereum and others. This flexibility in outlook has been part of the reason the company has expanded rapidly. Successful social trading needs a depth of traders, and eToro currently has 4.5 million of them, so there is a lot of knowledge and opportunity for social interaction.
The firm is regulated in the UK by the Financial Conduct Authority to give consumers added confidence. To enable easier access, eToro offers a mobile trading application for iOS devices as well as Android phones and tablets.
The eToro app can be downloaded from the respective app stores (iTunes and Google Play Store).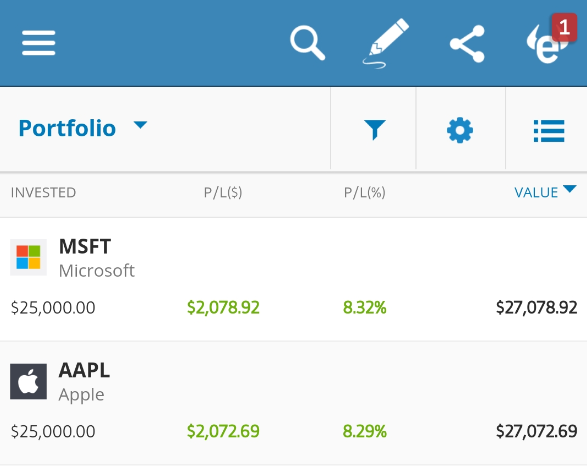 Note: Your past performance is not an indication of future results.
The web-based trading platform is built on JAVA technology and is accessible from any computer with an internet connection. It is a web-based application and no download is required.
The platform allows the trader to access the platform from any of the popular web browsers like Chrome, Mozilla, Firefox and Internet Explorer and contains a complete suite of technical indicators and interactive charts.
It is synchronised with eToro's OpenBook social trading platform. Trading is done exclusively under market maker conditions, and trades are executed by a dealing desk.
Fees and Pay-Outs
According to Binary Options, when looking at an eToro take profit review and the organisation as a whole, the asset choice at the company is very good, and their stocks are one of their strengths. eToro has more than 250 companies around the world ready to trade, and there are over 30 currency pairs, including all of the major Forex currencies.
For those keen to trade in cryptocurrencies, eToro is currently regarded as one of the best options to do so. They make a small charge for leveraged positions that are held overnight or over the weekend, which is standard practice for CFD brokers and reflects their running costs for maintaining the position.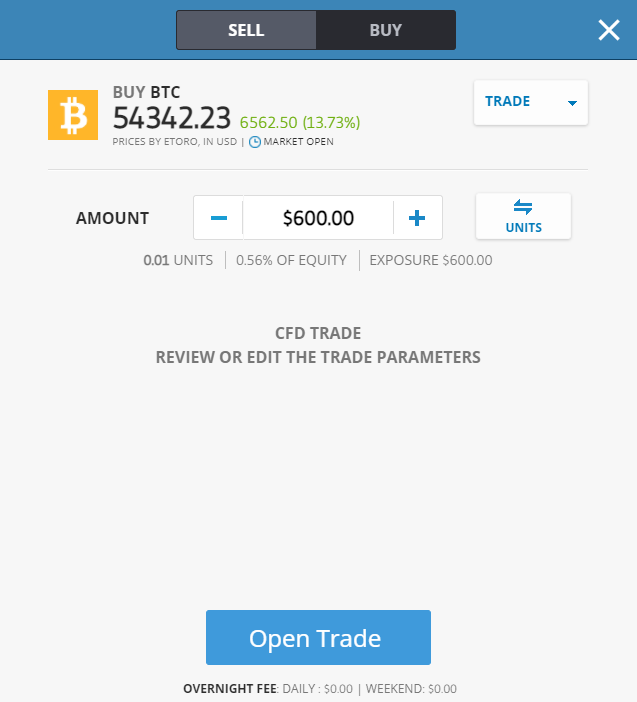 The larger the trade, the larger the fee. Although the fees represent a very small proportion of an overall trade value, traders need to be aware of this, especially if planning to leverage a long-term trade. When doing a Take profit broker comparison for pay-outs, those at eToro are not comparable to binary options brokers and are based on a scale depending on the leverage applied and the performance of the asset.
The trading platform itself does include elements such as eToro stop losses, for example, so that traders are able to monitor and control their risks, which is distinct from traditional binary options where the risk is known accurately.
The eToro Trading Experience
According to BrokerNotes, eToro offers a user-friendly custom trading platform, which is available as a browser-based WebTrader or as a downloadable program. It supports a wide range of languages, including English, Spanish, German and Italian, and also features a live chat option and email support.
Because of this, eToro has a BrokerNotes triple AAA support rating. It's possible to explore the platform immediately, but no trades can be made until a client has passed compliance, which can take up to several days. These checks are to ensure new customers understand the risks of trading and that they are allowed to trade. The platform uses STP (Straight-Through-Processing) technologies as well as NDD (No Dealing Desk) practises, meaning all trades are done in real-time, with no outside interference.
eToro also uses the market maker model, so it's possible to buy and sell multiple assets very quickly without affecting prices, therefore offering high liquidity. Most eToro assets are traded using CFDs, which means high liquidity, fractional trading and "sell" (short) orders. eToro's use of NDD and STP means the aggregated exposure of some trades is automatically forwarded to first-tier liquidity providers in real-time, which is the same as financial operations and banks. Because of the application of an NDD model, traders are assured there is no manual interference in their position or any price manipulation.
Verdict
As innovative world leaders in social trading within the Fintech world, eToro offers an opportunity for both experienced and novices to get involved in real-time trading. The ability to follow current traders means that setting things like eToro take profit, for example, can be done by online consultation with what others are doing. This additional social aspect added to their product, in an industry that is not known for being social, really helps eToro to stand out from the crowd and attract a different audience demographic.
It has a suite of online investment solutions with positive opportunities for turnover thanks in part to its combination of social media and online trading. For those who want a 21st-century hands-on trading experience, eToro offers an opportunity to get involved. Its website offers guides and explanations on a variety of subjects, including defining eToro take profit and stop loss for those with limited knowledge.
eToro is a multi-asset platform which offers both investing in stocks and cryptoassets, as well as trading CFDs.
Please note that CFDs are complex instruments and come with a high risk of losing money rapidly due to leverage. 81% of retail investor accounts lose money when trading CFDs with this provider. You should consider whether you understand how CFDs work, and whether you can afford to take the high risk of losing your money.
Past performance is not an indication of future results. Trading history presented is less than 5 complete years and may not suffice as basis for investment decision.
Copy trading is a portfolio management service, provided by eToro (Europe) Ltd., which is authorised and regulated by the Cyprus Securities and Exchange Commission.
Cryptoasset investing is highly volatile and unregulated in some EU countries. No consumer protection. Tax on profits may apply.
eToro USA LLC does not offer CFDs and makes no representation and assumes no liability as to the accuracy or completeness of the content of this publication, which has been prepared by our partner utilizing publicly available non-entity specific information about eToro.
Further reading: