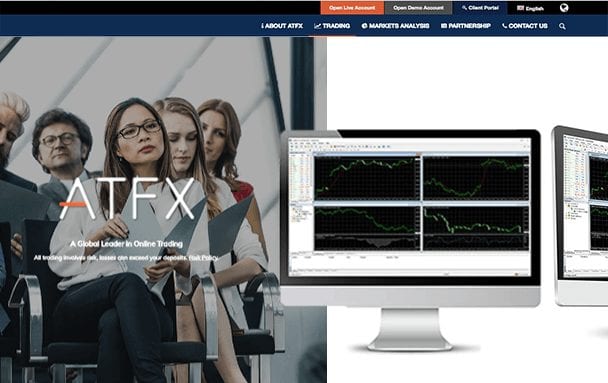 Buying Bitcoin on ATFX is a great decision, and it's one that offers a lot of plus points. The power of leverage, for example, is easily accessed on a site like this thanks to the derivative nature of the product, while the fees involved are relatively low and customer-friendly.
The site is multilingual too, meaning that it can be accessed by people from all across the world – and it is also regulated in the United Kingdom by the Financial Conduct Authority. Options like the ATFX "Edge" account are available for those who want to circumvent some of the problems typically associated with trading online, including latency and slow take execution timeframes. Despite some downsides being involved, this is still the kind of broker which appeals to both new and seasoned Bitcoin traders alike due to its accessibility and ease of use.
Variety of accounts on offer, including a superior tier for those who want faster trades
Leverage of 1:5 available for traders who want to make their deposits go further
Mobile apps for a wide range of different platforms are available, including iOS and Android
Range of customer support options can be utilised, including mail, phone and many different email accounts
1. Bitcoin Trading Offer
ATFX is one of the leading providers of Bitcoin contracts for difference, and it offers a wide range of services which are held in high regard by those choosing Bitcoin products. However, it does not offer a straightforward Bitcoin product. The first thing to note is that buying such a product does not confer ownership of any actual Bitcoin. Instead, you are owning an investment product which changes value in proportion to the actual value of Bitcoin on the market. In that sense, it is a "derivative" product as it is derived from the performance of the underlying market.
It is also worth noting that this gives traders who use ATFX another opportunity to grow their investment. While standard Bitcoin purchases would leave the user with a particular defined amount of the cryptocurrency itself, ATFX's CFD approach means that traders can make the most of leverage. Leverage is a tool used to expand the potential profits or losses a trader can gain and means that higher gains can be secured without having to place a higher deposit. For those Bitcoin traders who have a higher risk appetite, ATFX may well be the most suitable option. More broadly, there are some specific advantages to choosing AFTX for Bitcoin-related purposes. Markets are open 24 hours a day on each trading weekday, while it is also possible to go both long as well as short – meaning that there is a much more dynamic trading on offer compared to other, less flexible brokers.
2. Bitcoin Trading Costs
The cost of trading Bitcoin on ATFX is low, and that's because the broker has gone to great lengths to be sure that they can attract traders. Low fees are the name of the game; there are no commissions in place for trading this asset. There are also no commissions or fees in place on bank fees, so it is possible for traders to set up Bitcoin transactions which do not break the bank.
It is worth pointing out, however, that there is a minimum spread value per lot of 180 USD. Leverage levels at ATFX have been set at 1:5, while the initial margin (floating) sits at 2,400 USD. The maximum size of lots is 10, while the minimum is 0.1. ATFX is highly transparent and publishes all of this information on its website for traders to peruse and factor into their decisions before proceeding with trading.
3. Accounts
There are a number of options available for traders who are looking to open an account with ATFX. The standard option is the one chosen by most Bitcoin traders who sign up to ATFX. Heading over to the sign up page on the ATFX website offers a number of language choices, including English as well as German, Italian, Spanish and more. For those who want to try out the trading offer before they proceed with investing, the demo account is a great idea. This account permits users to experiment with fake cash and see how it would work on the actual Bitcoin market before they proceed with an actual cash deposit which they could then go on to profit from – or, indeed, to lose.
For those who need something a little more sophisticated for their trading needs, it's worth looking into what's described as the "ATFX Edge Account". Those who opt for this account type are often those who need all sorts of advanced options, especially when it comes to speed. ATFX promises that the Edge account offers speedier trade execution, spreads which are more cost-effective, and – crucially for day traders, for whom a difference of just seconds can have significant effects – a reduction in latency problems. In order to access this account level, traders will need to set up a standard account and then speak to a representative of ATFX who will be able to upgrade the account – provided that it meets the expected equity requirement of $5,000.
4. Bitcoin Trading Platforms and Mobile Trading
When it comes to the trading platforms available for those looking to open accounts with ATFX, the main advantage to emphasise is that MetaTrader is offered. This stands in contrast to other brokers, in both directions: some brokers do not offer any sort of compatibility with MetaTrader 4, which would be negative compared to the offer made by ATFX. However, other brokers also offer compatibility with the later version, MetaTrader 5 – so if you are looking to trade Bitcoin on the most recent and sophisticated software package on the market, this might not be the right provider for you.
In practice, ATFX offers a range of accessibility options including mobile applications which incorporate the best of MetaTrader 4. When it comes to mobile trading, ATFX has gone to every effort to be sure that users can access the best of the software packages on offer. These are available for a wide variety of tools such as Windows phones, iPhones, tablets like iPads as well as Android devices. All sorts of functions are available via these mobile apps: from the quotes manager which allows you to see the sale and purchase prices of Bitcoin to the chart analysis tools which let you take better decisions, there are all kinds of features on offer for those who are looking to trade on the go.
5. Usability of the Website
The ATFX website is one of the simplest and most user-friendly of any in this sector, and many traders are likely to find it highly navigable and intuitive. Upon loading up the ATFX homepage, users will find easy and clear links to the two major account types – the live account, involving real cash, and the demo account. Below this, users will be able to see a range of clear advantages to taking out an account with ATFX, as well as a statement regarding the firm's compliance with Financial Conduct Authority regulations as well as information about the customer service offer provided by the company.
In terms of navigation, the website offers simple paths to move from page to page. Accessing details about the firm behind ATFX is easy, while learning about the various aspects of trading, such as product specifications and the multifaceted range of trading platforms on offer, is accessible under the "Trading" tab. Analysis tools which are both fundamental, like the economic calendar, and technical can easily be accessed, as can ATFX's educational resources which help newbie traders get started.
6. Customer Support
Contacting ATFX is actually very simple and easy, and there are many different ways for a trader to do this. Some brokers take a relatively shady approach to publicising their contact details, but that's not the case for ATFX. This is a firm which is happy to share both its postal address and its telephone numbers. Its main address, which is 1st Floor, 32 Cornhill, London EC3V 3SG, United Kingdom, is published very prominently on its contact us page. While Bitcoin traders with ATFX may not be in a position to physically visit the offices or need to write a letter, the availability of a postal address acts as a reassurance.
In terms of more practical customer support options, several phone lines, which are staffed between the hours of 9am and 5pm during the working week, are available. Callers from within the UK can use one phone number, while those from abroad can use another. The contact page of the ATFX website also lists a number of email addresses which users can opt for if they would prefer to get in touch via email, from sales enquiries to partnerships and from disputes to support, there will be a relevant email address for any Bitcoin trader who needs to get in touch. The customer services department is open for the same period of time as the Bitcoin trading markets, which is 24 hours a day and five days per week, so you will always be able to get in touch with a source of support while you are trading.
7. Methods of Payment
ATFX has a comprehensive policy in place when it comes to governing deposit and withdrawal methods, and it is well worth any users acquainting themselves with this policy before opening an account or otherwise moving ahead with ATFX. Deposits can be made using a number of major methods, including credit and debit card users, for example, who can deposit with no fees and expect their money to be transferred within half an hour. The same goes for e-wallet transfers from major providers, which can also be processed within that 30-minute timeframe. An issue may occur for those who are looking to make bank transfers, while this does not incur any fees, it may take as long as one working day following the receipt of the funds in the operating bank account of ATFX.
It is also worth noting that if you are using a card which is based in a foreign country, you may experience a slight inconvenience in the form of a light charge from the banking provider. However, ATFX says that in this scenario, it is happy to refund any such charges later on provided that you are able to demonstrate that they were levied by the provider.
In terms of withdrawal payments to you from ATFX, there are again no fees for any of the major withdrawal payment methods outlined. From e-wallet transactions to bank transfers, your Bitcoin earnings or other earnings can be cashed out without extra cost. However, the overall payment times tend to be longer when compared to deposit methods. While credit and debit card deposits and e-wallet deposits take just a few minutes or up to half an hour, all methods of withdrawal including these can take up to one working day. ATFX advises that withdrawal requests which come through before 2pm UK time on a business day can be processed within that day's timeframe, so it is worth getting them in early.
8. Additional Offers
The ATFX online portal offers a range of other products and services which enhance its offer. It has a whole section on its website devoted to education, and it further splits that offer into both webinars and seminars. For those who are looking to learn entirely online, the webinars option is a good one. They begin at a relatively basic level and provide traders who are new to the platform and to the industry with an opportunity to learn about what contracts for difference trading actually is and how to make effective decisions within its framework. Webinars are offered in a whole host of languages, and many of them take place in the evenings (UK time) in order to ensure that as many people as possible can access them.
ATFX's seminars, meanwhile, take place in person. There are all kinds of learning objectives which are placed front and centre during these events, including how to handle volatility so that it works well for you as well as how to ascertain when an intraday swing could work in your favour. Recent events have taken place in London, and it's not unusual for there to be one or two events per month, so check out the ATFX website to find out whether or not one could be soon.
9. Regulation and Deposit Protection
ATFX is a legitimate trading organisation, and it is safe for traders to trust and use. The organisation is regulated by the Financial Conduct Authority (FCA), which is the United Kingdom's major regulator for financial services firms. ATFX makes a point of publicising its FCA license number, which is 760555. ATFX's website does not contain obvious information about deposit protection, and the page on the site devoted to this is empty.
10. Awards
Traders who are considering using ATFX as their broker for Bitcoin purposes will be pleased to note that the ATFX platform has won a number of awards during its time in business. One of the most prominent awards, and one that ATFX is happy to shout about in its marketing materials and on its website, is its status as the Best Forex CFD Broker at the UK Forex Awards. This award was presented in 2018, which reflects the fact that ATFX is an up and coming broker with a strong reputation in the financial world. While foreign exchange is not the same thing as cryptocurrencies, it offers an indication as to the high esteem and regard in which ATFX is held.
Conclusion
For those Bitcoin traders who want a broker they can trust to help them meet their profit-making goals, ATFX is a great choice. There are plenty of advantages to choosing a broker like this. There is a suite of educational resources on offer, for example, including both seminars and webinars. The site is available in a number of languages, while there are no fees whatsoever on any payment method and most deposits can be settled within half an hour.
There are some downsides to using this site, including the fact that there is no compatibility with the well-regarded MetaTrader 5 system, while the only form of Bitcoin offered is the contracts for difference version rather than the actual underlying asset itself. For most though, these are minor hurdles, and on the whole, this is a top-quality broker with a commitment to customer experience on a desktop computer, a tablet or even when trading on the go on a Windows, Android or iOS device.
PEOPLE WHO READ THIS ALSO VIEWED: