The task of moving the world economy away from carbon-based power sources is well under way, but the process of building the new framework for renewables has already identified certain bottlenecks in supply.
One of the key components in a world based on EVs and green energy is lithium, which is required in the batteries that will drive the new economy.
Lithium is a relatively rare metal, and a lot of the world's supply is a long way from the manufacturers that need it and in geopolitically insecure locations. The dual issues of cost and security of supply have resulted in US-based firm American Battery Technology Company setting up to apply innovative techniques to try to capitalise on the situation. Its mandate is to improve on current methods of recycling, extracting, and exploring for lithium and ensure that the 'home team' in the US economy can play a full part in the power revolution.
Trading on the OTC market under ticker ABML, American Battery Technology Company is regarded as a penny stock. Its small market cap and popularity with speculative day traders mean that it, at times, experiences extreme price volatility.
Is American Battery Technology Company a good stock to buy? Some investors believe that the stock has the potential to be the next big thing. 
Others see it as an obscure small firm with its stock price in a short-term speculative bubble. The reality is that an American Battery Technology Company valuation is best carried out using technical and fundamental analysis methods.
Who is American Battery Technology Company (OTCQB: ABML)?
American Battery Technology Company changed its name from American Battery Metals Corp. It was founded in October 2011 and is headquartered in Reno, Nevada. Its stock is listed on OTCQB under the ticker ABML.
The firm's mission statement, as displayed on its corporate site, is to meet "the soaring global demand for lithium-ion battery technology with a USA-made complete lifecycle approach." It also ticks a lot of boxes in terms of clean energy. Not only is ABML in the business of facilitating the shift away from carbon, but it's also recycling a lot of the materials it uses when developing products for electric cars, grid storage applications, consumer electronics, and power tools.
Its highly ethical and environmentally sustainable sourcing of critical materials is carried out in three ways:
Recycling of lithium-ion batteries to recover and reuse battery metals.
Extraction of battery metals from primary resources and development of new green technologies that can be deployed at scale – this includes the sampling and characterisation of lithium-bearing of brine and claystone sedimentary resources in the Western Nevada Basin (WNB), located in Nye County, Nevada.
Exploration and stewardship of new mineral resources globally.
The company's senior management team is made up of experienced industry experts and scientists. They have experience in mining and extraction, chemistry, battery materials, environmentally sustainable recycling, and government affairs.
Any American Battery Technology Company stock prediction must include a huge disclaimer relating to the extreme risk-return ratio that the stock offers. High volatility markets are popular with day traders, and this just adds to the 'noise' in the market. It also means that ABML stock price movement has been known to go on extended bull runs and experience dramatic price crashes. Trading strategies can, therefore, be set up to play short-term or long-term price moves and go short as well as long.
Where Will American Battery Technology Company's Stock Price Be at the End of 2023?
Even by penny stock standards, the ABML price move during the pandemic was staggering. Between December 11, 2020 and January 25, 2021, the stock rose in value by 2,546%. Winning trades that catch those kinds of moves can generate life-changing amounts of money, but it also highlights the risks involved and the need for traders only to use capital that they can afford to lose completely.
To establish the shorter-term prospects for American Battery Technology Company, it is crucial to look at what factors could trigger a move in the price of lithium.
A change in government policy or an announcement from a big user such as Tesla, for example, could provide a boost, but the supply side of the market takes years to adapt. ABML could scale up its recycling operations to try to satisfy spikes in demand, but the mining operations take years to adapt to changes in the market.
American Battery Technology Company stock forecasts for the next 12 months allow for the firm's own projects to influence price to a greater extent.
ABML applied to be listed on the Nasdaq in 2021. However, given that it is now more than two years later and it still trades OTC, we can assume it was unsuccessful.
As any member of the green lobby group will willingly testify, it has been all too easy for political and business leaders to kick the can of carbon emissions down the road. However, converting to renewables is a costly process. If ABML is to progress, it will need governments to continue to pump money into the energy transition.
At the time of writing, no analysts are covering the stock. The current share price suggests there is some downside ahead, but investors looking to short the stock should tread very carefully, as new announcements and positives for the company or sector could trigger another surge.
American Battery Technology Company Long-Term Forecast
It's hard to get away from the role that the price of lithium will play in any American Battery Technology Company long-term stock forecast. What also needs to be considered is the pipeline of innovative projects that are due to come online.
The firm chose Fernley, Nevada, for its first-of-its-kind lithium-ion battery recycling facility. Situated near Tesla Inc.'s Gigafactory 1 (a lithium-ion battery and EV subassembly factory), it benefits from developed roads and rail. It also has low utility and energy costs, access to a skilled and highly qualified labour pool, and is close to the flagship company of the EV revolution.
The facility will have the capacity to process an initial production scale of 20,000 MT of battery feedstock material per year.
The company's main focus is on demonstrating that battery-grade metals can be manufactured from recycled materials at lower cost, and there is increasing political support for the ABML project. It previously "received a competitively bid $2 million contract award from the United States Advanced Battery Consortium LLC (USABC), in collaboration with the U.S. Department of Energy (DOE), for the commercial demonstration of its integrated lithium-ion battery recycling system and production of battery cathode grade metal products."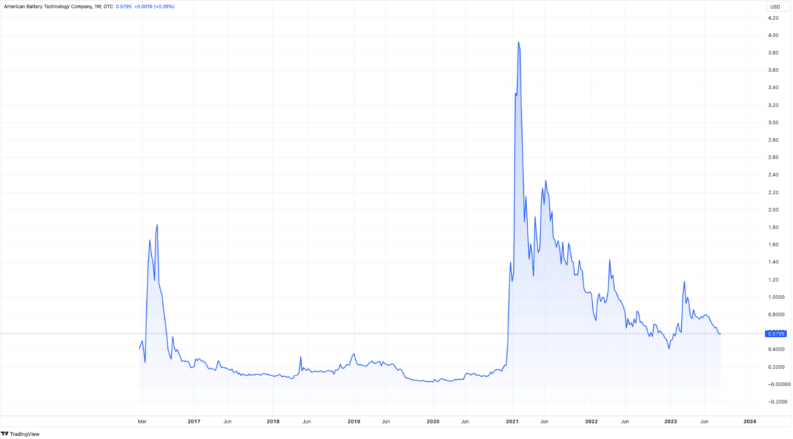 The long-term prospects of American Battery Technology Company are largely based on its own ability to combine high-tech wizardry and political necessity. The gap in the market is outlined by CEO Melsert, who previously stated:
"While the domestic manufacturing capacities of electric vehicles and of lithium-ion battery cells have grown rapidly in the US in recent years, unfortunately, the domestic production capacities of the battery metals that supply these operations have not kept pace."
He continued:
"The establishment of a commercial scale domestic US battery recycling industry can address these challenges and produce each of the battery metals required to supply new manufacturing operations."
In order for ABML's share price to see sustained upside, it will rely on the government's push towards the energy transition.
Is American Battery Technology Company a Good Buy?
Interest in American Battery Technology Company has resulted in some short-lived extreme price moves. This can often be the case with penny stocks, and ABML's efforts to move up a tier of the ladder and to a Nasdaq listing (if it is still pursuing it) could result in wider acceptance of what remains a small and high-risk venture. However, given the lack of news regarding the listing, that may be far off right now.
There is a lot of good news for the firm to shout about. It's a strategically important part of the move away from carbon energy and is developing innovative techniques to recycle lithium that would otherwise be discarded. This good news appears to be already largely priced in.
A mega price spike can't be discounted, but this would appear to be a long-term prospect and would be reliant on certain political price drivers aligning.
Those who can't resist the temptation to gain exposure to a high-risk-return trade would do well to trade in small size. Not only would this manage risk on the trade, but previous price moves demonstrate that even small positions can be converted into quick gains, although that type of strategy is extremely high risk.