Tech giants Apple and Samsung have both returned significant long-term returns to investors. From the lows of March 2020 to January 2021, the Apple stock price rallied 125%, and Samsung shares were up 127%. The similarity in returns reflects that, in specific key markets, the two companies are in direct competition and can mean that both benefit from those markets experiencing increased consumer demand.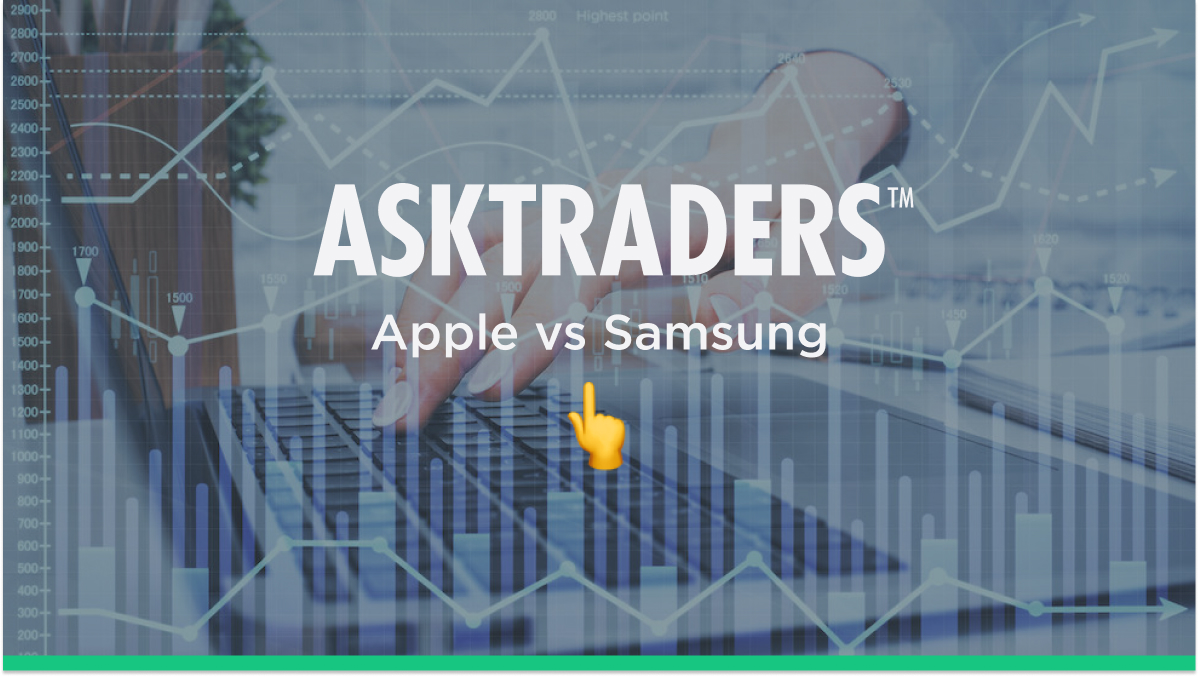 There are, though, many differences between the firms. Choosing the right one of the two for an investment portfolio can make a considerable difference to the bottom line. Through the rest of 2021, Apple Inc stock rose a further 29% in value whilst Samsung's stock price fell in value by 19%. The 48% difference in the return from the two stocks highlights the need to make sure that any Apple vs Samsung comparison draws on technical and fundamental analysis to ensure the correct stock pick is made when deciding to invest in Apple or Samsung.
Apple Inc share price – 2017 – 2022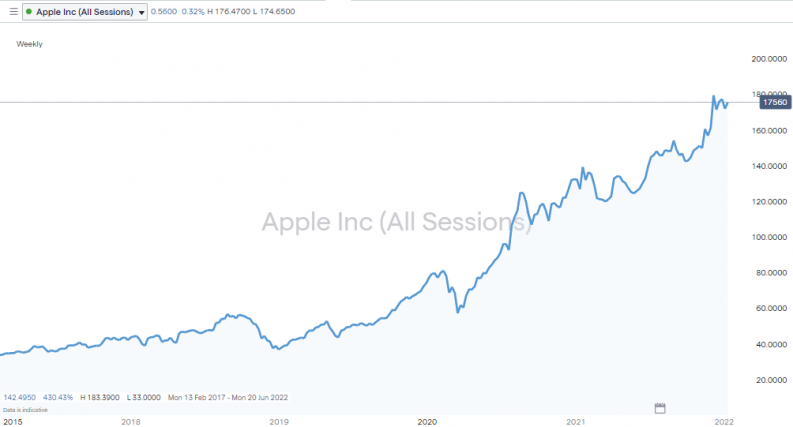 Source: IG
Samsung Electronics Co Ltd (GDR) – 2017 – 2022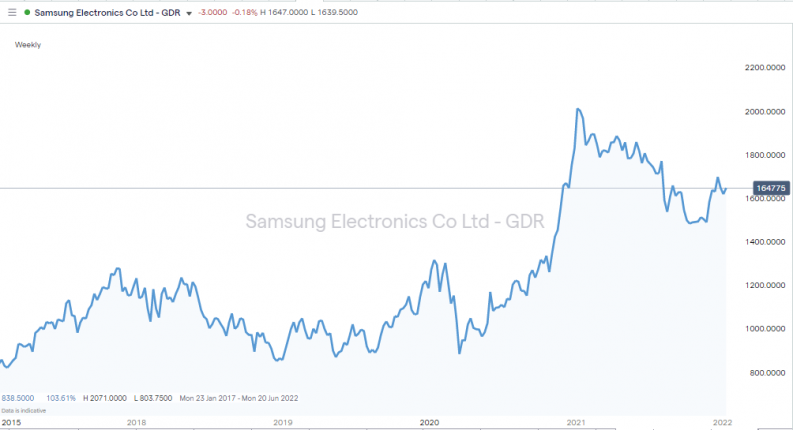 Source: IG
Apple vs Samsung – the basics
The two firms may go toe-to-toe in particular markets, but there are some distinct differences in the culture and origins of both firms.
Apple Inc.
California-based Apple is the world's largest IT company by revenue (totalling $365.8 billion in 2021). As share valuation models focus on future revenue streams, it is not surprising that, in January 2021, Apple Inc. traded on the NASDAQ index under ticker AAPL became the world's most valuable company in market capitalisation.
Founded in 1976, Apple was one of the first new-age tech stocks to be listed on a stock exchange. The share price rallied hard after the firm was first listed, in 1980. Conflicts between the founders held the firm back during the 1980s. However, in the following decades, under the stewardship of Steve Jobs, the firm successfully managed to give consumers what they wanted. Product design and branding received as much priority as the hardware and software used. The firm is now a world leader in consumer electronics, software, music, and streaming services.
Samsung Electronics Co. Ltd
Samsung's history dates back much further than Apple's. Founded in Seoul, South Korea, in 1938, the firm started as a trading company with interests in food production and textiles. It still has business lines that operate in non-tech sectors, but its move into electronics brought the firm to global attention.
Samsung Electronics Co. Ltd is still headquartered in Seoul but has developed a global customer base. Its stock has also gone international, with investors able to buy Samsung shares on the local exchange or in Global Depositary Note (GDR) form using offshore brokers.
Samsung vs Apple – handsets
It is the mobile phone handset where the two companies compete most directly. It is significant because of how mobile devices now dominate consumer habits.
The average person spends three hours per day on their phone, and that number goes up to four-and-a-half hours if including tablets. Complimentary services such as video streaming, online banking, the internet of everything (IoE) and gaming require constant upgrades in speed and storage. Firms can also steer owners of their handsets to other products and services.
There is the question of how smartphone handset manufacturers will continue to generate sales on such a scale once everyone in the world has one. A glance at the history books suggests the key to prolonged prosperity appears to be around upgrades that encourage repeat business. Handset manufacturer Nokia was, at one time, a global leader. But despite being in that position during the boom years, it faded into obsolescence due to its rivals pushing technological boundaries harder and faster than they were willing to do.
In 2018, global handset sales were below analyst forecasts, but the rollout of 5G networks offers the big players a chance to capitalise on the need for new devices to make the most use of new functionality.
Samsung handset sales
Samsung's shipments between Q3 of 2020 and Q1 of 2021 signalled a recovery for the company. The Samsung share price took a hit earlier that year because the smartphone manufacturer was one of the most affected by the Covid-19 pandemic. In Q2 of 2021, shipments dropped to 59m units but redounded to 69 million in Q3.
Samsung Electronics Co Ltd (GDR) – 2018 – 2022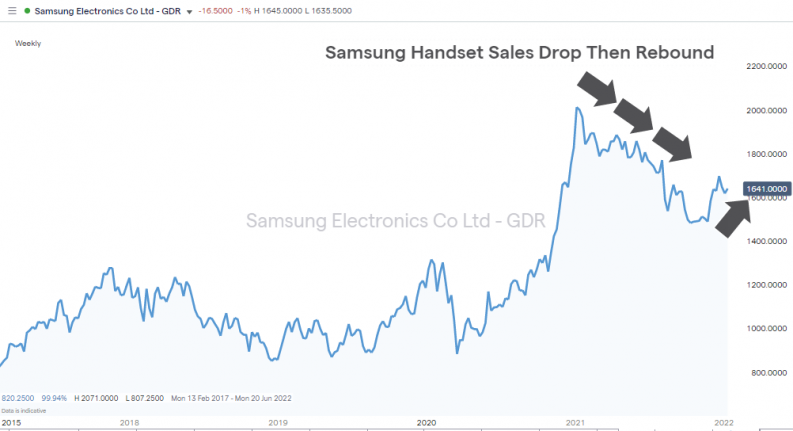 Source: IG
The rebound of sales in Q3 of 2021 meant Samsung held the largest slice of the global smartphone market by shipments, and the firm consistently ranks among the top three smartphone vendors in the world, alongside Xiaomi and Apple.
Apple handset sales
Apple's share of the global smartphone market is on a long-term scale more stable than Samsung's. The firm's sales patterns are more cyclical and dependant on the rollout of new models in Q4, in time for the holiday market, but the average market share is supported by intense brand loyalty. In Q1 of 2021, it claimed 15% of the global smartphone market by sales to end-users.
Apple Inc Share Price – 2019 – 2022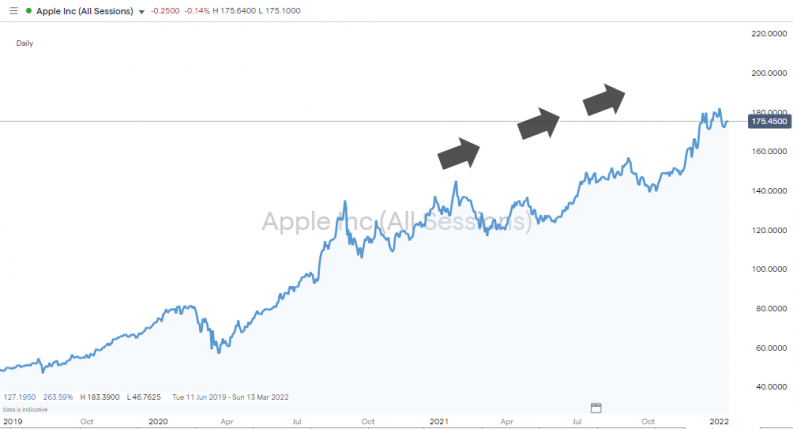 Source: IG
Other reasons to buy Apple stock
Comparing the price charts for both stocks illustrate how Apple's share price forms a more consistently bullish pattern. It is partly because Apple handset sales are less volatile but also because Apple has a range of other income streams and some marketing and technological advantages.
Apple's diverse range of products
The Apple Wearables range includes the Apple Watch, AirPods and a developing range of eyewear. In 2020, this division outsold Mac computers and generated $10bn of revenue, which accounted for 10% of total sales.
Apple Music has been playing catch-up with Spotify. But the support from Apple HQ has seen their product gain the top spot and become the most used music streaming service in the US. It has work to do to become the global #1, but that task shouldn't be insurmountable for a firm with a cash pile the size of Apple's. As of June 2020, 70m people subscribed to Apple Music and the division made approximately $4.1bn in global sales.
Better roll out
Apple tends to get the rollout of new products right. Samsung's Galaxy Z foldable phones have already come to market but faced criticism for weak battery life and a crease where the screen folds. There is much speculation regarding the date of release of Apple's competing foldable handset, but the extra development time suggests it will overcome the shortcomings of the Samsung model. With foldable phones being a chance to generate a massive surge in sales, Apple's decision to adopt a 'silver bullet' approach could bring about long-term gains.
Buy backs and dividends
Apple boasts a price-to-free-cash ratio of 31. It challenges the claim that the firm is overvalued, and the $100bn in free cash flow the firm generated in 2021 had increased by 55% over the last three years. Some of the cash pile looks set to be partly returned to investors, and the firm has recently engaged in $84.9 billion on share repurchases. Dividend pay-outs have totalled $14.5bn, and the current dividend yield of 0.501% beats the US bank savings rate. As a result, Apple investors benefit from their holding encompassing both the growth stock and dividend stock sectors.
Apple Inc Fundamentals

Source: IG
Easier to buy
One area of an Apple vs Samsung comparison places the US firm at an advantage for most investors. Apple Inc. is listed on the US-based NASDAQ exchange and, as one of the most liquid and accessible stock markets in the world, investors can take advantage of great trade flow and cost-effective commissions.
Samsung shares have a primary listing on the Seoul exchange, and most brokers offer non-Korean investors the option of trading Samsung in Global Depositary Receipt form. It is by no means a deal-breaker, and it is easy to buy Samsung GDRs. The exposure to the fortunes of the Samsung business model will be the same, but it is a secondary market.
Summary
The sporting analogy for summing up the Samsung vs Apple debate is 'Drive for show and putt for dough'. Samsung's lead in terms of handset sales is a significant factor and a high-profile measure of both firms' success. Samsung is also a larger operation and has a workforce approximately double the size of Apple's, 320,000 compared to 137,000.
The reason many investors decide to buy Apple shares rather than Samsung is that the US firm has a better all-round game. Foldable technology and the 5G rollout mean that handset sales might not dry up because of consumer fatigue. Should consumers move away from replacing handsets every one or two years, Apple would have better protection from the downturn. At the same time, if handset sales stay at current levels, there is no reason that Apple's market share would reduce. In that instance, Apple shareholders could still expect to benefit from the income streams of the firm's other divisions.