Among its mega-telecoms brethren, AT&T has always managed to underperform. It has had its moments, appearing to make a bid for leadership within its subgroup, only to disappoint and return to mediocre status. Large companies tend to have problems when the market demands that they quickly change direction, and AT&T seems to have been stuck in that gear for nearly a decade.
---
YOUR CAPITAL IS AT RISK. 76% OF RETAIL CFD ACCOUNTS LOSE MONEY.
---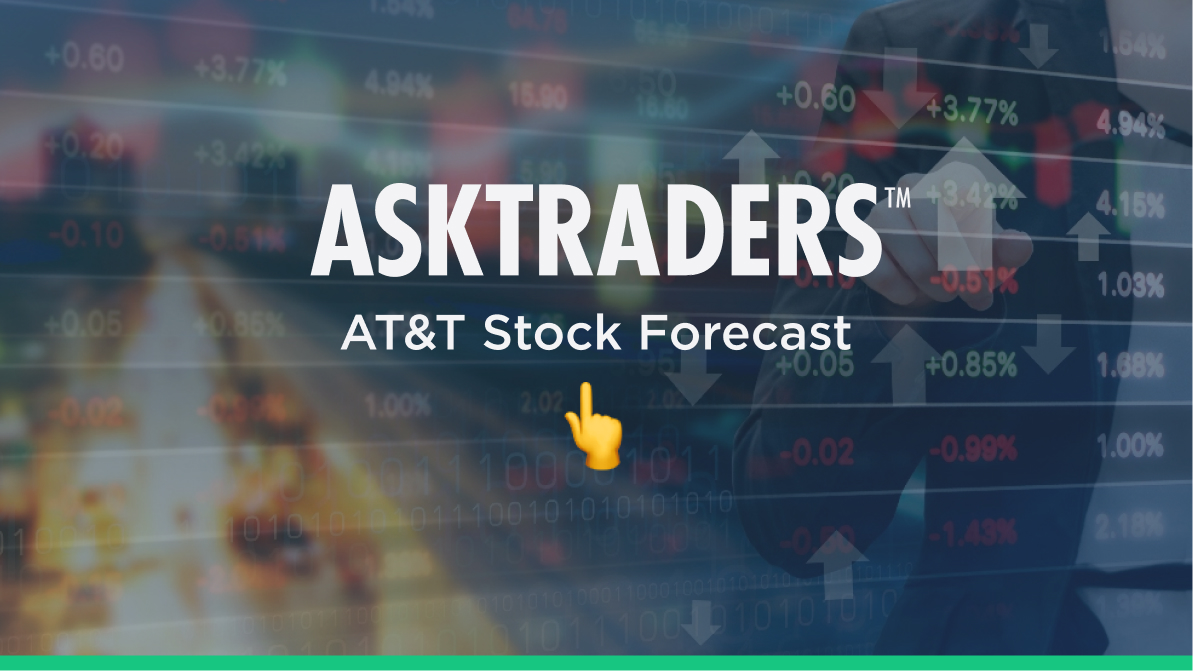 Share prices have remained subdued, never really showing signs that it has turned a corner. John Stankey, its COO, was promoted to CEO in July 2020. Analysts and investors expected major strategy changes and growth.
The saving grace for this enterprise is that it is a consistent dividend payer. In spite of its admirable dividend yield, many analysts shun the stock, perhaps because of its poor track record of under-performance and the fact that the telecoms giant will be in transition, searching for a formula that works for the long term.
Its management team has already conceded that single-digit growth will be the name of the game over the next five years – not exactly a ringing endorsement for the long haul. Will AT&T turn things around? It could take some time, but analysts do see appreciation in the company's stock price going forward.
Who is AT&T?
AT&T had its start in 1983 as SBC (Southwestern Bell Corporation) Communications Inc. in Dallas, Texas. In 2005, it rebranded by contracting the old American Telephone & Telegraph mark to AT&T Inc. The company has always been in the telecommunications business in one fashion or another, but at times, it has struggled with its identity, expanding into various unrelated market segments, only to meet with tepid results and having to divest or sell off these disparate assets.
The firm can actually trace its roots back to Alexander Graham Bell and his initial venture in 1882. From that humble beginning, the company eventually had a monopoly on telephone services in the US, but an antitrust lawsuit in 1982 forced the behemoth to divide into seven regional operating companies, commonly referred to as the 'Baby Bells'. One of the seven entities, Southwestern Bell Corporation, changed its name, acquired the assets of its former owner, and chose to become AT&T Inc. from 2005 forward.
Today, AT&T is considered the world's largest telecommunications company. It has also taken the lead as the largest distributor of mobile phone services in the US and is ranked as the 13th entity in the Fortune 500. This multinational giant has corporate interests in 59 countries across the globe.
Of AT&T's operating units, telecommunications accounts for a significant portion of its revenue. Meanwhile, AT&T has a Latin American division, which delivers a smaller portion of the multinational's total revenue base.
---
YOUR CAPITAL IS AT RISK. 76% OF RETAIL CFD ACCOUNTS LOSE MONEY.
---
John Stankey, the company's former COO, became CEO in 2020, replacing Randall Stephenson. Stankey's predecessor had focused on expanding the business by acquiring new business lines. When he took up the CEO role, Stankey wasted no time communicating his outlook. His intent was to grow revenue from internal sources by selling off unrelated businesses, leveraging existing assets, and focusing on the firm's primary business line: telecommunications. In 2021, ​​AT&T revealed it had proposed to relinquish its ownership of WarnerMedia and merge it with Discovery, Inc. to form a new publicly traded company, Warner Bros. Discovery.
When it comes to management changes, businesses must often endure this 'accordion' style of management scenario after an era of expansion has bloated the balance sheet with debt and consumed valuable management time in absorbing disparate corporate cultures within a single framework. Eventually, a company, as the expression goes, must focus on its knitting. AT&T is making moves in this direction, which is what investors and analysts want to see, but they must be patient. Transitions take time, but AT&T has almost perfected this management style, having made a multitude of acquisitions and divestitures in the past.
Is AT&T a good stock to buy? The company has always maintained a quality mystique and has been a favorite of dividend investors for good reason. As it rearranges its deckchairs, will Wall Street be patient or beat a path to its more capable competitors at the moment? Analysts seem confident that the company is well-positioned, but the jury is still out.
Where Will AT&T's Stock Price Be at the End of 2023?
AT&T shares have been impacted by several factors over the last few years, as explained earlier. As a result, its shares have lagged, and investors mostly stay around for its attractive dividend yield.
According to TipRanks, the consensus rating for AT&T shares is Buy, with eight out of 14 analysts currently holding a bullish rating on the stock, with six at Neutral. The average 12-month price target is $22.08, representing a potential 37% upside, while the highest target is at $28 per share, and the lowest stands at $17.
From a technical perspective, one might argue that there is not a lot that looks bullish about the current AT&T share price, and it would be tough to challenge that opinion.
AT&T Long-Term Forecast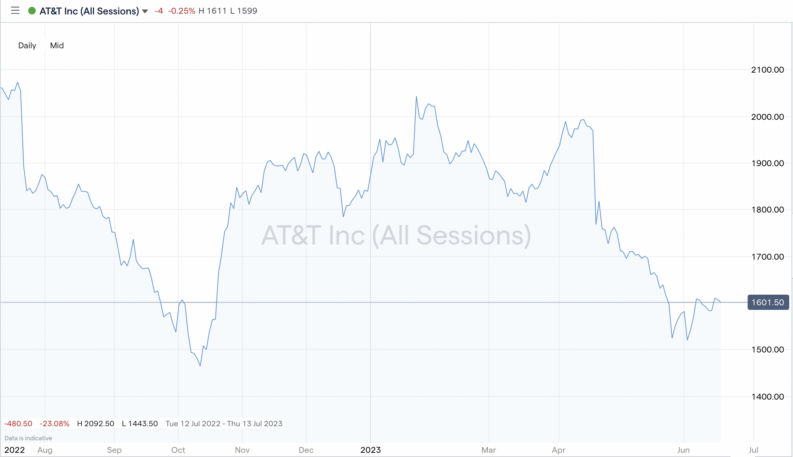 ---
YOUR CAPITAL IS AT RISK. 76% OF RETAIL CFD ACCOUNTS LOSE MONEY.
---
Over the long-term perspective, AT&T is attractive for those investors looking to add a dividend player to their portfolios. However, the business has remained somewhat stagnant, with revenue growth subdued for the last few years.
AT&T's long-term stock forecast begins with its past history. It must build upon that foundation while also taking into account the fundamental changes that it needs to implement. The company hit its zenith for the decade in 2016, but a major decline commenced in 2017, hitting its lowest levels in almost 20 years in February 2023. CNN stated in 2020 that: "AT&T's stock performance from January 2018 through the end of October [2020] marked its worst performance since the financial crisis in the decade prior."
AT&T shares on a weekly basis have been something of a dud. Analysts have resorted to computer models and artificial intelligence algorithms to build a semblance of authenticity when preparing their five-year forecasts. These methods chart a course that sees the stock potentially moving further lower over the next few years.
AT&T has worthy competitors, and powerhouse Amazon was rumored to be entering the wireless market not long back, although that was swiftly denied. Regardless, AT&T is in need of good news in order to get analysts and investors back on-side. While AT&T is well positioned, investors are so far struggling to see the stock's attractiveness, despite its dividend payouts, suggesting any potential turnaround in the stock may take some time.
Is AT&T a Good Buy?
Is AT&T a good stock to buy at this point in time? AT&T's shares have been in freefall since 2017. Investors have not been happy, and a strong dividend can only go so far to restore confidence in the company, its leaders, and the direction it has chosen.
The telecommunications business is a commodity, and commodity businesses have tight margins and fierce competition. The strategy for winning is always scale and more of it. Unfortunately, AT&T is in transition. Revenue forecasts are in the low single digits. Unnecessary assets are being divested to pay down its debt load, but it must step up its growth and its operating margins to hit the targets that the Street expects. However, one may still consider AT&T shares undervalued. There is upward potential, but can it achieve a new standard of excellence and maintain it, or will it slip into its old mediocre pattern?
The Best Brokers to Trade AT&T Stocks:
eToro:
68% of retail CFD accounts lose money
Take a look
If you are ready to add some AT&T stocks to your portfolio you'll need a broker that is regulated, has low fees and a user-friendly platform. Finding one can be a daunting task, which is why we've selected some of our favourites that tick all of these boxes to help you get started.
People Who Read This Also Viewed: