The start of 2022 was marked by a greater degree of uncertainty in global stock prices than there has been for some time. The sense that a paradigm shift is happening in terms of inflation and interest rates has left investors pricing the same assets at wildly different levels.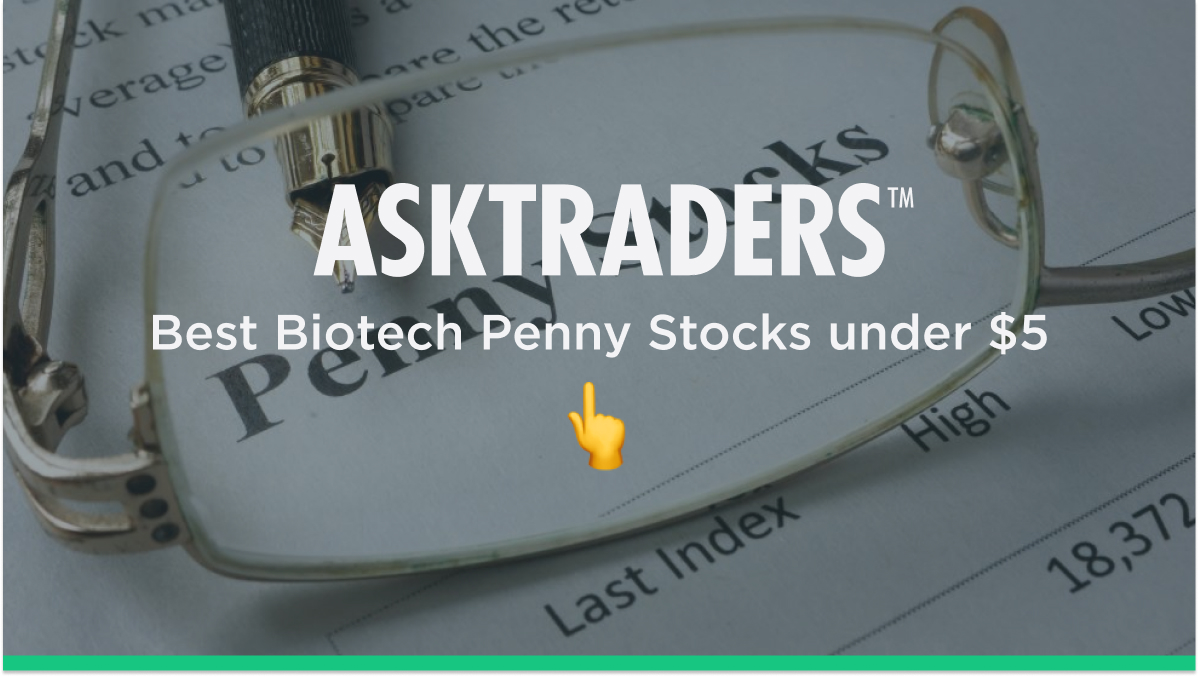 Anyone who has managed to steer a course through this kind of market 'noise' and even pick up a few bargains has had a taste of what trading biotech penny stocks is like on a day-to-day basis. The penny stock market is associated with dramatic price swings and the potential for positions to make life-changing returns or fall to zero. It's where day-traders and long-term buy-and-hold investors rub shoulders, and that can result in interesting price moves.
Few other stock sectors offer this degree of price volatility. Using technical and fundamental analysis to pick the right stock and the right time to buy it is the first step to successfully investing in biotech penny stocks.
Best Biotech Penny Stocks Under $5
Best Breakout Strategy Biotech Penny Stock – Aptorum Group Limited (NASDAQ: APM)
Timing is everything in the markets and particularly so in the biotech sector. Good news travels fast, and the +80% surge in the price of Aptorum stock in January 2022 has brought it to the attention of investors. That price spike took the APM stock price above the resistance trend line, which marked the top end of a long-term downwards price channel.
That resistance line can now be expected to offer support in the region of $1.9 per share. Not only has it received Orphan Drug Designation for its SACT-1 in recent weeks, but news on trial completions for cancers has also become an even bigger focus.
Aptorum Group Limited – Share Price Chart 2021 – 2022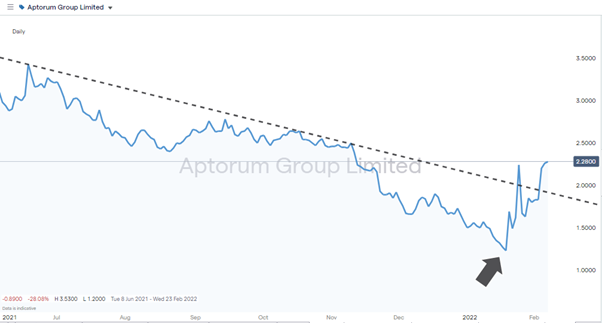 Source: IG
Best Biotech Penny Stock Trading Near All-time Lows – Agenus Inc (NASDAQ: AGEN)
Agenus Inc is a hard stock to come to a decision about. Its pipeline of new drugs focuses on immunotherapy, including immuno-oncology, which are hot topics. However, despite several efforts to take off, the stock price has retreated to be close to all-time lows.
Those taking the $1.58 price level, which was touched in August 2018 as the base level of the stock, can currently enter into trades not too far off that limit. The company has a diverse and robust pipeline of new products making their way towards the market. These include those testing immune-modulating antibodies, Allogeneic iNKT cell therapy, cancer-preventing vaccines, and adjuvants. Nothing is ever guaranteed in the markets, but bottom fishing in a company with a $700m market capitalisation can be a more comfortable proposition than looking to trade the lows in a much smaller company.
Agenus Inc – Share Price Chart 2015 – 2022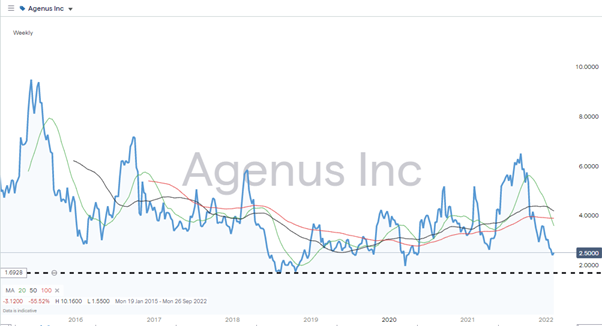 Source: IG
Best Biotech Penny Stock With The Best Fundamentals – BioDelivery Sciences International Inc. (NASDAQ: BDSI)
BioDelivery Sciences International Inc. is a US-based biotech penny stock with a share price under $5 and a relatively reliable income stream generated by its flagship product BELBUCA. Designed to treat chronic pain, BELBUCA came to market in 2020, and the management team is using the revenue from that drug to finance research in other products. The P/E ratio of 10.64 looks low when the relative stability of the operations and profit margin of +18% are factored in.
BioDelivery Sciences International Inc – Fundamentals

Source: IG
BDSI's strong fundamentals mean that the stock price is not as volatile as some other biotech penny stocks under consideration. It could be a good entry-level stock for those who are stepping into the sector for the first time, but there is still enough juice in the trade with the stock price history showing it can double or halve in value in the space of a few months.
BioDelivery Sciences International Inc – Share Price Chart 2018 – 2022
Source: IG
Best Vaccine Biotech Penny Stock– VBI Vaccines Inc (NASDAQ: VBIV)
VBI Vaccines Inc stock experienced a 694% price rise during the darkest moments of the Covid pandemic. At the time, any stock with "vaccine" in its name was an obvious target for investors and whilst some of the heat has dropped out of the market, the stock is in a sector that still has a higher profile, thanks to Covid.
Now trading back under $5, VBIV is priced more appropriately as a medium-sized firm with a strong reputation in the immunology sector. The fast-tracking of the firm's new vaccine and the treatment of recurrent glioblastomas points towards future revenues increasing and highlight that the firm operates in markets other than Covid.
VBI Vaccines Inc – Share Price Chart 2019 – 2022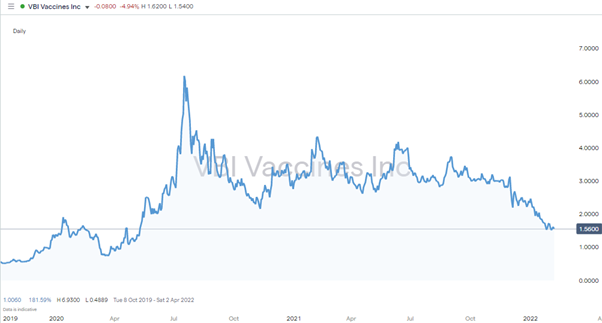 Source: IG
Why Invest in Biotech Penny Stocks Now?
The phenomenal impact of Covid-19 brought biotech penny stocks to the attention of a wider group of investors. Those who suffered from FOMO during the first bull run can now take advantage of some of the froth falling out of the market.
The high price volatility seen in the sector is also less of a concern, in relative terms at least, as some of the market titans are experiencing penny stock style price moves. The 26% fall in Meta Platforms (formerly Facebook) when that firm announced poor Q4 2021 earnings proves that even large caps currently offer little security.
What to Know Before Investing in Biotech Penny Stocks?
It's a massive understatement to state that the price swings in biotech penny stocks can be extreme. The volatility of the level where 25% intraday price moves can occur is not unheard of, and that attracts day-traders and speculators, which makes the markets have even more of a Wild-West feel to them.
Investors in biotech penny stocks under $5 need to establish to what extent they are willing to crystalise short-term gains or hold on to positions for a 'home run' style return. This can mean a greater need for keeping up to date with the markets and corporate announcements, though automated price alert tools offered by good brokers can help automate the process to some extent.
How to Buy Biotech Penny Stocks
Finding the right biotech penny stock priced under $5 is the first step towards investing in an exciting and high-risk return sector. Market risk, the chance of price going against you is unavoidable, but other risks such as finding a trusted broker and managing trades effectively are easier to manage.
1. Choose a Broker
This broker shortlist includes firms that have a track record of providing markets in penny stocks and providing clients with the tools they need to succeed in trading. They are also regulated by Tier-1 financial authorities, including:
Tier-1 Regulators
2. Open and Fund an Account
Setting up an account takes minutes to do and is similar to setting up an online bank account. It can even be done using handheld devices and requires clients to provide enough personal information to ensure that they, and only they, have access to the new account.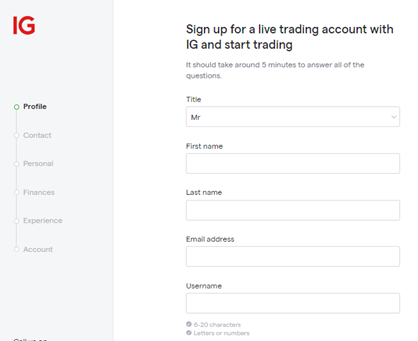 Source: IG
Funds can be wired into the broker account using credit cards, debit cards, bank transfers and ePayment providers. Checking the T&Cs can help ensure you avoid unnecessary administration fees, but intense competition between the platforms means most try to limit these styles of charges.
3. Open an Order Ticket and Set Your Position Size
Once the cash is confirmed in your new account, the next step is to buy the biotech stocks you have targeted. The trading dashboard for each stock can be located using the 'search' function or searching by sector.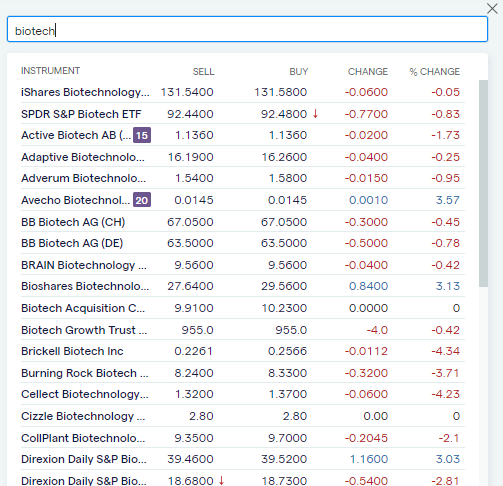 Source: IG
Price charts, research reports and news updates help you run last-minute checks on your trade before entering the number of shares you want to buy into the appropriate data field and then clicking or tapping, 'buy'.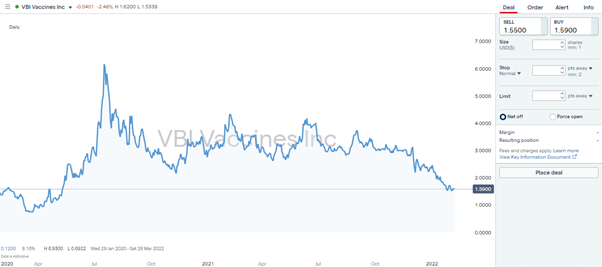 Source: IG
4. Set Your Stops & Limits
Stop Loss and Take Profit orders are risk management tools provided by brokers. Both of these are instructions built into the system to instruct your broker to automatically close out some, or all, of a position if the price reaches a certain level. Stop losses limit losses on losing trades and take profit orders crystalise gains.
Buy-and-hold investors with long-term strategies often decide not to use stop loss and take profit orders. This is because short-term price volatility is inherent in the market and can result in positions being automatically closed out due to short-term 'noise'.
An alternative approach to risk management involves trading in small sizes and building a diversified portfolio. This can help take the emotion out of trading, smooth out returns, and make it possible for investors to stay in positions that ultimately come good.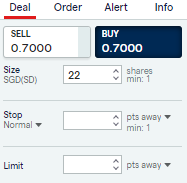 Source: IG
5. Make Your Purchase
Clicking or tapping 'buy' will convert some of the cash in your account into a stock position. The value of this position can be monitored by heading to the Portfolio section of the broker's site, where it will be determined by live market prices.
Best Broker for Trading Stocks Online
Biotech stocks offer a unique risk-return profile, whether you're an experienced investor or a complete beginner. They are an exciting proposition but not one on which most investors would go 'all in'. Having a clear strategy and managing risk can help tip the odds in your favour and selecting a trusted broker with functionality to suit you also helps. Good brokers offer free research and price alert messaging and put you in the best position to get started and book your first trade.
People Who Read This Also Read: