The art of stock picking is to buy low and sell high, which means penny stocks – those with a share price below $5 – make the first part of the process easy enough and has made them a popular target with investors. The financial history books are full of stocks such as Amazon, Microsoft and Apple, which started with low stock prices and ended up making life-changing returns for some investors.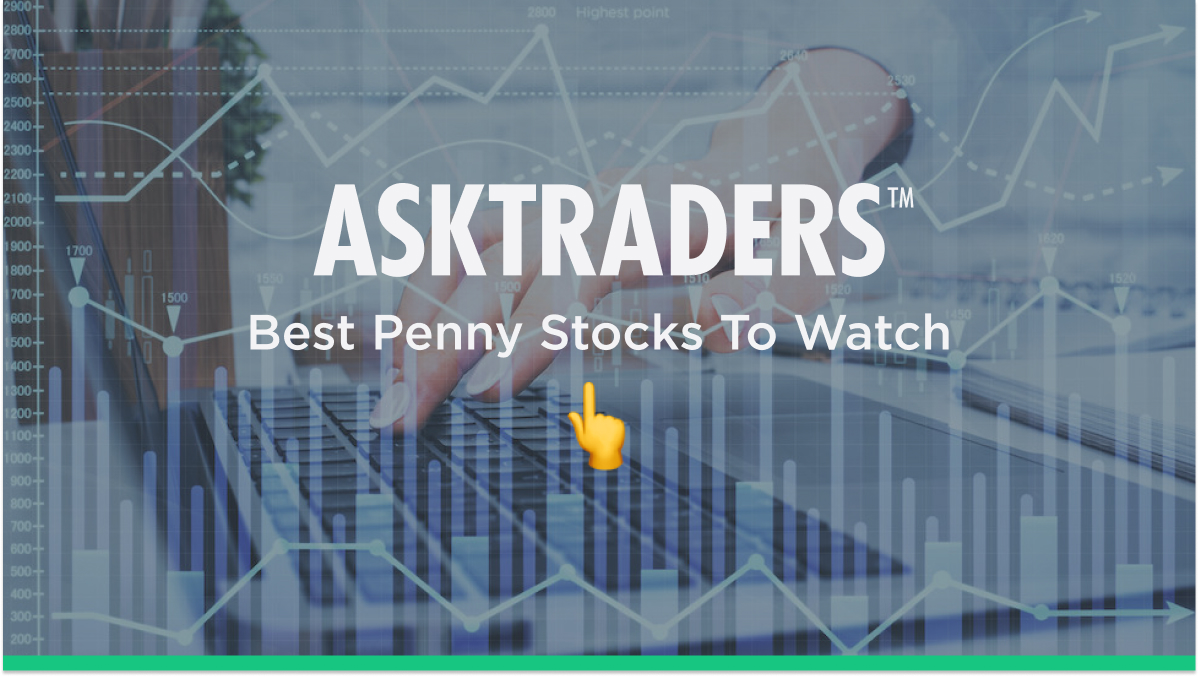 Penny stocks are a high risk-return proposition. The price of shares in the penny stock sector can tank to zero as quickly as it can shoot up. For this reason, some caution is advised, but for those looking for a bit more juice in their trade, the below list of the best penny stocks to watch in 2022 could be just what is needed.
The AskTraders team have compiled a list of penny stocks to buy right now, and whilst nothing is ever guaranteed in the markets, the below offer an ideal route into the sector. They've been drawn from a variety of business sectors to aid portfolio diversification and offer a taste of what is available.
The Five Best Penny Stocks to Watch in 2023
Penny stocks aren't necessarily 'cheap' or undervalued, as the sub-$5 price tag just represents the market cap of the firms involved.
A firm's market capitalisation is calculated using a simple formula:
The number of shares issued by the firm x share price =
market capitalisation
So, if a firm has issued a large number of shares but has a relatively small total valuation, then the share price could be below $5. That doesn't necessarily make it a good or a bad business to invest in; it's just the result of a mathematical calculation.
Penny Stock Valuation Methods
When considering whether to buy penny stocks, it is still important to incorporate classic valuation techniques based on potential future revenues. There are other valuation methods and strategies available, but the majority of the analysts in the market price stocks using estimates of future revenue streams.
If the market expects a firm's earnings to increase in the future, then it's likely its share price will increase as a result. This was very much the case with the likes of Amazon, which revolutionised global retail practices. Establishing what catalysts for improved returns could come into play is part of the process of identifying the best penny stocks to buy.
The below list includes firms with the potential to put through the changes needed to make their stock price rise:
Best Energy Sector Penny Stock – Gulf Marine Services Plc (LSE:GMS)
London-listed Gulf Marine Services owns a fleet of offshore drilling rigs that it hires out to a global client base. The firm has a market cap of £67.2m, so it is a small player in the sector that has already begun to see its prospects and share price pick up.
Since the start of the year, GMS stock has traded within the price range of 5.65p and 6.82p, a 20% trading range. With global crude prices continuing their long-term bull run, the stock is poised to break out to higher levels. Offering an idea of the possible price volatility levels to expect, the 52-week trading range is even wider, with peak and trough prices being 9.98p and 2.90p.
The low point for the stock price came in June of 2021. That was due to oil prices being low and research projects being mothballed. Since then, the new management team has been working hard to clear down some of the debt on the balance sheet and improve the company's fundamentals. The oil price has also found strength thanks to OPEC's reigning in of supply just as demand levels picked up following COVID.
Source: IG
There are plenty of reasons to think this penny stock could become more attractive to a broader range of investors, particularly if it can get the most out of the fleet of new rigs it has recently invested in.
Best Vaccine Biotech Penny Stock– VBI Vaccines Inc (NASDAQ:VBIV)
VBI Vaccines Inc stock is a Nasdaq listed stock that experienced a +690% price rise during the Covid pandemic. Vaccine stocks have since fallen back in value, but that offers a buying opportunity for investors who are fans of the pharmaceutical sector and missed out on the initial eye-watering price surge.
Vaccine stocks offer incredible returns should new variants of COVID become an issue. They also provide some security from a broader economic downturn, with drugs and medicines being one of the last items to be taken off a spending list.
Source: IG
VBIV is a medium-sized firm with good all-round prospects. It operates in sectors other than COVID and has a strong reputation in the immunology sector. It's in many ways a classic biotech penny stock that offers the prospect of substantial overnight returns should vaccine stocks once again suddenly become the hottest sector in the market.
Best Undervalued Penny Stock – Smiths News PLC (LSE:SNWS)
Investors looking to invest in a firm going through a restructuring process might want to consider Smiths News PLC. The firm has 55% of the UK newspaper and magazine distribution market. A position of dominance of that level is always promising regardless of the company's sector. While the 'dead-tree press' faces considerable challenges, the share price currently looks undervalued.
Long-term growth prospects in the core business may be limited, but the firm's current position is relatively healthy. Its dividend yield is 4.71%, and the P/E ratio is incredibly low at 2.95, whilst the average P/E ratio for the FTSE All-Share index was, on 18th February 2022, at a much higher 15.65. News distribution may not be the industry of the future, but SNWS is generating sufficient cash flow for the management to diversify into new sectors. If such projects were successful, the 2.95 P/E ratio would need to be quickly reconsidered and the share price expected to surge.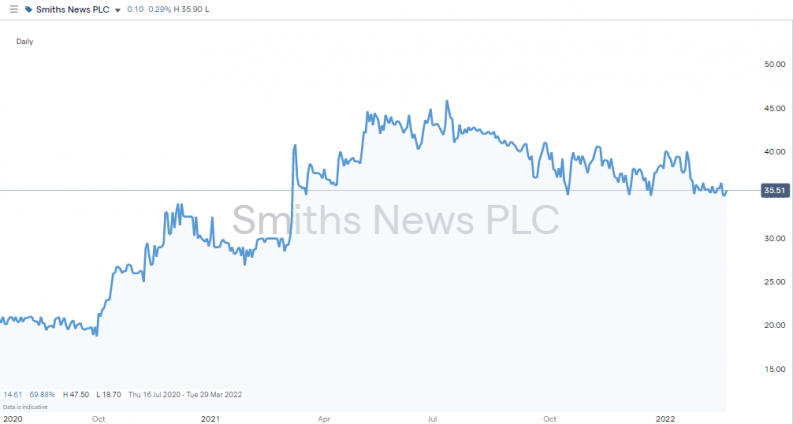 Source: IG
The Smiths News share price has spent the first part of 2022 consolidating at a base level in the region of 35.5p. While that holds, there is potential for a breakout to the upside.
Best Long-term Penny Stock – Genius Brands (Nasdaq:GNUS)
For investors concerned that Smiths News is currently targeting an ageing demographic, Genius Brands International, Inc. offers a route into an altogether different market. Listed on the Nasdaq under ticker GNUS, the firm is a content and brand management company that engages in developing, producing, marketing and licensing branded children's entertainment properties and consumer products. The stable of brands includes Llama Llama, Psycho Bunny, From Frank, and Celessence Technologies. Based in Beverly Hills, California, the firm is at the cutting edge of what's hot and what's not.
Source: IG
The stock currently trades at less than $1 but has printed prices above the $10 bar. The excessive share price volatility comes down to the firm's prospects relying a lot on one man, CEO Andy Hayward. Some investors were alarmed when Hayward began diluting the stock to raise capital, pay off debt, and acquire new assets. Considering the firm's long-term prospects, investors can be confident that the niche market Genius Brands operates in will become more attractive to the major players, Netflix, Disney and Amazon, any of which could consider a takeover.
The stock has suffered from a sector-wide move out of streaming services in the early part of 2022, but that offers a chance to buy a dip. If any firm has a line-up of products to attract the all-important younger viewers, it is GNUS.
Best Eco Penny Stock – ElectraMeccanica Vehicles Corporation (Nasdaq:SOLO)
ElectraMeccanica currently trades in the region of $2.04 but as recently as November 2020 was trading at $13.06. Selling activity from early days investors shouldn't put off penny stock investors approaching the topic with a fresh eye and no existing underwater positions.
Source: IG
Trading under ticker SOLO, the firm has the potential to reclaim lost ground based on its unique approach to the EV sector and the fact that it has started producing vehicles and generating hard cash revenues.
ElectraMeccanica produces single-seater EVs. That differentiation from the mass market of saloon and luxury family cars has to some extent clouded the picture for the stock. Buying into EVs has, for many investors, already been something of a move away from the norm. There are plenty of other EV manufacturers producing vehicles that look more like 'cars' and offer a foothold into the sector.
Reluctance to buy into single-seater EVs could be about to lessen. On 14th October 2021, ElectraMeccanica began delivering pre-ordered vehicles, and the litmus test for the stock will come when they are seen being used on the streets. Forecasting consumer sentiment can be a coin-toss, but two of the analysts that IG reports are covering the stock tip it as a 'Buy' and the third considers it a 'Strong buy'.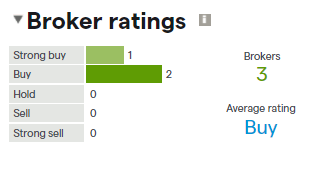 Source: IG
If inflation and interest rate rises do eat into disposable household income, SOLO may be the best option for those with limited budgets but who remain committed to moving away from using carbon-based energy.
Why Invest in Penny Stocks Now?
Penny stocks are a way to scale up your risk-return ratio. If you're new to trading or have an established low-risk portfolio in place, buying penny stocks when markets fall in value can offer an optimal price entry point in a higher-risk sector.
The start of 2022 has been associated with larger than usual price volatility levels, and just like any other stocks, there is a strong temptation to buy the dip when the prices of penny stocks fall. Due to them tending to be smaller and more high-risk, market corrections in penny stocks can be more extreme than those in defensive or large-cap stocks. That makes any dips in price even more appealing.
What to Know Before Investing in Penny Stocks?
Penny stocks can be a white-knuckle ride, but the chance of making substantial returns never went out of fashion. There are, though, some characteristics of the penny stock sector that investors need to factor in.
Time intensive
Penny stocks can be popular with day-traders. They're drawn to the potential of sudden and dramatic intra-day price moves, and the trading activity of speculators just adds to the potential for price to whipsaw. It is essential to keep up to date with market events, and traders considering the sector need to make a realistic assessment of how much time they can give to keeping up with their trades.
Trading volumes
Markets with low trading volumes are susceptible to price manipulation. Price can be driven one way or another or get stuck in a position. Check average trading volumes and ensure your trade position size is small enough to allow you to trade out of it should you decide to do so.
Smaller market capitalisations
Smaller firms aren't covered by professional analysts to the extent that large-cap firms are. This means penny stocks are unlikely to have been visited by the due diligence teams that big firms employ to rigorously check out a company before investing. The onus is on individual investors to establish to what extent a firm complies with corporate governance and reporting protocols.
Catalysts needed
Even great stories need a spark to get their share price moving, and some penny stocks with known potential can see their share price flat line for years. There is an opportunity cost involved if capital is allocated to a trade that doesn't take off, as those funds could be better used elsewhere.
Cold calling
The world of penny stocks has developed a reputation for investors being harassed by unsolicited calls from third parties offering promises about investments that are unfortunately too good to be true. Cold calls should be treated as a huge red flag and if you are looking to trade penny stocks, make sure you manage the broker selection process. This list of trusted brokers is a safe place to start.
How to Start Trading Penny Stocks Online
Penny stocks are a 'buyer beware' market, but once the decision to get involved has been taken, there are a few steps that can help reduce operational risk. Market risk, the chance that the price of your penny stock goes down can't be avoided, but choosing the right broker is entirely your call.
Ensuring your broker is well-regulated is step one towards safer trading. A firm regulated by one of the below authorities will have to comply with stringent rules and regulations to maintain its licence.
Tier-1 Regulators:
The Financial Conduct Authority (FCA)
The Australian Securities and Investments Commission (ASIC)
The US Securities and Exchange Commission (SEC)
Cyprus Securities and Exchange Commission (CySEC)
It's also worth trying out trading using free to use demo accounts. These allow you to test your strategy and the functionality of your broker using virtual funds and take moments to set up.
1. Research Penny Stocks
Unearthing a diamond in the rough can take some time, and a lot of the work associated with penny stock investing is related to this stage. Good online brokers offer their clients in-depth fundamental analysis based research and technical analysis tools to help establish which stock to buy and when.
2. Choose a Broker
The importance of choosing a trusted broker has already been highlighted, but also consider how many markets they offer in penny stocks. Some brokers specialise in the sector, and as competition between brokers means trading costs are low, the number of markets available might be what makes a broker a better fit for your trading.
It's also important to check they offer a share dealing service and CFD markets. CFDs have great functionality and allow traders to use leverage and sell short, but they come with financing charges that can stack up over time. This research report on CFD vs Share Dealing outlines why investors looking to hold a position for more than a few weeks tend to buy shares outright rather than in CFD form.
3. Open and Fund an Account
Registering to open an account with a regulated online broker is easy, and the process takes minutes to complete. It can be done using a desktop or mobile device, and once set up, only you will have access to your account. Funds can be sent to the account using credit or debit cards, bank transfers or ePayment systems.
4. Set Order Types
Buying penny stocks is as easy as locating the market on the broker platform, inputting the quantity you want to purchase and clicking Place Deal. Limit orders and stop loss and take profit instructions are other ways of managing your trading activity that allow clients to automatically buy and sell if price reaches a certain level.
5. Select and Buy Penny Stocks
Once you confirm your deal, some of the funds in your account will be converted into a stock position. That will be valued in line with current market prices, and performance can be monitored by visiting the Portfolio section of the platform.
The site's Portfolio section is also the place to head when the time comes to sell some, or all, of your position. This process is the reverse of the one used to book the initial buy trade.
Best Broker for Trading Penny Stocks
Online brokers have revolutionised the investment industry, and the brokers above are some of the best out there. Their platforms offer a combination of user-friendly functionality and powerful trading software. They are also hard to beat in terms of the security of funds. Not only are they regulated, but they have impressive track records and millions of existing clients. Whether you are already committed to buying some penny stocks or still considering your options, visiting these sites will help you explore the potential of the penny stock market.
Searching for the Perfect Broker?
Discover our top-recommended brokers for trading stocks, CFDs, forex, cryptos, and beyond. Dive in and test their capabilities with complimentary demo accounts.
Summary
Trading penny stocks can be a high-octane experience. Few experienced traders would suggest allocating too large a percentage of your total capital to the sector. However, if you make the right pick, even a small position can generate a significant return. When the time comes to buy, be sure to use a regulated broker so that if things do go well, your profits will be protected.