Picking the best semiconductor stocks can be tricky. They're part of one of the fastest-growing sectors, but all manufacturers are exposed to cyclical fluctuations. Demand for their products is forecast to boom over the long term but remains highly volatile in the short term. The situation is clouded further by the fact that some operators are exposed to potential supply chain problems, and even geopolitical risks need to be considered.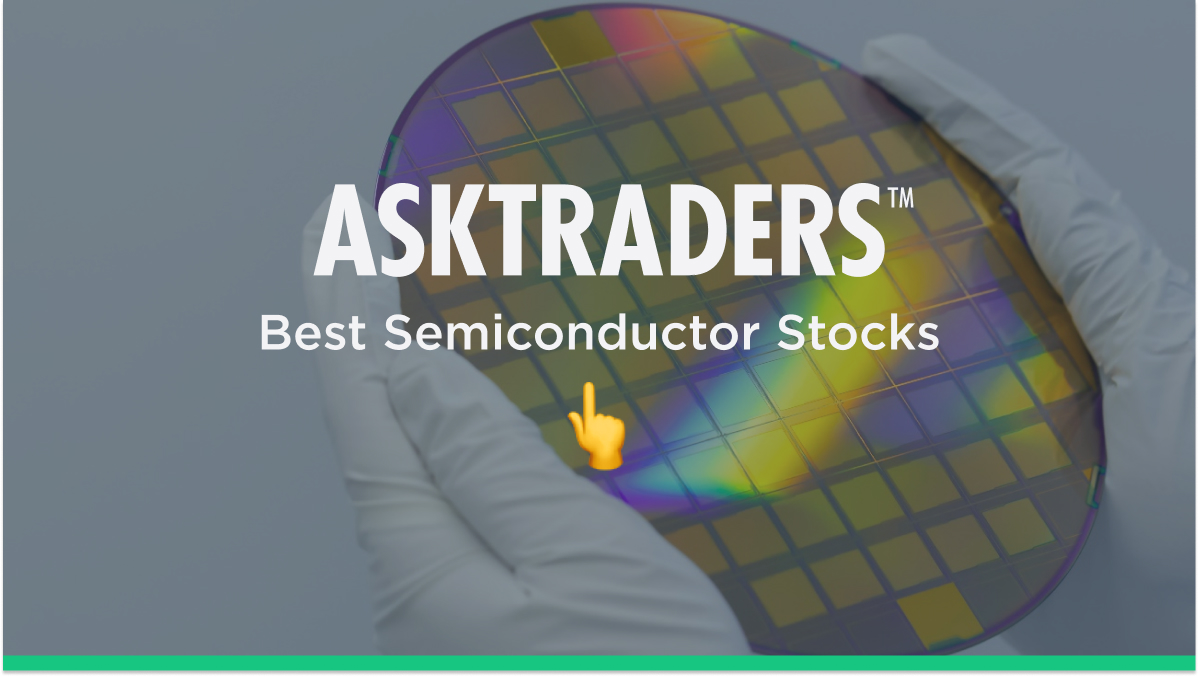 Despite the many variables in play, a decision to buy semiconductor stocks can't be dismissed. It's estimated that by the end of the decade, global annual spending on semiconductors will surge to $1trn – twice what it is today. Investing in semiconductor stocks might not be for the faint-hearted; however, the relatively high risk-reward profile of the stocks might even be attractive if you're looking to bring a bit more juice into your portfolio.
This article will draw on the most important fundamental analysis factors relating to firms that design and make computer chips and related components. After identifying the top-performing semiconductor stocks to buy now, our team of experienced traders will provide a step-by-step guide on how to get your semiconductor trading off to the best possible start.
iShares Semiconductor ETF
---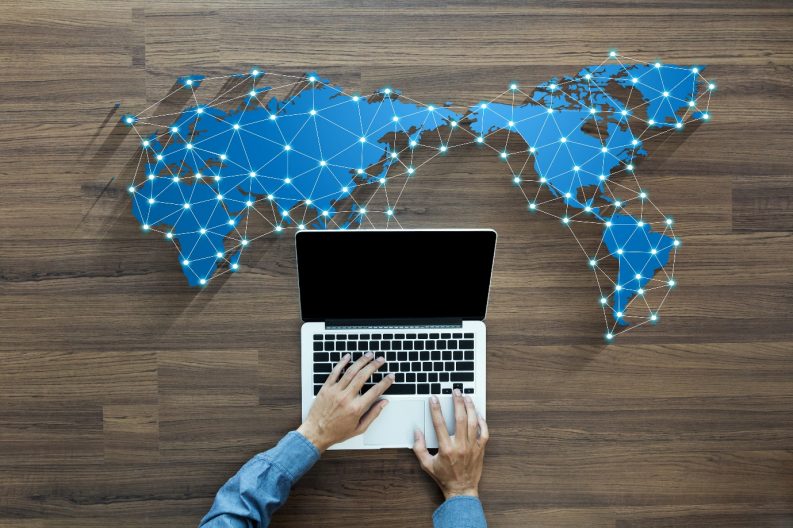 Skyworks Solutions (NASDAQ: SWKS)
Skyworks Solutions is a leading player in the Connectivity and Mobility sub-sector of the semiconductor space. Their business model targets the growth areas of mobile phones, wearable devices, the Internet of Things, and self-driving cars.
The firm has an impressive operating profit margin and long-running and profitable business relationships with tech giants such as Apple Inc, Huawei, and Samsung. Its healthy balance sheet means it's in an excellent position to capitalise on the rollout of the 5G mobile network.
Skyworks Solutions – Share Price Chart
Given SWKS' close relationship with Apple, reports that the iPhone maker is set to release an augmented and virtual reality headset could be a boost for Skyworks. In addition, Apple is expected to release other new devices, which could also benefit the Skyworks business.
Nvidia (NASDAQ: NVD)
The semiconductor market's GPU (Graphics Processing Unit) area contains firms set to prosper from growth in the gaming, cryptocurrency, and AI markets. California-based Nvidia was one of the first firms to spot the potential of the GMUS and used that head start to now be the world's leading producer of discrete graphics processors.
Nvidia – Share Price Chart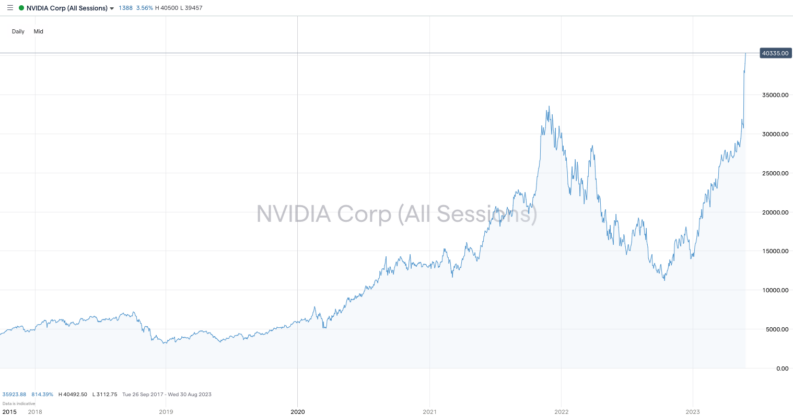 The good news for Nvidia shareholders is that the firm's prominent position in the gaming world is complemented by a move into AI. Once again, the company appears to have spotted a new trend early, with global spending on AI expected to increase by around 20% annually and approaching $110 billion by 2024. The moves into cloud-based subscription software and services is also likely to result in promising revenue streams.
Advanced Micro Devices (NASDAQ: AMD)
California-based Advanced Micro Devices Inc (AMD) manufactures computer processors, motherboard chipsets, and related technologies. It's by no means a penny stock and has a significant market cap, but it has been picked for its potential to grow at above-market rates.
AMD Inc – Share Price Chart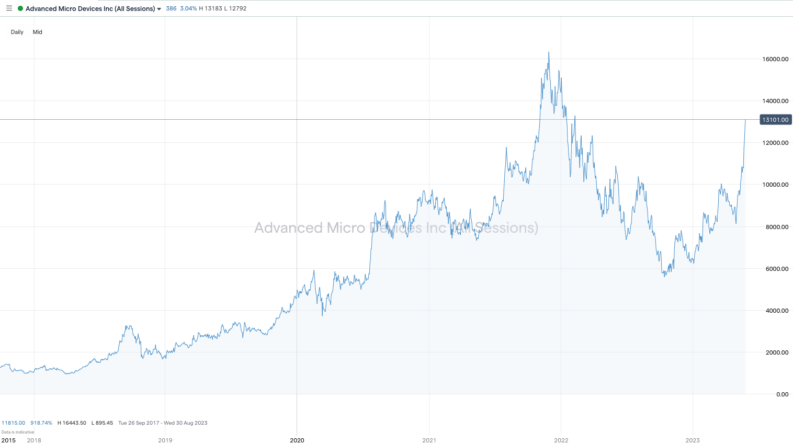 AMD, like almost every other major company in the tech sector, is making moves in the rapidly growing AI market, and many analysts expect it to be a prime beneficiary of the booming trend. With AMD's processors being a key component in powering the computing systems for AI possible, analysts and investors expect demand for AMD's chips to rise significantly.
One of the big ideas which previously created so much interest in AMD stock was the move by the firm into 'fabless' operational processes. That involves outsourcing a lot of the manufacturing of its processors, which lowers capital costs and allows the firm to focus on R&D. It's also good for the bottom line, with AMD revenues up and costs down since the shift to fabless started.
Broadcom Inc (NASDAQ: AVGO)
Broadcom is a leading semiconductor firm that designs, develops, and provides a wide range of semiconductor and infrastructure software solutions. The company's products are used in various industries, such as data centers, networking, enterprise software, and storage.
Broadcom Inc – Share Price Chart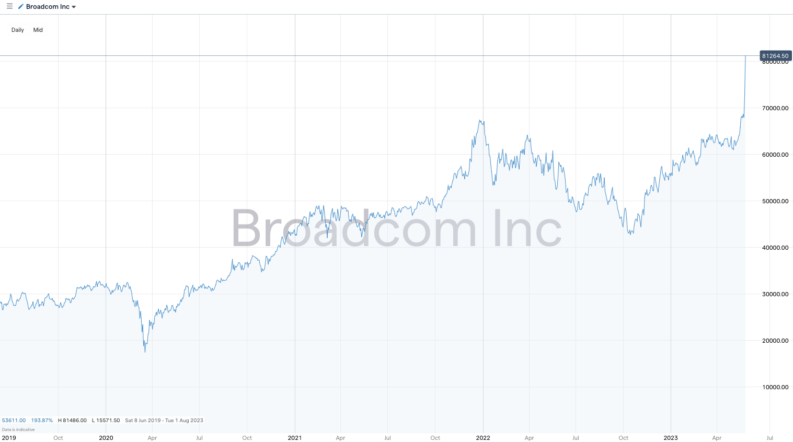 Broadcom has a strong track record of innovation and growth and is well-positioned to benefit from the continued growth of the semiconductor market.
The company's strong position in the market is demonstrated by the recently announced deal that will see it develop 5G radio frequency components and wireless connectivity components for tech powerhouse Apple in a "new multiyear, multibillion-dollar agreement."
iShares Semiconductor ETF (SOXX)
Investing in tech stocks can be as daunting as it is rewarding. Cutting through the jargon can require devoting time to learning the ins and outs of respective firms and their technological processes.
An alternative approach, which offers exposure to a range of different stocks with the click of one button, is to buy a semiconductor ETF. Exchange Traded Funds can be traded in and out of as easily as buying individual stocks, but they diversify risk by having a fund manager book a basket of different stocks on your behalf.
iShares Semiconductor ETF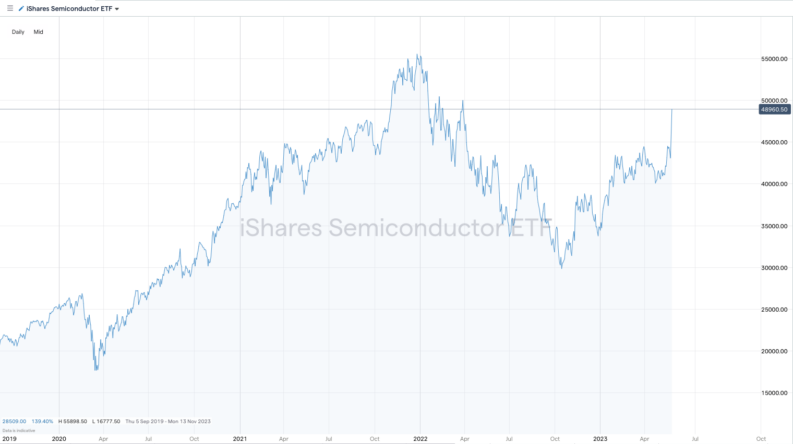 Exchange-traded funds (ETFs) are considered a great option for investors because they provide a number of advantages over traditional investments, such as stocks and bonds, such as instant diversification, which can help to reduce risk. This is because they typically hold a basket of securities.
The iShares Semiconductor ETF typically holds 30 different semiconductor stocks and only targets US-based firms. It provides exposure to the entire life cycle of the chip-making process, with designers, manufacturers and distributors of chips all eligible for a place in the fund.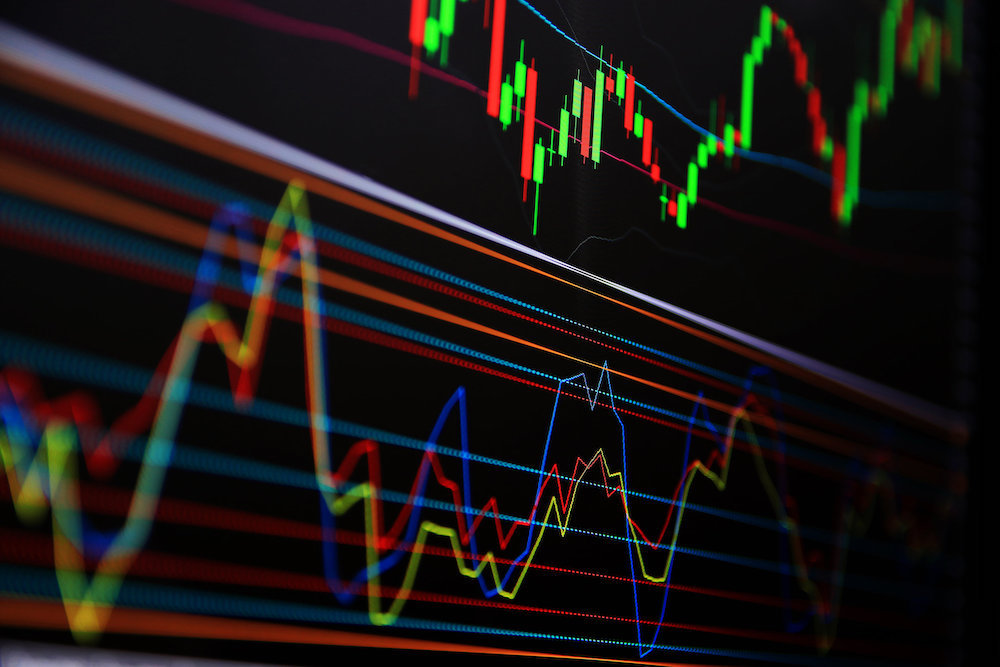 What You Need to Know About Semiconductor Stocks
Like all the stocks in the sector, these five best semiconductor stocks face potential headwinds that could materialise. Recent price history suggests peaks and troughs in demand and share prices are more likely than not.
The required response will be determined by whether you're already holding a position and considering trimming risk or whether you see dip-buying as a way to optimise your trade entry point. If you're in the latter group, it could be worth considering how to make the most of a market sell-off.
SEMICONDUCTORS, CHINA & TAIWAN
Taiwan plays a unique role in the semiconductor industry. Some specialist fields, such as "nodes" of 10 nanometres and below, are highly reliant on Taiwanese manufacturers. A staggering +90% of the world's manufacturing capacity for those nodes is currently located in Taiwan, and 60% of the world's chips are produced in the same country
Some analysts predict China's desire to control Taiwan might even scale up to a military invasion. Global semiconductor supply chains are interlinked, so a conflict would seriously impact all manufacturers. There's no guarantee that those firms which appear at face value to have distanced themselves from overreliance on Taiwan might be able to continue operating. If they can, the challenges facing their rivals would put them in a powerful position.
A SHIFT AWAY FROM TECH
Tech stocks were big winners during the Covid pandemic. The rush to online work and socialising caused a spike in demand for IT products, sending tech stock prices soaring. Pre-covid work-life patterns may not be completely restored, but big corporations are flexing their muscles and asking staff to come into the office, which could reduce demand for chip-powered products.
SEMICONDUCTOR DEMAND PIPELINE
Covid caused a spike in demand for laptops, PCs and handheld devices, bringing forward a lot of planned purchases of IT products. Given the lifespan of these products is measured in years rather than months, there is a risk that it could be some time before new chip-based products are bought in high volumes. If someone didn't need a new laptop in March 2020 at the height of the pandemic, then it's unlikely they'll buy one now.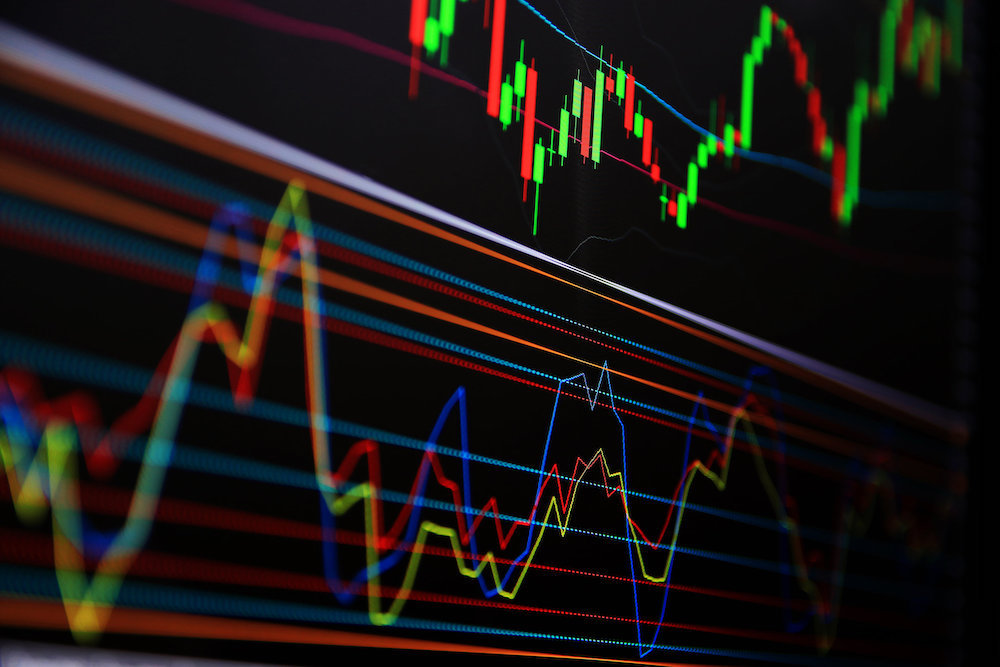 How to Buy Semiconductor Stocks
The crucial role semiconductors play in the modern economy means that most good brokers offer markets in firms that make them. It's impossible to be sure about the direction price might move, but some simple guidelines can help you manage the operational risk factors within your control.
1. CHOOSE A BROKER
Choosing a legitimate broker is crucial to ensure you aren't caught up in a scam. This list of trusted brokers includes firms regulated by Tier-1 regulators such as the Financial Conduct Authority (FCA), the Australian Securities and Investments Commission (ASIC), and the Cyprus Securities and Exchange Commission (CySEC).
There are plenty of brokers to choose from; one way to test them is to open a Demo account. These require you to provide little more than an email address, and they typically take less than 10 seconds to set up. Using one, you can practice trading, test strategies, and find a broker with the best functionality, all in a free-to-use, risk-free environment.
2. OPEN AND FUND AN ACCOUNT
Online brokers have revolutionised the finance industry. Trading is now more cost-effective, and the platforms are designed to be incredibly user-friendly. Beginners can start trading after registering online and wiring funds using a choice of payment methods, including credit cards, debit cards and bank transfers.

3. BEGIN TRADING
You'll be taken to a dashboard of different markets when you log in to your online account. Simply filter by sector to bring up a list of semiconductor stocks or search your target stock by name. Then it's merely a case of entering the quantity you want to buy into the data field and clicking or tapping 'Buy'.
At that point, the required amount of cash from your account will be converted into a stock position which will fluctuate in value in line with the market price. When the time comes to sell some or all of your positions, it's simply a case of reversing the process used to buy.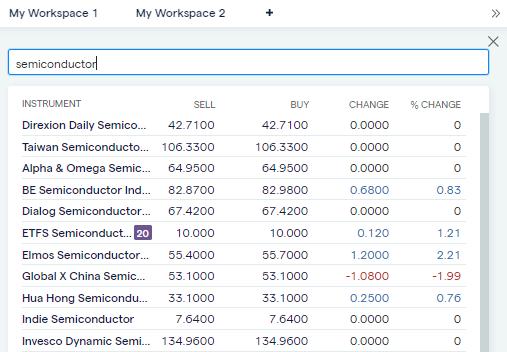 4. MANAGE YOUR POSITION AND RISK
Stop Loss instructions and Take Profit orders are risk-management tools provided free of charge. They allow you to build into the trading system instructions to automatically close out some or all of a position if the price reaches a certain level.
Other ways of managing risk include trading in small sizes, averaging into positions, and always remembering to invest funds you can afford to lose.
FINAL THOUGHTS
Whether you're new to trading or an experienced investor, the semiconductor sector is hard to ignore. The relatively high price volatility means it can be a bumpy ride, but there are always dips to buy.
The keen-eyed will have noticed our list of the top five semiconductor stocks to buy now has focused on US-based firms rather than Taiwanese alternatives. There's enough potential for the sector to boom without bolting on the additional risks that come from the standoff between Taiwan and China.
Navigate to the AskTraders list of trusted brokers to find trading platforms that have been reviewed and checked for trustworthiness. Those brokers offer a convenient and reliable way to get exposure to one of the potential boom markets of the coming decade.
PEOPLE WHO READ THIS ALSO VIEWED THE FOLLOWING: