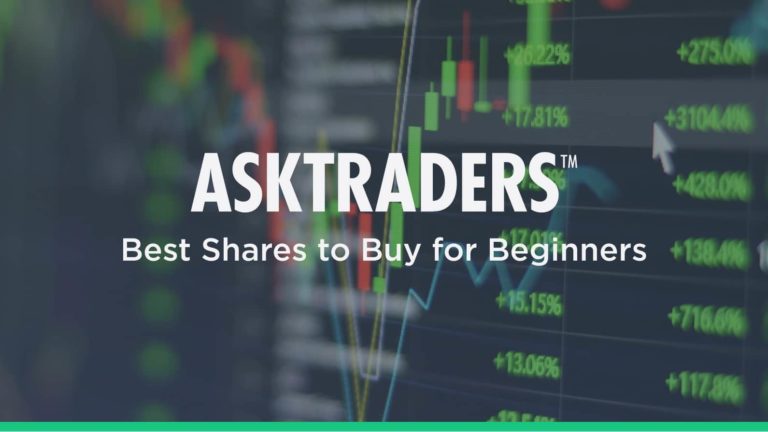 It's no secret – investing has, historically, outperformed saving cash in a bank account. The Bank of England currently targets an inflation rate of 2% each year, which means your cash loses its value over time as the cost of living increases.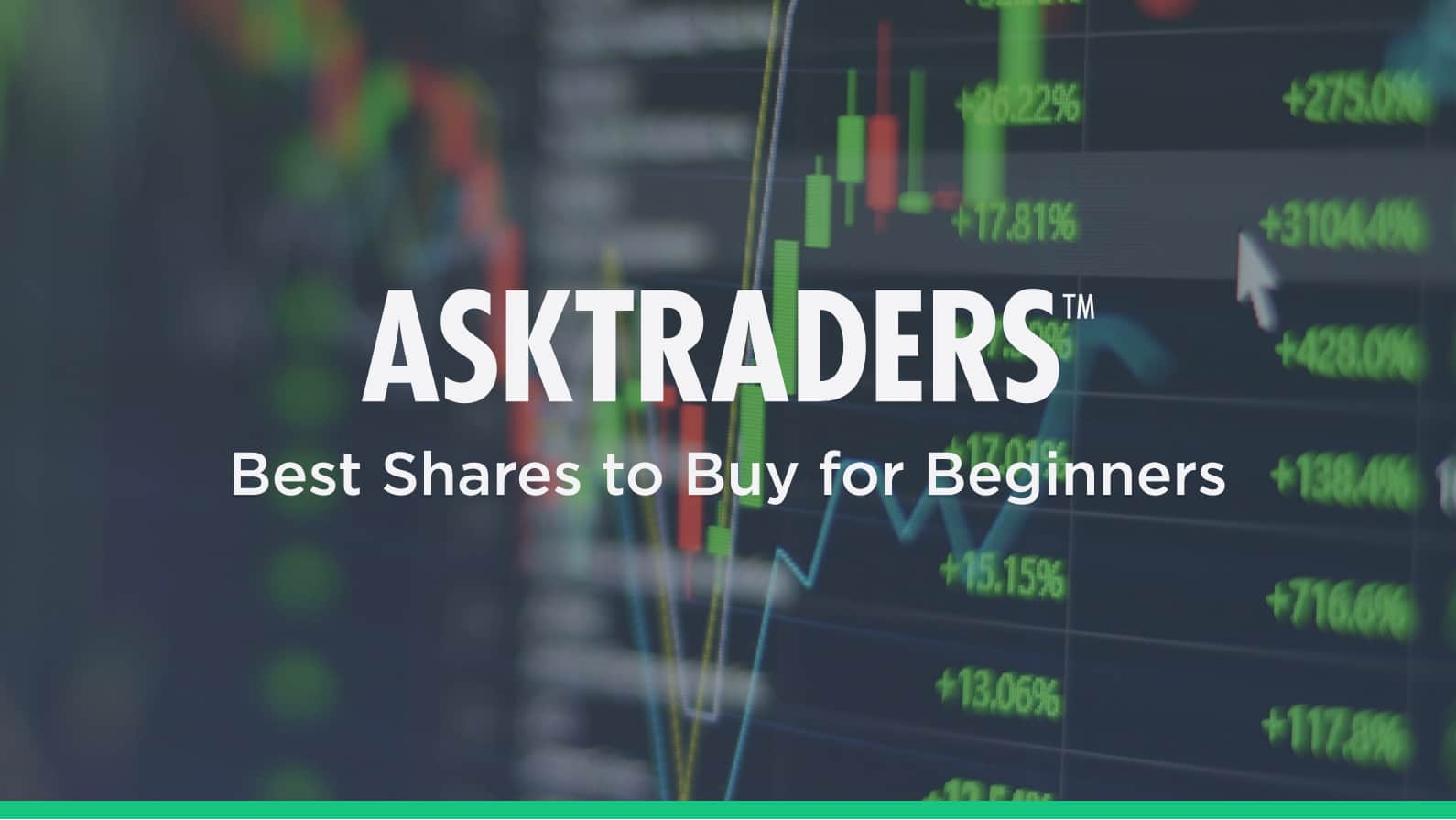 ---
YOUR CAPITAL IS AT RISK. 68% OF RETAIL CFD ACCOUNTS LOSE MONEY.
---
To stay ahead, you need a savings account with an interest rate above 2%. With interest rates at historic lows, savvy savers are turning to investments – often in stocks and shares – as a way to put money aside and make it go further.
If you're new to investing in shares, where do you start? In this guide, we'll take a look at some of the best shares to buy for beginners and why they offer long-term value.
The Best Shares to Buy for Beginners in 2020
Here are 12 of the best shares for beginners to buy today:
Alphabet (NASDAQ: GOOG)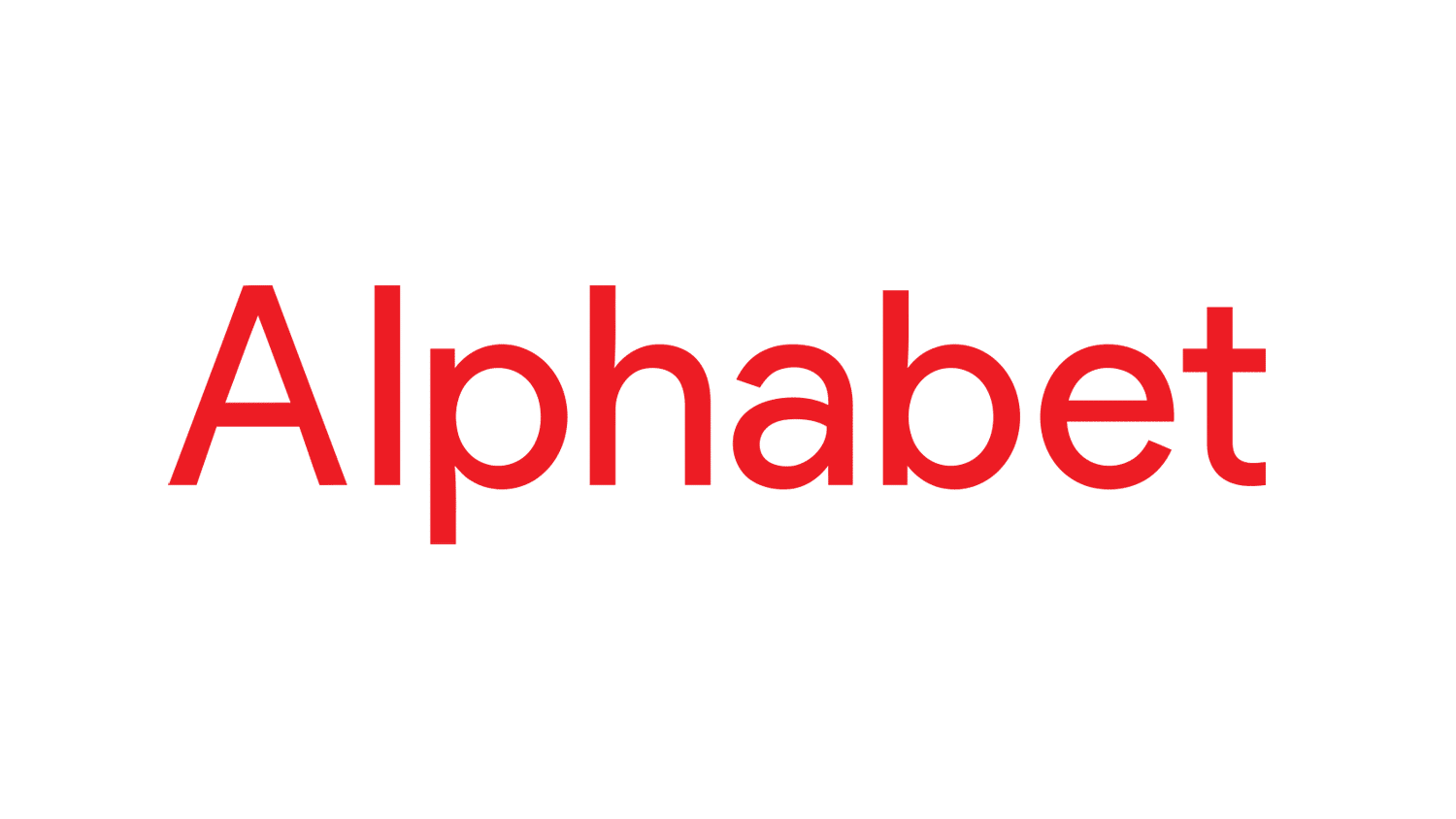 If you've never heard of Alphabet, we don't blame you. That's because Alphabetc Inc. is the parent company of tech titan, Google. A bona fide 'Blue Chip' stock investment, Google's product portfolio is as extensive as it is impressive. It offers online advertising services, mobile operating systems, the world's most popular web browser, cloud services, hardware devices and more. One of the world's largest and most profitable companies, Google is a rock-solid share for beginners to invest in.
Amazon (NASDAQ: AMAZN)
A long-term favourite of stock investors, Amazon hasn't just weathered the storm of a global pandemic – it has thrived. As increasing numbers of people turn to online shopping, Amazon is well-positioned for future growth as it benefits from a dramatic shift in consumer behaviour. Riding the wave of 70% increase in stock price since March 2020, it's hard to see this juggernaut losing the momentum it has built up. It's not too late to board this train before it leaves the station. Learn how to buy Amazon shares
Apple (NASDAQ: AAPL)
Recently crowned the world's most valuable company with a market cap of over $2 trillion (with a 't'), Apple is the stock that keeps on giving for its investors. Consistently among the top ranks for revenue numbers and returns, this NASDAQ giant is the perfect buy-and-hold stock for beginners. The company has diversified its portfolio in recent years, adding Apple Pay, Apple TV and Apple Watches to its core offering of iPads, Macs and iPhones. That's what we call a recipe for future success. Learn how to buy Apple shares.
Disney (NYSE: DIS)
The Walt Disney Company, or Disney, is a worldwide entertainment company whose reach stretches far beyond 'The Happiest Place on Earth' at Disneyland. In addition to the 12 Disneyland Theme Parks it operates around the worlds, in recent years it has aggressively expanded into other areas of entertainment. Companies now under the Disney umbrella include ESPN, Lucas Film (Star Wars), Fox Entertainment Group, National Geographic, Pixar Animation Studios (Toy Story) and many, many more. The rollout of Disney+ in 2019 represents a foray into the lucrative television streaming market and another impressive feather in Disney's cap.
Facebook (NASDAQ:FB)

With more than 2.7 billion users around the world as of the second quarter of 2020, Facebook is the world's largest social network. However, there is more under the hood of this tech giant than you may realise at first as, besides Facebook, it also owns Instagram, WhatsApp, and virtual reality gaming company, Oculus. Whether we like it or loathe it, social media is here to stay – and Facebook is the undisputed king. The proliferation of social media is only going to send Facebook's stock price one way in the near future, so hit that 'like' button if you're a beginner looking for a stock to buy right now.
Johnson & Johnson (NYSE: JNJ)
When it comes to stocks, longevity and reliability are important. Johnson & Johnson isn't the flash new sports car that will take you from 0-60 in 3 seconds; it's the reliable and trustworthy runaround that gets you from A to B. Founded in 1887, no recession or crisis has been able to rock its solid foundation that includes brands such as Neutrogena, Benadryl, Listerine, Band-Aid, Aveeno, Nicorette and many more. People are always going to need medicine and healthcare products and, and when they do, chances are 'JNJ' will be the ones supplying it.
Microsoft (NASDAQ: MFST)
It may no longer be the world's biggest company but, like any heavyweight champion on the ropes, you wouldn't bet against them to come out swinging. As far as first stocks go, beginners could do a lot worse than a company that has risen to the very top and withstood the test of time. It maintains a firm stranglehold on software, with Microsoft Windows installed on 77-88% of computers around the world, while it also owns an impressive roster of companies including Skype, LinkedIn and GitHub. Its enormous market penetration and longevity make it a great option for beginners.
Netflix (NASDAQ: NFLX)
Netflix has come a long way since CEO & Founder Reed Hastings was laughed out of the Blockbuster board room when he proposed a $50m buyout back in 2001. Today, Netflix is estimated to be worth $28 billion. A pioneer streaming service, Netflix beams some of the best TV shows & movies into the homes of 182 million people around the world. Along with Amazon, it's one of the few companies that have benefitted from recent events. As internet access expands in countries with large populations such as India and Brazil, look to Netflix as a future growth investment.
Proctor & Gamble (NYSE: PG)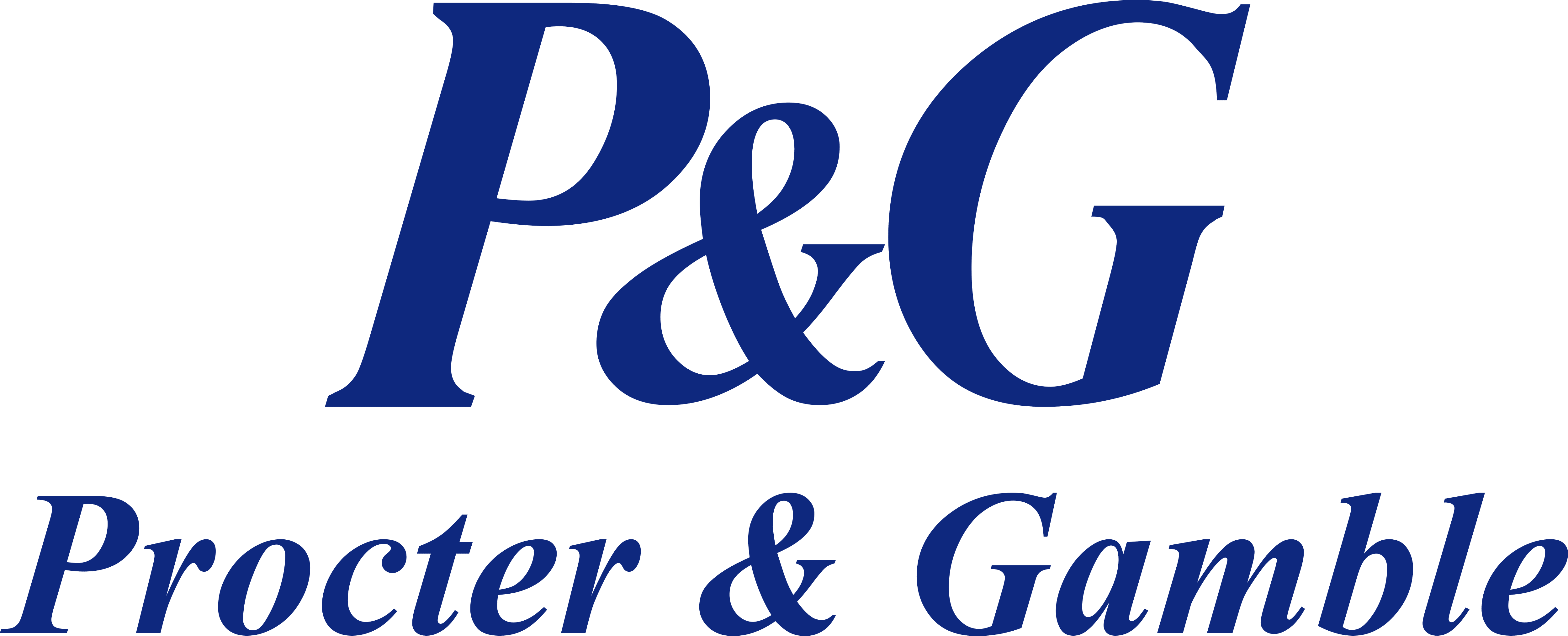 The next big FMCG company on our list is Proctor & Gamble, manufacturer of household brands such as Aussie, Head & Shoulders, Olay, Pantene, Pampers, Ariel, Fairy and Oral-B. Investing in tech stocks might seem trendy, but investing in companies like P&G that produce everyday consumer goods should also be high on your to-do list. P&G stock is all but recession-proof and will provide consistent and stable earnings regardless of the economic climate.
Spotify (NYSE: SPOT)
With over 138 million premium subscribers and 299 million total users across 92 markets, Spotify is firmly entrenched as the market leader in the paid-music streaming sector. It has been able to keep competitors such as Apple Music at bay by diversifying into podcasting and spending hundreds of millions along the way to do so. It now offers a library of over 1.5 million podcasts and has secured exclusive content deals with celebrity podcasters such as Joe Rogan. With global smartphone penetration surpassing 40% of the world's population in 2019, Spotify's potential market is huge – and only likely to get bigger as smartphone adoption increases. Much like the story of Netflix, the annals of history will reflect on Spotify's success and wonder why investors looked an apparent gift horse in the mouth.
Tesla (NASDAQ: TSLA)
Tesla is the hottest name on investors' lips right now. If you're a fan of renewable, innovative technology – and believe that electric cars are the future – then Tesla might just be the stock for you. Rarely does a day by when Elon Musk or Tesla isn't in the media, and the company continues to go from strength-to-strength. It dominates electric car sales in China, the world's largest car market, which now accounts for 25% of revenue. posting profits in each of the last four quarters and becoming the seventh-largest US company by market cap in the process. Learn how to buy Tesla shares.
Zoom (NASDAQ: ZM)
If you hadn't heard about Zoom before the Coronavirus pandemic, we're willing to be that you have now. It's so ubiquitous that the word 'Zoom' has practically entered everyday parlance as a verb ('let's Zoom!') to video call someone. Sorry, Skype. This cloud-based video conferencing software became incredibly popular during lockdown around the world and its stock has rocketed ever since, with 108% revenue growth YOY recorded in Q4 FY2020. If you think the working world as we know it has changed for better (or worse) and shifted towards remote working, Zoom is very likely to play a key role.
---
Our Favourite Stock Trading Platforms:
Whether you're a new trader looking to get started with investing or just curious, these trading platforms are perfect for beginners. Not only are each of these brokers fully regulated – providing a safe and secure trading environment – they are fully equipped with everything you need to succeed. This includes a wide range of stocks to choose from and educational resources to help you get started and make your first trade.
---
Why shares are ideal for your first trade
Another plus point from a beginner's perspective is that stocks typically have low-medium price volatility. This means there is likely to be enough profit in a trade to keep you interested, but not so much as to blow up your account if the price moves against you.
Exchanges such as the London Stock Exchange and Nasdaq, which firms are listed on, require the firms to provide a high level of transparency in their financial reporting. There is enough volatility to generate profits if you pick the right company to invest in, but being a regulated market, you'd be unlucky to be exposed to fraudulent activity.
Getting into the shares trading as a beginner
The physical process of investing in stock through an online broker platform is very easy. Registering for a free Demo account and trying it out is highly recommended. The hands-on experience gained from trading virtual positions in firms such as Amazon, Apple and Tesla, is incredibly valuable and within minutes answers the question – 'how do beginners buy stocks?'
Online brokers
Firms that offer free to use share trading accounts include eToro and IG. Booking test trades in a risk-free environment can fast-track your learning. Taking the next step towards successful trading involves improving your understanding of the basic features of the process, which we detail below.
Putting on a trade
Buying shares at eToro involves going to the market for your selected firm, entering the amount of money you want to invest and clicking open trade. There are other features such as leverage, stop-losses and take-profits, which can be added to your new position but the transaction is as simple as exchanging cash for a holding in the company you want to buy.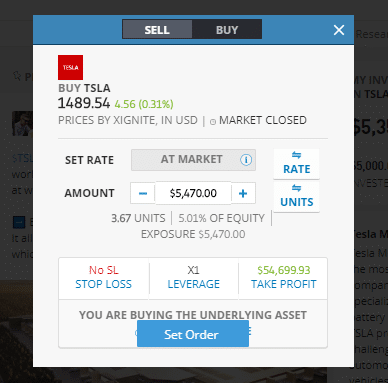 Source: eToro
Profit or loss
Your holding of shares will increase and decrease in value according to the prices in the underlying market. The below long position of $5,000 worth of Tesla shares was bought when prices were $1,391.17 and in the intervening period, prices have risen to $1,489.24. Generating a profit in dollar terms of $352.47 and a percentage change of +7.05%

Source: eToro
This position is traded on the Nasdaq exchange and when that market is open the position and profit or loss (P&L) will be subject to real-time price feeds.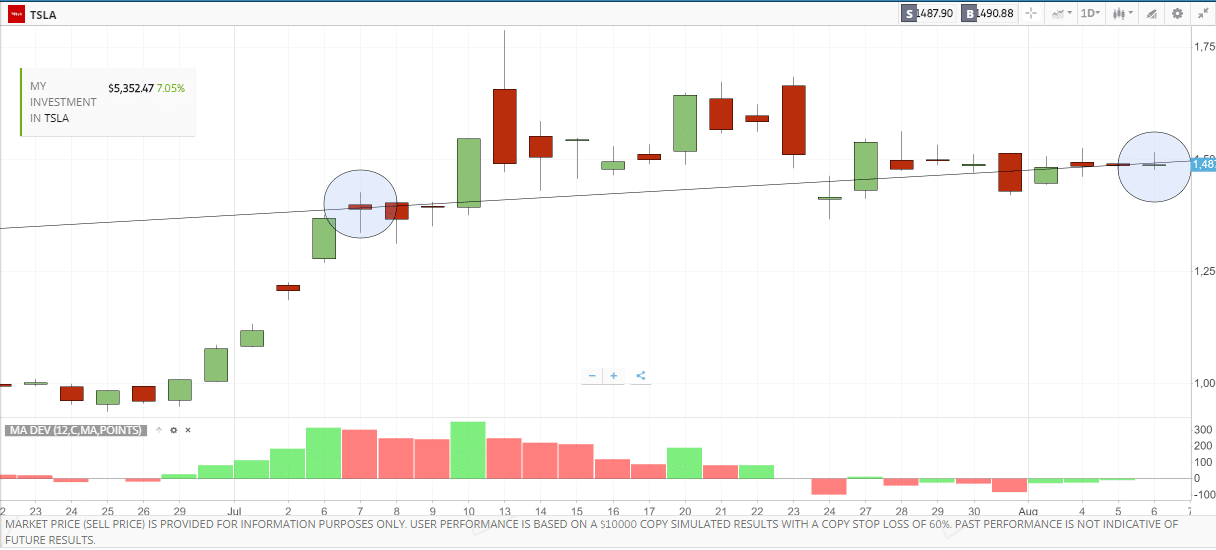 Source: eToro
The chart of the Tesla share price shows the price move in graphical terms. The entry point on the trade and latest market price are denoted by ellipses.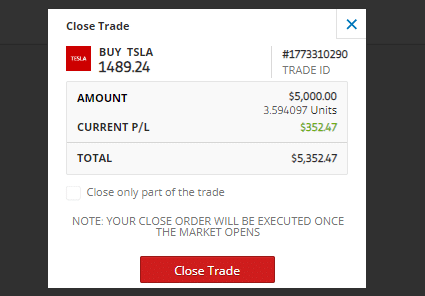 Source: eToro
Closing out your position is just the reverse of putting it on. If you bought shares in Ericsson at eToro and now wanted to sell them you follow the below process.
This converts the equity holding back to cash. The profit or loss will be crystallised and reflected in your cash balance.
---
What are the qualities of great beginner shares?
The good news for beginners is that as asset types go, stocks are also relatively easy to understand. If you think a firm will be a success, then buying shares in that company means as a shareholder, you are positioned to take a share of any future profits generated by that business. The greater the expected future profits, the higher the share price now.
Volatility and dividends
A firm such as Sainsbury's, with relatively stable earnings projections will be expected to have a more stable share price. One such as Tesla will have higher price volatility.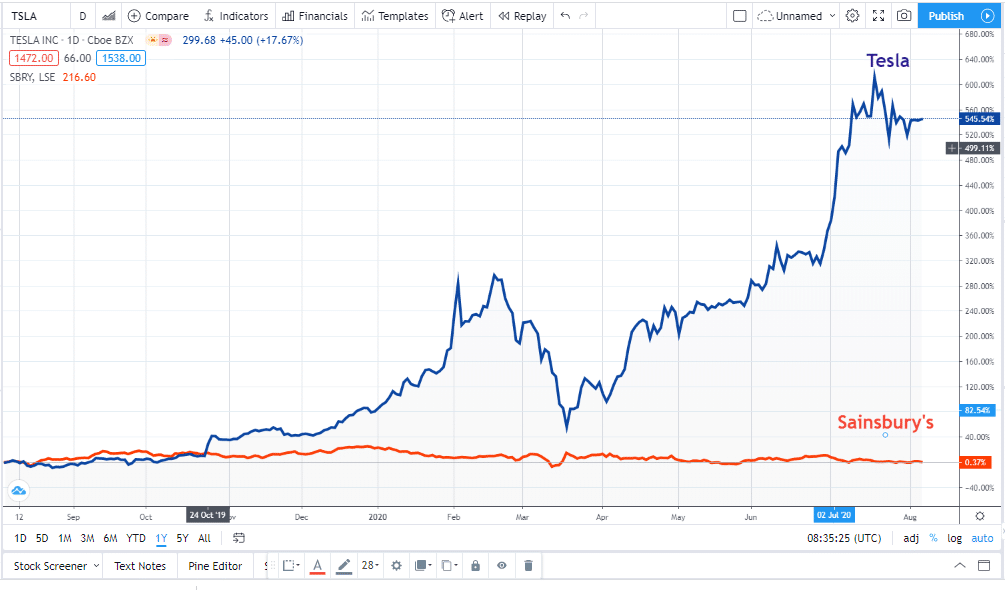 Source: TradingView
The one-year price chart for the two stocks illustrates the degree to which price volatility can differ between stocks. It's important to note that dramatic price moves can go against you as well as in your favour.
Tesla is something of an exception. The dramatic price rise is based on the premise that it will in the future, become the dominant car producer in a multi-billion-dollar global market. It's not based on current earnings, as the firm is still yet to post a profit and has a price-to-earnings ratio that is too toppy for some to consider investing at these levels.
Shares of large profitable companies
For most stocks, valuations are based on real-life commercial fortunes, which offers some stability to share prices. Bigger, profitable companies offer greater security to investors. Even more exciting stocks such as Amazon and Tesla might not see price moves on the same scale as commodities like silver and gold and cryptocurrencies such as Bitcoin. Those markets are more about immediate supply and demand constraints, whereas even Tesla shares have a proportion of their value based on long term earnings forecasts.
Share history
Past performance is another useful tool for those learning how to pick stocks. The price charts available at brokers track the progress of price action and can give a graphical indication of the direction of travel.
Technical analysis
Technical analysis takes this to another level. Measures of historical share prices are converted into metrics such as SMA's (Simple Moving Averages) and trend lines help predict what trends have taken place and signs they might be breaking down – and need to be traded out of.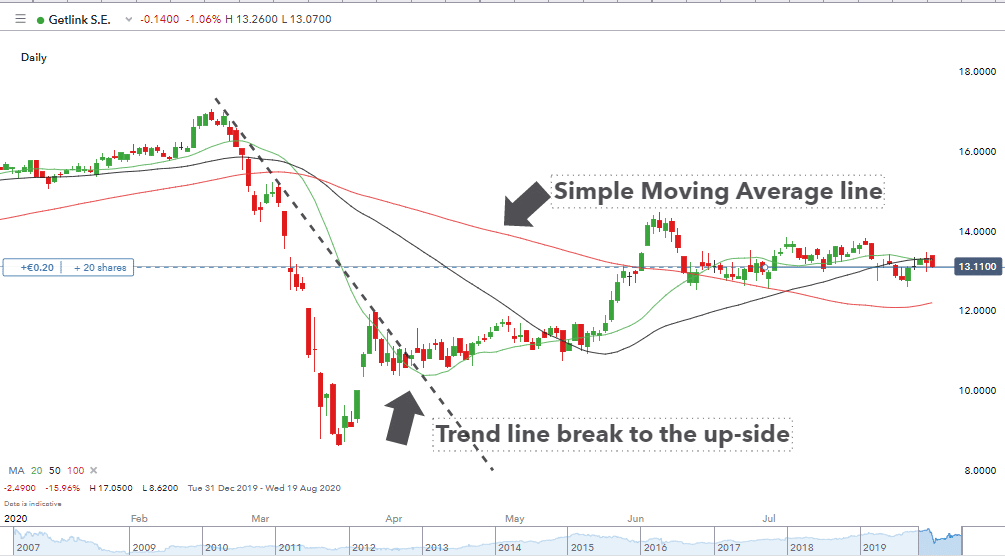 Source: IG
Holding periods and what to avoid
One top tip for beginners is to establish how long you intend to hold your position. Over-trading, or even worse, flip-flopping between long and short positions, are common mistakes made by those who are new to trading, which are best avoided. Choose a strategy and stick to it.
Beginner-friendly analysis and stock trading strategies
There are two important factors to keep in mind when picking and developing your stock trading strategies. The first is that it needs to fit in with the amount of time and resources you can devote to trading. Some strategies require more time to be devoted to them. A realistic appraisal of your situation and appropriate strategy type selection will put you in a better position for making profits.
The second consideration is whether your chosen strategy is the right one for current market conditions. The constantly changing dynamics of stock markets mean that at some time, they'll provide a better opportunity for profits to particular strategies. This also applies at a single stock level. Stocks within your portfolio may behave differently regardless of the broader market conditions.
The good news is that there is a strategy to suit every eventuality. The research provided by this article considers a variety of different strategies and outlines the pros and cons of each. Broadly speaking, they can be broken down by holding period. Short-term strategies such as 'scalping' and 'day trading' involve more frequent trading and lower risk/reward. 'Trend following' and 'momentum' strategies take a longer view of the markets. They may draw on fundamental analysis, for example, a change in a firm's way of doing business which is expected to feed through as a change in price.
There are a lot of ways of valuing a stock and, importantly, it's important not to dismiss the power of your own research.
People also viewed