Travel stocks are still going through the recovery process after the pandemic, and with travel demand remaining strong despite economic pressures impacting consumers, things are looking positive.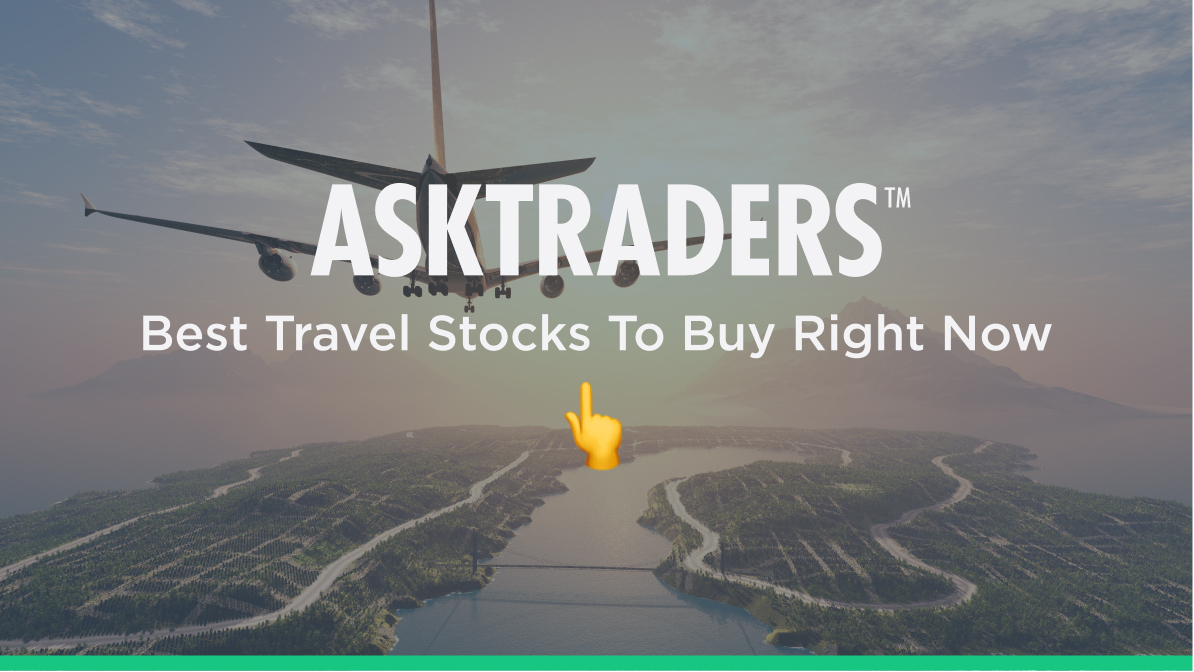 Of course, the industry is not entirely out of the woods, but passenger numbers are continuing to climb, and more and more people are back in the travel groove.
Using technical and fundamental analysis techniques, we'll consider the best travel stocks to buy now, establishing if their current valuations make them a bargain, and then take you through how to buy them.
---
BOOKING HOLDINGS INC (NASDAQ: BKNG)
Booking Holdings is one of the largest travel booking portals in the world. It has a suite of popular sites, including booking.com, kayak.com, rentalcars.com, and priceline.com.
The company has been on our best travel stocks list for a while, and we have been justified in our pick as it has risen significantly over the last year.
During the pandemic, the firm slashed its workforce. The payroll cuts meant the firm benefitted from cost savings of $300m annually, resulting in a much healthier-looking balance sheet with money that could be used to weather any future financial storms. While its share price is starting to look rich, it is still a travel stock we favour.
BOOKING HOLDINGS SHARE PRICE CHART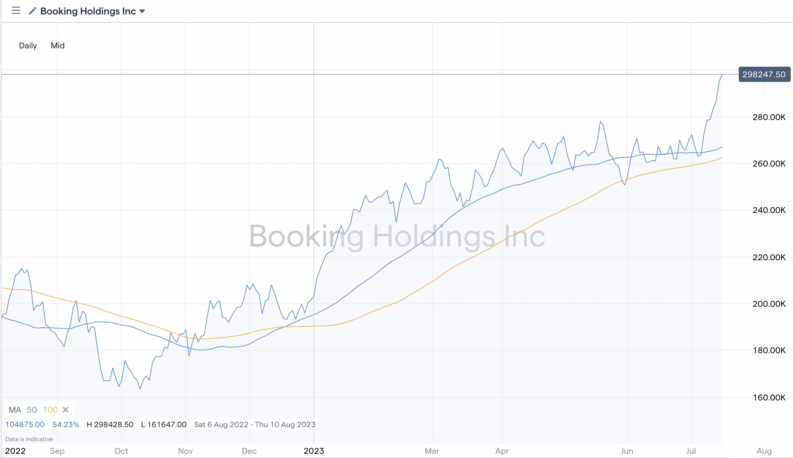 The stock currently has strong momentum, but any bullish investors may look at a pullback as a perfect buying opportunity.
Of the 26 analysts covering the stock, 16 rates the stock a 'buy', eight a 'hold', and two 'sell', with the median price target being $2,881.04, representing a potential slight downside from current levels.
TUI (LON: TUI)
TUI Group is one of the largest holiday brands in the UK. The British-German company offers exposure to various aspects of the travel sector as it owns travel agencies, airlines, hotels, cruise ships, and retail shops.
TUI shares have not yet seen any benefit from the travel recovery, and its share price wasn't helped by a recent announcement of a capital raise.
Even so, the decline may provide the opportunity for investors to get in at low levels, with some expecting an improvement for the company over the course of this year.
TUI AG (LSE) SHARE PRICE CHART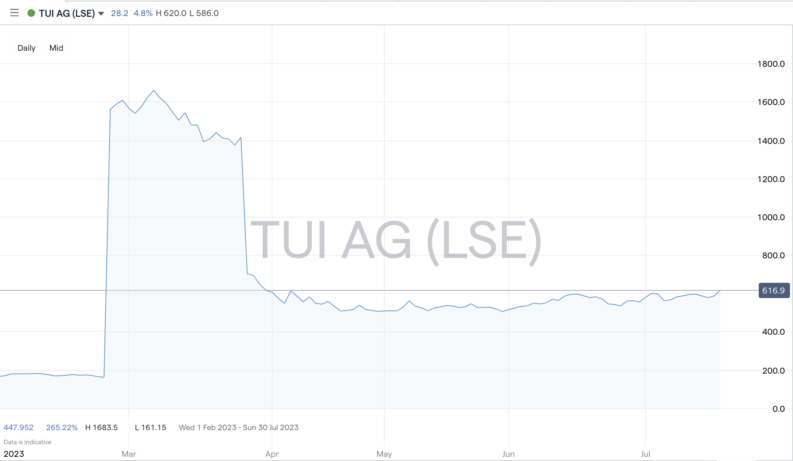 The TUI share price decline over the past five years is alarming. While that is undoubtedly a painful situation for current shareholders, those looking to buy in at record-low prices can point to the expected improvement in demand this year.
AVIS BUDGET GROUP (NASDAQ: CAR)
Avis Budget Group is a leading global car rental company that owns brands, including Avis Car Rental, Budget Car Rental, Budget Truck Rental, and Zipcar. It also owns several local brands in various regions globally.
The company did well in navigating the pandemic, reducing its fleet size by selling over 100,000 vehicles and removing approximately $1bn in costs.
Meanwhile, over the last few years, the company's profit has improved,
While its holiday hire fleet has benefitted from the pandemic recovery, ZipCar is the brand under Avis's banner that shows signs of promise. The car-share market is a growth area and is forecast to expand at a 22.3% CAGR up to 2027, and ZipCar is a significant player in the industry. In cities such as London, where driving is becoming ever more expensive, ZipCar should see demand continue to increase.
AVIS BUDGET GROUP SHARE PRICE CHART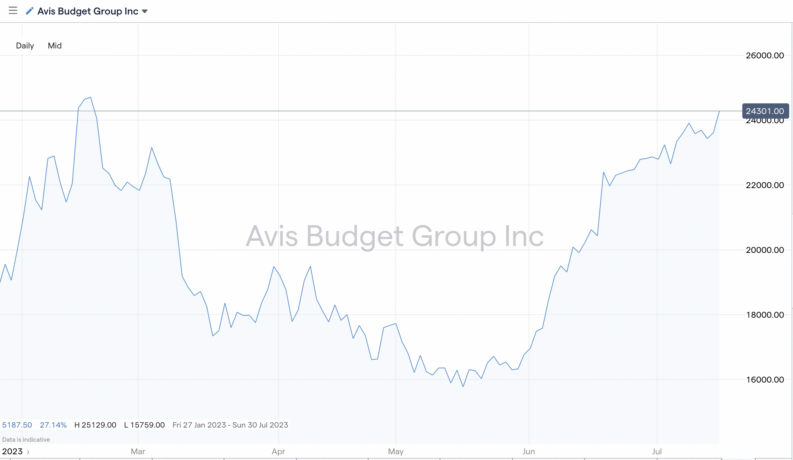 Technological advancements mean there is uncertainty about which stocks will be the future winners and losers in the travel sector. That's reflected in the analysts' ratings of CAR stock. The median stock price target is $238.25, roughly around current levels (at the time of writing), but while three brokers rate the stock and mark it as a 'buy', one has it marked down as a hold.
AIRBNB (NASDAQ: ABNB)
Airbnb was founded in 2009 by Brian Chesky and Joe Gebbia. It has since become synonymous with the booking of holiday rental properties by tourists.
The company makes its money by charging hosts a 3% fee of the booking subtotal and an under 14.2% service fee to guests.
Airbnb first listed on the stock market in December 2020, so it doesn't have a pre-pandemic share price as a guide of what it could be. The ABNB share price has declined since the IPO, but it should benefit from a pick-up in both leisure and business travel.
Even so, the company has faced some criticisms from travellers with concerns regarding rules set by hosts and the soaring prices on the platform, which haven't been helped by excessive cleaning fees. However, ABNB is working to combat that, and they have made the added fees more transparent.
ABNB stock is trading at levels some way from the +$210 price highs of February 2021. However, the potential for a rebound centres around a new trend; some of the millions of people who now work from home are opting to book extended breaks in faraway locations to enjoy a hybrid work-holiday experience.
Airbnb has previously noted that the length of stays increased. If ABNB is able to tackle the headwinds mentioned, its stock price certainly has the potential to go from strength to strength.
AIRBNB SHARE PRICE CHART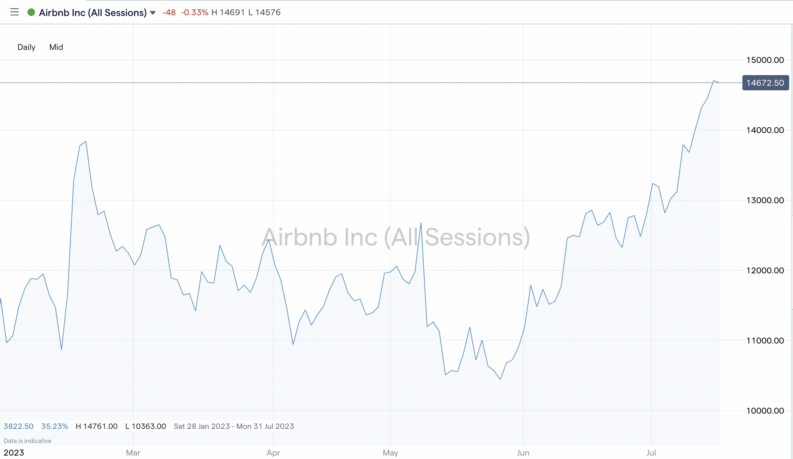 Thanks to the firm's high profile, ABNB stock is monitored and rated by 32 brokers. However, the median stock price target is $127.80, representing a more than 10% downside from current levels. In addition, 13 rate the stock a 'buy' and 16 a 'hold'. Three brokers give ABNB a 'sell' rating.
TRIPADVISOR (NASDAQ: TRIP)
TripAdvisor is an American online travel company providing customers with price comparisons on flights, hotels, and cruises. Airlines, hotels, and restaurants will be eager to entice consumers back, so the demand for advertising on TripAdvisor should significantly increase. The bulk of TripAdvisor's revenue comes from click-based advertising and subscription-based advertising, so any uptick in the travel sector as a whole will be good for the price of TRIP stock.
The Massachusetts-based company's shares shot up in price after the worst of the pandemic was over but have since fallen back to levels that make it attractive again. It caters to the most extensive travel audience in the world by monthly views, serves 49 markets in 28 languages, and has 988 million reviews.
TRIPADVISOR SHARE PRICE CHART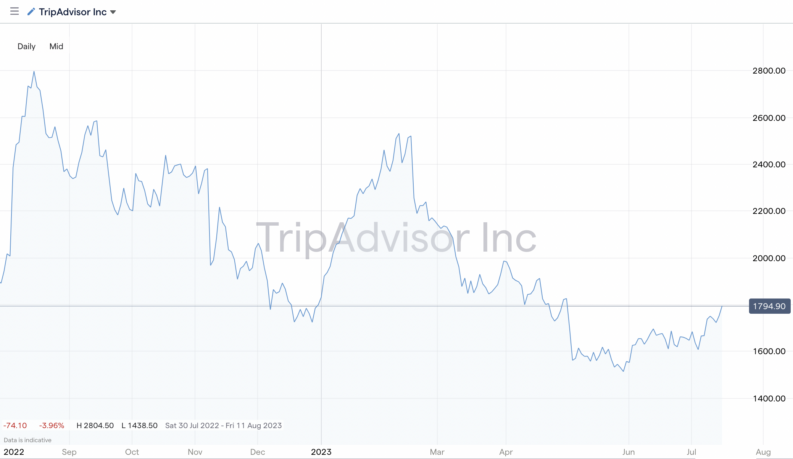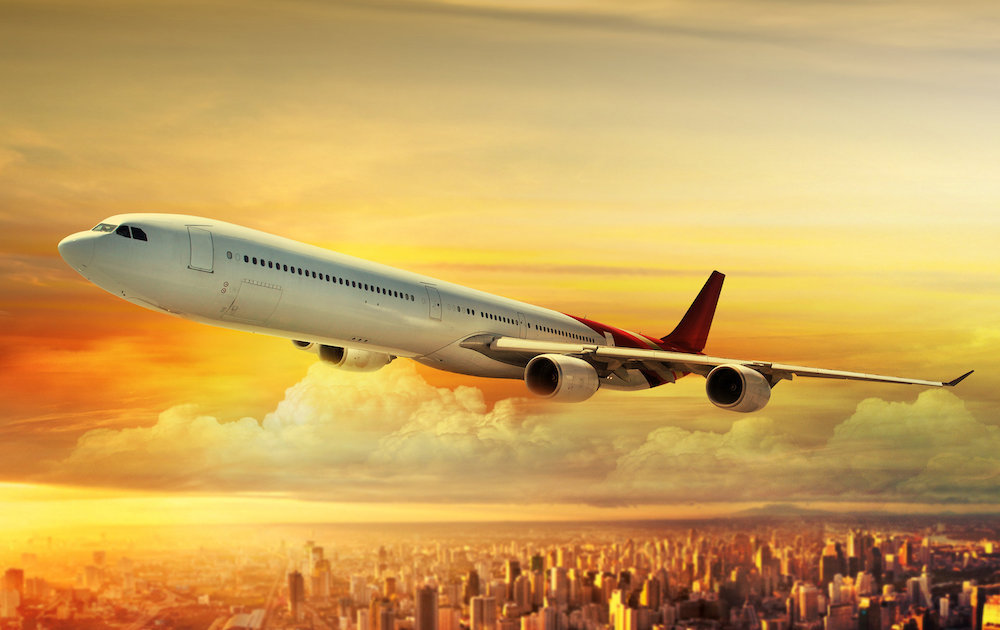 WHY INVEST IN TRAVEL STOCKS NOW?
Travel demand has remained extremely strong despite the impact of soaring inflation and other economic pressures on consumer wallets over the past year or so.
While the travel sector itself still has its own headwinds (air traffic control difficulties in Europe being one), if you scratch the surface, it's possible to see how they can be overcome over the next year or two. In fact, the current issues suggest the long-term prospects for travel stocks are favourable.
Continuing from last summer, queues at airports, cancelled flights, and other logistical news stories point to the demand for holidays being incredibly resilient. Demand for holiday bookings has surged and is testing the ability of operators to keep up.
While the experience of some customers last summer and this summer may not be what is expected (depending on how bad the chaos is this year). However, it doesn't suggest they'll hold back from trying to book holidays again in the future.
Optimising your travel stocks strategy does require considering how the pandemic has changed consumer habits. While 'Airbnb' and 'staycation' were previously buzzwords of the new normal, they have now taken a step back. Even though working from home has been reduced, it should still result in more people taking long weekend breaks.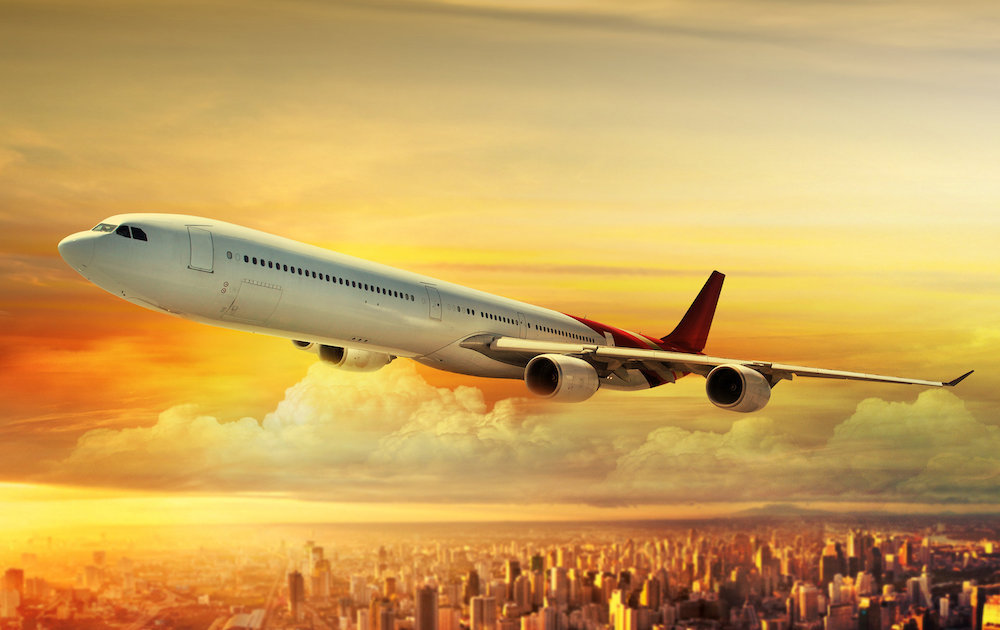 HOW TO BUY TRAVEL STOCKS ONLINE
1. RESEARCH TRAVEL STOCKS
Successful investing relies on thorough research. When investing in travel shares, make sure you look into every part of the company to ensure it is an investment you want to make. Look at things like earnings, forecasts, and potential demand. With increased knowledge comes a more informed investment decision; the good news is that this workload is front-loaded. Once you've confirmed your choice of travel stock, it's a case of being patient and waiting for the price to move as expected.
2. FIND A BROKER
Rule number one of successful investing is finding a reputable broker. If you sign up with a scam broker, the price of your travel stock going down would be the least of your worries. Reliable firms found on this list of trusted brokers are safe, and as they have been operating for many years, they are more likely to offer markets in the travel stocks you want to invest in.
If you are ready to add some travel stocks to your portfolio, you'll need a regulated broker with low fees and a user-friendly platform. Finding one can be daunting, so we've selected some of our favourites that tick all of these boxes to help you get started.
When you're ready to add some travel stocks to your portfolio, you'll need a broker that has low fees and a user-friendly platform. Finding one can be a daunting task, which is why we've selected some of our favourites. Reviewed by the AskTraders team, these brokers have just what you need to get started.
3. OPEN & FUND AN ACCOUNT
Wiring funds to your new account is as straightforward as any other online transaction and follows a similar path regardless of your chosen platform. Brokers will ask you for information such as a copy of your driver's licence as proof of ID. Once verified, there are options to move funds using a credit or debit card, bank wire, or ePayment services.
4. SET ORDER TYPES
If you want to optimise your trade entry point and manage risk, stop-loss, take-profit, and limit orders are ways to automate the price levels at which you trade.
5. SELECT & BUY SHARES
Navigate from your account to the trading dashboard, enter the number of shares you want to buy, and click 'Place Deal', and you'll exchange an amount of cash for a holding in a travel stock. We suggest planning for all scenarios and eventualities and deciding how you will react in certain circumstances. It will influence the amount of initial risk you take and how long you hold the position.
FINAL THOUGHTS
Travel companies, while generally on the road to recovery, are still mostly below their pre-pandemic levels. Deciding to buy undervalued stocks can result in significant gains, but strategies working on that basis can need time to come good.
Trading in small sizes and spreading your capital allocation across different stocks would allow your portfolio to benefit from the benefits of diversification and will spread risk. It would also cast a wider net in terms of capturing the upside of a sector that still looks undervalued in the long term.
Navigate to one of these trusted brokers, and you'll find a user-friendly platform designed to support your next trading ideas. Setting up an account and putting on your first trades takes minutes and will put you in an ideal position to benefit from the rebound in travel stocks.