Arm Holdings, the British semiconductor company, went public on September 14 in a hotly anticipated blockbuster listing. The company's shares are now trading on the Nasdaq stock exchange under the ticker symbol ARM. If you're interested in investing in Arm, this guide will show you how.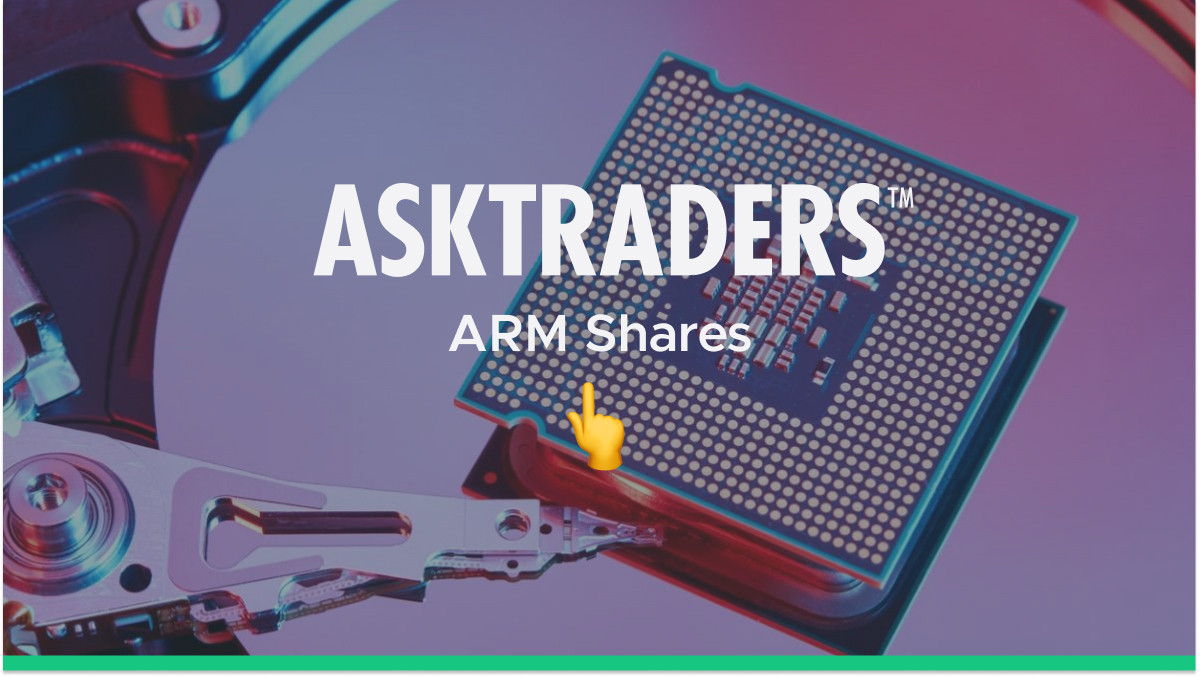 Arm's stock listing caused significant buzz. The semiconductor firm's shares debuted at $51 per share, which valued the company at around $54 billion. Analysts believe the company has the potential to continue to grow for many years to come. It's not hard to see why, with the company claiming 99% of premium smartphones are powered by Arm.
Arm Holdings (ARM) Share Price
Arm was listed on the Nasdaq on September 14, 2023, at an initial price of $51 per share. Here's how it has performed since its public market debut:
---
How to Buy Shares in Arm
Step 1: Consider the Risks — Before purchasing shares of any company, it's important to consider the risks. Arm recently went public, so its shares could remain volatile. There are also other aspects to assess.
Step 2: Research Arm Shares — Before you buy Arm stock, it's important to do your research. Now that Arm is listed, it is easier to find more information on its business, financial performance, and competitive landscape.
Step 3: Find a Broker — Once you've decided to invest in Arm, you'll need to find a broker. Various platforms offer Arm shares, so it's important to compare their fees and features before opening an account.
Step 4: Open and Fund an Account — Next, you'll need to open and fund an account, which will require you to provide some personal information and deposit money into your account. Keep in mind the current Arm share price and how many shares you wish to buy.
Step 5: Search Arm and Set Order Types — Once your account is funded, you can search for Arm shares by entering the ticker symbol ARM into your broker's trading platform. Once you've found Arm shares, you can open a ticket and set an order type.
Step 6: Select and Buy Arm Shares — Once you've set an order type, you can select the number of Arm shares you want to buy and place your order.
Fees When Buying Arm Shares
Keeping on top of the transaction-based costs and fees associated with trading and investing is vital. Financing charges and commissions can add up over time, regardless of whether you acquire shares in a penny stock or an enormous semiconductor company such as Arm.
Most good brokers offer fee tables so that you can run checks and determine what approach is best for you.
| | eToro | Plus 500 | Markets.com |
| --- | --- | --- | --- |
| Inactivity Fee | Yes | Yes | Yes |
| Inactivity Fee details | $10 per month. After 12 months | $10 per month. After 3 months | $10 per month. After 3 months |
| FX Conversion | Yes – on non-base currency trades | Yes – on non-base currency trades | Yes – on non-base currency trades |
| Fund withdrawal fees | Yes – $5 | Applied on some payment methods | Yes – $5 -$100 |
| Trading commissions | Included in spread | Included in spread | Included in spread |
| Overnight Financing | Yes, on CFDs | Yes, on CFDs | Yes, on CFDs |
Risks to Consider When Buying Arm Shares
Stocks are volatile, especially after an IPO. This means that the price of Arm shares could fluctuate wildly, both up and down, in the period after the IPO.
An economic slowdown could reduce demand for Arm's products. Arm's products are used in a wide range of electronic devices, so a general economic slowdown could lead to a decrease in demand for its chips.
Concerns about Arm's Chinese business, which accounts for almost 25% of its sales. China is a key market for Arm, but there are some concerns as its China business operates as a separate entity in which Arm has a small stake. "The fact that Arm China operates independently of us exposes us to significant risks," Arm said in its IPO filing.
Large tech firms may attempt to design their own chips instead of outsourcing the job to Arm. This could reduce Arm's reliance on these customers and make the company more vulnerable to competition.
Arm shares will likely, over time, be included in various tech-based investment funds. Those wanting less to Arm specifically exposure can invest in those funds rather than Arm itself and reduce the potential risk.
Arm Ownership Breakdown
Despite the listing, Softbank continues to own around 90% of Arm shares, with the other 10% left for investors.
Retail investors can buy Arm shares on the open market via their online brokerage. However, there are also other stocks in the technology/semiconductor industry worth considering.
Arm's Business Model
Arm is an advanced technology company engaged in the design of microchips used in numerous applications. Arm doesn't make semiconductor chips. It designs the blueprints for the chips that go into our electronic devices and licenses its designs to other companies, such as Apple, Qualcomm, and Samsung.
The company has created over 250 billion chips installed in everything from popular smartphone brands to sensors, servers, and supercomputers. If you use technology of any kind, you probably own an Arm product, whether you know it or not.