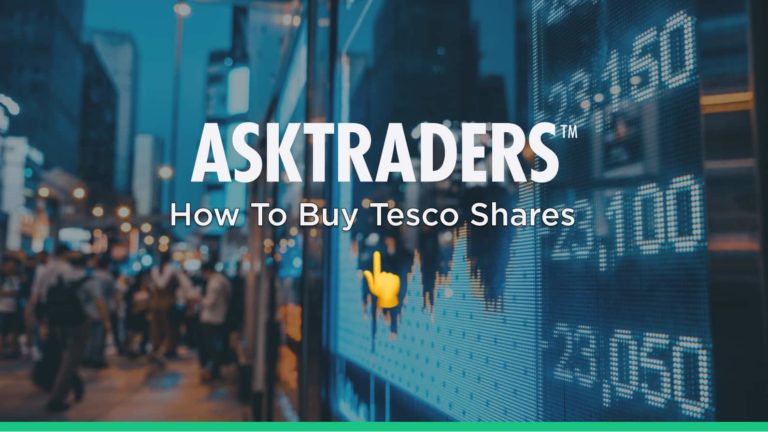 The firm combines being one of the world's largest grocers with dynamic management and a willingness to embrace innovative ideas and technologies. Tesco shares can be easily bought using online brokers and offer investors a chance to find a better return than the near 0% interest being paid on cash balances. This report will show you how.
Overview of Tesco
Tesco Plc is the largest retailer in the UK. It consistently accounts for more than 25% of the total UK grocery expenditure. One eye-catching statistic was that even recently, £1 of every £7 spent in a UK shop was spent in Tesco.
Tesco Share Price 1994-2020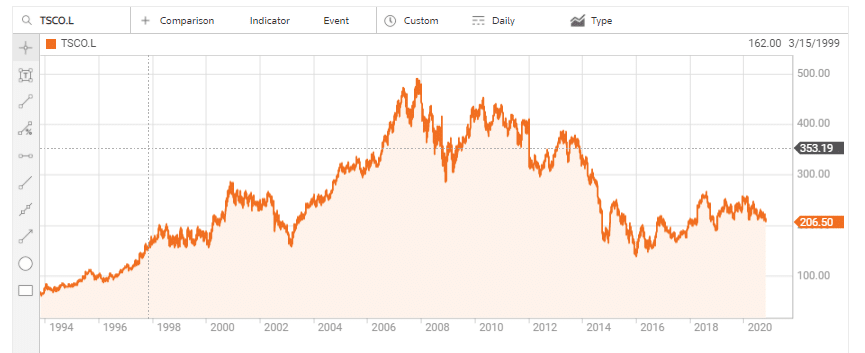 Source: Reuters
That degree of domination is hard to sustain and the firm appears to be forever dealing with a new challenge or challengers. However, Tesco appears to thrive on competition, and despite a market capitalisation in excess of £20bn, the firm maintains its reputation as being the market leader in terms of innovation.
The firm, which now has in excess of 7,000 stores and 420,000 employees worldwide, started trading as a market stall in 1919. It has through its history established a reputation for being not only very in tune with consumer behaviour but also leading it.
From its early days of 'pile it high, sell it cheap', the firm has brought to the market countless profit-generating ideas. In the 1970s, it caught the eye of shoppers by at first promoting and then discontinuing the use of Green Shield Stamps. The latter move meant that the firm established a reputation for slashing prices and being a 'consumer champion'. More recently, it was an early adopter of digital technology and developed its Clubcard to profit from valuable consumer data.
Not every new venture has turned out to be a success though. Its global expansion plans were scaled back in 2013 and again in 2020 when it moved out of Polish, Thai and Malaysian markets. Such setbacks are, in the eyes of many investors, a sign of the firm's willingness to break new ground. Grocery shopping relies on small margins and incremental gains are worth seeking out.
Changes in consumer behaviour have seen some aspects of the firm's approach be brought into question. The firm's treatment of its suppliers is notoriously poor and is a mismatch with the trend for a more ethical shopping experience.
The biggest obstacle that the firm has faced was a self-inflicted wound. In 2014, Tesco discovered an accounting black hole in its accounts. The firm suspended eight directors, and the Serious Fraud Office charged three former executives with fraud. The scandal was of such a size that the ongoing existence of the firm was called into doubt and contributed to it making a £6.4bn loss in 2015 – one of the largest in corporate history.
Tesco Shares: The Basics
The Tesco share price chart showing the 20-year-high price of almost 500p was printed back in 2007. The share price has fallen since then, most notably after the fraud allegations of 2014.
However, investing in Tesco is about more than just the share price. The firm currently generates a dividend yield of 4.64% per annum.
Tesco Company Profile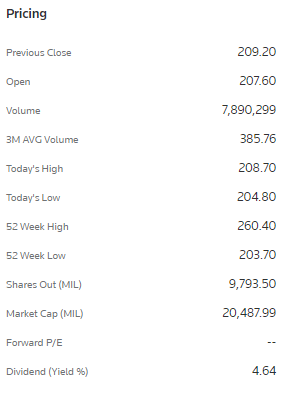 Source: Reuters
The dividend yield and the sector in which the firm operates means that the share price has a degree of stability. This does cut both ways: profits and losses may not be on the same scale as tech start-up stocks, but for many, Tesco is attractive because of that.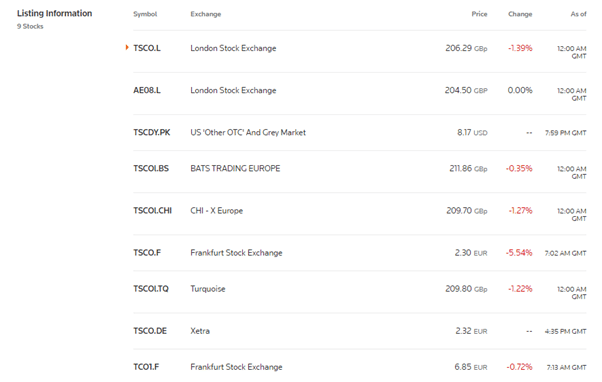 Source: Reuters
The firm is listed on nine exchanges. Its primary listing is on the London Stock Exchange, where it trades under the ISIN code GB0008847096 and ticker TSCO.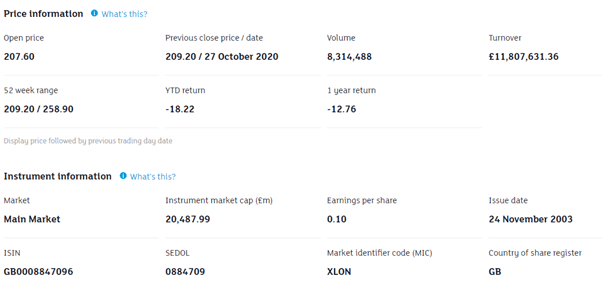 Source: LSE
Given its size, it's not surprising that Tesco is a long-term member of the FTSE 100 index.
Steps to Buy and Sell Tesco Shares
As outlined, price moves in Tesco tend to be less volatile than in other sectors. If you are looking to take a position in Tesco and hold it for months rather than days, then it may be more economical to trade in Tesco stock itself. If you are looking to trade with a short-term view, then CFDs may be an option. Whichever route you take, getting exposure to the share price moves in Tesco is as easy as clicking a button.
1. Research Tesco Shares
Brokers and other market news agencies are a useful source of free-to-access research reports. Broker IG offers its clients the use of the Autochartist service, which uses historical price data to try to predict future price moves.
The old adage that 'retail is detail' suggests that fundamental analysis of Tesco operations may be a way to find out if the firm is mispriced or not. The firm's Income Statement, Balance Sheet and Cash Flow reports are a good place to start that research.
2. Find a Broker
Once you've confirmed your intention to buy Tesco shares, it's time to ensure that you choose the right instrument. The likelihood that you might want to trade using both CFDs and actual shares means that you'll probably benefit from using a broker that supports both formats.
One key point to remember is that it is essential you use a broker that is properly regulated. The Financial Conduct Authority (FCA) is recognised as a tier-1 regulator, and looking for a broker that operates under licence from it is a good start.
3. Open & Fund an Account
Being regulated means that brokers have to comply with certain rules and regulations in terms of 'Client Protection'. Your registration with a broker will require you sharing some personal details and completing a series of standard questions so that the broker can gauge your trading experience and investment objectives.
Once the online form has been completed, you're almost ready to go. A copy of some ID will be requested, and then as soon as you successfully fund your account, you can trade. Payment of funds can be done in various ways. Bank transfers and debit/credit card transfers are a popular route.
4. Set Order Types
Booking a trade in Tesco can take moments to do. The markets are fast-moving, and as a result, online platforms are designed to allow you to keep up.
After accessing the Tesco market, you will have the option to 'buy' or 'sell' Tesco shares, if you're trading CFDs, and only to 'buy' if you are trading the underlying shares.
After deciding the 'amount' you want to trade, you will have a chance to review your order before clicking on the order confirmation button.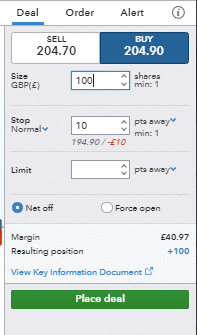 Source: IG
You can build other instructions into your trade. 'Stop-loss orders' and Take Profit instructions are automated risk management tools that close out your Tesco position if the share price reaches a certain level.
5. Select and Buy/Sell Tesco Shares
The final click of a button or tap of a screen will confirm your trade. Different brokers use different terms, but they are typically called things such as 'Place Order' or 'Open Trade'.
At this point, your account will be credited a position in Tesco and your cash balance will be debited by a corresponding amount.

Source: IG
Your cash payment will be crystalised, but the value of your holding will fluctuate in line with the live price feed taken from the exchange.
Best Brokers to Buy Tesco Shares:
eToro:
68% of retail CFD accounts lose money
Take a look
Finding the right broker for you is perhaps the most important part of the process. While you can buy Tesco stock with most brokers on the market today, not all brokers are created equal. If you're ready to buy Tesco shares, you'll need to use a broker that is FCA regulated, has low trading commissions and a reliable trading platform. Finding one can be an arduous and daunting task, which is why we've hand-picked favourites that tick all of these boxes to help you get started.
Setting up an account with different brokers and using their free demo accounts can be a rewarding experience. It's always a good strategy to learn about trading the markets using virtual funds. A selection of some of the top brokers to try out can be found here. It's worth setting up demo accounts with a few brokers to see which suits you best.
Fees When Trading Tesco Stock
The price you buy and sell at will be the major determinant of whether you make a profit or not. It is also important to consider all the other fees associated with trading.
This breakdown of the pros and cons of holding your Tesco position as a CFD or equity is a useful first step.
| | | | |
| --- | --- | --- | --- |
| | eToro | Plus500 | Markets.com |
| Inactivity fee | Yes | Yes | Yes |
| Inactivity fee details | $10 per month – after 12 months | $10 per month – after three months | $10 per month – after three months |
| FX conversion | Yes – on non-base currency trades | Yes – on non-base currency trades | Yes – on non-base currency trades |
| Fund withdrawal fees | Yes – $5 | Applied on some payment methods | Yes – $5-$100 |
| Trading commissions | Included in spread | Included in spread | Included in spread |
| Overnight financing | Yes, on CFDs | Yes, on CFDs | Yes, on CFDs |
Summary
Many investors find it hard to resist the appeal of investing in Tesco. A lot of this comes down to Tesco's domination of a recession-resistant market and historically healthy dividend payouts.
Although the firm has branched out into other sectors, such as banking, the stock is to some extent recession and COVID resistant. The core groceries division sells items that people are always going to need to buy.
The hangover caused by the fraud scandal is still considered by some to be holding back the Tesco share price.
People who read this also read: