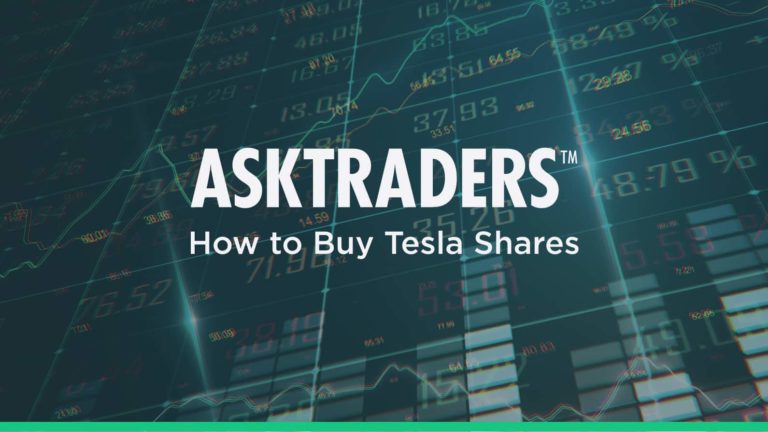 Unless you've been living under a rock in recent years, chances are you've heard about Tesla's meteoric rise to the top of every investor's shortlist. After its stock surged to a record high, some investors were turned into millionaires almost overnight after Tesla's share price increased more than 420% since the start of the year.
---
The good news is that, while it may not be as cheap anymore to buy shares in Tesla, it's not too late can get in on the action. In this guide, we'll show you how to buy Tesla shares and the best places to buy them.
About Tesla
Tesla, Inc., formerly Tesla Motors, Inc., is a unique business. While perhaps most famous its fully-electric cars and charismatic CEO, Elon Musk, Tesla's unique business model means there is more to this pioneering business than first meets the eye.
Tesla is much more than a typical car manufacturer. As well as manufacturing and selling electric vehicles, it also produces energy generation and storage equipment such as solar panels and power battery packs and even sells lifestyle products to its army of fanatic fans.
While it may not have invented the electric car, what Tesla did invent was its own success. Its highly successful research and development programme focused on perfecting one product at a time, combined with a network of Superchargers are what really separates it from the rest of the electric crowd.
Today, with a market capitalisation of over $460 billion, Tesla is the seventh most valuable US company. The future is green, and, with many analysts projecting that Tesla will be worth $1 trillion in the next 10 years,  it's time to get on board Elon Musk's wild (electric) ride.
Tesla Shares Overview
Here are some key statistics and information about Tesla shares:
| | |
| --- | --- |
| Name | Tesla Inc. |
| Symbol | TSLA |
| Exchange | NASDAQ |
| P/E Ratio | 824.96 |
| EPS | 0.5 |
| Dividend Yield | N/A |
Related: How to Evaluate Stocks
The Tesla share price chart tells its own story. The unprecedented price move has, in 2020, been backed up by an increase in the volume of shares traded. The Tesla stock price has had down-months only three times in the last 14 months. Just take a look at its share price from 2011 to today: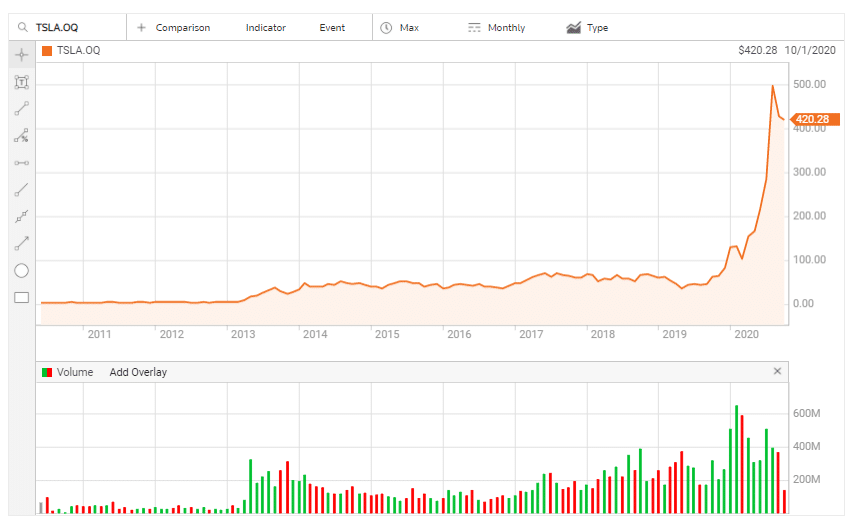 Source: Reuters
The firm has never paid a dividend but instead falls firmly in the category of being a 'growth stock'.
Tesla stock has an unrivalled reputation for being able to take on and beat speculators who have tried to bet against the firm's sky-high valuation. Short-sellers of Tesla have been burnt on a scale that has left even the most bearish traders reluctant to place trades.
The incredible levels of demand for Tesla's vehicles is matched by the interest shown by investors. As a result, the firm has 10 stock listings on US and international exchanges. Its primary listing is on the NASDAQ exchange where it trades under the ticker TSLA.
In September 2020, Tesla was passed over for inclusion in the S&P 500 index. The move put the brakes on the parabolic run in the firm's share price.
Inclusion in that index would have triggered extra demand for the stock as index-tracking funds would have had to take on positions. The subsequent sell-off and a period of price consolidation mean that traders and investors have time to refresh their analysis of the firm credentials.
---
How to Buy Tesla Shares Online
So, after reading all of this you've decided that you're ready to invest in Tesla. What are the next steps? Before you can call yourself the proud owner of Tesla shares, here's what you should do:
1. Do Some Initial Research
Do your homework before you jump in and load your portfolio with Tesla shares. Tesla's market valuation and business model continue to be sources of controversy, with some analysts predicting that it simply isn't sustainable in the long-term. In their view, Tesla is overvalued and it's only a matter of time before the whole thing collapses in on itself. But are they right? Fundamental analysis and learning how to value stock will help your form your own judgements and conclusions.
2. Find a Broker
Finding the right broker for you is perhaps the most important part of the process. While you can buy Tesla stock with most brokers on the market today, not all brokers are created equal.

Best Brokers to Buy Tesla Shares:
eToro:
68% of retail CFD accounts lose money
Take a look
To add some Tesla shares to your portfolio you'll need a broker that is regulated, has low fees and a user-friendly platform. Finding one can be a daunting task, which is why we've selected some of our favourites that tick all of these boxes to help you get started.
3. Open & Fund an Account
Once you've compared the best brokers and chosen the right one for you, it's time to open an account and make a deposit. In line with ESMA 'Know Your Client' (KMC) regulations, you will need to fill out a brief form to confirm your identity.When it comes to making a deposit, any broker worth its salt will offer a variety of payment methods ranging from bank transfers through to e-wallet methods such as PayPal, Neteller and Skrill.
4. Buy Tesla Shares
Once the funds hit your brokerage account, you're ready to buy shares in Tesla. Navigate to the stocks/shares section of your broker's platform and search for 'Tesla' or TSLA. You will then need to insert the amount you want to invest in Tesla in the order form. Keep in mind that it's a smart idea to bear in mind the various order types that are available with many brokers. These risk-management tools are a great way to protect yourself against potential losses.
Related: How to Research and Pick Stocks
---
Fees When Buying Tesla Stock
It's important to consider all the fees that might be associated with your trading. If you're holding an equity for more than 4–6 weeks, the numbers start to favour a buy-and-hold style share transaction. For trades over a shorter time period, the user-friendly nature of CFDs might mean you trade using those.
| | | | |
| --- | --- | --- | --- |
| | eToro | Plus 500 | Markets.com |
| Inactivity Fee | Yes | Yes | Yes |
| Inactivity Fee details | $10 per month. After 12 months | $10 per month. After 3 months | $10 per month. After 3 months |
| FX Conversion | Yes – on non-base currency trades | Yes – on non-base currency trades | Yes – on non-base currency trades |
| Fund withdrawal fees | Yes – $5 | Applied on some payment methods | Yes – $5–$100 |
| Trading commissions | Included in spread | Included in spread | Included in spread |
| Overnight Financing | Yes, on CFDs | Yes, on CFDs | Yes, on CFDs |
Summary
The Tesla share price has posted gains, which have taken it out of the confines of the financial press and into mainstream news headlines. It's a tricky one to call and the extra volatility increases the chances of profits or losses being considerable. If buying Tesla stock is your aim, then the good news is that the operational risk associated with the process can be managed by choosing a top-tier and well-regulated broker.
People also viewed: