When a technology company is embedded in the infrastructure that supports our daily lives, it rarely assumes the status given to a household name. Juniper Networks (JNPR) has been an incredible success story over the past 25 years, yet how many people on the street would recognize it as so?
---
YOUR CAPITAL IS AT RISK. 81% OF RETAIL CFD ACCOUNTS LOSE MONEY.
---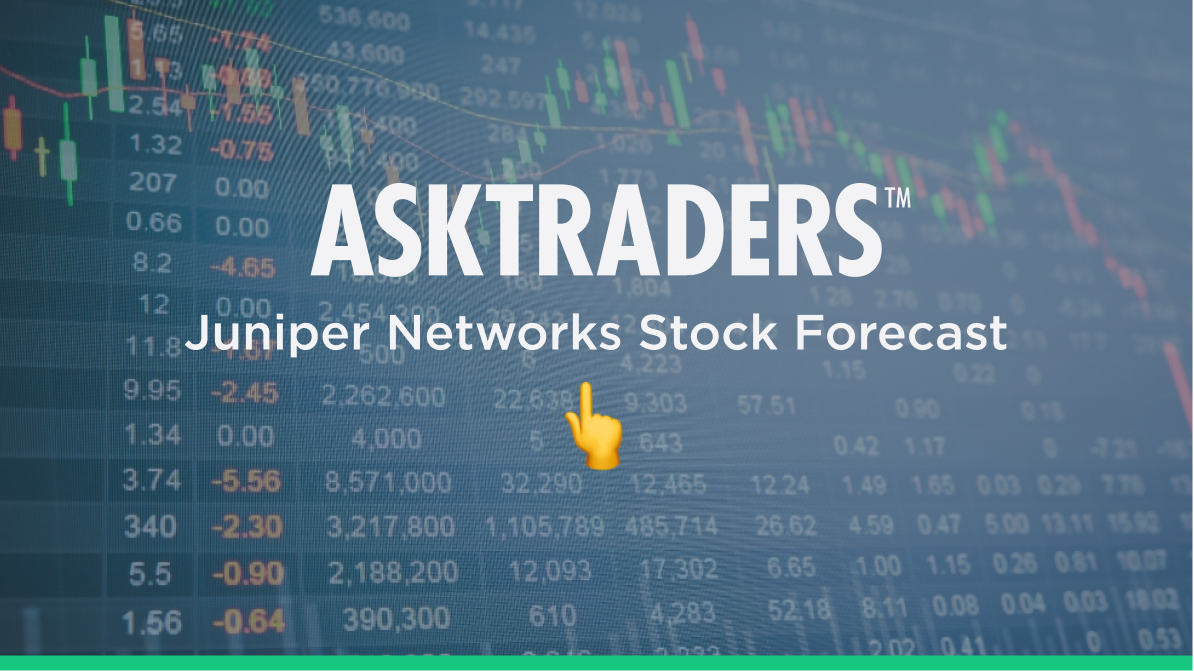 Investors, however, are well aware that this firm singlehandedly took on Cisco in a 'David versus Goliath' brawl back in the early 2000s and has yet to succumb or look back for a minute.
Juniper Networks is a networking technology company and, as such, is deep into routing products and the cloud. It is a global company with nearly 10,000 employees and has focused on every component of the network value chain, from simple management and issue detection to support and security issues. If you are a private company, a governmental unit, or an internet service provider, then you are most likely a customer of this firm or need to be.
What is the Juniper Networks stock forecast, and is it a good buy at this time?
Who Are Juniper Networks?
In 1995, Pradeep Sindhu, a former scientist with Xerox's Palo Alto Research Center, was spending an enjoyable vacation when suddenly he had an idea about the burgeoning internet network and the need for more speed and efficiency in how the data was managed and distributed. Packet switching technology was not a novel idea at the time, having had its roots in the 1960s, but the early internet still employed routers that basically handled telephone calls by assigning channels to each individual caller.
Sindhu immediately envisioned a network that would share packets of information, thereby optimizing the use of channels by allowing them to be shared by separate data transmissions. His idea of a modern router would leapfrog the competition and produce speeds beyond what was possible with existing technology. His new firm was founded in 1996 with $2m of seed money. He recruited Scott Kriens to be his chief executive officer while he assumed the role of chief technology officer. Kriens is credited with the early market successes of Juniper Networks.
---
YOUR CAPITAL IS AT RISK. 81% OF RETAIL CFD ACCOUNTS LOSE MONEY.
---
With great fanfare, Juniper Networks went public on the Nasdaq in April 1999, setting a record for the technology sector in the process with the level of trading attention that it drew.
By 2004, the firm had cornered 38% of the core router market and had crossed the $1bn mark in revenue. As industry rags quickly noted, Juniper Networks had become the "darling of Wall Street investors," and for good reason.
Juniper Networks paved the way for optical internet service in China, but soon recoiled when the dot-com bubble burst. All technology companies took a hit. Juniper Networks had to lay off 10% of its workforce, after losing nearly two-thirds of its revenues. It soon recovered, however, in 2004 and doubled its revenue base to $2bn in the year that followed.
Since those early days, Juniper Networks has expanded and contracted on a few occasions, and after Kriens' leadership at the helm, only three CEOs have followed. When Kriens became chairman in 2008, he brought in Kevin Johnson from Microsoft. Before Johnson's arrival, the firm had concentrated on hardware solutions as the prudent passageway for more speed, but it needed to focus on software for its future. Johnson quickly established a software team to address the gap.
Juniper is still a formidable competitor in what has evolved into a commodity-type business model. Is Juniper Networks stock a good buy or sell at this point? Analysts like this company. There is potential.
Where Will Juniper Networks' Stock Price Be at the End of 2023?
What is the Juniper Networks stock forecast 12 months out?
Once again, the current price behaviour of JNPR shares is telegraphing uncertainty for the near and short term. So far this year, the stock is down, and the signs, for the rest of the year, given the macroeconomic environment, are not exactly positive. 
Analysts, however, are not abandoning this stock. Out of 12 analysts, eight have a Buy rating on the stock, with three at Hold at one at Sell. The average price target of $33.08 represents a potential 18% upside in the stock from current levels.
---
YOUR CAPITAL IS AT RISK. 81% OF RETAIL CFD ACCOUNTS LOSE MONEY.
---
Juniper Networks Long-Term Forecast
From a long-term perspective, the weekly price chart depicted above would seem to suggest that Juniper Networks has been fairly uninspiring, exacerbated by COVID-19 at first look, with a bump upward during the pandemic. When analysts who specialize in long-term projections use their AI algorithms to model the future, Juniper Networks' prior pricing history sets the stage for doom and gloom five years out.
While this exercise results in values in the $20 range, we have to look elsewhere to determine if other extenuating circumstances could bolster the firm's prospects. Juniper Networks' CEO Rami Rahim previously touted the firm's positioning for the future in this statement: "Our experience-first strategy is working, our teams are executing well and the investments we have made in our customer solutions and our sales organization are enabling us to capitalize on improving market-end conditions."
Commodity industries require scale to prosper when the going gets tough. Juniper Networks is still a mid-cap company. For example, it's competing with the much larger Cisco, and with Arista, a new competitor in the space with a significantly larger market cap. There seems to be no contest before the battle has even begun.
Is Juniper Networks' long-term stock forecast going to surprise investors?
Due to its mid-cap status, the possibility of a merger or buyout will always be on the cards, prompting a premium over today's price if the fundamentals are worth it for an acquirer. For the last five years, this stock has been range bound, mostly below $35. There are many variables at play, but there will need to be a few positive surprises along that path, possibly a 5G rollout to beat the band if JNPR is to soar.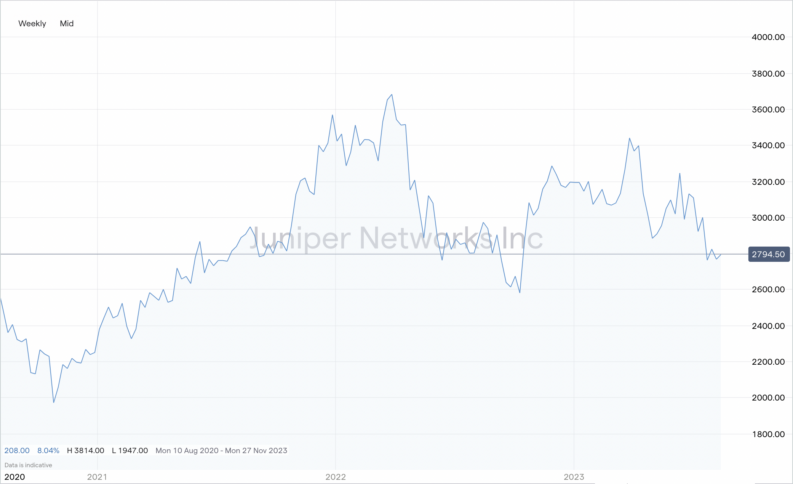 ---
YOUR CAPITAL IS AT RISK. 81% OF RETAIL CFD ACCOUNTS LOSE MONEY.
---
Is Juniper Networks a Good Buy?
Juniper Networks may be the network infrastructure company that few people have heard of, but it has crafted an excellent reputation in the networking industry over the past 25 years. Near-to mid-term prospects look favorable for the company if you agree with half of the investment analysts who cover this stock. There are two camps at present. The negative side is concerned that a correction is long overdue.
Analysts in the positive camp, however, predict that Juniper Networks' EPS will grow at a clip of 32% per annum for the next three years. To these analysts. If you believe that you pay for what you get, then Juniper Networks may have the potential for upward mobility in the years to come.
The Best Brokers to Trade Juniper Networks Stocks:
eToro:
68% of retail CFD accounts lose money
Take a look
If you are ready to add some Juniper Networks stocks to your portfolio you'll need a broker that is regulated, has low fees and a user-friendly platform. Finding one can be a daunting task, which is why we've selected some of our favourites that tick all of these boxes to help you get started.
People Who Read This Also Viewed: