Medical tech stock Omega Diagnostics has been subdued for a while now after some dramatic price moves during the COVID-19 pandemic, with investors scrambling to find the next big stock in the industry.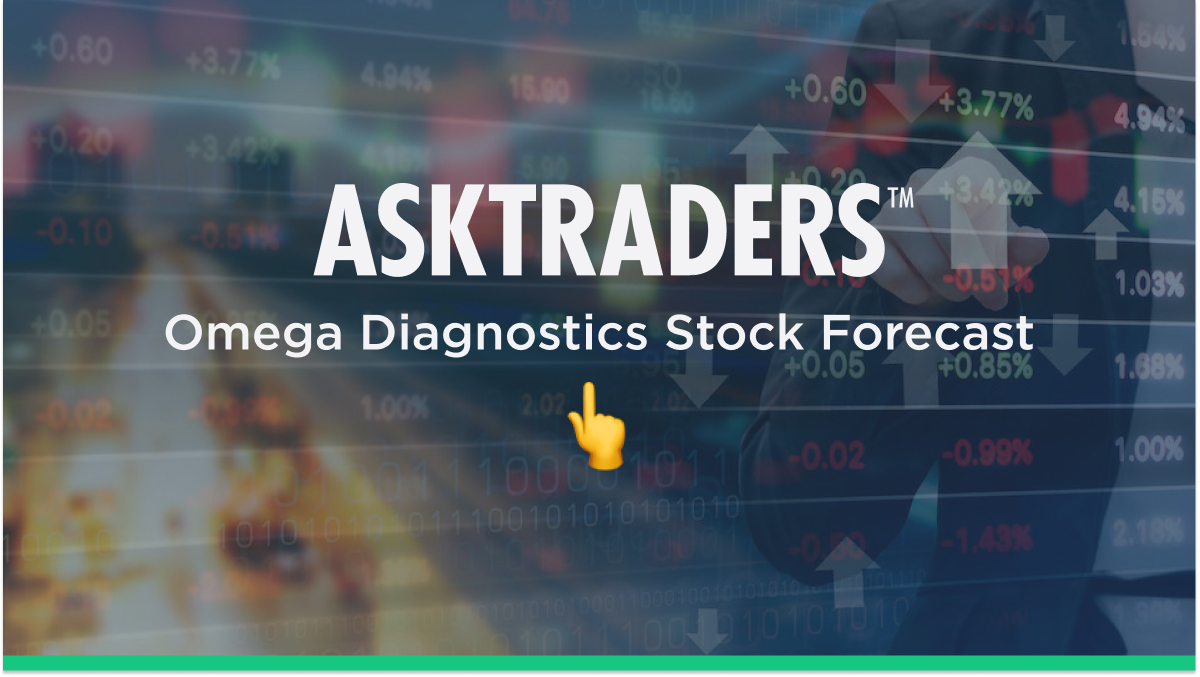 However, now there is a lot of uncertainty about the company and its potential, with investors not impressed by recent results and announcements by the company.
Using a combination of technical and fundamental analysis, it is possible to get a steer on where the stock might go next. There are no guarantees the price will head north, and many are asking the question, Omega Diagnostics, buy or sell?
Who is Omega Diagnostics?
Operating out of Alva, Scotland, Omega Diagnostics Group Plc can trace its history back to 1987. It is listed on the London Stock Exchange under ticker ODX.
While the company's focus during the pandemic was capitalising on the Covid opportunities, not all of its business lines are COVID related.
However, the reputation it built as a developer and manufacturer of medical testing equipment led to investors piling into the shares in March 2020. The other services it provides cover food intolerance, allergies, and HIV testing. Some of the 'traditional' business lines suffered due to the pandemic, which also helped to take the steam out of lofty expectations for the company during the pandemic.
Even so, ODX recently said demand for its food sensitivity tests moving remains strong while it is also taking action to improve its operational efficiency and manufacturing capability in the near term.
Where Will the Omega Diagnostics Stock Price Be at the End of 2023?
First things first, the firm does not make a profit. It's not the only loss-making company in the sector, but it's essential to approach any Omega Diagnostic stock predictions from that starting position.
The financial realities go some way to explain the excitement about the stock has significantly waned. Trading volumes have fallen away, and those considering buying Omega might well be looking for that particular metric to pick up considerably before pulling the trigger. The stock's decline since 2021 needs some kind of a catalyst to be applied if it is to be reversed.
With the stock significantly depressed, there's a lot of work for the bulls to do if they're going to start a rally. There are, after all, a lot of other investment opportunities in the market to consider.
At the time of writing, we can find no institutional analysts covering Omega Diagnostics shares.
Omega Diagnostics Long-Term Forecast
The last three or so years for ODX shareholders highlight a topsy-turvy experience, but for the last two, it has been mostly negative.
To establish if Omega Diagnostics is a stock to buy-and-hold requires digging into the company's balance sheet and building a long-term Omega stock forecast.
The headline figures don't make for great reading, with losses before tax leaving many questioning if holding Omega shares is a good idea. The company's revenues contracted, and it reported, and it reported an underlying loss in its most recent update.
One positive point that has emerged recently is a report from Simply Wall Street that states there has been a pick-up in insider buying over the last 12 months, which usually signifies management's confidence in a company.
Given the uncertainty surrounding ODX, it's impossible to provide a long-term forecast. Regardless, as with any stock, shareholders and potential buyers should be aware of the risks.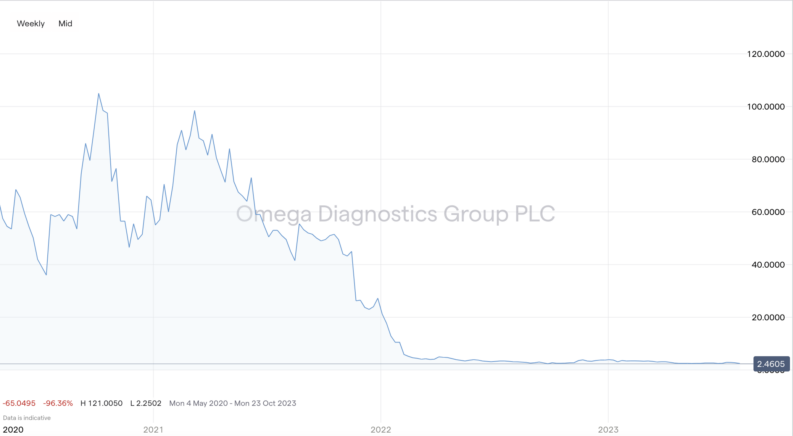 Is Omega Diagnostics a Good Buy?
Despite what many may think, Omega Diagnostics is more than a COVID stock.
It has a long track record and is currently below its pre-pandemic levels.
However, as written in the previous forecast: The problem for anyone looking to buy at current levels is that potential demand for COVID-related products inflated the share price to such an extent that there will be more downside until the price bottoms out.
Where the stock will bottom out is another question.
The uncertainty surrounding the wide range of variables in play means plenty of potential new investors can find at least one reason to steer clear.
Omega has shown that being closely linked to COVID silver bullets has been both a curse and a blessing. It's a complicated situation. Even the most ardent fans of the stock would agree that when assessing ODX, a little patience in the decision-making process is required.
The Best Brokers to Trade Omega Diagnostics Stocks:
eToro:
68% of retail CFD accounts lose money
Take a look
If you are ready to add some Omega Diagnostics stocks to your portfolio you'll need a broker that is regulated, has low fees and a user-friendly platform. Finding one can be a daunting task, which is why we've selected some of our favourites that tick all of these boxes to help you get started.