The Verizon Communications Inc stock price has spent some time being outshone by firms with higher growth potential; however, with macroeconomic fundamentals shifting, there is renewed investor interest in the stock. Interest rate rises and inflationary pressures weigh heavy on firms that rely on consumers having disposable income. Verizon offers an alternative proposition.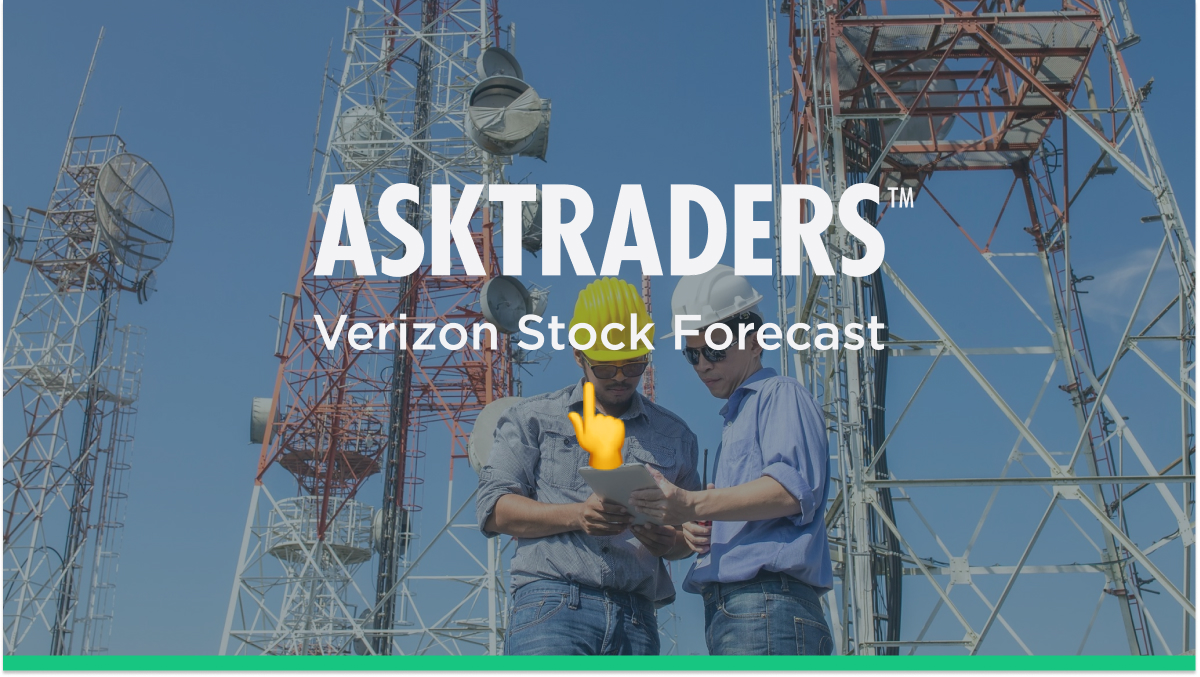 The US-based multinational telecommunications conglomerate has a business model that can smooth out investment returns. The firm's mobile network is one of the largest wireless carriers in the US. It holds the position of the second-largest US telecommunications company by revenue after AT&T. For investors, that translates into an impressive dividend yield.
The business model is pitched at offering high quality and reliable products, and also taken care of are the increasingly important ESG considerations. Some challenges are facing the firm, but some opportunities, too. Using technical and fundamental analysis, the below Verizon stock forecast outlines where Verizon shares could be headed in the medium and long term.
Who is Verizon (NYSE: VZ, NASDAQ: VZ)?
Verizon traces its history to a substantial and government-led re-organization of US telecom operators. In 1984 the US Department of Justice initiated a breakup of AT&T's network on competition grounds, and a range of smaller operators, 'Baby Bells', were formed. The economies of scale in the industry are hard to resist, and thanks to rounds of takeovers and acquisitions, these smaller firms merged back into larger firms. Verizon was created out of a rebranding of Bell Atlantic, which by 2000 had built itself back into a telecoms operator with a nationwide reach and 132,200 employees.
Deals carried out in 2015 saw Verizon branch out into content ownership by buying AOL and Yahoo! This experimental push into new business lines came to an end in 2021 when both firms were sold to hedge fund Apollo Global Management for $5bn. That signified a decision by the firm to focus on its core networks operations and the impending rollout of 5G mobile communications.
Verizon is a constituent part of the blue-chip Dow Jones Industrial Average index and can be traded on the NASDAQ and New York Stock Exchange, though its primary listing is on the NYSE.
Where Will The Verizon Stock Price Be at the End of 2023?
Verizon's networks are associated with long-term contracts that insulate the firm from economic downturns to a greater extent than some of its tech rivals. There are also aspects of a 'utility sector stock' about the company, with phone contracts probably being one of the last outgoings on which consumers would consider cutting their spending.
Verizon may not offer the same excitement as some of the more volatile tech stocks in the market, but recent Verizon stock price history confirms it's not entirely immune to overall weakness in the sector.
Whilst further short and medium-term weakness looks like the obvious path,  the business type and dividend payments provide Verizon shareholders with somewhat of a solid base, with the company having a  reliable income stream.
From a technical perspective, there are many who consider the stock oversold, with the stock well below its December 2019 high of over $62 per share.
Some investors have taken advantage of the slide in Verizon, taking short positions in the stock, with over 1% of its shares shorted at the time of writing. That doesn't mark Verizon as a poor prospect. Some of the short-selling will be by hedge funds running market-neutral strategies that have gone long on another stock they consider to have better prospects than Verizon.
Overall, Wall Street analysts are more bullish than bearish on the stock. According to TipRanks, six have a Buy rating on VZ shares, while seven have a Hold rating (no current Sell ratings). The average 12-month price target is $45.58.
Verizon Long-Term Forecast
Extending the Verizon stock forecast provides more reasons to buy Verizon than sell at the moment.
Any stock which can ride out uncertainty associated with Covid and the many other macroeconomic and geopolitical pressures on the economy deserves consideration. It might not generate life-changing returns but offers some stability as part of a well-diversified investment portfolio.
The income streams the firm generates are impressive and stable.
Those looking to the long term will note the company's heft debt load, which has weighed on the stock, with some investors considering it to be risky. This has more than likely prevented many investors from adding it to their portfolio and is definitely a risk to consider if you are thinking about investing in the stock.
Verizon Share Price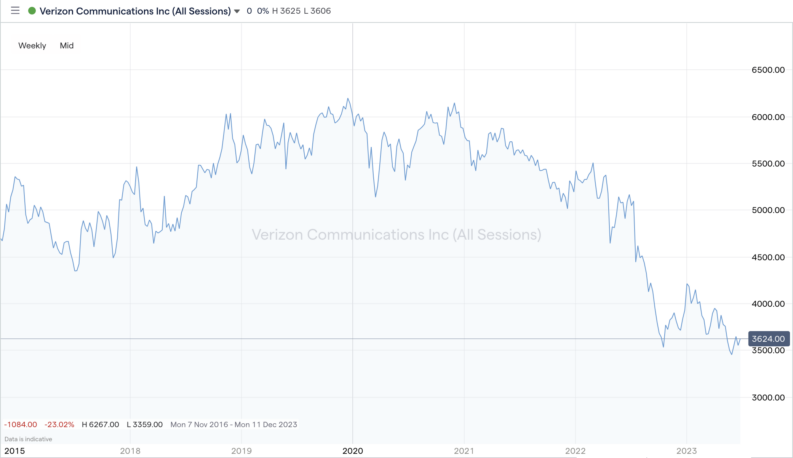 In September of 1999, in the heat of the dot-com bubble, Verizon printed an all-time high price of $68.18. The VZ stock price isn't likely to test that level in the immediate future; its stock history is more about 'slow and steady' winning the race. However, it can't be dismissed by investors running long-term, buy-and-hold strategies.
Is Verizon a Good Stock to Buy?
Those asking the question as to whether Verizon is a good stock to buy would benefit from considering the existing structure of their investment portfolio. Verizon would complement most portfolios, particularly those skewed toward more speculative strategies. A stock position that smooths out returns can help take the emotion out of trading and allow traders to ride out unavoidable dips in the market.
Complete beginners looking to make their first stock purchase might consider the stock thanks to its track record of paying dividends.
People Who Read This Also Read: