The meme stock craze of spring 2021 captivated the trading community. However, the frantic events of the time continue to influence the meme stocks themselves and reverberate across the wider financial market.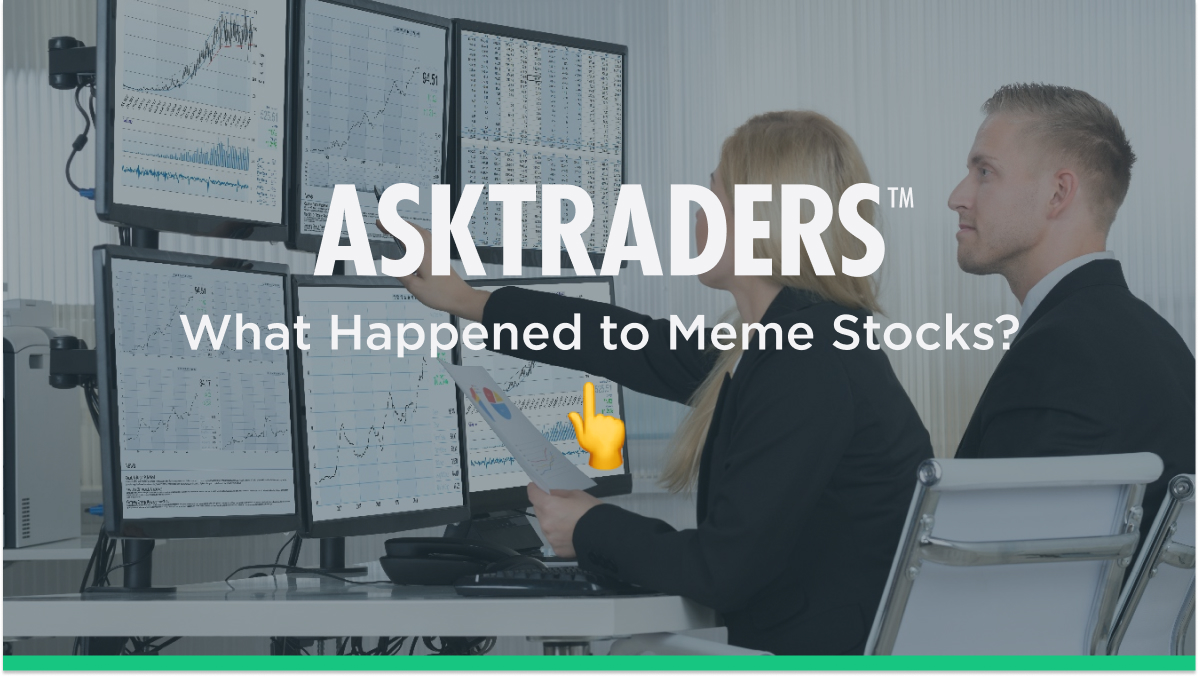 In hindsight, one of the most remarkable factors about the events of Q1 2021 was the simplicity of the processes used by meme stock traders. Retail investors used social media platforms to coordinate buying activity in illiquid stocks such as AMC and GameStop, using short interest data as a guide for spotting stocks targeted by hedge funds. Their operation was facilitated by super-low trading costs and an increased acceptance of the trading of derivative instruments.
The 'strategy' was simple and caught the financial establishment completely off guard. Some retail traders made life-changing amounts of money in the initial price surge; others booked losing trades. At the same time, hedge funds, broker platforms, short-sellers, and the options market changed how they carry out their business. AskTraders analysts have sifted through the carnage to establish the winners and losers and to ask the question, will meme stocks return?
GameStop – Daily Price Chart – August 2020 – May 2022
Source: IG
The Meme Stock Phenomenon
One of the main drivers of the meme stock craze was the "sock it to the man" approach of countless traders with small accounts but a shared interest in taking on Wall Street hedge funds. Firms such as Melvin Capital had been betting against downbeat firms whose heyday was long gone. GameStop's chain of brick-and-mortar retail outlets was a massive burden on the balance sheet, and the firm appeared to have missed the memo about gaming going online. AMC's movie theatres had seen attendance peak at 1.6bn per year, but that was two decades ago, and attendance numbers like that look unlikely ever to be repeated.
Meme Stock Winners & Losers
With some justification, Melvin Capital built short positions in meme stocks believing they'd repurchase them at lower price levels in the future. By the end of January, the short squeeze in stocks like GME meant the hedge fund had lost $7bn, representing 53% of its assets under management.
Returns to retail investors were a mixed bag. Keith Patrick Gill is credited with spotting the fundamentals of GameStop in July 2020, and early day investors like him could have made returns above 8,000% within six months. Those who joined the party late and missed the opportunity to sell at the peak could still be holding positions and nursing losses and wondering if they have any prospect of breaking even.
Meme Stocks Price History
What happened to the prices of meme stocks themselves? The prognosis for the firms involved differs from firm to firm. Some have leveraged the attention 'being meme' brings, reinvented themselves and still trade at prices way above those before their initial surge. Others trade at prices some way below where they were before they got caught up in the craze.
GameStop Corp (NYSE: GME)
GameStop's position as the original meme stock and the way it caught short-sellers cold goes some way to explaining the eye-watering price rises involved during the peak of the craze. Between 12th and 27th January 2021, the NYSE listed stock increased in value by more than 1,641%.
The buying pressure was triggered by the sharing of an in-depth fundamental analysis of the firm, which explained why GameStop is undervalued. That argument refuses to go away, and GME still trades some way above the pre-craze price levels.
GameStop stock is still more than 500% up from the closing price of 31st December 2020. That raises obvious questions about valuation models used to price stocks and reflects how GME used its high profile to its advantage.
GME – New Management
The new management team, which took over in 2019, replaced top brass who had been in position for nearly 23 years and their willingness to do things differently continues to attract investors. Ryan Cohen, former CEO and co-founder of Chewy stepped up in March 2021 to lead GameStop's transition into an e-commerce business and marks another attempt by the firm to unlock value and trade off its notoriety.
GME – Still Popular With Day Traders
Spectacular short-term price spikes are also still available to GME traders. The 142% price rise between 14th and 28th March in 2022 highlights why the stock is still so popular with day traders and speculators.
GameStop – Daily Price Chart – January 2022 – May 2022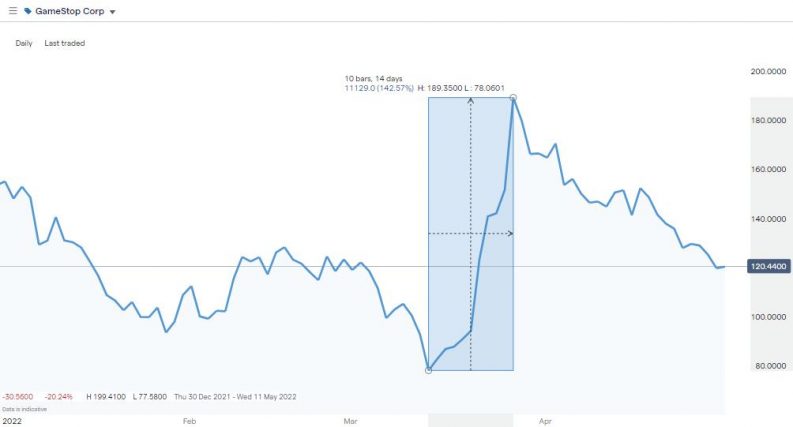 Source: IG
Another feature of GameStop is that it still has the capacity to punch above its weight in terms of daily trade volume volatility, which can spike from 2.7m to 16.8m just two days later.
Source: IG
GameStop still has enough meme stock credentials to appeal to speculators. The fireworks don't shoot as high as they did in Q1 of 2021, but the potential for short-term shock moves is still genuine.
AMC Entertainment Holdings (NYSE: AMC)
One of the significant benefits of the meme stock craze was that it bought AMC time. Hedge funds looking to short stocks have to consider both the fundamental reasons they think a firm is overvalued and the risk of getting caught in a vicious short squeeze. Melvin Capital managers will testify how brutal it can be being on the wrong end of a short squeeze – particularly as losses are technically infinite. The risk of it happening again forced many hedge funds to look for alternative targets for their short selling, which meant the AMC management team could reassess their business model.
AMC Embracing Meme Status
AMC has used that time well. CEO Adam Aron has embraced the youthful persona of many of its novice retail investors with a degree of swagger. He's talking their language, as demonstrated by the radical move by the firm to branch out into NFTs (Non-Fungible Tokens) related to major film releases.
AMC – Daily Price Chart – August 2020 – May 2022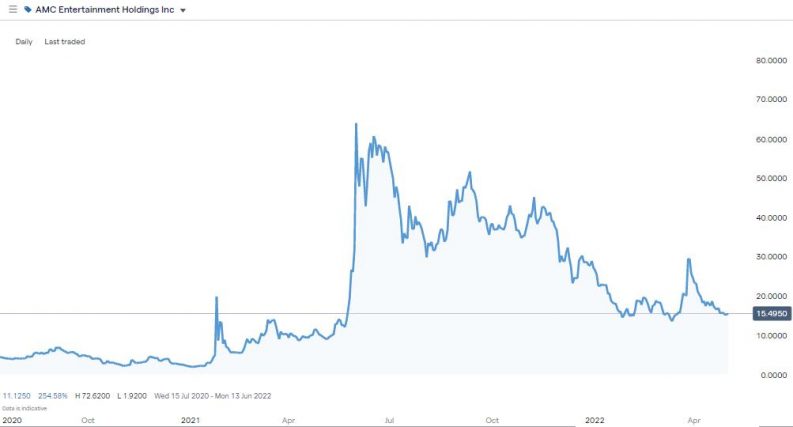 Source: IG
Like GameStop, AMC still trades at a premium to where it was until the meme frenzy kicked off. The AMC stock price currently being 624% above the closing price of 31st December 2020. Short-term whipsaw price action and spikes in trade volumes are also part of the AMC story. In March 2022, while the rest of the stock market was struggling to cope with the prospect of inflation and interest rate hikes, the price of AMC doubled in value in the space of two weeks. Trading volumes also spiked, proving AMC is still a favoured stock for day traders.
AMC – Daily Price Chart – January 2022 – May 2022
Source: IG
Blackberry Ltd (NYSE: BB)
Other meme stocks haven't fared as well as the two main protagonists. Blackberry Ltd was trading at $6.64 on 31st December 2020 and is now trading below $6 per share, having given up all of the 278% returns it made in Q1 of 2021.
Source: IG
A scan of the trade volume reports confirms that for BB, at least, the meme stock craze appears to have come and gone. The price drop doesn't discount buying Blackberry stock for other reasons. The firm's planned move into supplying technological fixes to the automotive sector is a step in the right direction. Whether the cybersecurity divisions, which make up more than 50% of BBs total revenue, can finance investment in that new market is still in doubt.
How Meme Stocks Changed Trading
The frantic meme stock episode changed the fortunes of the companies involved and altered other areas of the trading community.
Meme Stocks & Short Selling
During the peak of the meme stock craze, short-sellers who could do so in time covered their short positions. Those who held off were left scrambling to buy stocks at sky-high prices to close out their shorts. The losses inflicted by those short squeezes offered a form of immunity to the biggest name meme stocks, but that trend is beginning to reverse.
GameStop has a market capitalisation of $9.5bn, but the amount of short interest is creeping back up. In March 2022, the value of short positions was $1.02bn, but by May 2022, that number had shot up to $2.3bn, roughly 22.27% of the available stock.
Those statistics have to be put into context. Trade volumes in GME are still incredibly high for its size, and the 'Days to Cover' ratio of 3.1 days, whilst high, is by no means a sign that the only way for the stock price to go is down. The second factor to consider is that short interest has increased across all stocks thanks to macro themes, such as political uncertainty, rising interest rates and inflation threats. Even market darling Apple Inc currently reports $22bn of short positions in its stock which equates to more than one day of the total trading volume. Firms which reported more downbeat Q1 earnings in April, such as Rite Aid, are suffering at the hands of short-sellers far more than GameStop. Rite Aid's short interest at the start of May 2022 was 34.26% of the float, equating to approximately 4.8 days of average trading volumes.
Rite Aid – Daily Price Chart – August 2020 – May 2022
Source: IG
Meme Stocks & the Options Market
One of the meme stock bubble features was how retail investors used options to pressure the short-sellers. By paying small premiums to buy out of the money call options, small traders could drive the price upwards thanks to the options market makers feeling the need to buy underlying stock to hedge their exposure on their option positions.
This was a seminal moment for the derivatives market. Options have been considered a financial instrument that only the most experienced traders should use. The meme stock trend proved that by following the basic principles of option trading, it's possible to safely take a low-cost position in a market.
The uptake in options trading by retail investors is a trend which could have legs. This analysis of how to use options to hedge risk considers the approaches to take to get the most out of options trading.
Meme Stocks & Reddit
Without Reddit, it's unlikely that the meme stock phenomenon would have occurred. The #WallStreetBets page of that platform still boasts around 11.5m subscribers, which is higher than the 1.7m members recorded in December 2020. Daily posts in that group have dropped off and are now about 1,000 per day compared with 64,000 per day at their peak. That isn't necessarily bad news for Reddit, which was to some extent caught off guard by being in the centre of the storm, but a sense that the online campaign may have petered out hangs over the day-trading community.
Meme Stocks & Brokers
The winners and losers of the meme stock craze were not limited to hedge funds and retail traders. Brokers also suffered reputational damage after halting trading in selected meme stock markets just as the smaller investors smelled blood.
The argument that markets had gotten out of hand and clients needed to be protected from themselves is plausible enough, not least because the brokers were as much as anyone else blindsided by the tidal wave of activity. Robinhood, the broker through which most of the trading activity took place, burst the bubble of buying pressure just as the situation reached a crescendo. The additional burden of financing all those GME and AMC trades forced Robinhood to raise $3.4bn in capital and to close markets in meme stocks.
For the members of the Reddit group #WallStreetBets it was too much of a coincidence that Wall Street's bailout of Robinhood coincided with measures which brought the meme stock rally to a close and nullified the threat to the financial establishment. The challenges Robinhood has faced since its launch extend past the meme stock craze but falling out of favour with the trading community was bound to have consequences. There has, for example, been a fall in Robinhood's monthly active users from 18.9m in Q3 2022 to 17.3m in Q4 and statistics like that have helped drive down the Robinhood share price.
Robinhood Markets Inc – Daily Price Chart – August 2021 – May 2022
Source: IG
Meme Stocks & The Trading Community
The fact that GameStop and AMC are still sporting valuations multiple times what they were before meme stocks even became 'a thing' raises obvious questions about the valuation models used to price stocks. "Market sentiment" is a crucial variable when trying to price stocks. Still, the introduction of a loosely organised hoard of retail investors who were communicating and sharing ideas online changed the dynamic and the financial markets forever.
Meme stock rally of 2021 was the moment retail investors proved they were a force to be reckoned with. That was good news for the meme stocks, which used the time well and embraced the opportunity to reinvent themselves. In the case of AMC, that firm has adopted forward-looking business plans which chime with the meme mindset.
Final Thoughts
The current valuations of meme stocks might be difficult to justify, but that has always been the way with the markets. It's just that with meme stocks, your view on whether something is over or undervalued can depend less on fundamental or technical analysis and more about whose side you're on.
Whichever view you take on the meme stock debate, and regardless of whether you are an experienced investor or novice trader, heading to one of these shortlisted brokers will help you set up to trade them in a cost-effective and user-friendly way.