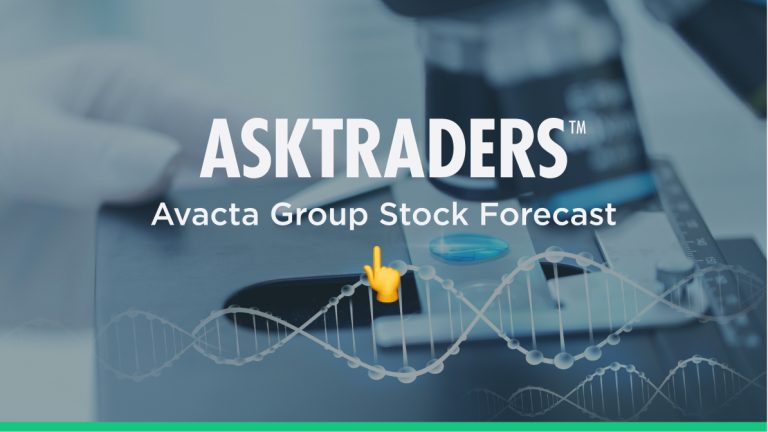 If you happen to be a momentum investor who screens the stock market searching for fast-growing share prices, then you might be acquainted with Avacta Group plc (AVCT) listed on the London Stock Exchange.
Over a period of a month, the Avacta Group share prices doubled, beginning last February, and then topped out at roughly 275p, only to fall back to 129p where it had started. Some people see a turtle shell formation in the chart below, but such are the rollercoaster rides that come with investing in biotechnology stocks that you and the experts never quite know what might happen.
It takes a special breed of investor to dip their toe in biotech waters. There is always the potential for enormous gains, but more often than not, devastating losses are the rule, not the exception. Many of these companies are small with limited staff. It is easy to get caught up in the dream, especially when the company offerings sound impressive. One announcement could send the stock soaring, while a single slip up in a clinical trial can send it spiralling into purgatory.
Avacta Group plc is one of those small companies trying to grab the golden ring. It has 123 employees at last count, a market cap of £322m, and a current price on the London Stock Exchange of 127p. The company offers "reagents and therapeutics based on Affimer technology for diagnostic and research applications in the United Kingdom, North America, Asia, and rest of Europe" (source: Yahoo! Finance). More simply put, it develops immunotherapies for cancer and recently produced testing regimens to detect COVID and its Delta variant – the reason for its sudden popularity in the marketplace.
Is Avacta a good stock to buy at the moment? It has demonstrated that it can excite an investor base in what it is doing, as technically sounding as that might be. It has a number of development partnerships with large key players in the industry like Moderna and LG Chem Life Sciences. The firm also collaborates with Tuft's University School of Medicine for "developing Affimer drug conjugate therapies" (source: Avacta) and with other firms to develop, manufacture, and distribute its testing protocols and COVID-19 antigen tests. It has an extensive pipeline under development, but as with any biotech company, this investment is high risk.
Who Is Avacta Group plc?
Alastair Smith is the founder and chief executive officer of Avacta Group plc. He founded the firm in 2003, and it is based in Wetherby, United Kingdom. It also has an office in Cambridge for its therapeutics division. Smith has a PHD in Physics and served 10 years as the lead for Molecular Biometrics. After leaving academia, he worked tirelessly managing Avacta. Raising around £50m for the development of Avacta's proprietary Affimer programme and its pre|CISION targeted chemotherapies' platform. The firm's IPO occurred on the FTSE Alternative Investment Market (AIM) in 2006.
The Affimer platform is a "novel class of biotherapeutic based on a naturally occurring human protein" (source: Avacta), the primary platform offered by the company and protected by several intellectual patents. The firm's pre|CISION targeted chemotherapies' platform is also proprietary, protected, and uniquely targets a tumour directly without coincident damage to other nearby tissues. The company's pipeline is filled with a number of applications derived from these two protocols, which primarily focus on cancer therapies and diagnostic tools.
The mission of the Avacta Group, as stated on its website, is "to shape the future of medicine by developing novel cancer therapies and powerful diagnostics using our proprietary Affimer® and pre|CISION™ platforms" (source: Avacta). Existing therapies in the marketplace have focussed on antibodies and their use in stimulating the immune response. The firm's innovative Affirmer proteins are a modern alternative to antibodies and offer the advantages of being smaller, easier to produce, and far more versatile and stable. It is rolling out a COVID testing kit through collaboration with Calibre in 2021.
The pre|CISION targeted chemotherapy platform is also unique in that it directs healing modalities directly within the specific tumour environment and thereby limits the downside risk of harm to surrounding cells and related side effects typical with other less directed approaches. The first candidate to reach Phase I of clinical trials for demonstrating the benefits of this platform is AVA6000. This trial is expected to start in the near term.
Avacta is also working on a number of other therapies along these same lines in 2021. Its pipeline is robust, and the management team plans to conduct a number of trials for its various cancer-preventing therapies while generating revenues from licensing and its diagnostic business. Eventually, the firm hopes to leverage its partnerships with major pharmaceutical companies to broaden its revenue base, thereby driving long-term shareholder value.
During 2021, however, Avacta experienced how fickle the market reaction can be to a seemingly positive development in the company's prospects. The firm first experienced a dramatic rally in its share price, commencing in February when news hit the market of its applications for approval in the UK and the EU for its COVID-19 lateral flow test regimen. Investors immediately flocked to the stock, driving its price up by more than 100%. Approvals for both areas followed in June.
Alastair Smith soon announced a special distribution deal with Calibre to move its product line to target markets, but the reaction to the deal was negative. The stock was pounded. The reasons given were that commentators were generally negative, claiming there were no guaranteed revenue streams in the deal, the firm had delayed, and its market entry was too late to be of any material consequence.
It remains to be seen if this overreaction was warranted. The COVID Delta variant may cause another round of surges and testing requirements that could actually benefit the company, but the damage to the firm's share price is a fait accompli.
Can the Avacta Group renew the enthusiasm surrounding its stock? Is AVCT a good stock to buy? With all Biotech firms, you pay your money and you take your chances. Even the experts are unsure of how many of these novel therapeutic platforms will eventually perform in the medical ecosphere. The Avacta management team has developed two rather unique approaches to supplement existing cancer therapies and an innovative diagnostic tool for the COVID virus, which refuses to dissipate. The company may succeed or fail, or it may even be acquired if its pipeline and client base are attractive to a major pharmaceutical firm. The risk is yours to call.
Where Will Avacta Group plc's Stock Price Be in 3 Months?
Avacta is still in its development stage. It operates at a loss. For 2020, its total revenues were £3.6m, but its loss before taxes was £21.3m, as per its KPMG-audited financial statements for the year ended last December. Its share price has fluctuated wildly due to changing investor sentiment over the long-term prospects of the firm, although much of the movement in the last few months has been to do with potential revenues or lack thereof for its COVID-19 diagnostic tool. A current look at the past few months follows below:
The firm's disclosures on the 21st of June were not well received by the market. Although the actual report delivered positive news going forward, analysts suspected that the management team could have negotiated a better revenue deal for its one diagnostic tool on the market. All is supposition at this point, which is typical for a Biotech stock, but there are a few technical points that can be raised at this time regarding hurdles in the next three months.
After its recent fall, stock prices have levelled off in the 130p territory – roughly 50% of the highs established over April and May. At the time of writing, price is resting on the 20-day moving average of the Bollinger Bands, but the 50-day and 200-day MAs are presently intersecting at 182p. Prior to this level, the upper limit of the Bollinger Band, which has not been touched since early May, rests at 156p.
If AVCT can recover and move aggressively past these two resistance levels, then the 100-day moving average may come into play near to 220+ mark over the three months ahead.
What is the Avacta forecast in the mid-term future? It would be speculation at this juncture to pinpoint a value with certainty. Using various algorithms applied to previous price behaviour, analysts have modelled a future outcome in 90 days of roughly 150p. This prediction is predicated on good news from the management team and a gradual recovery of share value.
Where Will Avacta Group plc's Stock Price Be in 1 Year?
Using the same algorithm-driven tools based on previous pricing behaviour, a one-year Avacta stock prediction would fall in the 195 to 200p range. There is not a cadre of analysts that follow this stock who are willing to put this type of forecast en masse. This figure at this stage in the company's development, and the lack of material revenue streams, make any guesstimate more speculation than a seasoned judgment.
The progress of the firm's clinical trials and the press engendered by the products in its pipeline will be the major factors that impact share prices.
Where Will Avacta Group plc's Stock Price Be in 5 Years?
Is Avacta Group a buy or sell for the long term? The current market for antibody-driven immunotherapies is said to be $100bn by the management team at Avacta. The team also states that its various platforms using its proprietary protein-based approach counters many of the shortcomings of the alternative.
CEO Alastair Smith has stated: "What drives us all at Avacta is the opportunity to realise the incredible potential of the Affimer and pre|CISION platforms to create new tools for life sciences and, in our own drug development programmes, to make a measurable difference to patients' lives through clinically superior cancer immunotherapies" (source: Avacta).
Analysts give Smith high marks for bringing his firm to its present stage, but the company's long-term viability and attractiveness will depend on how well its products deliver on his promise. Will their approaches be superior and make a measurable difference in those that receive them? Is the firm's pipeline as robust as it says it is? A casual look at a long-term perspective of its share pricing history illustrates what a Biotech start-up typically looks like:
From a weekly timeframe, the recent collapse appears to be more in line with a rapid price rise, accompanied by equally rapid profit-taking. The current weekly price sits firmly upon its 100-Day moving average with its 50-Day MA at 180p. If modelling algorithms were applied to these upwardly trending data points, a five-year forecast could equate to 440p – a formidable price rise.
Investors that are drawn to this stock look favourably upon this type of number exercise but do not be easily persuaded by only figures on a piece of paper. As a Biotech firm, it must deliver increasing revenues year upon year for its various products. Avacta has already had its long research and development phase, starting in 2003 and moving forward. Alastair Smith can be commended for the job he has done to date and he may deserve a boost in compensation as his supporters have suggested, but the time to step up revenue is now. The harsh treatment by the market this past June is a reflection of these sentiments.
Is Avacta Group plc a Good Buy?
Is Avacta Group plc a good stock to buy at this time for the long term? If you have a portion of your portfolio devoted to high-risk special situations, then you might find shares of AVCT to your liking. Biotech stocks can be a fun ride, but it is easy to get caught up in the company's narrative. This firm's diagnostic tools seem ready for market use and revenue generation, but its vast potential lies within its pipeline. These therapies could take off, or they could fail. The jury is still out on them and their viability. Proceed with caution, and risk only what you are prepared to lose.
The Best Brokers to Trade Avacta Group PLC Stocks:
eToro:
68% of retail CFD accounts lose money
Take a look
If you are ready to add some Avacta Group PLC stocks to your portfolio you'll need a broker that is regulated, has low fees and a user-friendly platform. Finding one can be a daunting task, which is why we've selected some of our favourites that tick all of these boxes to help you get started.