Short term investments aren't for everyone; they can, at times, really test a trader/investors emotions, but they can also provide exciting opportunities to make significant monetary gains in a short space of time.
In this article, we will take you through some of the best potential short term investments you can make in the current market… However, before we continue, one thing to note is that short-term investments are inherently riskier and carry a greater chance of losses, so you must utilise a prudent risk management strategy.
Best Short-Term Investments in the UK
The Best Overall Short-Term Investment
1. International Consolidated Airlines Group (IAG)
I have been bullish on IAG for a while and mentioned them in our previous best stocks to buy right now article.
Its share price has gained over 42% in the last month, but I still feel there is room for a further move higher. I believe this is a short-term investment because we have already seen airline stocks begin to price in a potential reopening of international travel. However, we still haven't had any concrete announcements.
Once countries begin to announce the easing of international travel restrictions, I expect airline stocks to spike. One of the main routes we need to watch out for with IAG is London to New York.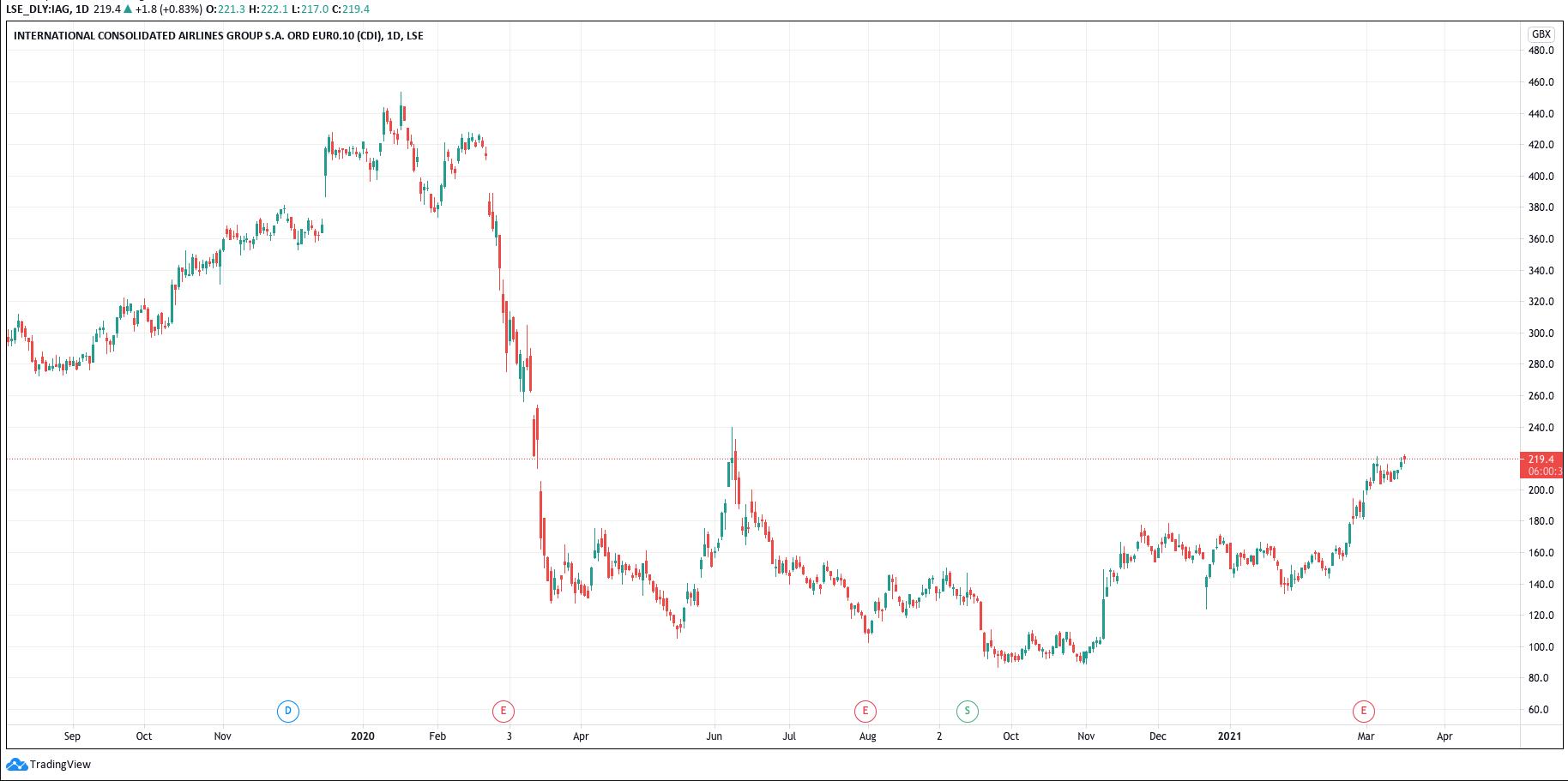 If and when international travel restrictions begin to ease, it will then be time to look at areas to exit the position. Its pre-pandemic price was around the 400p mark, although, I have to admit, I think that is some way off, and I don't expect it to get back there anytime soon.
The Best Forex Short-Term Investment
2. EURGBP
Since the Brexit vote back in 2016, the GBP has taken a battering. Even as the Brexit chapter slowly came to a close, we then had the coronavirus pandemic, which impacted risk currencies, of which the GBP is one.
However, despite the UK's lack of decisiveness in managing the pandemic in the early stages, they have fared much better in recent months, and their vaccine program has delivered. They even have a plan in place to reopen the country in the coming months.
In contrast, the EU's vaccine program has continued to falter, with cases in some regions rising once again and more lockdown measures put in place or discussed (Italy entered a new lockdown while German doctors have called for an immediate return to lockdown).
Yet, the EURGBP is nowhere near the pre-Brexit vote levels…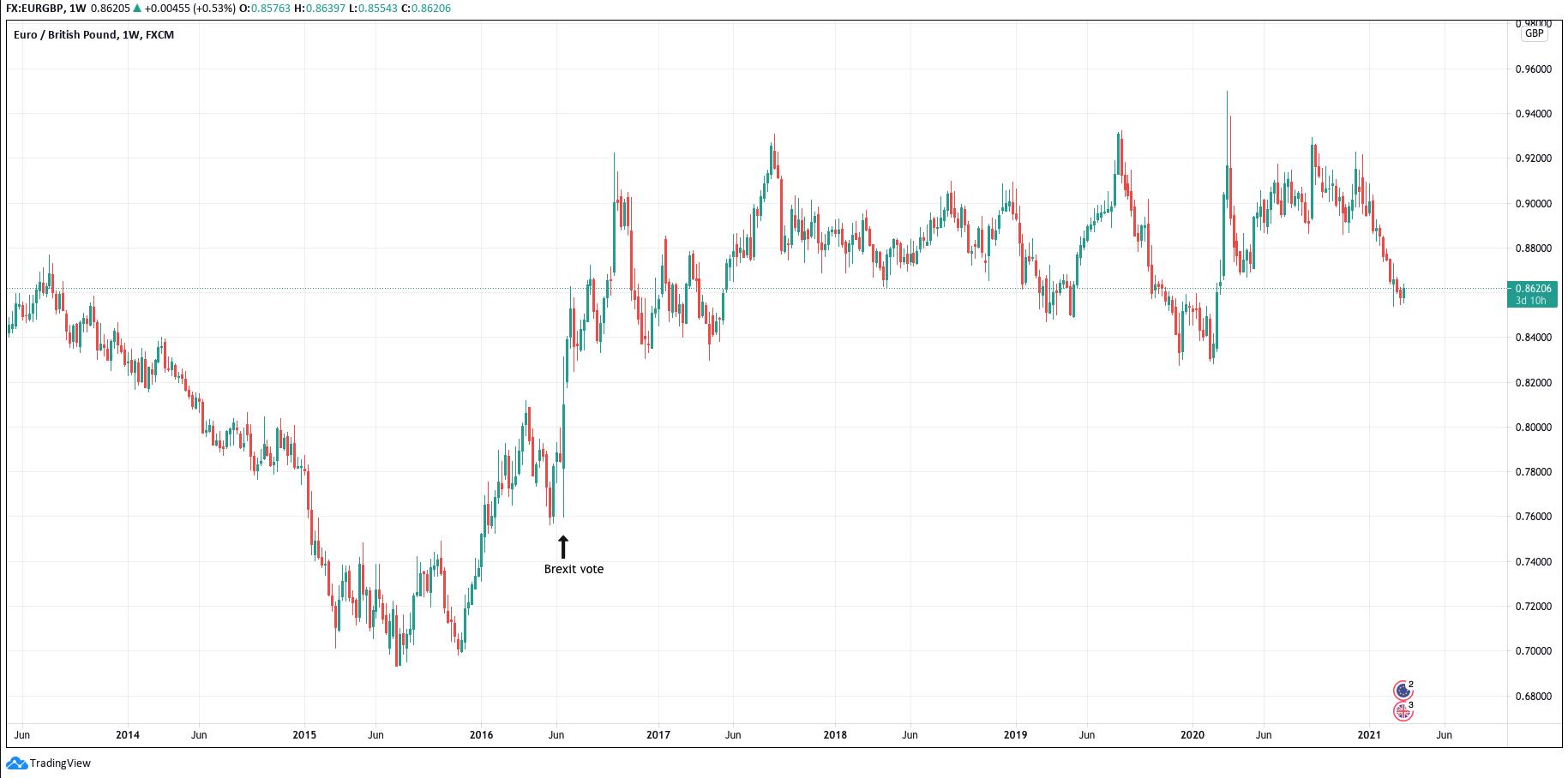 The doom and gloom surrounding Brexit, I feel, was somewhat overplayed, and we should see the pound gain some real impetus against the euro over the next few months. Will it get back to pre-Brexit vote levels? I don't know, but I feel there is some downside to be had.
The Best Precious Metals Short-Term Investment
3. Gold
This move will be entirely dependent on where US yields are headed in the near term and will centre around inflation expectations.
However, if they continue on their current trajectory, we could see gold break below the channel in the chart below and continue its recent move to the downside.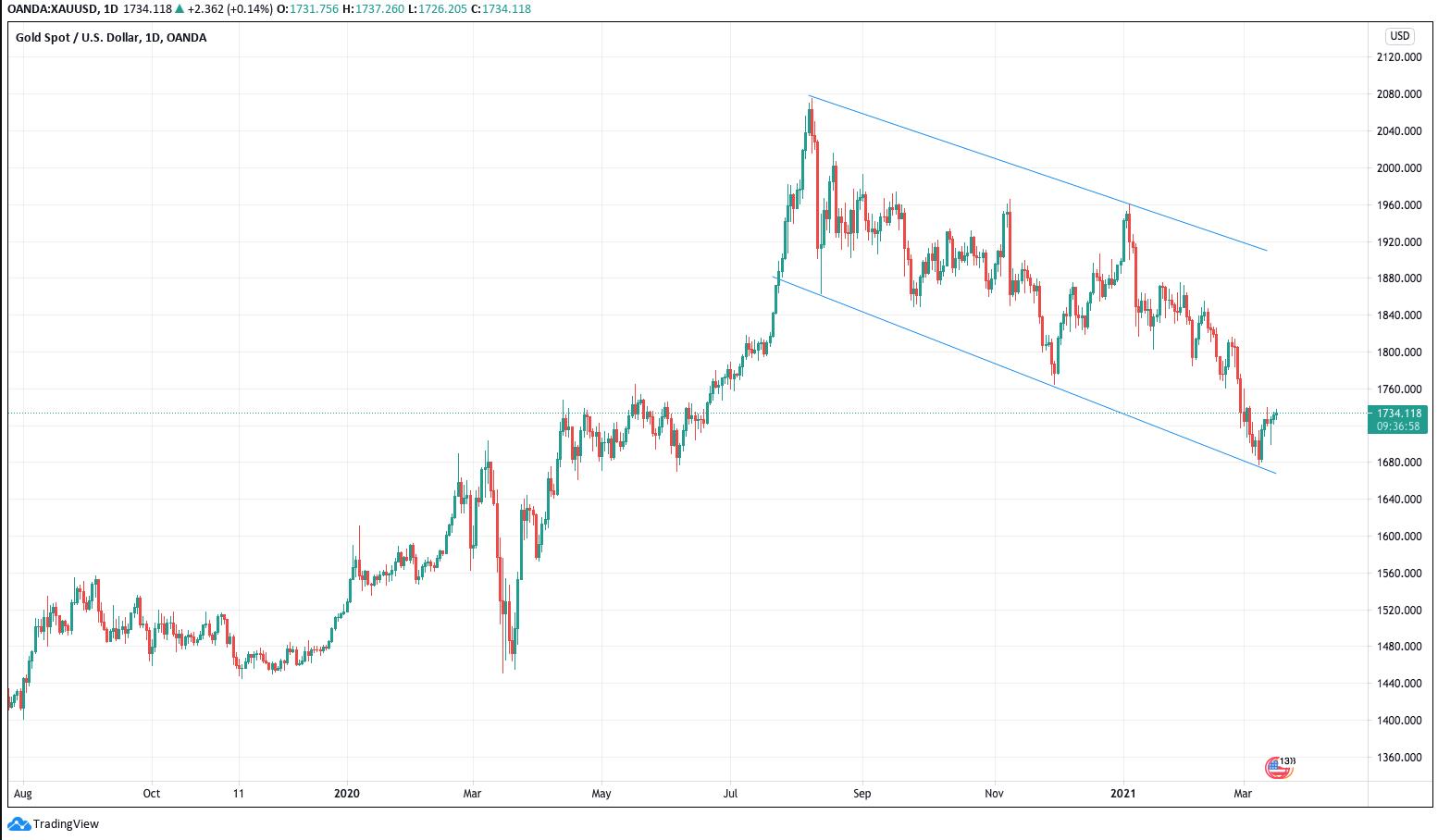 Remember, this isn't a move I would be rushing into, it's one that will require us to keep an eye on the movement in yields and the inflation fears. If bonds keep selling off, this move should play out.
The Best Short-Term Stock Investment
4. Palantir (NYSE: PLTR)
Since its listing in September 2020, Palantir's stock almost quadrupled, climbing to highs of $45 in January. However, February saw the stock fall over 32%, and it is now sitting at $26 per share.
While the company isn't yet profitable, I still believe it has many positives, such as its revenue from government contracts, the potential growth in the AI technology industry, and its private-sector deals. Palantir recently signed agreements with Rio Tinto, IBM, and Faurecia (an automotive technology business) to utilise its Foundry platform.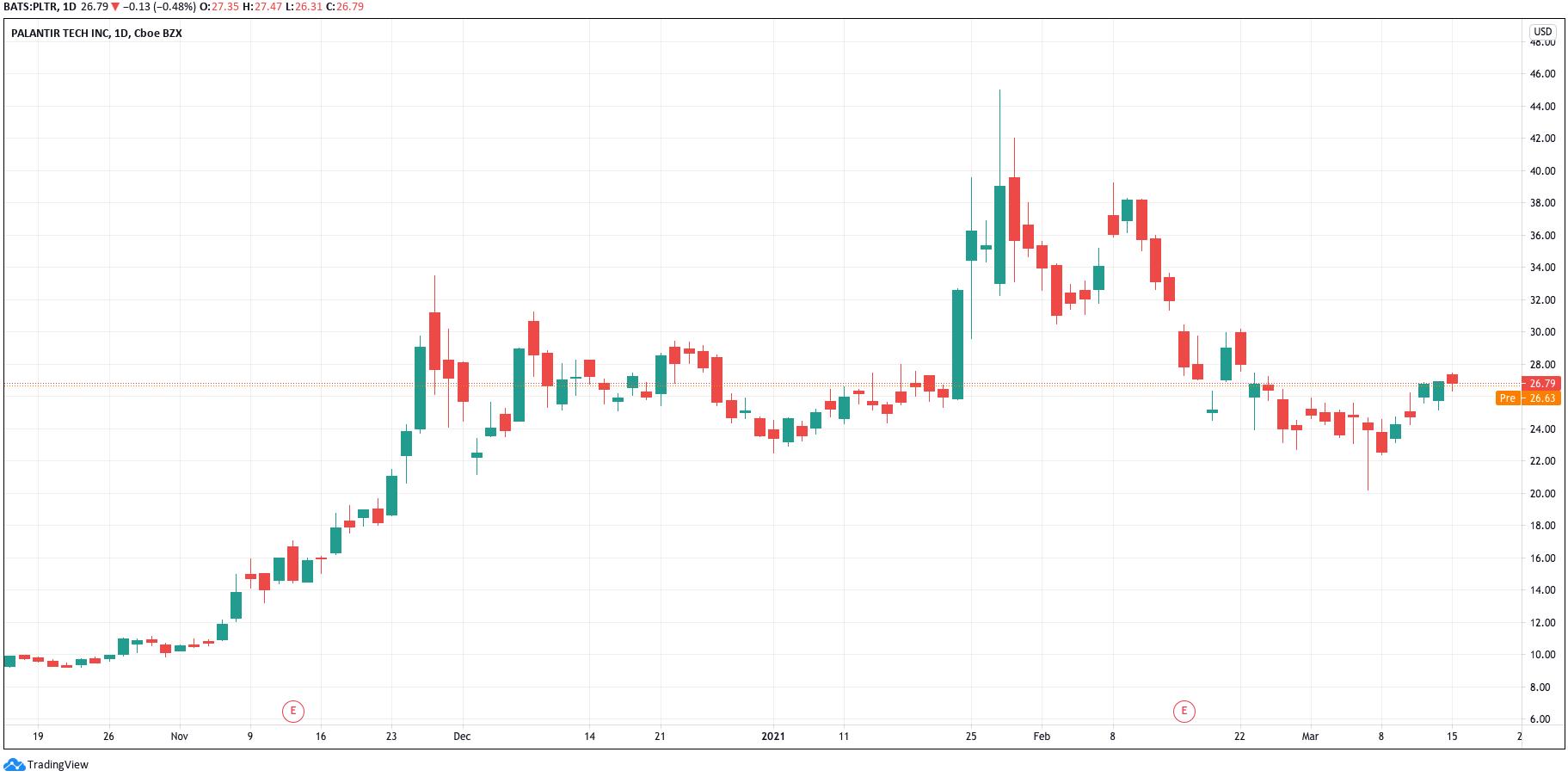 An initial near-term move back to between the $31 to $33 mark looks like a good shout.
The Advantages of Short-Term Investments
One of the significant advantages of short term investing is the flexibility it offers, as your money is not tied up for an extended period. With some investments, such as bonds, the money will tend to be tied up for many years while you wait for it to mature. This denies you the flexibility of being able to access your cash when it is needed.
Another advantage is that short term investing can provide significant returns in a short period. You can get in, hopefully, make a solid profit, then get out.
Finally, diversification… When investing in the short term, people tend to invest in lower amounts, which allows the investor to invest the leftover funds in other assets.
The Disadvantages of Short-Term Investments
The first disadvantage to short term investing is the most obvious. Short term investing carries a higher risk. Suppose you are entering and exiting the market in the shorter term. In that case, you will inevitably be making a greater number of investment decisions which will mean the risk to your account increases.
They also involve a higher level of knowledge as you will need to be more precise about the price you want to get in and the price you want to exit the market.
You will also need more time as this will require you to monitor the price closely to watch for entry and exit points.
Finally, watch out for the transaction costs, as every position you open will come at a price; find a way to minimise these, so they don't eat into your profits.
How to Securely Invest Money Online
1. Research The Investment
The first step you need to take is to research the investment you want to make, whether it is a currency pair, cryptocurrency, stock, precious metal or anything else.
You must look into the risks as well as the positives of the asset. One tip is to look for why you shouldn't make the investment and then understand how those risks will impact the asset going forward and whether it is an investment worth making.
2. Find a Broker
Once you have completed your research, the next step is to find a broker. Below you will find a list of top brokers that will offer a range of assets you can invest in.
Each platform will have good and bad points depending on your needs, but we suggest first signing up to a few demo accounts and seeing which platform suits you best.
Some points to watch out for when you choose a broker are whether they are regulated (you can check our list of FCA regulated brokers), the fees they charge and the customer service they provide.
---
Our Favourite Trading Platforms for Beginners:
Whether you're a new trader looking to get started with investing or just curious, these trading platforms are perfect for beginners. Not only are each of these brokers fully regulated – providing a safe and secure trading environment – they are fully equipped with everything you need to succeed. This includes a wide range of stocks to choose from and educational resources to help you get started and make your first trade.
---
3. Open & Fund an Account
Once you have picked a broker, you need to open and fund your account. It is typically a straightforward process regardless of the platform.
It will involve providing details such as your address, proof of residency, a copy of your driver's license or passport, and answering some basic trading/investing questions.
When it comes to funding the account, most brokers will offer a few options, including debit/credit card, bank wire and an online payment service such as PayPal.
4. Set Order Types
Before you invest/trade, make sure you understand the various order types at your disposal. It may be that a market order makes more sense than a pending order for the investment.
You will also need to learn about a stop-loss order to manage your risk and protect your funds if the investment doesn't go your way.
5. Select & Place The Order
Your final move is to execute the position. Remember, research is the most essential part of all of the steps mentioned. Make sure you have planned for every outcome; always plan ahead.
Summary
Making short-term investments can come at a price, but they can provide significant gains within a short timeframe if executed correctly.
As you will have already noticed, short-term investing options can cover numerous asset classes, providing an opportunity for diversification.
While there are multiple ways to invest in the market, diversification is vital, allowing you to make profits in one area, even if another isn't performing as well as you initially hoped. If you make the right decisions with your short term investments, you can grow your account in a short space of time.
Related Articles: