With the price of Meta Platforms shares having the potential to more than double in the space of a matter of months, it is understandable that investors flock to the stock when it dips. This raises the question of how to buy Facebook owner Meta Platforms' stock and share in the spoils.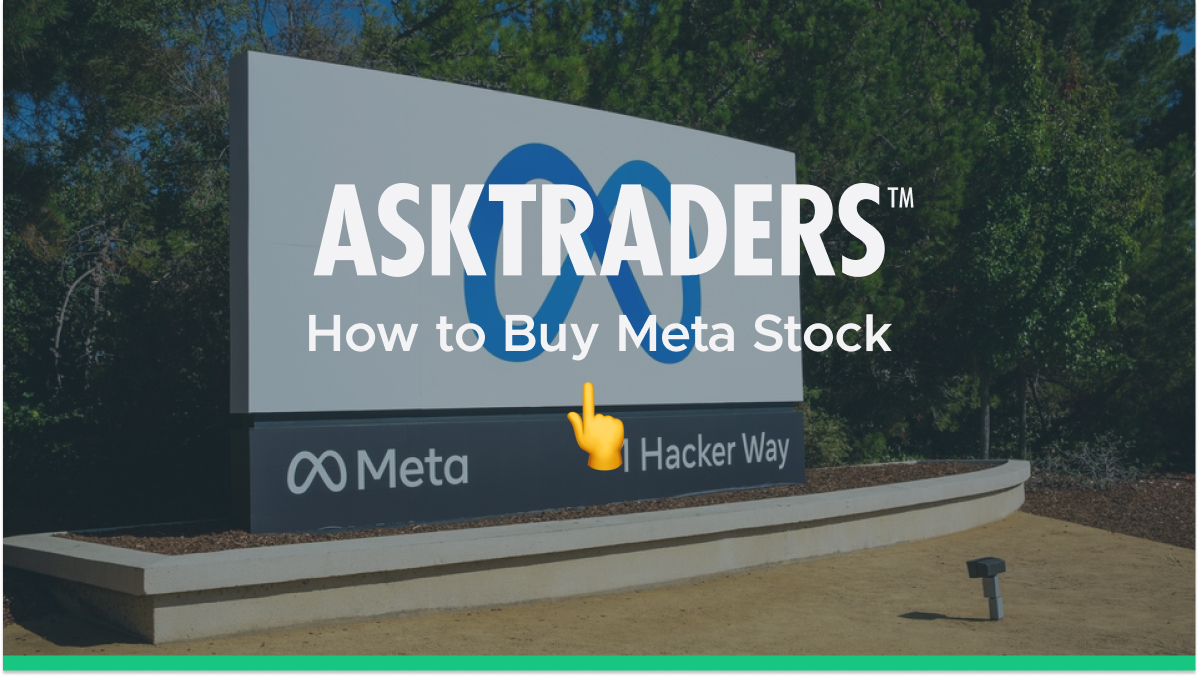 Fortunately, developments in the online broking industry offer easy and safe ways to try to make a profit. With this in mind, in this guide, we'll cover:
Meta Platforms Overview
Meta Platforms, formally known as Facebook is an American multinational technology business based in California. The company owns and operates several social media platforms, including Facebook, Instagram, Threads, and WhatsApp, while it also has other products and services.
Meta's CEO and Chairman is founder Mark Zuckerberg. The well-known CEO originally founded the company as Facebook in 2004. The business is now one of the world's most valuable companies and among the ten largest publicly traded corporations in the United States. It is considered one of the Big Five American information technology companies, alongside Google's parent company Alphabet, Amazon, Apple, and Microsoft.
Meta's primary source of revenue is advertising. The company sells advertising space on its platforms to businesses of all sizes, allowing them to reach their target audiences. Meta also generates revenue from the sale of hardware products, such as its Oculus virtual reality headset. However, so far, the company's move into the metaverse, which inspired the name change, has not gone quite to plan.
Meta Platforms Shares: The Basics
Meta Platforms, Inc. (META) is a publicly traded company on the Nasdaq stock exchange. At the time of writing, Meta had 2.37 billion outstanding shares and a market capitalization of more than $800 billion. Meta does not pay a dividend on its shares.
Facebook, which later rebranded to Meta Platforms, made its public market debut via an initial public offering (IPO) on May 18, 2012. Facebook's popularity was continuing to grow, resulting in the social networking company having one of the most significant and anticipated IPOs in history. On the day the shares went live, Facebook shares closed at $38.23, just above the $38.00 IPO price.
Meta's fiscal year ends on December 31.
Steps To Buy Meta Platforms Shares
1. Research Meta Platforms Shares
Regardless of your experience, not adequately researching a company, even if they are a well-known tech giant, could result in calamity. Despite META's recent success, there's no such thing as a 'sure thing' in trading and investing. While the company is considered by many to be a safe 'blue-chip stock', the decline seen in 2021 and much of 2022 shows that it can experience periods of negativity. It pays to do your due diligence and make your own informed decisions. Learn how to value stocks and arrive at your own conclusions.
2. Find a Broker
Finding the right broker for you is perhaps the most important part of the process. While you can buy Meta Platforms shares with most brokerages on the market today, not all brokers are created equal.
If you're ready to buy Meta shares, you'll need to use a broker that is adequately regulated in your region of the world. For example, by the FCA in the UK or ASIC in Australia. Once you have established the broker is regulated, look for a platform that has low trading commissions and a reliable trading platform. Finding one can be an arduous and daunting task, which is why we've hand-picked favourites that tick all of these boxes to help you get started.
3. Open & Fund an Account
Once you've compared the various best brokers and chosen one that is a good fit for your requirements, it's time to open an account and make your first deposit. In line with regulations, you will be required to fill out a brief form to confirm your identity. When it comes to making a deposit, some brokers offer more deposit methods than others. You should always opt for a broker that offers a variety of payment methods ranging from bank transfers through to e-wallet methods such as PayPal, Neteller and Skrill.
4. Buy Meta Platforms Shares
Once the funds have been deposited into your account, you will be ready to buy shares in Meta. Navigate to the stocks/shares section of the broker's platform and search for 'Meta Platforms' or 'AMZN.' You will then need to input how much you want to invest in META in the order form. Bear that it's always a smart idea to set order types on your purchase orders, something that is available with many brokers. Risk-management tools such as take profits and stop losses are a great way to protect yourself against potential losses.
Best Broker to Buy Meta Platforms Shares
As said before, the intense competition between brokers feeds through to improved T&Cs for brokerage account holders.
Each broker will provide users with something slightly different. As demo accounts are free to set up, it is recommended you try a few to find the best one for you. Broker comparison tables such as the one found here are useful resources. Finding the right broker is perhaps the most crucial part of the process.
Searching for the Perfect Broker?
Discover our top-recommended brokers for trading stocks, CFDs, forex, cryptos, and beyond. Dive in and test their capabilities with complimentary demo accounts.
Fees When Buying Meta Platforms Shares
While you're watching the META share price rise and fall, make sure to take some time to monitor other costs and fees associated with trading and investing.

The T&Cs associated with CFDs and equities are different in nature, and keeping on top of fees is an important part of being a successful trader.
| | eToro | Plus 500 | Markets.com |
| --- | --- | --- | --- |
| Inactivity Fee | Yes | Yes | Yes |
| Inactivity Fee details | $10 per month. After 12 months | $10 per month. After 3 months | $10 per month. After 3 months |
| FX Conversion | Yes – on non-base currency trades | Yes – on non-base currency trades | Yes – on non-base currency trades |
| Fund withdrawal fees | Yes – $5 | Applied on some payment methods | Yes – $5 -$100 |
| Trading commissions | Included in spread | Included in spread | Included in spread |
| Overnight Financing | Yes, on CFDs | Yes, on CFDs | Yes, on CFDs |
Final Thoughts
Buying Meta Platforms Shares might be easy, but one of the most important things to remember is to use a regulated broker. The big global brokers such as Pepperstone, eToro, and IG, for example, operate under licenses from a range of Tier-1 regulators, including:
The Financial Conduct Authority in the UK (FCA)
The Australian Securities and Investments Commission (ASIC)
The Cyprus Securities and Exchange Commission (CySEC)
Ultimately, the decision as to which of these regulators provides you with the necessary protection will come down to where you live.
Whether you are buying US stocks such as META, commodities, forex, or UK equities, the regulatory protection is a function of your domicile, not the market you trade.
Finally, it's important to consider using a broker that is licensed by a top-grade regulator, or else you run the risk of losing all your capital before you even put a trade on.