If you were one of the lucky investors to receive an exit from Elon Musk at an above-market value when the rest of the technology growth sector was in reverse overdrive, then you've likely freed up capital to reinvest in the market, but where should you reinvest your twitter profits?
---
YOUR CAPITAL IS AT RISK. 81% OF RETAIL CFD ACCOUNTS LOSE MONEY.
---
On the 28th of October, Elon Musk took Twitter private at $54.2 per share, a deal valuation of $44bn. After fees, this represented a 24% appreciation in value from the start of the calendar year.
Over the same period in 2022, social media giants Snap Inc NASDAQ:SNAP (SNAP) and Meta Platforms Inc doing business as Facebook NASDAQ:META (META) had given up 79% and 71% respectively, from their start of the year valuations.
Though the businesses are not directly comparable, the three social media titans compete for advertising dollars and track user engagement. All three look to leverage the audience for an increasing piece of the eCommerce pie, amongst other payment and marketing ventures.
The overlapping vision, funding, and revenue streams make it all the more remarkable that the hitherto investors in TWTR were able to secure such a favourable exit.
Macroeconomic Outlook
Before we continue, paying some attention to the macroeconomic fundamentals is worthwhile. If we have a decent picture of the economic outlook, we can decide if we want to be more aggressive or defensive in our investing posture.
A defensive stance may take the form of increased allocation to the more secure government debt securities and cash holdings, while a more aggressive posture may take the form of corporate debt holdings, company stocks, and commodities.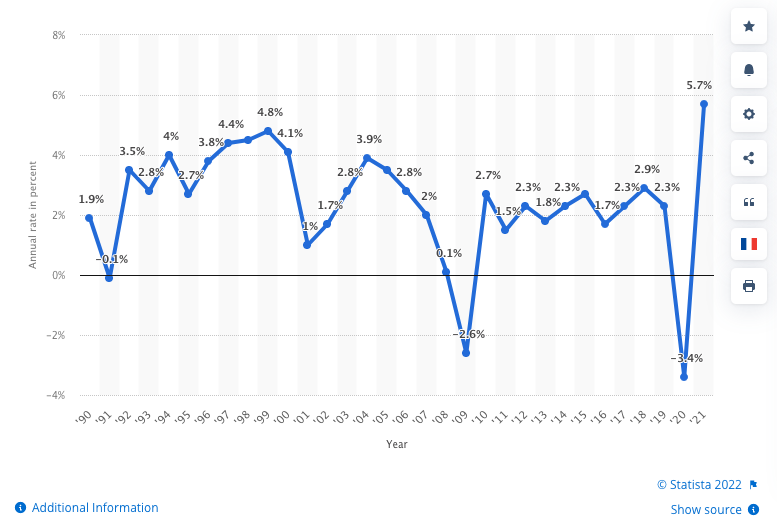 ---
YOUR CAPITAL IS AT RISK. 81% OF RETAIL CFD ACCOUNTS LOSE MONEY.
---
According to the above chart, the mean of the last 30 years' GDP growth is in the annualised 2.5% range. Retracements over the Global Financial Crisis (GFC) and the onset of COVID were quickly exited via government spending, facilitated by an expansion in the US Federal Reserve Balance sheet.
The US Fed has already signalled some form of quantitative tightening in 2023, and interest rates are expected to climb further, if not at such a high cadence as in 2022. Unemployment will likely trace the rates higher as funding for business expansion becomes more expensive.
At the very least, we can expect a reversion to the mean of GDP growth in 2023, if not a fall outright into negative territory. Putting this all together, we are most likely to experience the following:
Elevated but plateauing interest rates and inflation
Mean baseline economic expansion in the 2-3% range
Some reallocation from the value to growth sectors
Better performance from debt markets in 2023 versus 2022
Working from the above, the major adjustment we will make in our selection process will be some mix of debt and equity, getting cash to work to keep out in front of some persistent inflation, and allocating to some oversold debt sectors while looking for growth to return to the markets.
The US position as a net energy exporter will assist in moderating inflation at home, combined with presently low unemployment, giving the nation an excellent chance of avoiding the real wage pressures presently nudging Europe and the UK into a recessionary environment. For this reason, the allocation will be focussed on US Dollar investments, leveraging some liquid, low-cost ETFs that provide easy access to a broad basket of assets.
Four investments to consider in 2023
Vanguard Total Bond Market Index Fund NASDAQ:BND (BND)
So far in 2022, debt markets have endured a horror year. BND is predominately made up of AAA US corporate debt, one of the safest investments you can make outside of the US, yet valuations have fallen by over 14% from the start of the year. A steeper fall than at any time in the last 20 years, of greater magnitude than over the Global Financial Crisis (GFC).
From already dizzying heights of record-low interest rates, bond valuations have taken a tumble as the US Federal Reserve has sharply raised interest rates to combat inflation. When rates go up, bond valuations go down.
BND will benefit from stabilisation in the rate hike cycle. The strong US Dollar will likely provide a solid foundation for your investment if you are not a US resident. The exchange-traded-fund (ETF) component of BND will enable you to access some of the higher-yielding corporate debt with a low entry cost, minimise your fees, and achieve a risk management strategy under the portfolio effect with diverse holdings.
---
YOUR CAPITAL IS AT RISK. 81% OF RETAIL CFD ACCOUNTS LOSE MONEY.
---
In the last 20 years, a AAA corporate debt portfolio has not declined in net asset valuation (NAV) for more than two consecutive years. The potential to rebound in NAV is also buoyed by the greater than 2.5% coupon you'll receive.
As the proverb goes, don't put all your eggs in one basket, a solid foundation for your investment dollars might be to allocate 25% of your windfalls to BND.
Invesco QQQ Trust NASDAQ:QQQ (QQQ)
QQQ is an ETF that tracks the largest non-financial companies listed on the NASDAQ. The companies included in this index include Apple Inc, Microsoft Corp, and Amazon Inc, amongst others.
QQQ is a cost-effective way to gain exposure to the technology growth sector while limiting your transaction and portfolio management fees.
After a strong performance during the pandemic-lockdown era, QQQ has given up over 25% in 2022. The partial normalisation of retail and work-from-office behaviours has shaved some of the erstwhile growth paths of eCommerce and remote computing revenue streams.
Technology continues to devour conventional in-store retail wallet-share and finds a footing in wider trade finance and conventional commerce boltholes. The retracement in 2020-2021 gains in QQQ is simply a return to the mean rather than a shift in customer demand and trends.
With that in mind, 2023 should see a resumption of the accumulation in technology company sales pipelines, a broadening of the mobile eCommerce customer base, cross-over into B2B payment streams, the expansion of B2C share, and continued growth in communications, entertainment, marketing, in fact, all walks of life. That is not to mention the acceleration of growth under AI and proposed immersive technologies like the Metaverse.

---
YOUR CAPITAL IS AT RISK. 81% OF RETAIL CFD ACCOUNTS LOSE MONEY.
---
QQQ and, in particular, US technology companies will remain at the forefront of new product delivery and overwhelming market leaders. A growing investment is always the safest place to be, and no sector is more pervasive than US technology companies.
You might consider allocating a further 25% of your Twitter profits to QQQ.
Vanguard FTSE Emerging Markets ETF NYSE:VWO (VWO)
VWO is an ETF that invests in the stocks of companies located in emerging markets, such as China, Brazil, and South Africa.
This is one of the riskier ETFs, as the growth path of the holdings is sometimes variable. The portfolio effect of only holding a portion of your capital in VWO will insulate you from the steeper declines while gaining exposure to years in which VWO excels.
VWO is an investment that is more appropriate for your long-term investing goals, weathering the odd down year to take advantage of years in which your capital will appreciate rapidly.
2022 has been such a year, down 22% . One positive attribute of VWO is that over the last 16 years, outside of 2011, it has taken at most 36 months but often less to recoup the losses of a down year. Only through 2013 to 2016 and again in 2021-2022 experienced more than one consecutive down year. The average is 1.6 years duration of the downward cycle, and outside of 2011, 1.3 years to recoup down-cycles.
History tells us that we are already past the mean downward cycle of -1% in 2021 and -22% in 2022, with the mean return being 23% within the next 15 months. A return to averages, particularly on such a small data set, should not be relied upon as gospel but does tell us about typical funds flow when the US Dollar is rising, falling, and the interest rate cycle.
---
YOUR CAPITAL IS AT RISK. 81% OF RETAIL CFD ACCOUNTS LOSE MONEY.
---
We might expect the US Dollar to moderate its appreciation in 2022 as the US Federal Reserve slows the rate hike cycle as signalled. This, in turn, will make capital funding more reasonable for dev eloping nations raising investment dollars in USD – a positive outcome for VWO.
iShares Core S&P 500 ETF NYSE:IVV (IVV)
To allocate the remaining 25% of your capital, depending on whether you're taking a risk-off or risk-on position, you might select the US Dollar. However, if you are of the view that the stock market is positioned for growth again, IVV might be worth your perusal.
IVV is one of the larger ETFs in the world. With an expansive portfolio of holdings under the banner of the S&P 500, IVV will allow access to a wide array of primarily US companies in a world economy that is managing to stay ahead of the current inflationary woes afflicting the rest of the world.
IVV is down 17% year-to-date. That is not to say the largest companies are not experiencing growth. There is growth in top-line revenue for all of the major companies in this index; it is just not as explosive as in prior years.
We might expect inflation to moderate in 2023 as energy producers reposition themselves in front of the elevated COVID-exit demand against a backdrop of significant supply chain reorganisations in Europe.
Unemployment in the US is still extremely low, providing ample runway for B2C and B2B servicing the B2C sector. This broad coverage will likely give the investor a decent groundswell of growth across a wide range of companies in 2023.
---
YOUR CAPITAL IS AT RISK. 81% OF RETAIL CFD ACCOUNTS LOSE MONEY.
---
As an extensive and diverse holding of stocks, IVV provides the investor with a cheap-and-easy way to risk manage and get a strong foothold in the markets.
Final Thoughts
Investing in stocks in diversified holdings, such as an ETF, is not without risks. Spreading your holdings across sectors and geographic locations does not guarantee a return or altogether remove your risk. Still, it is a tried and tested way to over the long-term increase your capital.
ETFs are excellent ways to enter the debt and equity markets cheaply and effectively, and the four above are proven ways to efficiently allocate capital, even Twitter windfalls. When selecting your broker with which to trade, navigate to AskTraders' list of the best online stock brokers, each ranked according to various criteria, including adorability, flexibility and usability.
People Who Read This Also Read