The Chill Brands Group PLC (LON: CHLL) share price rallied 17.9% after securing relationships with specialist carriers and fulfilment providers to facilitate home delivery of its vapour products to customers in all 50 US states.
---
YOUR CAPITAL IS AT RISK. 81% OF RETAIL CFD ACCOUNTS LOSE MONEY.
---
The company hailed the move as a significant victory, given that the 2019 US Preventing All Cigarette Trafficking (PACT) Act prevents the United States Postal Service (USPS) from shipping vapour products regardless of their nicotine content.
Therefore, it has proven extremely difficult to build out a nationwide distribution system for vapour products like those marketed by Chill Brands due to the restrictions implemented by USPS and other major carriers regarding vapour products.
Chill Brand's hailed its distribution infrastructure as a significant win for the company and a crucial component of its business strategy within the United States as it looks to serve customers in all 50 states. These customers will be served via the Chill.com website.
The vapour products are strictly limited to adults, with Chill.com being an age-gated website o prevent minors from ordering and accessing Chill Brands' vapour products.
Callum Sommerton, Chill Brands' CEO, commented: "This is an important milestone for Chill Brands as we seek to grow our share of the extremely buoyant US vapour market. While we are committed to delivering a satisfying and convenient customer experience, we also prioritise safety and regulatory compliance."
Adding:
"Our dynamic network of shipping and fulfilment providers will enable us to deploy age-verification protocols and ensure that our vapour products are only sold to adult consumers. We take this responsibility very seriously and view the regulatory environment not as a barrier to growth but as a catalyst for essential positive change in our industry."
Chill is operating under a revised business plan in the US, regaining the rights to market its products from a third-party distributor, and now focusing on online sales.
*This is not investment advice.
Chill Brands (CHLL) share price.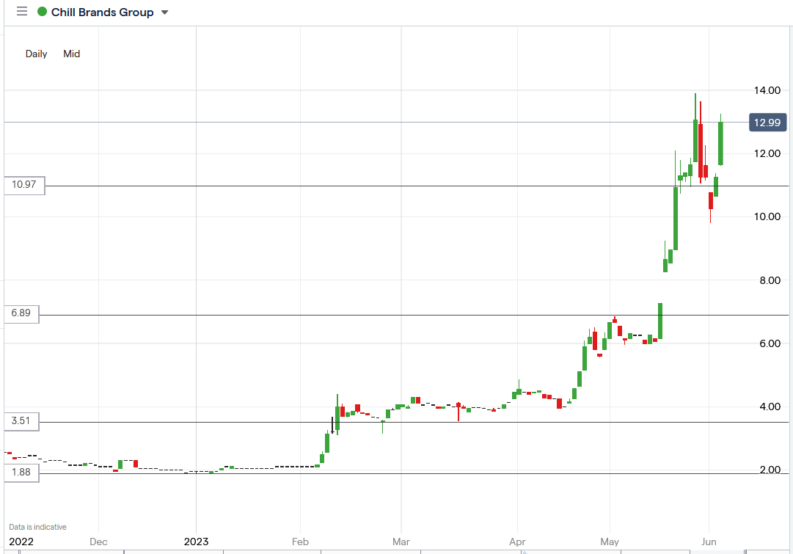 The Chill Brands share price rallied 17.87% to trade at 13.26p, from Friday's closing price of 11.25p.
---
YOUR CAPITAL IS AT RISK. 81% OF RETAIL CFD ACCOUNTS LOSE MONEY.
---