The Cineworld Group plc (LON: CINE) share price was trading down today as the company looks forward to exiting the Chapter 11 bankruptcy process it entered voluntarily in September 2022. The firm could be ready to exit the process in July.
---
YOUR CAPITAL IS AT RISK. 81% OF RETAIL CFD ACCOUNTS LOSE MONEY.
---
The world's second-largest movie theatre chain faces a significant hurdle as it tries to revitalise its operations and become a more efficient and profitable company. The firm has to find a way of making profits in a challenging environment after exiting the bankruptcy process.
However, even as the firm plans to leave bankruptcy, it is crucial to remember that retail investors holding Cineworld shares stand to lose everything since the new ownership structure will comprise the company's creditors, who would have converted their debt into equity.
Still, it is impressive to note that Cineworld got the support of most of its creditors after failing to find a buyer for its UK and US operations when it ran a formal sale process. During the sale process, the company git multiple offers for its Eastern European and Israel operations.
Keeping the company intact as a single entity is the best way to leverage economies of scale, if any, instead of splitting the company into various divisions and selling them off in bits and pieces. The company's creditors seem to agree with the same assessment.
Cineworld faces an existential threat in the form of declining movie theatre attendance as consumers embrace movie-streaming services. However, there is still space for movie attendance in the form of blockbuster movie releases that draw moviegoers back to the theatres.
Meanwhile, the company must find a way to attract moviegoers back to theatres even when there are no blockbuster movie releases to keep them coming back. One of the ways that Cineworld has found to attract moviegoers is by playing old classics in its cinemas during off-peak hours and in the middle of the week. 
Retail investors should wait for the company to exit bankruptcy before buying shares. After exiting bankruptcy, I would wait much longer to buy to ensure the company is on solid footing.
*This is not investment advice.
Cineworld share price.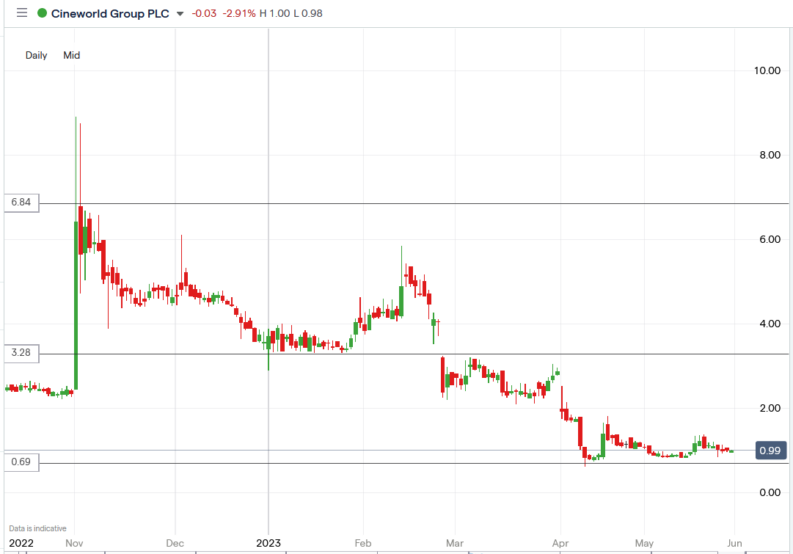 The Cineworld share price was trading down 4.95% at 0.96p from Tuesday's closing price of 1.01p.
---
YOUR CAPITAL IS AT RISK. 81% OF RETAIL CFD ACCOUNTS LOSE MONEY.
---