The Forza X1 Inc (NASDAQ: FRZA) stock price soared 156% during premarket trading after the company issued a cryptic tweet on Friday after the markets closed that reignited investor interest in the company leading to over 10.14 million FRZA shares changing hands before the open.
---
YOUR CAPITAL IS AT RISK. 81% OF RETAIL CFD ACCOUNTS LOSE MONEY.
---
The tweet did not provide much detail other than that the company's fans and investors should be ready for something extraordinary. The tweet also urged investors to stay tuned to the company's activities so they do not miss any further announcements.
The recreational boating company is developing stylish electric sports boats, and the tweet hinted at news related to its electric boats via hashtags targeting electric boats and a video clip of waves that could have been made by a moving boat.
It still needs to be clarified what exactly Forza X1 is referring to in its tweet, and investors will have to be patient and wait for an official announcement from the company before we can know its plans. As for the rally higher, day traders may take advantage of it, but long-term investors should wait for the inevitable pullback before buying.
According to the company, it is focused on creating, implementing and selling electric boats utilizing our vehicle ("EV") technology to control and power our boats and proprietary outboard electric motor. Our electric boats are being designed as fully integrated, including the hull, outboard motor and control system.
The company is looking to capitalise on the burgeoning market for sports boats and the emerging trend where customers now prefer to own and operate electric rather than diesel-powered boats.
However, the company has yet to deliver its electric boats in large numbers and is still constructing its state-of-the-art manufacturing facility in Marion, North Carolina. The company's first production model with an outboard motor electric motor is ready and is known as the F-22 Center Console. The boat is already in production.
*This is not investment advice.
Forza X1 (FRZA) stock price.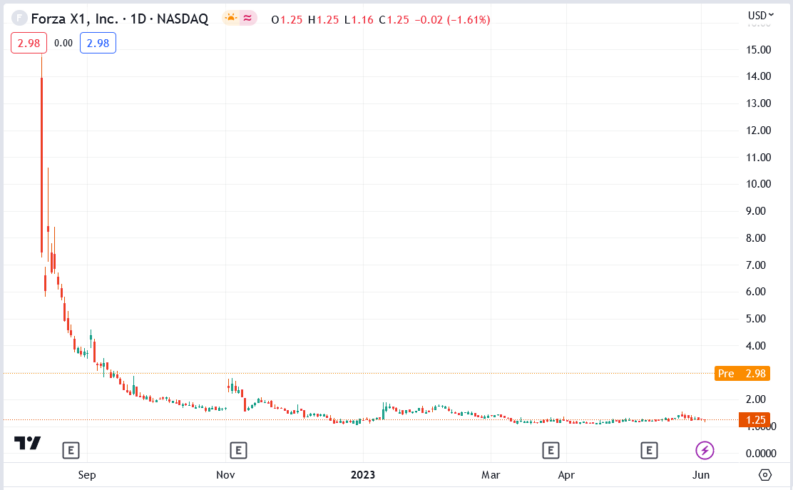 The Forza X1 (FRZA) stock price soared 156% to trade at $3.20, from Friday's closing price of $1.25.
---
YOUR CAPITAL IS AT RISK. 81% OF RETAIL CFD ACCOUNTS LOSE MONEY.
---