The Direxion Daily Regional Banks Bull 3X Shares (NYSEARCA: DPST) stock price ended the week higher by surging 1079.34% higher on Friday, surprising many. However, those following the popular ETF should have seen the move coming since it was announced weeks in advance.
---
YOUR CAPITAL IS AT RISK. 81% OF RETAIL CFD ACCOUNTS LOSE MONEY.
---
The DPST stock price had fallen drastically this year. It was almost 80% lower for the year before Friday's move higher, which was triggered by a 1 for 10 reverse stock split conducted by the issuer Direxion to make the ETF attractive to investors. The reverse stock split saw DPST stock surge from trading at about $5 to over $60 in a day.
Direxion had announced the 1-for-10 reverse stock split to boost the DPST stock price and make it more attractive to investors. However, investors should not confuse the higher prices for a rally in DPST stock since it isn't.
The higher prices that investors will now have to pay for each share of DPST do not compensate for the fact that, over the long run, DPST stock has been a money loser and has fallen drastically along with the underlying index, which it tracks, The S&P Regional Banks Select Industry Index (SPSIRBKT).
DPST allows investors to invest in the underlying index since one cannot directly invest in an index. However, investors are cautioned that despite being a 3X leveraged ETF, DPST stock is meant to return 3X the underlying index's return for less than a day, which is why it is known as a daily ETF.
Investors should only hold DPST stock for short periods as a hedge against other positions, and they should never hold it for long-term returns since they will be disappointed. Hence, only experienced investors should invest in leveraged ETFs such as DPST.
Now that the DPST stock is flying high once again, it is just a matter of time before the downtrend resumes since the underlying index of Regional US Banks is still under bearish pressure, given the high interest rates and challenging lending environment.
*This is not investment advice.
DPST stock price.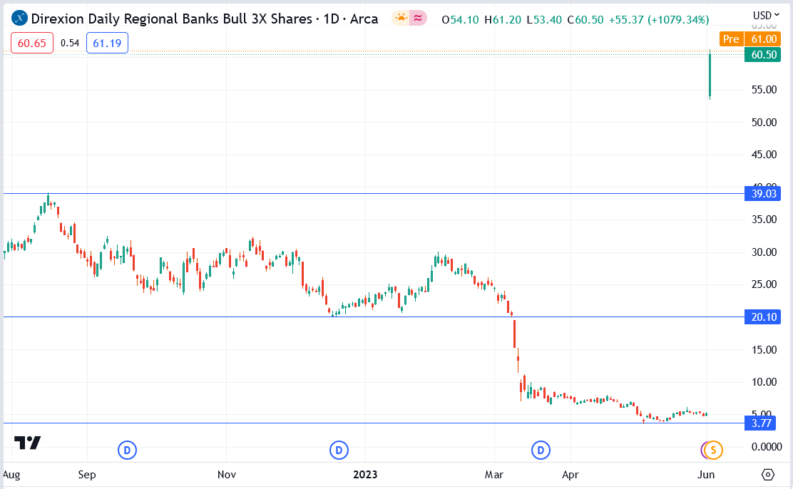 Direxion Daily (DPST) stock rallied 1079.34% higher on Friday after a reverse stock split.
---
YOUR CAPITAL IS AT RISK. 81% OF RETAIL CFD ACCOUNTS LOSE MONEY.
---