The IQE plc (LON: IQE) share price rallied 18.7% to recover most of yesterday's losses after the company announced the closing of the capital raise in which the participating shareholders had been given a discounted price of 20p per share.
---
YOUR CAPITAL IS AT RISK. 81% OF RETAIL CFD ACCOUNTS LOSE MONEY.
---
The semiconductor wafer producer had announced a placing to raise gross proceeds of £30 million (before expenses) by issuing 150,000,000 new Ordinary Shares in the company via its joint brokers Peel Hunt NRE and Numis Securities Limited.
The issue price of 20p represented a discount of about 14.9% to the closing price of 23.5p per existing share on 17 May 2023. The new placing shares issued represented about 18.6% of the company's issued share capital after the fundraising completion.
Today's announcement triggered a rally after IQE announced that it would issue 5,492,730 new Ordinary Shares at a price of 20 pence to existing retail investors of the Company in connection with the REX Retail Offer.
The company has now raised a total of £31.1 million when combining the amount raised by placing 150,000,000 new Ordinary Shares and the 5,492,730 shares issued via the REX Retail Offer to reach a total of 155,492,730 new.
Retail investor interest in the company triggered the rally as investors came to terms with the dilution of existing shareholders and the discount offered to the new investors. As a result, the rally higher almost recouped all of yesterday's losses.
Lombard Odier Asset Management (Europe) Limited agreed to subscribe for 50,000,000, placing shares at the issue price. Accordingly, the participation of Lombard Odier was a related party transaction under rule 13 of the AIM Rules.
Some of IQE's directors also subscribed to the offer for about 12,700,000 of the placing shares at the Issue Price, a related party transaction.
*This is not investment advice.
IQE share price.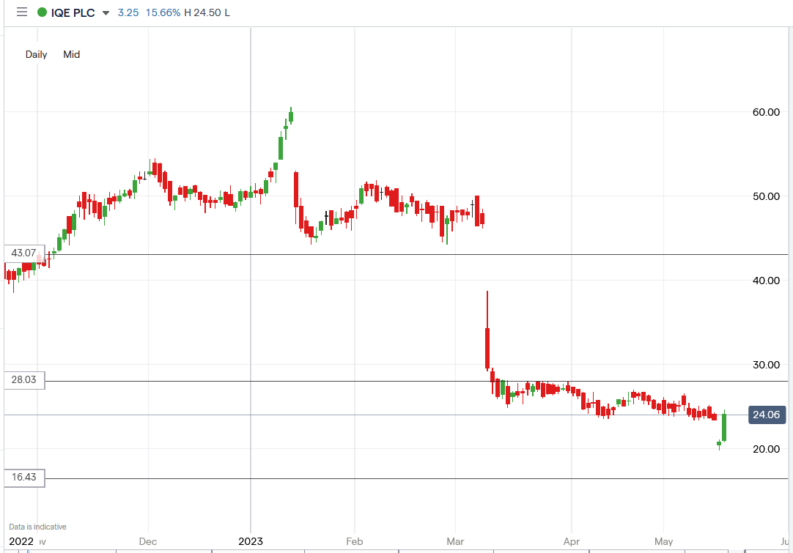 The IQE share price rallied 18.74% to trade at 24.64p from Thursday's closing price of 20.75p.
---
YOUR CAPITAL IS AT RISK. 81% OF RETAIL CFD ACCOUNTS LOSE MONEY.
---