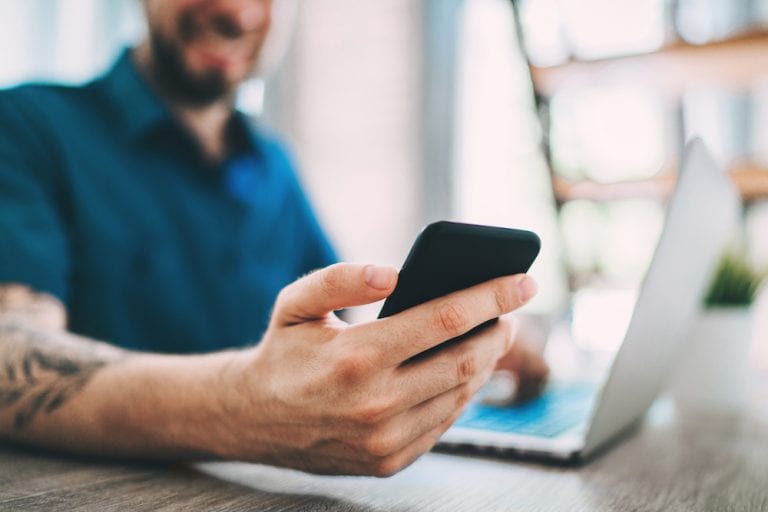 You may be intrigued to learn more about Football Index, the unique share trading platform, and in that case, we would point you towards our extensive review of the brand. This will tell you everything you need to know about this exciting concept!
In essence, Football Index is a hybrid of trading and betting. You are 'betting' by buying shares in certain footballers from around the world, and then trading for a profit, ideally, when they perform well on the pitch or their reputation in the game increases and thus so too does their price.
It's easy to sign up for a new trader account, and this guide will take you through each step of the process of making a deposit.
We'll also let you know how to trigger the Football Index deposit bonus, which payment methods are accepted, how to add funds to your account, and so on.
Please read on to find out everything you need to know about making a deposit with Football Index.
What is the minimum deposit? 
At the time of writing, the Football Index minimum deposit was £10. This is quoted in pounds sterling because, for now at least, only traders from the UK are allowed to join.
You can also set your own deposit limits, if you want to keep your trading at a manageable level. These can be tweaked to daily, weekly and monthly limits, and take effect after a 24-hour cooling-off period.
To set your own deposit limits, simply follow these steps:
Log into Football Index
Click on 'Account' in the dashboard
Select 'Deposit Limit'
Switch between daily, weekly or monthly as you wish
Choose your limit
Be sure to click 'Confirm'
You can request to change your current deposit limit by using the 'Deposit Limit' tab.
Interestingly, different users have stated different amounts that they have been quoted as a maximum deposit.
In Football Index's T&Cs, the minimum deposit amount is specified but not the maximum. However, it should be noted that the brand is trying to welcome traders to the platform just as much as bettors, so expect a high limit to be introduced.
Also, another thing to consider is the welcome bonus: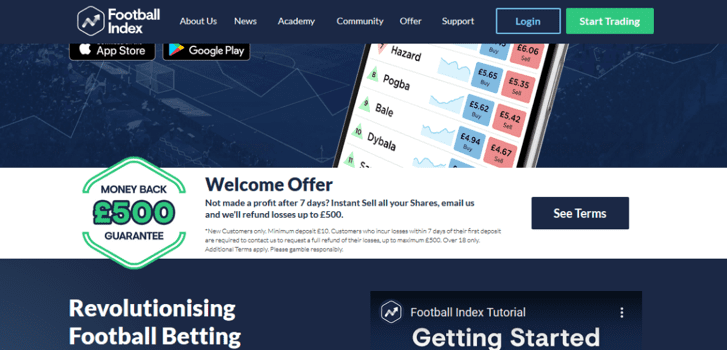 You need to deposit a minimum of £10, of course, but to really maximise your advantage from the offer, it makes sense to deposit as much as you can – after all, this is risk-free 'betting' given that all losses are refunded.
What deposit methods can I use?
At the moment, there are only two Football index deposit methods that you can use: Visa or Mastercard. We expect more to be added in due course, such as PayPal, etc.
You can change your payment method if you get a new card or your old one expires. All you need to do is make a minimum £10 deposit using your new payment card, and this will replace the old one in the system.
Here's something else important to note: Football Index cannot accept deposits from anyone other than the named account holder – e.g. you can't make a deposit from a friend or family member's card.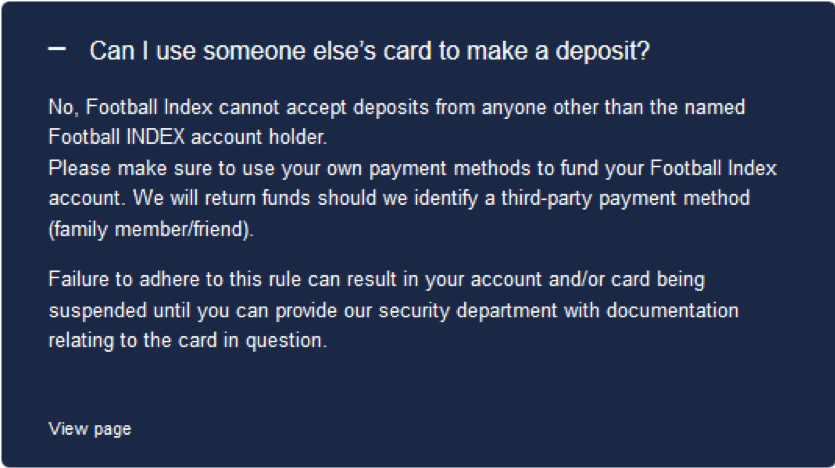 Where a third-party payment method has been used, funds will be returned and you will not be able to trade.
Also, your account might be suspended, or the card blocked, until you can provide the Football Index verification team with documentation that proves the identity of the cardholder.
How do I make a deposit to my Football Index account?
It's really quick and easy to make a deposit into your Football Index account, and this gives you the peace of mind knowing that you can be up and running with your trades in seconds.
Even more importantly, all transactions are carried out on the brand's secured platform, which features the latest in SSL encryption technologies. You can rest easy!
Here's your step-by-step guide on how to make a Football Index deposit:
Log into your account at Football Index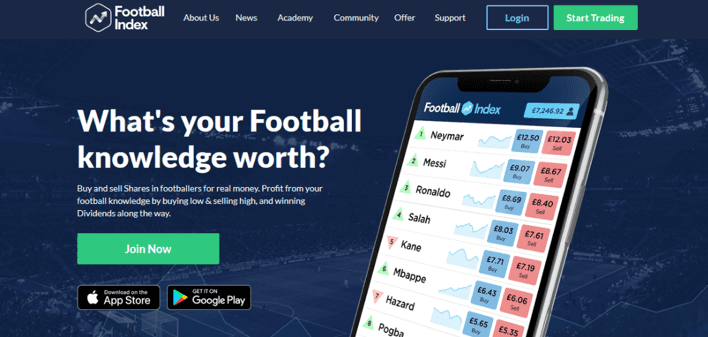 Head to the 'Account' section of your dashboard
Click on the 'Deposit' option
Enter the amount you want to deposit
Select your payment method (Visa/Mastercard)
Hit the 'Pay' button and start trading!
In rare instances, it should be noted that it's not always the case that your payment is instantaneous, and so the Football Index deposit not showing can be an issue.
Usually, most users find that if they wait five minutes and then refresh their balance, the deposit has now been successfully paid into their account.
If you are unfortunate, a scenario may unfold where you receive a 'Football Index deposit suspended' message on screen.
There can be a number of reasons for this, but often these are attributed to the verification process. Football Index is part of the 'Know Your Customer' (KYC) scheme, and so it has to ask traders for certain info and ID.
If your deposit is suspended, do double-check the information in the screenshot below: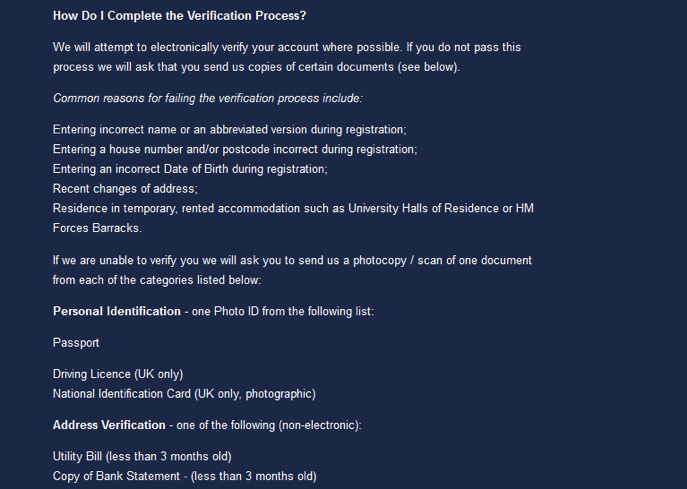 Are my funds protected?
Like any online company that holds customers' funds, Football Index has to manage its clients' money lawfully and appropriately.
Under the terms of its UK Gambling Commission licence, it has to publicly reveal what happens to all of the funds it holds, and also tell its customers what happens should it go insolvent.
All of the funds that you put into Football Index are held separately from the company's trading money in a trading account under the name BetIndex Limited, and only deposits and withdrawals are actioned from this account.
As such, there is never a conflict of interest there, and you can withdraw any time you wish. This also meets regulations regarding segregation of funds.
This ensures that the brand has taken all possible steps to protect your cash. However, should it go insolvent, there isn't an absolute guarantee that you will be repaid. That sounds alarming, but it's the same kind of concept used by many other cash-handling businesses.
Conclusion
As you can see, it really is very easy to make a deposit with Football Index.
The process is straightforward to carry out via your dashboard, and payments tend to be completed swiftly – you'll be up and running in no time.
Football Index gets knocked down a mark or two for only accepting Visa and/or Mastercard deposits, however. As we enter the 2020s, it really is unreasonable for a major online platform not to accept a broader range of payment methods!
However, let's remember that this is a new brand set up by a fledgeling web-based entrepreneur, and these kinks can be ironed out easily moving forward simply by adding PayPal, Skrill, Neteller, bank transfer, and so on.
Besides, what Football Index is offering is wholly unique and innovative – you simply won't find a 'stock market' quite like this anywhere else.
PEOPLE WHO READ THIS ALSO VIEWED: