Hopefully, you will make some excellent trades during your time with Football Index and the opportunity will arise to cash out with a profit further down the line. Keep reading to learn more about Football Index withdrawal.
Before we get started, take a look at our other Football Index guides:
So how do you action a Football Index withdrawal?
In this guide, we will take you through each step of the process, reveal all about any fees or small print you should be aware of, and help you to ensure that your 'winnings' hit your bank account in as a quick a timeframe as possible. We will cover the following in this article,
Making a withdrawal from Football Index account
How long does withdrawal process take place
What are the fees involved
Cancelling a withdrawal
Without further ado, let's get started with our guide to Football Index withdrawals.
How do I make a withdrawal from my Football Index account?
Generally, the concept behind trading with Football Index is to hold your shares for as long as possible, given that player valuations are less prone to fluctuations than many of the other assets you might be trading.
That said, if you accumulate a decent profit, then you might want to get your hands on the money as soon as possible.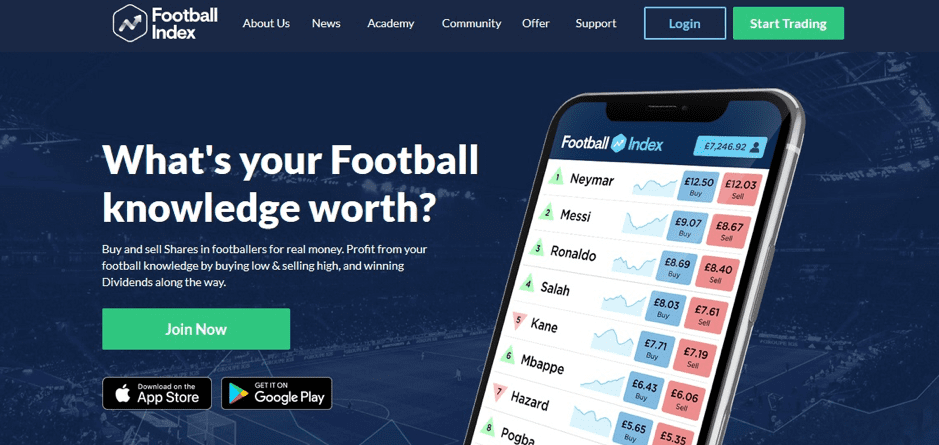 At this point, you will need to action a Football index withdraw, which you can do by following these five easy steps:
Head to the Football Index site and login
Click on 'Account' in your dashboard
Select the 'Withdraw' option
Enter the amount you wish to withdraw
Hit the 'Confirm' button
Soon enough, the cash will be heading your way!
Generally, you will be able to make your withdrawal straight away with no questions asked. However, there are some things to consider…
Your funds can usually only be withdrawn if they are not attached to any promotion or bonus you may have claimed. At the minute, that is unlikely given the terms of the Football Index welcome bonus, but if they change that to a deposit match or similar then be aware that the goalposts are moved when it comes to making a withdrawal.
Also, all payments into your account need to have cleared prior to a withdrawal being processed, and you must also satisfy the identity check requirements as outlined by the Know Your Customer (KYC) regulations.
As a brand licensed by the UK Gambling Commission, Football Index must adhere to the KYC protocol. Therefore, you will be asked to verify your identity prior to making your withdrawal.
How long do Football Index withdrawals take?
From the minute you start the process, it can take up to 10 working days for your Football Index withdraw money to hit your chosen payment method when making a deposit.
Football Index operates a closed-loop policy when it comes to withdrawing funds. A closed-loop policy means whichever payment method you choose during a deposit will also be the payment method for withdrawal.
As for now, Football Index only accepts payments on Visa and Mastercard credit and debit cards, thus making withdrawal funds longer. If they had PayPal and other e-wallets, clearly these processing times would be quicker.
Further delays are also likely when bank holidays feature in your ten-day timeframe.
What are the withdrawal fees?
At the time of writing, there currently is no Football index withdrawal fee to contend with, as confirmed by their terms & conditions.
That's as far as Football Index is concerned, anyway. Of course, your bank may charge a processing fee, as might any apps or payment platforms that you choose to use.
However, generally speaking, there are no fees or charges for deposits and withdrawals.
How do I cancel a withdrawal?
There may be the odd occasion where you ask for a withdrawal by mistake, or as the process is going through you wish to cancel it before completion.
Whether you can, and how you go about it, depends on which point in the timeline you try to cancel your withdrawal:
The payment has not yet been processed by Football Index
The payment has already been processed
In the first scenario, you can cancel your withdrawal by contacting the customer support team at Football Index within 24 hours of requesting your money.
In the second case, there is not a huge amount that can be done, although you can contact your card provider to see if there is time for the payment to be cancelled.
Another situation occurs when your card is no longer valid, or you have switched banks. In this case, the money can sit in a suspended account, and you will need to contact Football Index for a proof of transaction.
Then, you can show that to your bank or card provider who will be able to take action accordingly. 
Recommended Football Index Alternatives
If you're looking to deposit your profits with a new sports trading broker then these are the ones we recommend. At AskTraders we compare broker across several categories to help you choose the right broker for you.
What happens if I have issues with my withdrawal?
If you are experiencing problems with your Football Index withdrawal, it is probably down to one of two factors.
The first is verifying your identity. Football Index has to ask for ID due to the KYC regulations mentioned above, and so they essentially run a background check on the identification that you provide.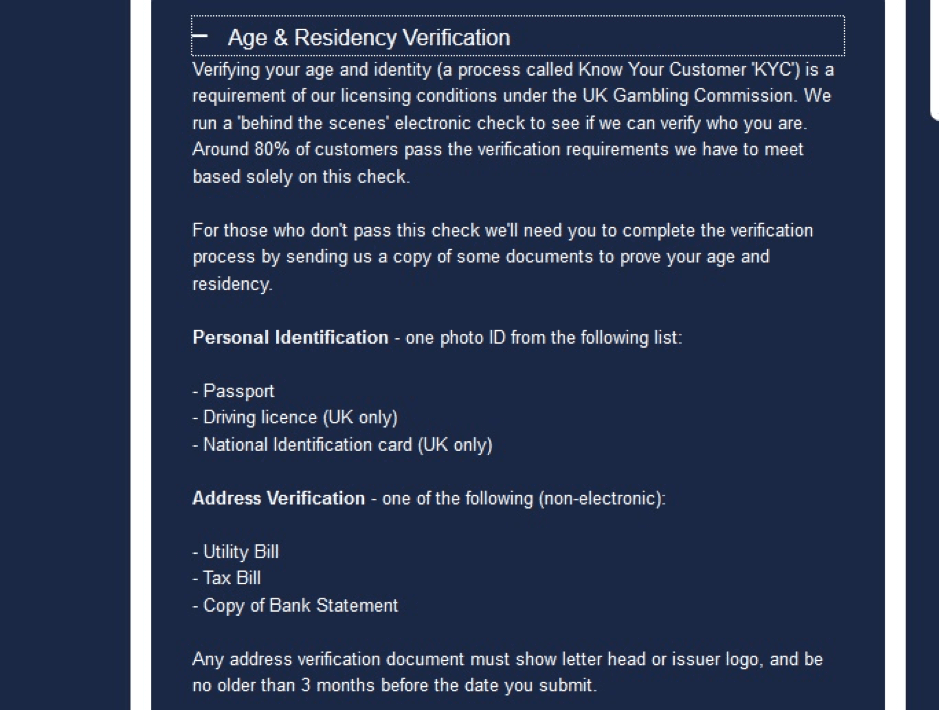 So, if you fall into the 20% who don't pass the verification checks the first time, then don't worry. You may just have to send another document before your withdrawal can be processed.
You can see the accepted forms of ID in the screenshot above, but for quick reference:
Passport
Driver's Licence
National ID Card
Utility Bill
Tax Bill
Bank Statement
Secondly, you need to remember that Football Index can only pay your withdrawal to the card that you made the deposit with.
This is also true when you have two different payment methods linked to your account. So, if you deposit £100 using Visa and the same from a Mastercard, you couldn't ask for your £200 to be sent back to one or the other.
This may sound over the top, but it brings Football Index into line with standard anti-money laundering rules. 
Conclusion
If you have read our review of Football Index, you will already know that we are nearly overwhelmingly positive about this exciting platform introducing sports bettors to trading and vice versa.
Those feelings of positivity extend towards the withdrawals process, which is easy to do via your account.
Sadly, it's not all good news. Due to the fact that Football Index only accepts card payments, it means the amount of time it takes for your withdrawn cash to hit your bank account is a lot lengthier than you may have become accustomed to.
That shouldn't stop you from joining Football Index and enjoying the platform but be warned that there is a delay in getting your hands on any dividends you accrue from your trading.
Still, that only adds to the anticipation!
People who read this also viewed: