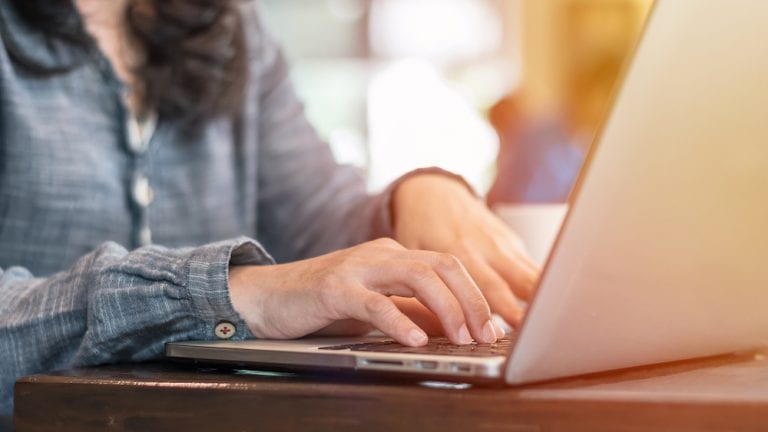 Sporting Index is one of the oldest spread betting companies in the UK. In fact, it was the very first spread betting company to go live on the internet. On top of this, it has also been around in general for almost 30 years. It truly is the elder statesman of the spread betting industry. Since its website first launched back in 2001, there have been a huge number of jumps forward in terms of technology. However, Sporting Index has managed to keep itself at the forefront of these technological advancements and managed to stay as a market leader.
Because Sporting Index was the first, it feels that its duty is to be an innovator and a trailblazer. The broker has done this by regularly increasing the number of features that are included on its website. This is related to everything from making the site easier to navigate to introducing a mobile app for players who want to play on the go. It is more than just aesthetic additions. Sporting Index regularly adds new tools for customers to use, which can help to improve their spread betting performance. On top of that, the broker also provides a superb educational portal for new and old users alike.
Because the platform regularly goes through updates, it is always state of the art. With that being said, we still intend to show you exactly how to use the Sporting Index platform and what you can get out of it.
How do I open an account with Sporting Index?
It is very simple to open an account with Sporting Index. Just make your way to the website and look at the top right-hand corner of the screen.
Here, you will see a button that says 'Join Now.' Click on this to begin the process of joining Sporting Index.

When you have clicked the button, you will be taken to a new window that will prompt you to enter your personal details.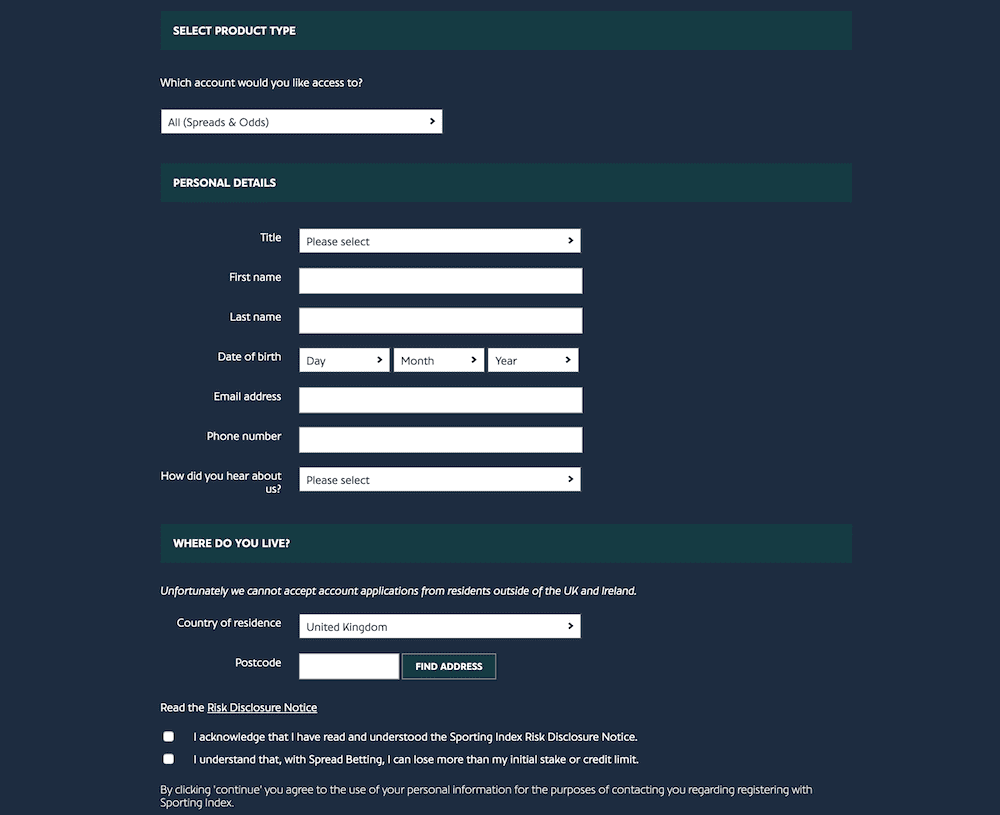 At the top of this screen, you will be given a choice as to whether you want to use the fixed odds only or both the spread betting and fixed odds options.
Once you have chosen this, you will need to enter all of the required information.
As soon as this is done, you will be able to move on to the next step. This is where you will create your account information. This includes things such as your username and password.
Once this is done, you will be able to move on to the confirmation page.
Sporting Index is regulated by the UKGC and FCA. This means that there are certain security protocols in place that can impact on how quickly your account can be created. While it does not add a serious amount of time on to the sign-up process, you may have to verify your account so that Sporting Index can comply with the regulations that are in place.
How do I navigate around my account?
It is very easy to make your way around the Sporting Index website. Both the desktop and mobile websites are easy to navigate, with descriptive hyperlinks at the top of the page. This makes it very simple to move to the section that you want to use.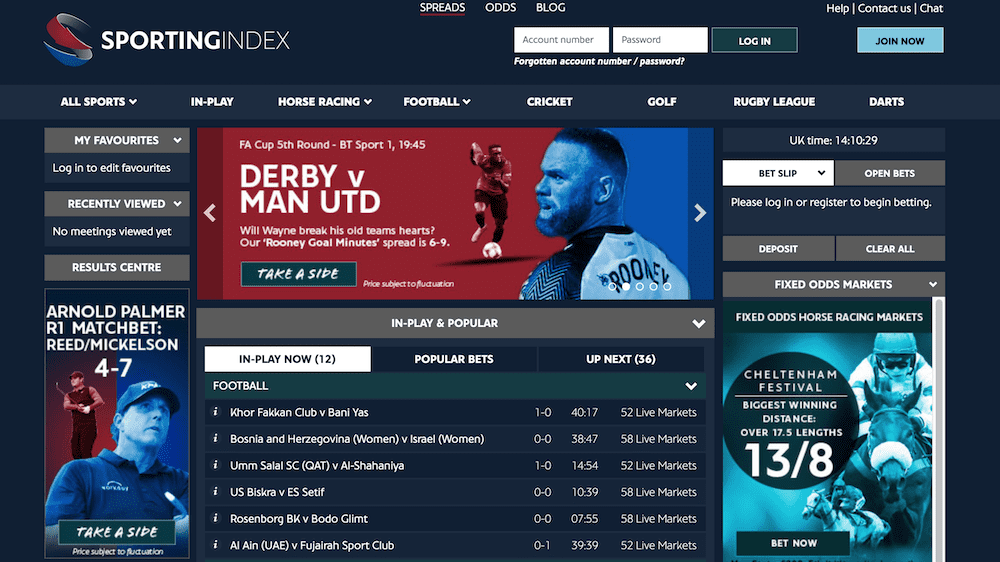 As shown in the image above, you can see that the links at the top of the screen make moving around very easy. The most popular sports are all available instantly, and the less popular sports can be accessed with a single click. On top of this, all current in-play options can also be accessed with a single click.
Making a deposit or a withdrawal is also a simple task. All you have to do is click on the account button. This will give customers the ability to choose the option they want. From there, they can choose the payment method that they want to use to carry out their instructions. The account tab also allows other management choices to be made – for example, setting up charts and logging out of your account. You can also set up push notifications for the mobile app through here.
The Sporting Index platform is very simple to use, and it helps customers when it comes to placing wagers. It is accessible for anyone – this includes new users. If you are struggling, then you also have the ability to learn as you go with the education portal.
How do I place a bet?
If you want to place a wager with Sporting Index, whether you are using the Sporting Index app, the Sporting Index mobile site or the standard desktop site, it is very easy to do so. Your first step is to choose the sport that you would like to place a wager on. This can be done through one of the popular links at the top of the page, or with the link to all sports or in-play bets also at the top of the page. Once you have chosen your sport, you can choose the event that you would like to place a wager on.
Once you have chosen the market that you would like to wager on, you can choose whether to sell or buy. When spread betting, it is important to remember that you can lose more than your original stake if the spread strays too far from what the original spread was.
How do I place a stop loss?
Sporting Index offers two different types of accounts to players. There is a stop loss account and a no stop loss account. The stop loss account automatically applies a stop loss to every wager you place. It also provides the opportunity to place lower minimum wagers. A stop loss will limit the potential losses that you can make on wagers and therefore stops the risk of you owing much more than you can afford to lose. When you have a stop loss account, the limit will be made clear on every wager you place.
The stop loss account also includes a stop win. This means that the potential winnings are also limited. Although the risk is much lower with a stop loss account, it also lowers the potential reward. For low-stakes players and beginner players, it is probably better to use a stop loss account. This will prevent you from making large losses on a simple wager. While it will limit the potential wins on offer, it is better to have a lower risk when you are first learning how spread betting works.
Is there a Sporting Index app?
There is a Sporting Index app on offer, and it is available to both iOS customers and Android users. It offers the opportunity to use Sporting Index at a very fast rate without worrying about there being any slowdown. The app has just as much functionality as the desktop site, but it is optimised to work on a mobile device quickly. Both versions of the app allow for fingerprint log-ins, but the iOS version also offers the chance to use face ID. Both versions of the app allow for fast wagers to be placed, which is a vital tool for using in-play betting to its full potential.
If your mobile device does not have enough storage or struggles to run modern apps, then you can also use the mobile browser site. This is similar to what the app offers but does not run quite as quickly. However, it is still well-optimised, and as long as you have a fast internet connection, it should be able to give you what you need to use Sporting Index at a good level.
Conclusion
The Sporting Index platform is one of the best on the market. What is very nice about it is that it offers customers the chance to try out spread betting first by using the Sporting Index demo account. This will show off the full capability of the Sporting Index platform without you having to worry about there being any risk. Customers will find the platform easy to use and simple to navigate their way around.
The ability to set up a stop loss account is also a very nice touch. This is different from other platforms that make you have to set up a stop loss on every wager you place. Sporting Index has removed the potential to forget that step and made an account solely for stop loss players. This shows that the broker is dedicated to offering a quality service and is not just out to fleece its customers. On the whole, the Sporting Index platform is an excellent choice to get into the world of spread betting. The features are superb and it is easy to use. What more could you ask for?
PEOPLE WHO READ THIS ALSO VIEWED: