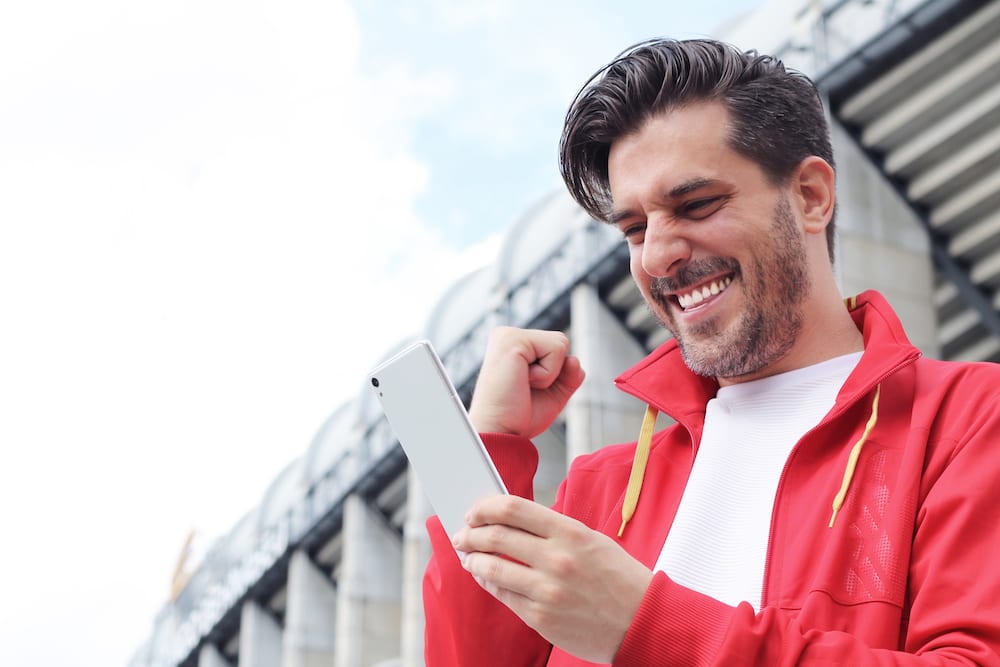 With the rise of fintech and the growing popularity of online sports betting in general, the online betting world has seen a huge amount of innovation in the last number of years. One of these innovations has come in the form of online betting exchanges, which exist in a unique space in the market. Although you might be used to more traditional online bookmakers, where would-be punters take up wagers put to them by the bookie, online betting exchanges mix up this classic formula.
When you place a bet on an online betting exchange, you aren't simply taking out odds given to you by the bookmaker themselves. Instead, you place a bet on the live markets in the hope that other users will match — or take up — your proposed bet. If they do, and your wager comes good, you keep the winnings. If the odds turn against you, however, the winnings are given to them.
Although this might seem like a relatively small change to how bets are traditionally placed online or at a physical bookmakers, it completely changes the dynamic of classic sportsbook betting. Instead of the platform acting as a way for an individual user to place a wager with a bookmaker, betting exchanges turn the bets themselves into a sort of live market, where wagers can be traded on a live exchange. In this sense, the betting platform acts like a stock trading platform where users can seek out bets with other users. The end result is an exciting mix of betting, trading and sporting strategy.
One of the most prominent players to enter this new space is Matchbook who, over the last decade in operation, have built up a strong name for themselves in the industry.
Getting started in this world can often be a daunting task for newcomers. Beyond getting to grips with this new way of betting online, you also have to set up your account. Although it might seem like a relatively straightforward task, it can often be a case of 'easier said than done', often taking you more steps than you initially anticipated.
One of the first things you will need to do to get your account up and running is to make an initial deposit. Once this has landed in your account, you can then get on to the live betting exchanges and start betting!
With that said, in this brief article, we will give you a thorough overview of the various steps involved in setting up and topping up your Matchbook account. We will pay particular attention to the Matchbook deposit methods on offer, being careful to give you a heads up if there are any hidden charges or steps involved. Once you get through this initial step, you will be set up and ready to start betting.
What is the minimum deposit?
Despite what you might have initially thought, minimum deposit amounts can vary a huge amount depending on what platform you are using. For this reason, it is good practice to check the fine print before making that first deposit to avoid having it refunded to you.
In terms of where Matchbook stands, there doesn't appear to be a strict minimum deposit amount mentioned in the terms and conditions. A number of reviews online seem to indicate a £5 deposit minimum is in place. We couldn't verify this limit with our own research, however, and despite a thorough reading of the terms and conditions, we couldn't find any mention of a Matchbook minimum deposit.
It's important to remember that deposit minimums might vary depending on the deposit method you use. As such, you may have to check with whatever provider you choose to make the deposit with. For this reason alone, it is always worth reading the terms and conditions in depth before attempting an initial deposit!
What deposit methods can I use?
As you would expect, there are a number of options available to Matchbook users when making a  deposit. It should be noted, however, that your account needs to have been fully verified before making a withdrawal, otherwise your account will be locked. Once your account is verified, withdrawing from the platform is thankfully a relatively simple affair.
The most prevalent of the available deposit options are debit and credit cards, with Matchbook accepting both Visa and Mastercard. In terms of what other Matchbook deposit methods are available, you can use bank transfers as you would expect, in addition to e-payment services such as Neteller, Skrill, Paysafecard and PayPal.
In general, the most efficient deposit methods are going to be the e-payment or online payment services, such as Neteller and Skrill, with bank transfers and debit/credit cards tending to take 2-3 days to process.
Users of the Matchbook platform should be careful to note that Matchbook operates what is known as a 'closed loop' policy. This essentially means that any funds that are deposited to the platform must be withdrawn using the same method as the original deposit. For example, if you deposit £50 using a Visa debit card, if you want to withdraw this at a later date, you must do so using the same method. While this might seem like an awkward policy to have in place, Matchbook is required to abide by this policy under the 'Know Your Customer' and money laundering regulations.
In terms of how this affects what type of deposit method you intend to use, it is worth bearing this policy in mind as it will have an obvious impact on how you can get your money off the platform.
How do I make a deposit to my Matchbook account?
When it comes to actually funding your Matchbook account, the process is incredibly straightforward.
Firstly, if you have any queries about this process, you should head over to the 'FAQ' section of this website which sets out in full all the relevant information related to account top-ups.

Once you have signed up and created an account, all you need to do is simply login to your account via the front page of the website.
The login box is located in the top right hand corner of the main page.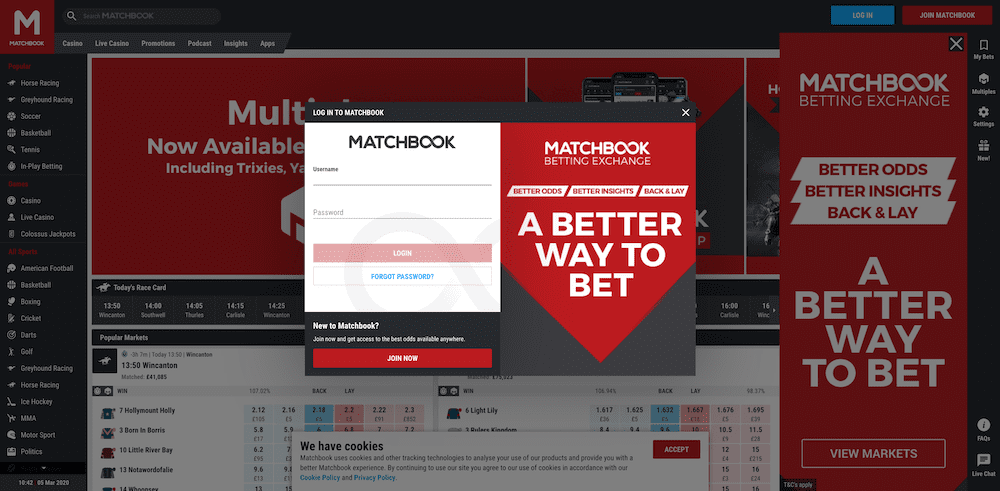 After you have logged in, head over to your Matchbook account and click the "deposit" button at the top right-hand side of the website.
This redirects you to the cashier section of the platform, where you can arrange deposits using a variety of methods.
After this, simply choose your preferred deposit method and follow the on-screen instructions. Once you have entered in all your details correctly, you can then hit submit and wait for the funds to reach your Matchbook account!
Are my funds protected?
In an industry such as this, knowing that your account funds and financial information will be protected to a proper standard is incredibly important. Personal financial information such as this is incredibly important, and it is essential that your platform of choice is handling this information securely.
With that said, Matchbook is regulated by both the AGCC and UKGC — two prominent regulatory bodies in the industry — which indicates that it is fully safe and legal to use the platform in the UK and Ireland, and a number of other European countries. Not all countries allow access, however, so it is important to check this before committing to the platform.
Additionally, Matchbook also has a third-party verification process in place to ensure their games meet the highest compliance standards, which is obviously great from a customer protection perspective. Matchbook seems to take the same care in ensuring their servers are encrypted and secured to the highest standard, with the website using SSL advanced encryption up to 128 bits.
This ensures that your account is secured to the highest standard, meaning your funds will be on secure lockdown and accessible only to you!
Conclusion
As you can tell from the above, funding your matchbook account is a relatively simple affair. Although the account creation and verification process takes a little bit of time, topping up your account is a relatively efficient affair.
From first logging into your account to hitting submit on the deposit, this process can be completed in a matter of minutes from start to finish! Although the processing times will depend on what deposit method you choose, your Matchbook deposit will generally be processed within 1-2 days. If you use online payment services, this will be even more efficient and might only take a number of hours.
With that said, there is no need to delay the process any longer, so top up your account and start betting today!