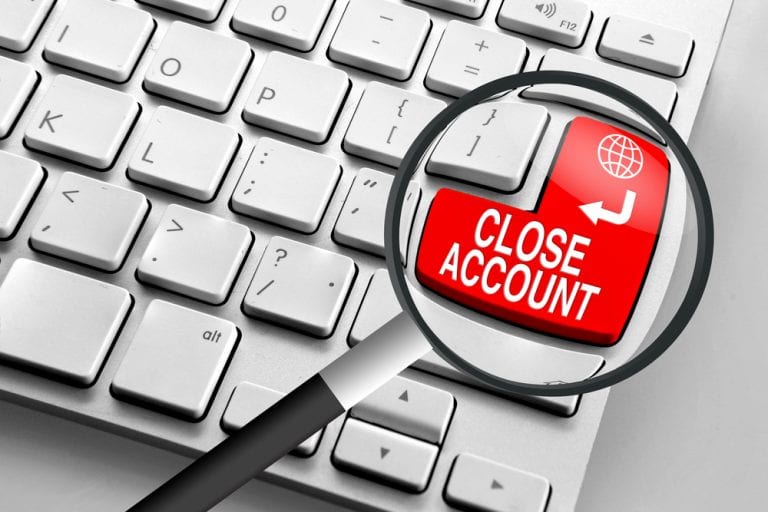 Closing a trading account can be a difficult choice to make, not least because you've already spent time and money opening it in the first place. If you are reading this piece, it already means that you are thinking about how easy it is delete a Smarkets account and if you read on you will find out all the information you need.
If you are going to be using other brokers, it's best to take one last chance to weigh up all the good and bad points of staying with Smarkets and some of the things to think about are how easy it is to contact the company to resolve issues, what the terms and conditions surrounding cancelling an account might be and ultimately whether it is the right choice to make.
As Smarkets is a UK-based betting exchange, it is highly regulated by the UK Gambling Commission, which means that your funds are very well protected. The popularity of the platform is something else that is without question as it has processed in excess of £5bn worth of transactions since first starting to trade to the public in 2010.
The range of markets is a big attraction too, as Smarkets isn't just limited to an admittedly large number of sports, it also covers politics and current affairs too.
Perhaps the most important thing to think about when deciding whether or not to close your Smarkets account is if any of its rivals offer a better user experience. The clean and intuitive design of the platform puts many others in the shade and, of course, the low fee of 2% commission charged on successful bets makes it extremely attractive too.
How do I contact customer services?
Contacting Smarkets is easy because the company offers several different ways of going about things. Whether you need to get in touch because of a problem with your account or simply to find out some additional information that you can't find an answer for on the extensive website help section, getting in touch with Smarkets support email is simple via [email protected] and the firm also has a good record of promptly getting back to people who contact them via their Twitter page @SmarketsTech.
The Help Centre can be easily found by clicking on the question mark icon in the top right-hand corner of the website's home page.

From there, you will be able to find the "Contact Us" section under "Using Smarkets."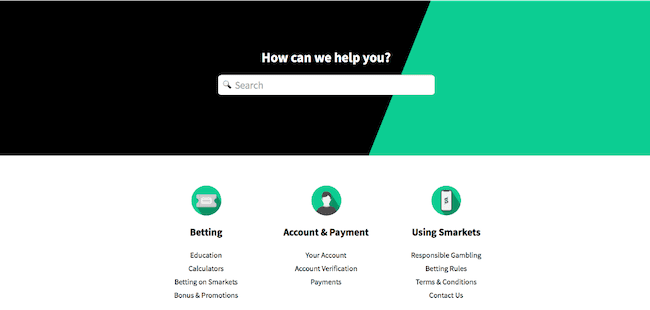 This will bring up three options including a list of the various ways of contacting the company, as well as details of how to make a complaint and how to join the Smarkets community forum.
On the website, there is an online live chat facility that operates 24 hours a day, 7 days a week, although this can only be accessed by users who are logged into their accounts at smarkets.com.
Contacting several companies on the phone can be a pain, but Smarkets has a good reputation for answering your calls quickly. The lines are open at the Smarkets phone number +44 207 617 7413 between 09:00-00:00, but this service is for customers only.
The company can be reached by post at:
1 Commodity Quay
St. Katharine Docks
London
E1W 1AZ
United Kingdom
As well as dealing with the usual types of customer support and relations questions, Smarkets also offers a dedicated contact for reporting bugs and vulnerabilities by email at [email protected], while queries regarding the API can be dealt with at the [email protected] address. Finally, anyone interested in exploring affiliate options can contact Smarkets at [email protected]
Where can I find Smarkets' terms and conditions?
As you might expect from a platform that prides itself on transparency, it isn't hard to find the terms and conditions that apply when you have a Smarkets account.

The information section goes into great detail about the basics of the company, including the registered trading details for all aspects of the operations.
Account rules cover everything from the minimum legal age for participation through to the list of countries whose residents are not eligible to register with Smarkets.
The general account terms and conditions are fairly standard and basically cover the legalities of using the platform and ensuring that you submit the correct information required to verify your identity and use your account to the full.
Betting rules, currency restrictions and many other aspects are also covered in detail.
The T&Cs covering welcome bonus offers are situated on another part of the website and, again, are fairly standard rules aimed at making sure no one takes an unfair advantage of offers for personal gain.
What are the pros and cons of the Smarkets platform?
The Smarkets platform has quite a lot going for it, or else it wouldn't be such a success story. So, what are the pros which make it such a good trading platform?
Every customer experience with a betting exchange starts with the registration process, and Smarkets offers one that is simple, straightforward and fast.
In today's world of heightened concerns around cybersecurity and safe online activity, any web-based interaction that involves money and handing over personal data has to be looked at carefully. In this regard, Smarkets scores highly.
Not only does the site use Transport Layer Security (TSL) and Secure Socket Layer (SSL) methods to process transactions, making it one of the most secure platforms in the sector, it also holds a UK gambling licence under the UK Gambling Commission (UKGC). This means that, amongst other things, player funds are ring-fenced and kept separate from operating funds to give users even more peace of mind.
The website and app are designed with the customer in mind and, as such, offer a really easy to navigate UI – this is a big plus in a fast-moving betting environment where the last thing you want is to lose out because you're still trying to work out how to place or lay a bet.
The minimalist approach to design and the fact that there aren't too many page redirections all increase the speed and ease of use.
Of course, nothing will ever be 100% perfect, so there are some cons too. One thing that divides opinion is whether the owners of Smarkets are right in their decision to avoid slots and other casino-based games, which for many of their competitors prove extremely popular.
Fans of Smarkets say that this move allows them to concentrate on doing the core markets well and that covering all the big sporting events plus TV, politics and current affairs is more than enough to be getting on with. However, anyone who enjoys the odd bet on the spin of the wheel or turn of the card may disagree.
The only other real con is that some users have reported that the systems fail at important times and disrupt betting activity, leading to disputes over whether bets were valid. This seems to be fairly isolated and is certainly not something that is unique to Smarkets but affects all online betting platforms from time to time. However, it is something to bear in mind no matter which broker or exchange you use.
Should I close my Smarkets account?
Having hopefully laid out clearly the positives and negatives of Smarkets as a betting exchange platform, this should make it easier for you to come to a decision whether or not to close your account.
Even so, it's still a tricky thing if you intend to continue using betting exchanges, as finding a new one and making sure that a move would be beneficial for you can be a difficult task.
In many other areas of life, the old saying 'better the devil you know' usually has a ring of truth to it, and in this instance that common sense applies too. The industry-leading nature of Smarkets' technology, as well as the many ways it offers you to contact customer services, are both big plus points in its favour.
Perhaps the key reason to really think about whether or not to cancel your Smarkets account is whether doing so might actually cost you money. The transparent flat fee of 2% levied on winning trades is the only cost involved in Smarkets transactions and, as such, it offers very good value for money when compared with other rivals such as Betfair, whose basis commission rate is 5%.
The positive aspects of Smarkets' platform do seem to outweigh any negatives that might be found, and the ease of use it offers is another major advantage that continues to win it many new fans.
Although it can never hurt to keep an eye on other options, at the moment, Smarkets seems to tick far more boxes that it misses out on and therefore it might be best to stay on board.
PEOPLE WHO READ THIS ALSO VIEWED: