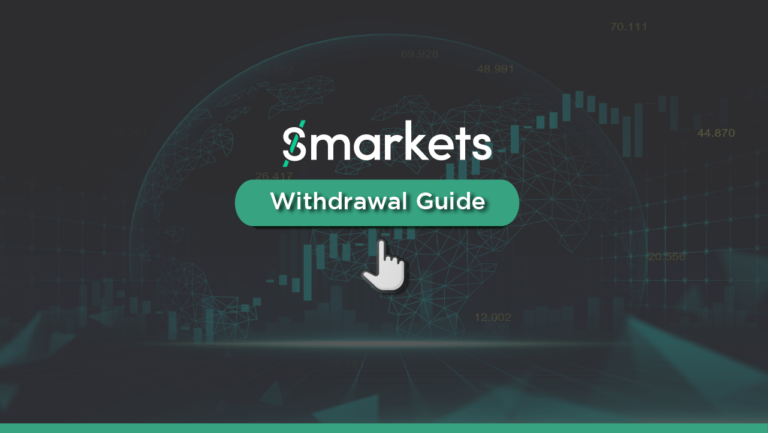 Smarkets withdrawal methods are simple and straightforward, and this is one of the reasons the platform has become such a popular one over recent years. Here we give you a step by step guide on how to make withdrawals including all the details, such as how much it will cost you and how long it is likely to take.
How long do Smarkets withdrawals take?
How do I make a withdrawal from my Smarkets account?
Smarkets Minimum and Maximum Withdrawals
What are the withdrawal fees?
How do I cancel a withdrawal?
What happens if I have issues with my withdrawal?
Before We Get Started, Take A Look At Our Other Smarkets Guides:
How long do Smarkets withdrawals take?
Smarkets withdrawals are straightforward to carry out, but the length of time they take to complete is dictated by third parties, namely the payment method service providers, so the actual time varies depending on the chosen deposit method.
| | |
| --- | --- |
| Payment Methods | Withdrawal Time |
| Open Banking | 12 Hours |
| Credit / Debit Card | 1-6 Business Days |
| e-Wallets | 1-2 Business Days |
| Bank Transfer | 5-10 Business Days |
If a withdrawal has not reached your account in the time frame that you expect based on the above information, you first need to check that the withdrawal process completed in your Smarkets account and that the funds were debited from it.
In cases where the funds can be seen to have left your account but have not arrived at the desired destination, you can contact Smarkets by email at [email protected]
How do I make a withdrawal from my Smarkets account?
As with almost all the functions available to customers on the Smarkets website and app, making a withdrawal is a straightforward process.
First of all, you need to log into your Smarkets account and select the withdraw icon, which can be found on the right-hand side of the site. This takes you to the withdrawal page.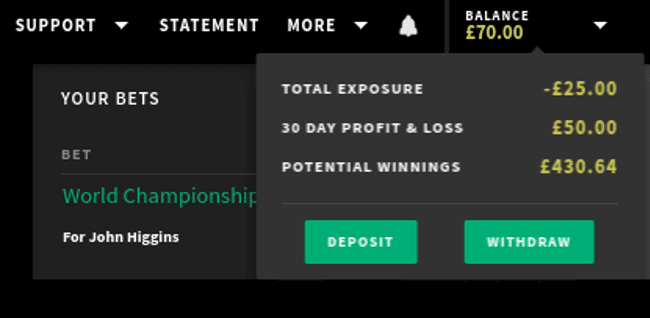 This page offers the different withdrawal methods available which will depend on how the deposits were made to your account in the first place.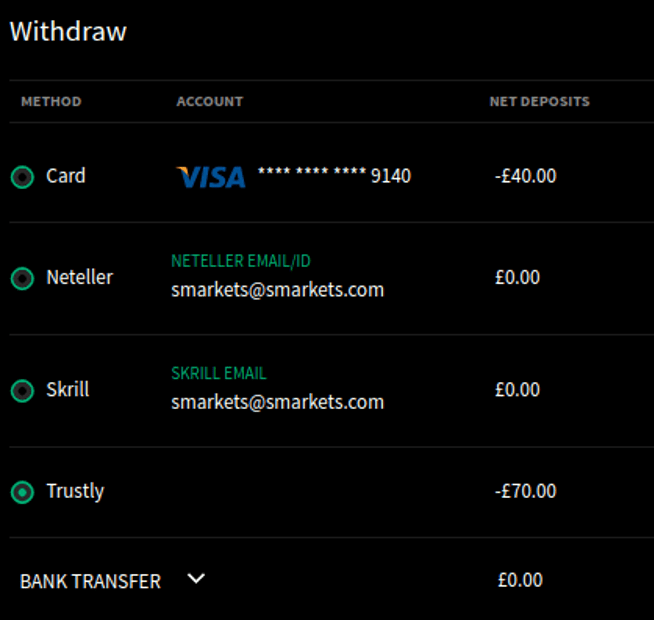 When you have selected the withdrawal method, you will be asked to enter the requested details.
Smarkets operates a closed-loop system for withdrawing funds, which simply means that you will need to withdraw funds to the same source that the deposit was made by. This can mean that you need to split the withdrawal to take into account the different deposit methods you may have used.
If more than one deposit method has been used, you are required to withdraw to the level of the net deposits made on the different methods. Although this might sound confusing, it's actually quite simple and only comes into play if you use more than one card or other source to deposit funds into your account.
Each withdrawal method that is available to you will show the maximum you're allowed to withdraw through it clearly marked out on the withdrawal page.
An exception to this rule can be made for certain Mastercard and Maestro payment methods. In these cases, withdrawals may be limited to the net deposit amount made from the card, which means that any betting profits and wins must be taken out using a different method.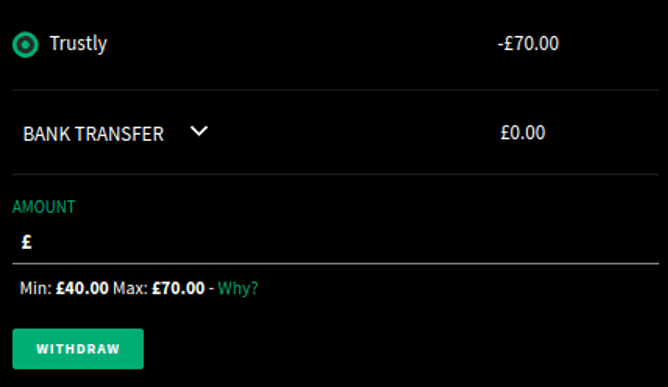 Recommended Smarkets Alternatives
If you're looking to deposit your profits with a new sports trading broker then these are the ones we recommend. At AskTraders we compare broker across several categories to help you choose the right broker for you.
Smarkets Minimum and Maximum Withdrawals
Minimum and maximum withdrawal limits apply depending on the deposit method you choose, with some options carrying no maximum but all having a minimum amount.
| | | |
| --- | --- | --- |
| Payment Methods | Minimum Withdrawal | Maximum Withdrawal |
| Credit / Debit Cards | £10 | No (maximum amount limited to deposit amount for some cards) |
| e-Wallets | £10 | No |
| Trustly e-Wallet | £40 | No |
| Bank Transfer | £20 | No |
What are The Smarkets Withdrawal Fees?
Withdrawal fees are one of the biggest ways that some online operators add hidden charges that can end up costing users money that they weren't expecting to lose.
The open and transparent way that Smarkets makes its money is part of the overall approach of the company and is highlighted by the low commission fee it charges on successful wagers. More good news for its customers is that almost all of the withdrawal methods on offer come with no charge attached.
| | |
| --- | --- |
| Payment Methods | Withdrawal Fees |
| Credit / Debit Cards | 0 |
| e-Wallets | 0 |
| Bank Transfer | £10, €12, or the chosen currency equivalent to do so |
Smarkets Withdrawal Eligibility
All withdrawals from Smarkets are subject to a closed-loop policy. When multiple deposit methods have been used, you will be limited to withdrawing up to the deposited amount until net deposits are satisfied across all methods.
For bank transfers, if your bank is in the Single Euro Payments Area (SEPA), you will need to provide your IBAN. If your bank is not in SEPA, you will need to provide your account number. You can find out if your bank falls into the SEPA category here.
The majority of countries in Europe, including the UK, fall into the SEPA category.
Your Smarkets account must be verified. In this case, you must have provided a valid photo ID, and your address must be verified either electronically or from a document you have provided Smarkets.
You can find the list of accepted documents and find out how to upload documents here.
Essentially, your Smarkets currency must match the currency of the bank account that you wish to withdraw to.
How do I cancel Smarkets Withdrawal?
Between the time that withdrawal has been set in motion, and up until the time that it is processed by Smarkets, it can be cancelled as it is still technically pending.
If you want to go ahead and cancel a pending withdrawal you can do so in the withdraw money pending screen as displayed here:

When you click cancel, the action is effective immediately, and you will receive a notice confirming the cancellation.

How to Remove Your Card from a Smarkets Account?
Another function that can be useful is removing a card from your Smarkets account. This is another simple process and can be done on the account page by clicking Manage Payments: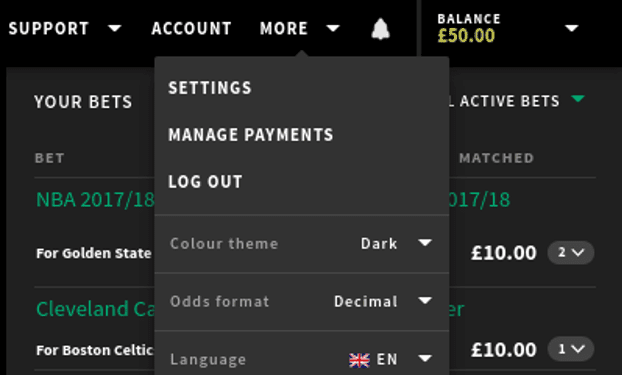 Then you simply select the card you want to remove from the account and confirm the action.

A notice confirming your chosen card has been removed will follow.

One of the reasons you might want to do this is because you wish to add a replacement card. In this case, you need to add the replacement by making a deposit with it and then get in touch with Smarkets support team who will authorise the removal of the old one.
Cards that have expired or are lost, damaged or cancelled can be dealt with in this way.
What happens if I have issues with my withdrawal?
Sometimes you might not be able to make a withdrawal for some reason. One of the most common causes is that your balance is below the minimum withdrawal requirement.
Another reason might be that you have made a deposit using another payment method, meaning that your current balance can only be withdrawn to the method in question. If this has been removed from your account, you will need to get in touch with Smarkets customer support for approval.
Problems can also occur if you are making the withdrawal in a different country to the one in which your card is registered or if the billing address is different to the one that you used when you first registered and verified your Smarkets account.
Sometimes a withdrawal can also be a problem if your card has been used too many times in the past 12 hours.
If any of these situations occur, or if your withdrawal problems don't seem to be connected to any of these issues, simply contact Smarkets support via the method of your choice and they will help you find the solution.
Conclusion
Some peer-to-peer betting exchanges have something of a reputation for making things difficult for their customers, but that certainly isn't the case when it comes to Smarkets. As shown by their decision not to diversify into slots and casino games, Smarkets keeps things simple and focuses on doing things well.
Smarkets' simplicity is shown in its revenue model, transparently based on a flat 2% commission taken on winning markets, and it extends to the methods and processes involved in withdrawing money too.
The attention to detail provided by the website, and app and the ease in which customer services, can be reached make Smarkets a good choice for both novice betting exchange users and old hands alike.
In many ways, the company has held on to its original aim of adapting financial trading practices and making them available to the betting sector, and the way in which Smarkets withdrawals can be done in a simple and straightforward way is certainly a good example of this approach.
Further Reading