Is American Battery Technology Company a good stock to buy? Some investors believe that the stock has the potential to be the next big thing. Others see it as an obscure small firm with its stock price in a short-term speculative bubble. The reality is that an American Battery Technology Company valuation is best carried out using technical and fundamental analysis methods. These highlight trading opportunities for traders using a variety of investment timelines ranging from three months to five years.

American Battery Technology Company (ABML) Share Price 2017-2021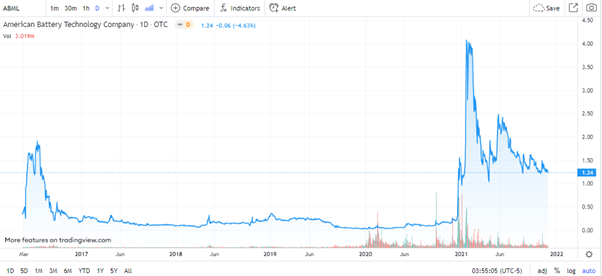 Source: MarketBeat
Who are American Battery Technology Company (OTCQB: ABML)?
American Battery Technology Company, which is in the process of changing its name from American Battery Metals Corp, was founded in October 2011, and is headquartered in Reno, Nevada. Its stock is listed on OTCQB under ticker ABML, and there are moves in place for the stock to list on the Nasdaq exchange. Such a move would be positive for the share price as Nasdaq rules and regulations require member firms to provide a greater degree of transparency to investors than is found in the OTC markets.
The firm's mission statement as displayed on its corporate site is to meet "the soaring global demand for lithium-ion battery technology with a USA-made complete lifecycle approach". It also ticks a lot of boxes in terms of clean energy. Not only is ABML in the business of facilitating the shift away from carbon, but it's also recycling a lot of the materials it uses when developing products for electric cars, grid storage applications, consumer electronics and power tools.
Its highly ethical and environmentally sustainable sourcing of critical materials is carried out in three ways:
Recycling of lithium-ion batteries to recover and reuse battery metals.
Extraction of battery metals from primary resources and development of new green technologies that can be deployed at scale – this includes the sampling and characterisation of lithium-bearing of brine and claystone sedimentary resources in the Western Nevada Basin (WNB), located in Nye County, Nevada.
Exploration and stewardship of new mineral resources globally.
American Battery Technology Company Management Team
The company's senior management team is made up of experienced industry experts and scientists. They have experience in mining and extraction, chemistry, battery materials, environmentally sustainable recycling, and government affairs. The list of senior officers includes:
Douglas Delavan Cole, chairman, secretary & controller
Ryan Melsert, CEO, director & chief technology officer
Andrés Meza, chief operations officer
David Corsaut, chief financial officer
Gregory Kuzma, chief geologist

Source: Yahoo Finance
According to official filings, in the last six months, insider dealings have seen a greater number of sell than buy trades, but the net shares purchased remained positive at 2,117,411.
Any American Battery Technology Company stock prediction must include a huge disclaimer relating to the extreme risk-return ratio that the stock offers. High volatility markets are popular with day traders, and this just adds to the 'noise' in the market. It also means that ABML stock price movement has been known to go on extended bull runs and experience dramatic price crashes. Trading strategies can therefore be set up to play short-term or long-term price moves and go short as well as long.
Where Will American Battery Technology Company's Stock Price Be in 3 Months?
Even by penny stock standards, some of the price moves in ABML are staggering. Between 11th December 2020 and 25th January 2021, the stock rose in value by 2,546%. Winning trades that catch those kinds of moves can generate life-changing amounts of money, but it also highlights the risks involved and the need for traders to only use capital that they can afford to lose completely.
American Battery Technology Company (ABML) Share Price 2020-2021 – Meteoric Price Rises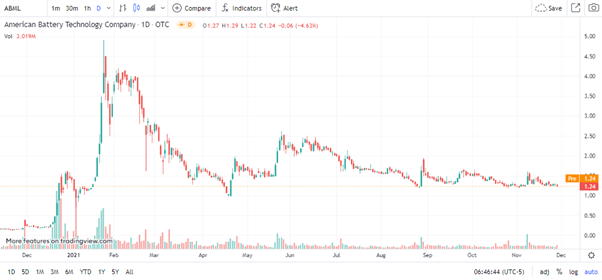 Source: MarketBeat
Short-Term Technicals
In the latter half of 2021, ABML has been forming a downward wedge pattern. This is bad news for those who bought into the initial euphoria, but those approaching the market without existing positions have several possibilities open to them.
American Battery Technology Company (ABML) Share Price 2021 – Downward Wedge & Volumes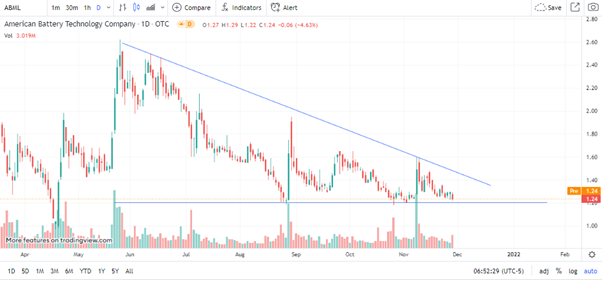 Source: MarketBeat
Momentum traders would do well to apply a degree of patience to their trading and wait for a breakout of the wedge pattern. The support line in the region of $1.20 has been tested on several occasions, and while that holds, there is a chance for price to break through the downward resistance line. A break to the downside would encourage more short selling.
Trade volume metrics go some way to resolving the question, American Battery Technology Company stock, buy or sell? These have tapered off in line with the price fall and suggest more bearish price action in the near future. The groundswell of enthusiastic buyers appears for now at least to have subsided.
Short-Term Fundamentals
To establish the short-term prospects for American Battery Technology Company, it is crucial to look at what factors could trigger a move in the price of lithium. Over the next three months, most of them will be demand related.
The Move Towards Battery Power
A change in government policy or an announcement from a big user such as Tesla can be released at any time, but the supply side of the market takes years to adapt. ABML could scale up its recycling operations to try to satisfy spikes in demand, but the mining operations take years to adapt to changes in the market.
ABML – A Secure Power Supply
The rate of global economic growth also comes into play. Demand for the product that ABML supplies ultimately comes down to global demand for electricity. Geopolitical risk events, such as Middle East or Russian threats about carbon-based fuel supplies, can cause prices in those markets to surge. This all feeds into more demand for battery power and increased appreciation of US-based lithium resources.
Global Demand for Electricity
Economic production levels and electricity demand levels can also be influenced by fiscal policy measures, such as US President Joe Biden's $1tn infrastructure package. This multi-year project was at one point hanging in the balance but was finally signed off on 15th November. It is certain to increase the demand for electricity in the US, and the restructuring of the nation's infrastructure will include countless projects that involve moving to battery power.
Where Will American Battery Technology Company's Stock Price Be in 1 Year?
American Battery Technology Company stock forecasts for the next 12 months allow for the firm's own projects to influence price to a greater extent.
Nasdaq Listing?
ABML's possible Nasdaq listing is one such price driver. News on 20th May that the firm has submitted its initial application to list on that exchange prompted a 9% price hike. A place on the exchange would offer investors additional transparency of reporting and open the door to institutional investors who are prevented from buying OTC-listed stocks.
Doug Cole, chairman and CEO of American Battery Technology Company, stated: "We believe that listing on the Nasdaq is a natural progression for the Company and our shareholders."
Although ABML intends to satisfy all of the applicable Nasdaq listing requirements, there is no guarantee that the listing will be approved. Whichever direction this application takes, there is certain to be a price reaction each time the company updates the markets.
Investment in Renewables
As any member of the green lobby group will willingly testify, it has been all too easy for political and business leaders to kick the can of carbon emissions down the road. Positive news from Cop26 has kept the move away from carbon on track but converting to renewables is a costly process. Even a suggestion from the US Federal Reserve that it will be raising interest rates and the cost of borrowing can stifle plans to switch to lithium-based energy supplies. The markets are currently pricing in US interest rate rises from June 2022 onwards, so any change in that guidance can be expected to impact the price of ABML. The US Federal Reserve's FOMC is due to meet and decide rates policy on 14th-15th December and 25th-26th January 2022.
What Is the Current Level of Short Interest in American Battery Technology Company?
With multi-month price charts forming bearish price patterns, shorting American Battery Technology Company stock looks like one way to play its performance over the next 12 months. Some short sellers have already acted on the idea.
The short interest ratio, also known as the 'days to cover' ratio, for ABML, currently sits at 2.0. As of 15th November, the number of shares shorted was 11,646,200. This number is relatively stable as the September data reported that 11,684,800 shares were shorted. This isn't an amount that would necessarily trigger a short squeeze, but it does suggest that short sellers are already in their positions rather than adding to them.
Where Will American Battery Technology Company's Stock Price Be in 5 Years?
It's hard to get away from the role that the price of lithium will play in any American Battery Technology Company stock forecast for 2025. What also needs to be considered is the pipeline of innovative projects that are due to come online.
The firm has chosen Fernley, Nevada for its first-of-its-kind lithium-ion battery recycling facility. Situated near Tesla Inc.'s Gigafactory 1 (a lithium-ion battery and EV subassembly factory), it benefits from developed roads and rail. It also has low utility and energy costs, access to a skilled and highly qualified labour pool, and is close to the flagship company of the EV revolution.
These schemes will be managed by a CEO who is relatively new to the position. On 30th August, ABML announced the appointment of current company chief technology officer (CTO) Ryan Melsert as the firm's new CEO. Melsert's appointment is a clear indication that the firm is looking to focus on developing its tech credentials. His task will be to prioritise the company's technology development and commercialisation efforts and to position the company for long-term growth.
A lot of his focus will be on demonstrating that battery-grade metals can be manufactured from recycled materials at lower cost, and there is increasing political support for the ABML project. The firm reported in November that it had "received a competitively bid $2 million contract award from the United States Advanced Battery Consortium LLC (USABC), in collaboration with the U.S. Department of Energy (DOE), for the commercial demonstration of its integrated lithium-ion battery recycling system and production of battery cathode grade metal products".
The long-term prospects of American Battery Technology Company are largely based on its own ability to combine high-tech wizardry and political necessity. The gap in the market is outlined by CEO Melsert, who stated in a press release dated 8th November:
"While the domestic manufacturing capacities of electric vehicles and of lithium-ion battery cells have grown rapidly in the US in recent years, unfortunately the domestic production capacities of the battery metals that supply these operations have not kept pace."
He continued:
"The establishment of a commercial scale domestic US battery recycling industry can address these challenges and produce each of the battery metals required to supply new manufacturing operations."
Is American Battery Technology Company a Good Buy?
Recent interest in American Battery Technology Company has resulted in some extreme price moves. This can often be the case with penny stocks, and ABML's efforts to move up a tier of the ladder and to a Nasdaq listing could result in wider acceptance of what remains a small and high-risk venture.
There is a lot of good news for the firm to shout about. It's a strategically important part of the move away from carbon energy and is developing innovative techniques to recycle lithium that would otherwise be discarded. This good news appears to be already largely priced in, and price action is currently forming a bearish pattern. A mega price spike can't be discounted, but this would appear to be a medium to long-term prospect and would be reliant on certain political price drivers aligning.
Those who can't resist the temptation to gain exposure to a high-risk-return trade would do well to trade in small size. Not only would this manage risk on the trade, but also previous price moves demonstrate that even small positions can be converted into substantial cash gains.