The Alibaba Group Holding Ltd – ADR (NYSE: BABA) share price fell slightly premarket after the Chinese e-commerce giant released its Q1 and fiscal year 2023 financial results. The company also announced plans for several IPOs as part of its restructuring efforts.
---
YOUR CAPITAL IS AT RISK. 81% OF RETAIL CFD ACCOUNTS LOSE MONEY.
---
The group generated revenues worth RMB208,200 million (US$30,316 million), an increase of 2% from last year's figures. Operating income was RMB15,240 million (US$2,219 million), a decrease of 9% year-over-year.
Top Broker Recommendation
Investors were interested in Alibaba's earnings results since they would be a barometer of consumer spending in China, especially during Q1 2023. The figures released by the company did not show much improvement to last year's data, indicating stagnation. The markets were also interested in the IPOs planned by the company.
The company noted that net income attributable to ordinary shareholders was RMB23,516 million (US$3,424 million), while net income was RMB21,996 million (US$3,203 million), compared to a net loss of RMB18,357 million in the same quarter in 2022.
Revenues for the fiscal year ended 31 March 2023 were RMB868,687 million (US$126,491 million), an increase of 2% compared to last year. Operating income was RMB100,351 million (US$14,612 million), an increase of 44% year-over-year.
Net income attributable to ordinary shareholders was RMB72,509 million (US$10,558 million), and net income was RMB65,573 million (US$9,548 million).
Daniel Zhang, Chairman and CEO of Alibaba Group, said: "In an increasingly complex world, we have proactively transformed our organization to strengthen the competitiveness of our businesses through greater independence to address the evolving needs of different customers and capture new opportunities. We are taking concrete steps towards unlocking value from our businesses and are pleased to announce that our board has approved a full spin-off of the Cloud Intelligence Group via a stock dividend distribution to shareholders, with the intention for it to become an independent publicly listed company."
Toby Xu, Alibaba Group's CFO, said: We are delighted to share that our board has approved the process to start external financing for Alibaba International Digital Commerce Business Group, exploration of IPO for Cainiao Smart Logistics Group, and execution of IPO for Freshippo."
*This is not investment advice.
Alibaba stock price.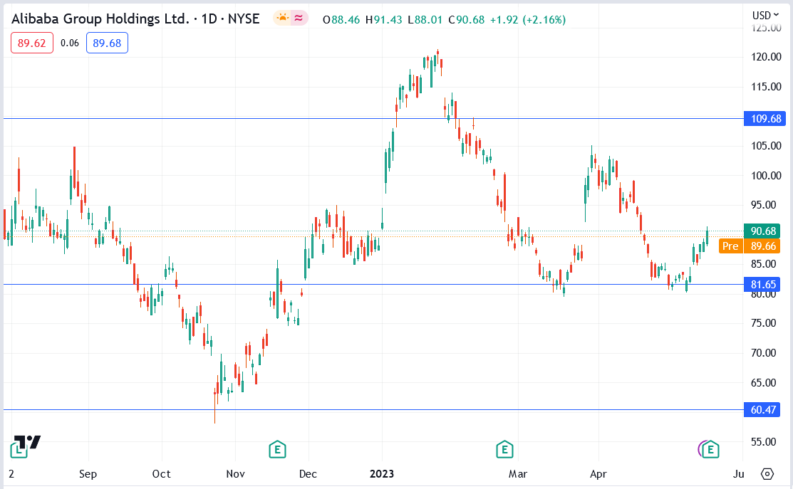 The Alibaba stock price was down 1.12% premarket at $89.66 from Wednesday's closing price pf $90.68.
---
YOUR CAPITAL IS AT RISK. 81% OF RETAIL CFD ACCOUNTS LOSE MONEY.
---