The ASOS plc (LON: ASC) share price rose 15.3% after new reports broke indicating that the company had gotten a Turkish e-commerce company offer to acquire it for £1 billion in late December. Asos turned down the offer, but its current problems tell a different story.
---
YOUR CAPITAL IS AT RISK. 81% OF RETAIL CFD ACCOUNTS LOSE MONEY.
---
The Turkish e-commerce company is known as Trendyol and is backed by China's Alibaba is said to have made the overtures in late December when Asos shares were trading around the 500p level, which meant that its market capitalisation was slightly below the offer.
Top Broker Recommendation
Still, Asos rejected the offer, and its shares are now trading at just below 400p, with a market valuation of £458 million, which is way below the £1 billion offer. However, hindsight is 20/20 since Asos shares went on to trade at 1000p in February and were above 900p in March.
Investors who sold their holdings near the two peaks made decent profits, while those stuck with their shares now look at a significant decline. In addition, Asos shares got another blow after the company was downgraded from the FTSE100 last week.
Asos faces a significant challenge as it tries to regain investor confidence following its recent results that indicate the firm is having trouble as its post-pandemic boom came to a screeching halt as consumers flocked back to brick-and-mortar retailers.
The company's dwindling sales can be attributed to the challenging economic climate that has seen consumers reduce their discretionary spending on many items, including fast fashion.
Asos is one of many fast fashion retailers in trouble. Boohoo is also facing similar issues, and whether the industry can return to growth or the current decline will become a permanent feature remains to be seen.
The company's CEO, Jose Antonio Ramos Calamonte, is working hard to turn the company's fortunes around, having launched the "driving change" initiative last year, aiming to repair the group's finances.
*This is not investment advice.
Asos share price.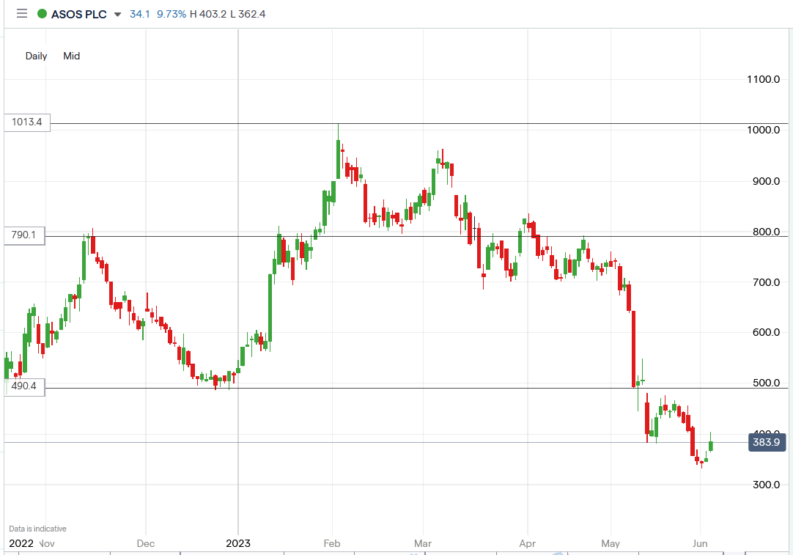 The Asos share price rose 15.27% to trade at 404.0p, from Friday's closing price of 350.4p.
---
YOUR CAPITAL IS AT RISK. 81% OF RETAIL CFD ACCOUNTS LOSE MONEY.
---