The Experian plc (LON: EXPN) share price plunged 5.8% after issuing its financial results for the year ended 31 March 2023. The company generated revenues worth $6.587 billion during the year, marking an improvement of 6% in actual growth figures compared to 2022 revenues of $6.216 billion.
---
YOUR CAPITAL IS AT RISK. 81% OF RETAIL CFD ACCOUNTS LOSE MONEY.
---
The global information services company noted a year of solid progress after registering Q4 organic revenue growth of 7%, translating into an annualised growth rate of 7%, with its revenues from ongoing activities rising 8% at constant exchange rates.
Top Broker Recommendation
The company revealed that Consumer Services organic revenue was up 11%. In addition, the firm now serves 168 million free members, up about 23 million annually across an expanded range of products and services.
Experian reported B2B organic revenue growth of 6%, driven by new business contracts, superior data and the excellent performance of its new products. All regions contributed to organic growth, with significant expansion in Latin America, good performances in North America, the UK and Ireland (UK&I), and EMEA/Asia Pacific improvements.
The company's Benchmark EBIT rose 9% to $1.802 billion, with the margin uplift at the top of the firm's expectations. The firm's ongoing Benchmark EBIT rose to 27.4% from 2022's 26.25% figure. Its Benchmark EPS rose 9%, while the Benchmark operating cashflow conversion was 98%, with the return on capital employed being 16.5%.
Brian Cassin, Experian's CEO, commented: "We delivered very strong results in FY23, reflecting a combination of new business wins, new products and expansion into higher growth markets. We saw growth in every region, in many cases outperforming our underlying markets substantially. Total revenue growth from ongoing activities was 6% at actual exchange rates, and 8% at constant exchange rates, and organic revenue growth was 7%. Benchmark EBIT margin expansion was at the top end of our expectations, helping us to deliver Benchmark earnings per share up 9%."
Experian's statutory profit before tax was $1.174 billion, down from $1.447 billion, due to the non-cash charge for the goodwill impairment of $179m in EMEA. In addition, a decrease in net gain from associate disposals of $89m also affected profits.
*This is not investment advice.
Experian share price.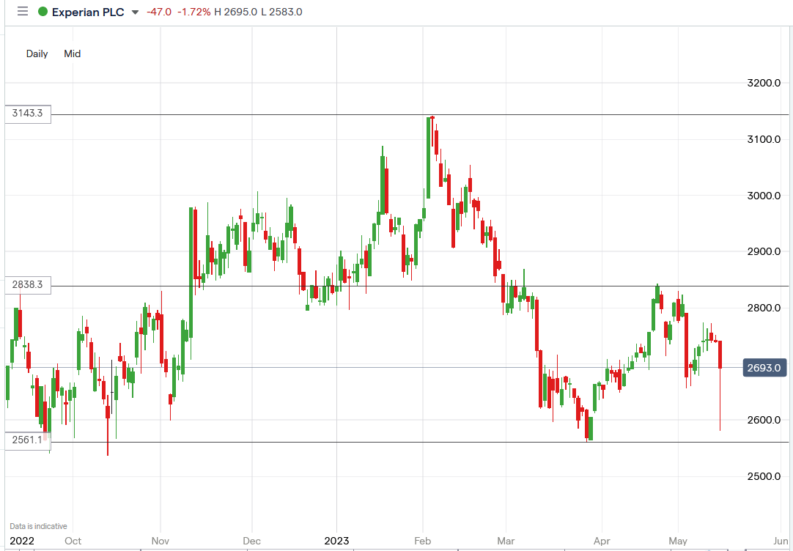 The Experian share price plunged 5.80% lower to trade at 2581.0p, from Tuesday's closing price of 2740.0p.
---
YOUR CAPITAL IS AT RISK. 81% OF RETAIL CFD ACCOUNTS LOSE MONEY.
---