The Genedrive PLC (LON: GDR) share price surged 26.1% after the UK"s National Institute for Health and Care Excellence (NICE) recommended in the draft guidance that CYP2C19 genotyping should be used before the administration of clopidogrel in the treatment of ischemic stroke (IS) patients.
---
YOUR CAPITAL IS AT RISK. 81% OF RETAIL CFD ACCOUNTS LOSE MONEY.
---
The NICE diagnostics assessment committee systematically reviewed the clinical and economic impact of genetic testing, including point-of-care and laboratory-based tests. As a result, it concluded that CYP2C19 genetic testing would likely save costs and increase life expectancy compared to no testing.
Top Broker Recommendation
The committee included its predicted pricing and performance in the clinical and economic models used to arrive at their recommendation despite the Genedrive® CYP2C19 ID test still being in development.
The Genedrive POC test had the highest probability of being the most cost-effective for all scenarios regarding patients compared to lab-based or other POC solutions. However, the NICE committee did not give a final clinical use recommendation since the final performance data for the Genedrive® CYP2C19 ID test is not yet available.
The Company is anticipating UKCA marking the Genedrive CYP2C19 test before NICE's final report, scheduled for October. Once the test has been UKCA marked, Gendrive expects the NICE Committee to recommend it for clinical use.
The Genedrive test has an advantage over laboratory testing in that it gives results within an hour compared to laboratory testing, which gives results in about 72 hours. Ischemic stroke patients need the proper treatment to begin within 24 hours.
David Budd, Genedrive plc's CEO, said: "This is the second time we have had the opportunity to work with NICE on recommendations for pharmacogenetic testing, and I am pleased that they are very much in-line and supportive of our strategy in point of care pharmacogenomics for emergency care. The Company remains focused on achieving release and UKCA approval of the Genedrive CYP2C19 ID Kit in advance of the final NICE guidance publication date. Our product has a number of performance and workflow features, including ready-to-go room temperature reagents, rapid turnaround time, extended genomic variant coverage and integration capability with hospital data management systems that will foster its adoption and uptake compared to alternatives."
*This is not investment advice.
Genedrive share price.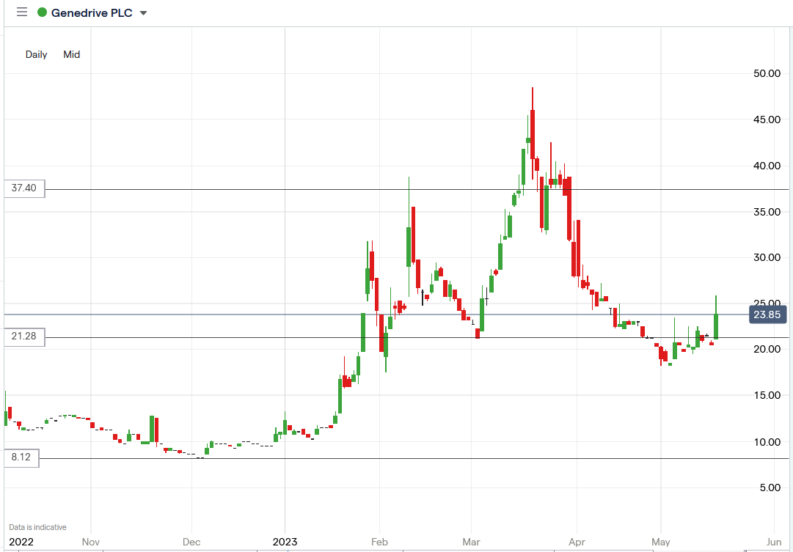 The Genedrive share price surged 26.1% to trade at 25.85p, from Thursday's closing price of 20.50p.
---
YOUR CAPITAL IS AT RISK. 81% OF RETAIL CFD ACCOUNTS LOSE MONEY.
---