The ProShares Ultra Bloomberg Natural Gas (NYSEARCA: BOIL) stock price soared 17% on 18 May 2023 after the latest US natural gas stockpiles report indicated a lower-than-expected volume as drillers abandoned the critical commodity due to low prices.
---
YOUR CAPITAL IS AT RISK. 81% OF RETAIL CFD ACCOUNTS LOSE MONEY.
---
The latest stockpiles report came after an earlier report indicated that the number of rigs drilling for natural gas had fallen amid persistently low natural gas prices that have seen the BOIL ETF fall 75.12% since the year started, driven by the high supply of the commodity and low prices.
Top Broker Recommendation
Investors now worry that lower supplies occasioned by the lower number of drillers could lead to much higher gas prices during the busy summer. Demand for natural gas usually increases in the summer due to electricity generation for air conditioning in most homes.
We will likely see higher natural gas prices in the summer if the situation does not change and more energy producers continue turning off their drill rigs. The cheap gas prices have increased demand as power generators use more gas to produce electricity.
Natural gas prices have fallen over 50% after a mild winter in Europe and ample stockpiles in the United States and Europe combined to lower prices. However, the situation is changing as producers abandon the critical energy source due to the sustained low prices.
Still, there is no guarantee that natural gas prices will increase e during the summer unless the Northern Hemisphere experiences a sweltering summer, causing people to turn on their air conditioners in Europe and the US.
Gary Cunningham, a director at risk management firm Tradition Energy, told Bloomberg: "While storage figures were "certainly a shocker and chased some shorts from the market," there's limited upside for prices in the near term. We should see some producers come in to help supply the short covering, which should limit any real rally."
*This is not investment advice
BOIL share price.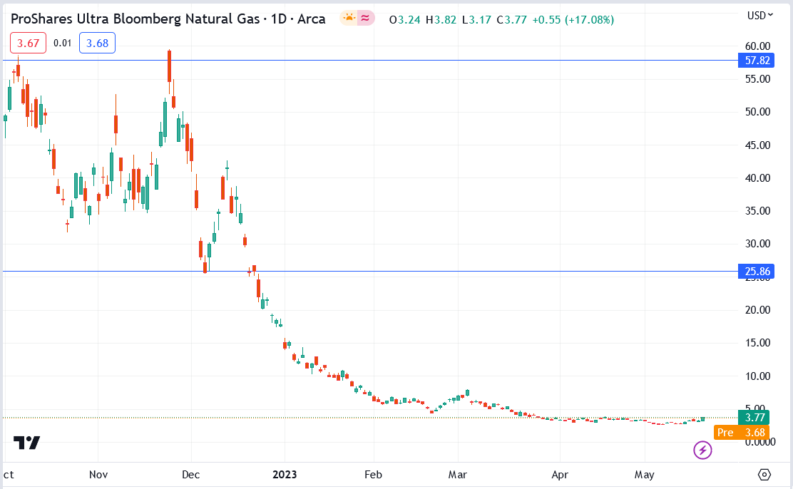 The ProShares Natural Gas ETF (BOIL) stock rose 17% amid a tight supply of US Natural gas stockpiles.
---
YOUR CAPITAL IS AT RISK. 81% OF RETAIL CFD ACCOUNTS LOSE MONEY.
---