Rolls-Royce Holdings PLC (LON: RR) new CEO, Tufan Erginbilgic, has discontinued part of the company's work on creating a direct air capture (DAC) product to cut costs and refocus the aircraft engine manufacturer on other profitable ventures.
---
YOUR CAPITAL IS AT RISK. 81% OF RETAIL CFD ACCOUNTS LOSE MONEY.
---
The new CEO is taking radical measures to cut costs, which has led to the above decision. According to the report, the company abandoned its project of creating a DAC product but will continue participating in a government-funded research project centred around the same theme.
Top Broker Recommendation
Rolls-Royce has reassigned the employees working on the project to other roles. Furthermore, the team working on the project has been tasked with raising money from external investors to continue work on the project as part of cost-cutting measures.
Direct Air Capture (DAC) projects involve the extraction of carbon from the air through a chemical process, which is combined with hydrogen to create a synthetic fuel.
According to an Industry expert, if the energy for the DAC process, including the production of hydrogen, comes from renewable energy sources such as nuclear power, the final result is a natural 'net zero' fuel for industries that use a lot of fuel, such as the aviation industry.
DAC works well since one takes CO2 from the air and injects it into a fuel, after which it is again released into the air once the fuel has been burned up to provide energy for the planes to fly. However, as a commercial product, DAC still has a long way to go,w which explains the decision to stop working on the project.
Rolls Royce's new CEO came on board with a dire warning that the company would have to shape up and become profitable after years of being an unprofitable entity. However, the latest measure shows that the CEO was serious about taking drastic measures to secure the company's future.
The company reiterated its commitment to fulfilling its obligations under the UK government-funded programme to build and test a direct air capture (DAC) prototype in Derby. However, it will not pursue the product commercially.
Rolls Royce had received £3 million in government funding under the Net Zero Innovation Portfolio programme to fund the DAC project.
*This is not investment advice.
Rolls Royce (RR) share price.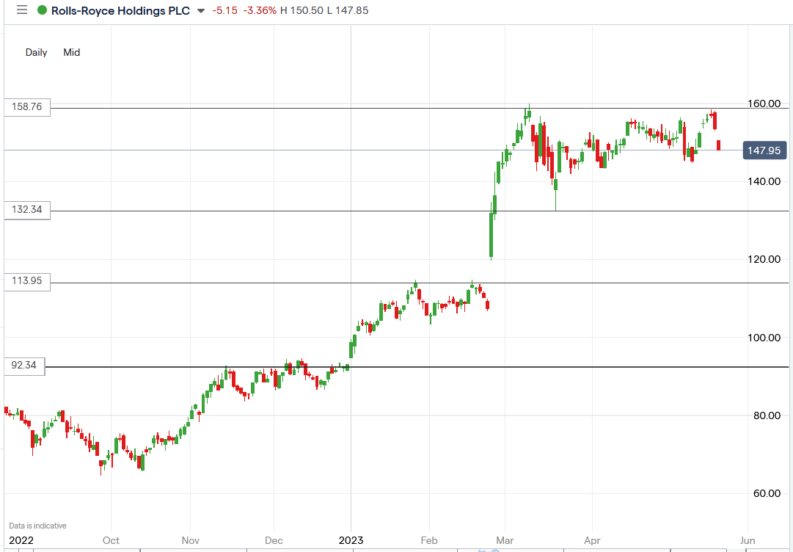 The Rolls Royce share price fell 3.76% to trade at 147.80p from Tuesday's closing price of 153.57p.
---
YOUR CAPITAL IS AT RISK. 81% OF RETAIL CFD ACCOUNTS LOSE MONEY.
---