Royal Mail (IDS) shares, also known as International Distributions Services PLC (LON: IDS), have fallen 23.6% in May as uncertainty about the pay deal with the Communication Workers Union (CWU) shakes investor confidence in the firm. 
---
YOUR CAPITAL IS AT RISK. 81% OF RETAIL CFD ACCOUNTS LOSE MONEY.
---
As we can see in the chart below, the Royall Mail share price rose from December 2022 to April 2023 despite the many troubles the company faced, including multiple days of industrial action that paralysed operations at the company forcing it to lose over £1 million, daily.
Top Broker Recommendation
The last official news from Royal Mail (IDS) regarded its earnings results for the past year, where the company lost slightly over £1 billion, indicating that its problems were much bigger than the strikes organised by the CWU.
The company faces systemic issues that the outgoing CEO, Simon Thompson, had tried to confront in his tough approach with the CWU with minimal success. Now the CEO is set to leave the company, and the CWU has had its way once again.
Royal Mail is about to hire its third CEO in five years, a sign that things are not okay at the company. As a legacy organisation with a long history, it is understandable why the company is struggling to compete with much nimbler companies in the UK.
However, the company's international subsidiary, GLS, operates profitably, and Royal Mail is dragging the entire company lower. In addition, the company recently signed a pay deal with the CWU, which has faced significant resistance from its members.
Details of the pay deal signed between the CWU and Royal Mail remain scanty, but news reports indicate that the CWU members are planning to reject the deal, which has made the CWU's top leaders, Dave Ward and Andy Furey, postpone a vote on the same twice already. Calls for their removal are mounting. However, the truth is that Royal Mail needs change for it to survive.
*This is not investment advice.
Royal Mail (IDS) share price.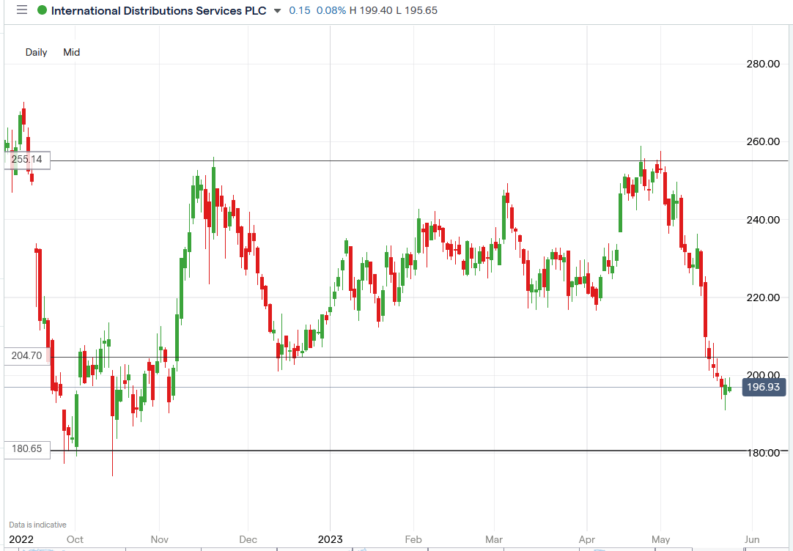 Royal Mail (IDS) shares fell 23.57% in May from an opening high of 257.65p to their current price of 196.93p.
---
YOUR CAPITAL IS AT RISK. 81% OF RETAIL CFD ACCOUNTS LOSE MONEY.
---