The Walmart Inc (NYSE: WMT) stock price edged higher after releasing its Q1 results after posting better results than its peers in the US retail industry. The company won over its retail industry peers by intentionally keeping its grocery prices lower than its key competitors, Target and Kroger.
---
YOUR CAPITAL IS AT RISK. 81% OF RETAIL CFD ACCOUNTS LOSE MONEY.
---
The retailer reported consolidated revenue of $152.3 billion, up 7.6% or 7.7% in constant currency. The retailer's consolidated gross margins fell 0.18% due to the offers made on groceries. The company's consolidated operating expenses as a percentage of net sales were down 58 basis points.
Top Broker Recommendation
Walmart raised its full-year profit and revenue figures as the company attracted many cost-saving customers, with the trend likely to continue throughout the year. Walmart's impressive results have restored investor confidence in the robustness of US consumer demand.
"We see a continuation of trade down certainly as consumers focus on maybe lower price proteins or smaller pack sizes, but we also see private brand penetration continue to do really well for us in the quarter," CFO John Rainey told Reuters.
Walmart now expects its full-year earnings per share in the range of $6.10 to $6.20 compared to the previous outlook of $5.90 to $6.05. Analysts' consensus estimates were for a $6.16 profit per share, according to Refinitiv data.
The upbeat earnings data comes when Walmart is busy closing stores across the United States. The company finally closed its two pickup centres in Illinois and Arkansas and is set to lay off hundreds of employees across its fulfilment centres.
The stores being closed are those underperforming, according to the company's internal metrics that it has not shared with the public. However, the company's eCommerce sales are doing great based on today's data.
Doug McMillon, Walmart's President and CEO, said: "We had a strong quarter. Comp sales were strong globally with eCommerce up 26%. We leveraged expenses, expanded operating margin, and grew profit ahead of sales. And a big thank you to our associates, who continue to step up and deliver for customers and members whenever and however they want to be served."
*This is not investment advice.
Walmart stock price.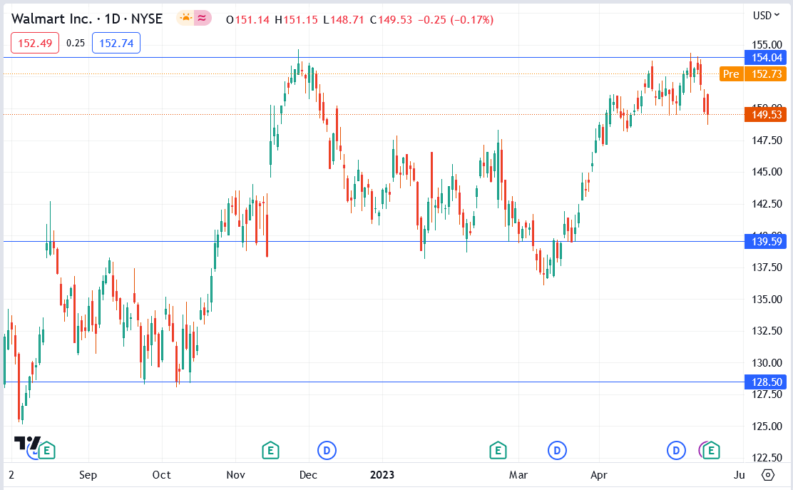 The Walmart stock price edged 2.14% higher to trade at $151.83 from Wednesday's closing price of $149.53.
---
YOUR CAPITAL IS AT RISK. 81% OF RETAIL CFD ACCOUNTS LOSE MONEY.
---